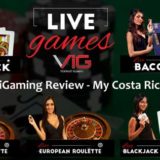 Visionary iGaming Review – My Costa Rica Trip Report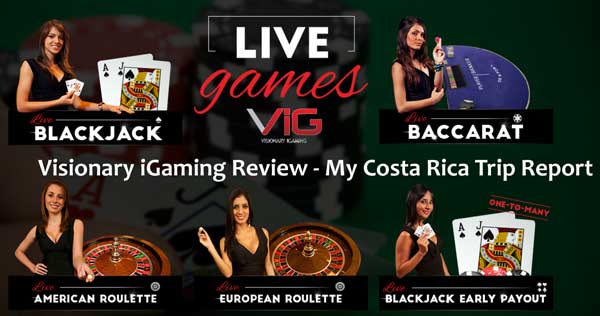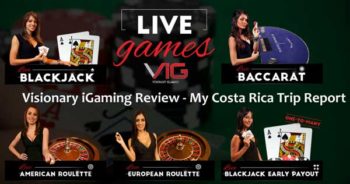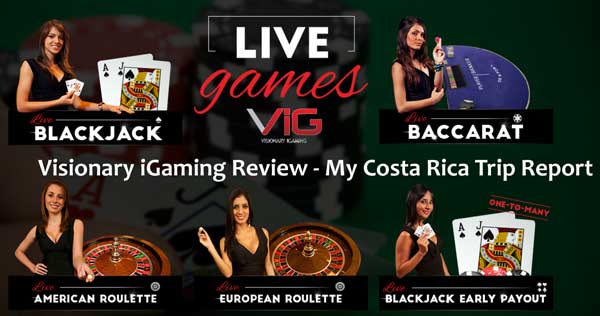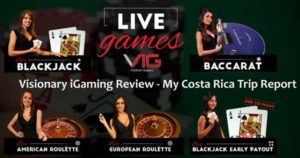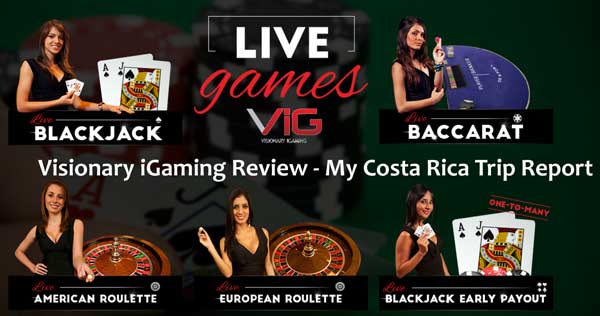 Posted June 9, 2017 by
Neil Walker
Introduction
Visionary iGaming is a live casino provider that provides live streamed casino games to online casinos. They are a BTB (Business to Business) operator that's located in San Jose, Costa Rica.
I made a visit to their offices & studio in April 2017 to meet the people that own and run the place.
I was hoping to get a good look at the live casino operations and to understand a bit more about what it takes to deliver a live casino solution.
Visionary iGaming is the live games provider of a couple of casinos that I promote on Live Casino Comparer (Fairway and Celtic Casinos).
You could say that this trip was also some more due diligence to make sure that I'm recommending casinos and suppliers that you can trust.
What better way to do that than actually go there and be able to look the owners straight in the eyes?
I hope you'll find this detailed Visionary iGaming review a bit different and more interesting than you've read before. 
Some Background
Visionary iGaming was founded in 2008 by 3 members of the management team at Vuetec (now defunct).
They were the original pioneers of Live Casino in 2005.
They set up operations in Costa Rica with the aim of bringing more excitement to the live dealer experience. At that time it was more a voyeur type of product.
Their office and Studio is located on the edge of the main business area of San Jose.
Licensing
Much is talked about licensing in the iGaming world.
A lot of countries require casinos to have a license if they want to offer their services to people in that country.
The license often describes the standards that the operator must abide by and the licensor has the right to audit and fine the supplier if they don't adhere to the terms. 
So a supplier may need a number of licenses to be able to operate in lots of different jurisdictions.
Visionary iGaming does not have the traditional iGaming licences from places like Malta, Gibraltar, UK, and Curacao, but they do hold the necessary business license to operate as a B2B supplier in Costa Rica.
This means casinos taking their games have more flexibility on who they can offer them to. The downside is there's no oversight from a third party, which makes them appear to be more untrustworthy.
Now you can say that is a bad thing, but quite honestly issues occur regularly with licensed operators.
Just because you have a license doesn't necessarily mean you're a good operator that treats players fairly.
I could name dozens of well-known casino brands that fall into this category. But that's another article.
So this trip is as much about gaining some confidence about the supplier as it is for me to learn more about Live Casinos.
First Impressions
The building is relatively new and there is loads of space in it. Here you'll find the admin team, IT support, the directors, the training facilities and of course the studio.
Like a lot of the studios I've visited, it sits behind what looks like just another office door.
But when you enter you're transported to a world of high tech, bright lights and glamorous men and women.
The thing that struck me immediately was how small the studio was, compared to what I had envisaged when I've been playing online. 
The illusion of space is created by some great camera angles. The reality is that all available space is used apart from a small area where the training tables are.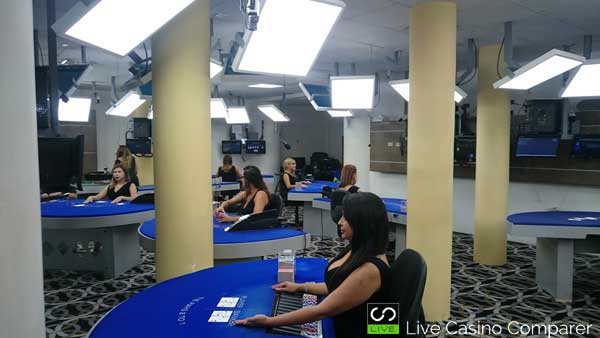 I also imagined the studio to be very noisy. 
When you're playing online, the dealer's voices are sometimes drowned out by the music that's playing. 
When you're in the room the music can just about be heard in the background. The microphones do a really good job picking it up, too good in fact.
I was showed around the studio and introduced to a number of the Dealers and support staff. The Pit Bosses are there to monitor the games and deal with any problems that arise.
You may have seen them come to the screen sometimes to explain what's happening when an issue occurs during a game.
A nice touch that certainly improves customer communication and confidence.
My turn to deal a few hands
I was then taken to the Blackjack training table to be shown the setup and I was given an opportunity to try my hand at dealing a few rounds of Blackjack.
I've tried Roulette in the past and found that very difficult.
You can see from the video below how I did. 
It's more difficult than you imagine, you have to follow the on-screen instructions and deal the extra cards accordingly.
I got a bit confused sometimes, and was also conscious that I should be talking to the players and give a running commentary.
The dealer monitor shows the player's name, but to protect the player's personal info the dealer is not shown the amount a player is betting or where they are from.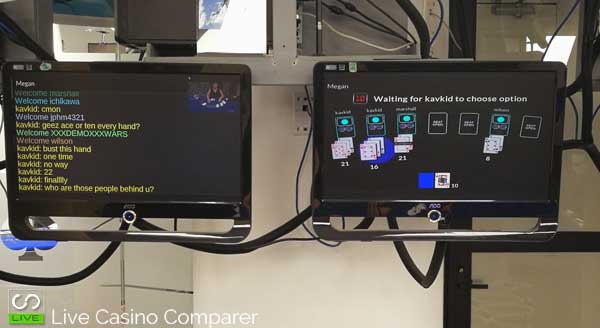 The chat interface displayed the players in different colours to make it easier to pick out what is being typed into chat by whom.
Honestly, I never managed to look at the chat once LOL.
I have a new found respect for the dealers.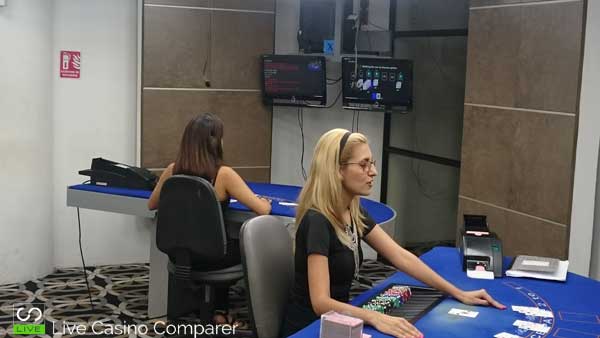 Running the Games
Visionary iGaming only use authentic casino hardware for all their games. Cammegh digital Roulette Wheels, Shuffle Master iShoes and standard sized playing cards are used through the studio. They do not use modified oversized cards or have bar codes. 
They offer three games:
Blackjack in two formats – 7 Seat and Unlimited Blackjack with Early Payout (an option developed by one of the founders).
Roulette – in European and American formats.
Baccarat – in a standard format and Super 6. 
You can read a more detailed review of the VIG games here.
They employ both male and female dealers, the majority female. The main studio language is English but you'll often hear the dealers speaking in Spanish too.
Counting office staff, ViG employs over 120 people.
The pit bosses and management team run a tight ship when it comes to games monitoring and ensuring the security of the games.
This requires automatic monitoring of games and betting patterns.
Manual alerts from the dealers are raised to the Pit bosses when certain situations occur at the tables. Such as when a player has a complaint or a high proportion of spins land in a particular sector of the wheel.
Transparency is demanded from the staff, which also includes strict rules about meeting or talking to players outside of the casino environment; which is strictly prohibited.
Player collusion is a particular challenge in Live Casinos. Visionary iGaming meets that head on with some strict but understandable working policies.
Live Dealer Training
There are training tables in the studio, but these take up valuable space. So other training tables and facilities were located in the building.
It so happened that there were 20 new dealers being interviewed while I was there.
I could see a number of them huddled around training tables being put through their paces as I was shown around.
Company Growth
I found out towards the end of my trip that ViG was in the process of taking over their former competitor, Global Gaming Labs.
 That explains the interviews and increased activity throughout the office while I was there.
The deal sees ViG taking over 20 customers from GGL bringing up their customer base to over 50 Casinos.
Before the takeover ViG had some impressive numbers.
They were dealing to over 25,000 players a month with total wagering reaching a massive €120m. This is set to grow with the additional customers coming on board.
Visionary iGaming Review Summary
I probably spent about 3 hours in total at the studio and offices. I got to meet all the owners and was introduced to the support staff as I was given the tour.
Everyone, without exception, was very welcoming and pleased to see me. 
I don't think the staff at Visionary iGaming get to meet people who review or provide critique on their games that often, if ever. So it was a treat for me and them.
I got the sense that this was a serious business and the numbers speak for themselves. They are becoming more successful and the GGL takeover is a good piece of business.
I did give them some feedback though. I mentioned how the playing interface looks a bit dated against their competitors and the music just comes across as being too loud at times.
Clearly, that's more to do the sensitivity of the microphones as I now know the music isn't that loud in the studio itself.
I also suggested that perhaps they think about the positioning of the cameras so that the dealer makes more eye contact with the player at home. It's a nice touch and something that I appreciate when playing, even if they can't see me.
One cool thing I have to mention.
The VP's desk was actually a Blackjack table. How cool is that!