Lightning Roulette Strategy

Since its release by Evolution Gaming, I've been trying to find a Lightning Roulette strategy that will deliver a win with the 500x bet multiplier.
I'm happy to say I've found one, and it will get you a winning bet with a 500x bet multiplier.
However, the trick is hitting this when your bankroll is in a state to deliver you a profit.
This approach/system/strategy will help make that happen but won't guarantee it.
In this article I'll explain the different sort of bets you could make and how with this strategy you'll improve your chances of getting that big payout.
Watch my Video Instead
However, I've also produced a video of me "Testing" out the  betting system for Lightning Roulette.
Watch this if you'd prefer to see what actually happens.
A bit about Lightning Roulette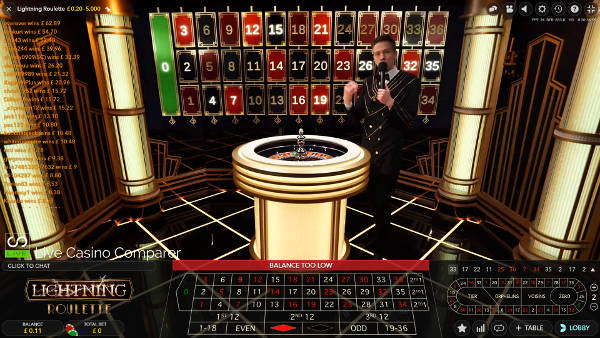 First, a bit of background to explain how Lightning Roulette and the bet multipliers work.
Is it Roulette?
Lightning Roulette is European Roulette but with the opportunity to win up to 500x on a straight up number.
A Straight up win without the multiplier being applied pays 29:1, whereas in normal roulette you'll get paid 35:1.
All other bets on the roulette table pay thier regular pay out, but don't qualify for the Multiplier win.
How the Multipliers in Lightning Roulette work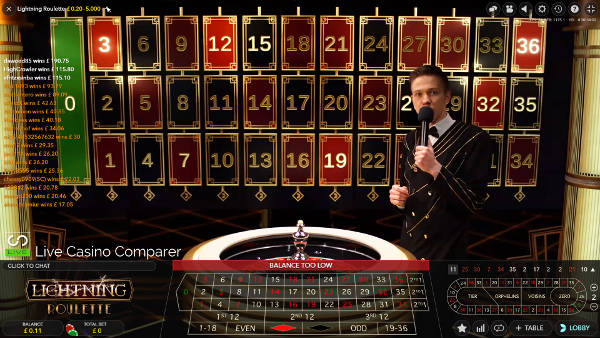 Bet multipliers of 50x 100x 200x 300x 400x 500x are assigned to up to 5 randomly selected numbers on the roulette wheel every spin.
The number selection takes place after bets have closed, so there is no way to predict how many or which numbers are being selected before you make a bet.
The multipliers are only available if you're betting on straight up numbers.
What types of strategy will work?
Regular Roulette strategies won't really work for this game, as most rely on you playing even money type bets.
Something like Martingale or Fibonacci just won't work when playing Lightning Roulette.
Only Straight up bets qualify for the Mulipier win, so you're looking for betting patterns that cover whole numbers only.
The choices are are:
Bet on a section or sections of the wheel, by this I mean the French bets:

Voisins du zéro (Voisins) – Covers 17 numbers on the wheel
22-18–29-7-28-12-35-3-26-0-32-15-19-4-21-2-25.
Le tiers du cylindre (Tiers) – Covers 12 number on the wheel 27-13-36-11-30-8-23-10-5-24-16-33.
Orphelins – Covers 8 numbers 17-34-6 and 1-20-14-31-9.

Place a bet on random numbers over the board.
Bet on a whole column or columns of numbers – Each column has 12 numbers so you'll cover 1/3 or 2/3'rds of the wheel by doing this.
Bet on all numbers of the same colour, or all odd or even numbers. This will cover half the wheel.
All of the above cover portions of the wheel.
Depending on the coverage will determine the number of times you hit a winning number to be paid at 29:1 and within that, the number of times you hit a winning number with a multiplier.
All of the above carry a high risk of you Not getting either and therefore losing your bankroll quickly.
What is a winning strategy for Lightning Roulette?
I want to start off and say that this strategy will work.
It will get you a winning number with a bet multiplier and probably a few.
It will also get you a winning number with a 500x multiplier if you play for long enough.
What it won't guarantee is that at the end you'll come away with a profit.
That depends on how long it takes for you to hit the multiplier wins and the frequency of them happening with the amount of bankroll budget you have.
That unfortunately is down to "luck" and probabilities.
My Lightning Roulette Strategy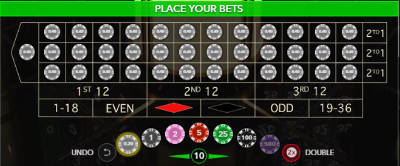 My strategy is quite simple.
You place a bet on every single straight up number.
Told you it was simple, lol.
Now let me explain, it's not as balmy as you might think.
How it works
Let's say you place £/€1 on every number. That's a total bet of £€37.
The worse you will win on a spin is £30. That's a single number pay out at 29:1 plus your stake back.
So that's a loss of £7 a spin.
The best you can win on a spin of £37 is £501, that's if you hit the 500x multiplier.
How often do the multipliers come in?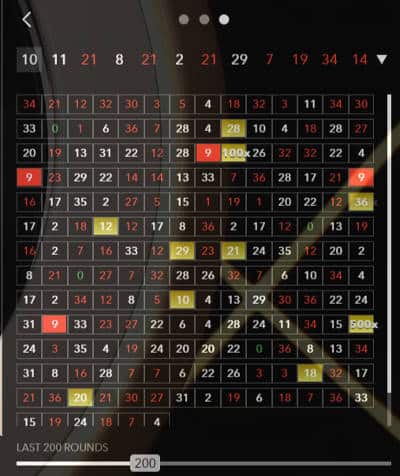 If we knew that for certain we'd all be rich!.
My advice is to look at the stats for the wheel.
You can go back as far as the last 500 spins.
You can see how often the multipliers have been winning numbers and you can also see what multiplier was applied.
In this attached random screen shot you can see the multiplier was hit 10 times in 200 spins. One of them is at 500x and the others were all 100x except one which was 50x.
We can use that as an example and do some math
I'm working on the assumption that a multiplier spin is hit every 20 spins on average, and the average pay out over 10 multiplier wins for the multiplier is £135.
As the loss on each non multiplier spin is £7, you'll need £140 before the 1st multiplier hits.
The win tops up the balance to £135.
If this sequence occurs for 200 spins you'll need to start off with a bank roll of about £210 or £250 to be safe.
This is just to give you a guide, in reality multipliers don't hit in a pattern, so my advice is double that starting bankroll to make sure you can get to the end of the 200 spins.
In the example you'd be in profit by £30 after 200 spins.
Casinos where you can use this Strategy
Not all, but most Evolution Live Casinos carry Lightning Roulette.
I'd recommend two casinos.
Mr Green – has a good low minimum bet of 0.20 a spin, so is a great place to test this strategy out.
Unibet – Has a great selection of Roulette tables including Lightning Roulette.  Stakes go as high as 10K.
Both have really fast payouts.
The Reality
Now you've seen the theory, I want to talk briefly about the reality.
I've run a few sessions using the betting system.
The first session I made small bets because my bankroll was quite small.
I hit 50x and 100x multipliers and one 250x. They came spaced out but not too far to leave my balance too low.
I had about 60 minutes play and ended up even.
My next session was using a larger bankroll.
I didn't hit a multiplier for over 40 spins. When it did come in it was 50x. The next I hit was another 30 spins and was 100x.
As you can imagine my balance was reducing at a steady rate.
I played for about an hour and quite honestly I got bored.
Nothing was happening and my bankroll was reduced by half.
So I decamped and went to play some live Blackjack where I managed to completely lose everything lol.
Later I came back to the Lightning Roulette and looked at the stats.
Had I stayed there I would have hit a 250x some 20 spins later. But no 500x.
Later that evening I went back again and there was a 500x hit.
I think it would have been touch and go whether my bankroll would have lasted that long.
This is what I think – The bottom line
Having played quite a bit of lightning roulette I've come to the conclusion that it's a marketing man's dream.
Who wouldn't want to play for a 500x win.!
The reality is it plays like a badly designed slot.
Let me explain
With a slot you place a wager and spin the wheels. That's one wager one spin.
With Lightning Roulette you place one wager and then there are two spins before the outcome is known.
One to select the multiplier numbers and one to select the final winning number. That one wager has to win twice for you to win! The odds are already stacked against you.
I got bored very easily as the multipliers didn't come in regularly enough to keep me interested.
Having 5 multiplier numbers every game would improve your chances, but these don't happen that often.
If you just want some side bet action it may be ok, but the 29:1 pay out for a straight up number is just poor when you can get 35-1 on normal tables.
My Final Word
Play Lightning Roulette for fun, no strategy or system will deliver you a profit, unless you hit the 500x in the first 20 spins.
If you use a system, make sure you have enough bankroll to cover the dead spins.
The 50x 100x wins don't actually pay much when you think that normal roulette pays 35:1 anyway.
The 500x win is not life changing unless you hit it on the first few spins with a large stake.
Slots may be a better option for you if you like big wins from a small stake.
If you want another live game with a huge potential, look no further than Live Monopoly Dream Catcher Edition. This has an RNG bonus round that can payout up to £500,000. However you'll need a decent playing strategy to get the bonus round.