Evolution Free Bet Blackjack
What is Free Bet Blackjack?
Free Bet Blackjack is an alternative version of Blackjack, where Free Bets are offered to players on certain Doubles and Splits during the game round.
The other major difference with the Free Bet blackjack rules is when the dealer busts with a 22.
In this scenario, a dealer 22 will push all winning players hands, rather than paying them for beating the dealer.
This rule change is how the casino can afford to pay for the Free bets. Nothing is ever Free!
As games go, Live Dealer Free Bet Blackjack is a cracking game to play.
The fact you get free bets really feels like your getting something for nothing (that of course is not true!).
I've found the game to be entertaining and engaging. I can see why it's so popular in Las Vegas land based casinos.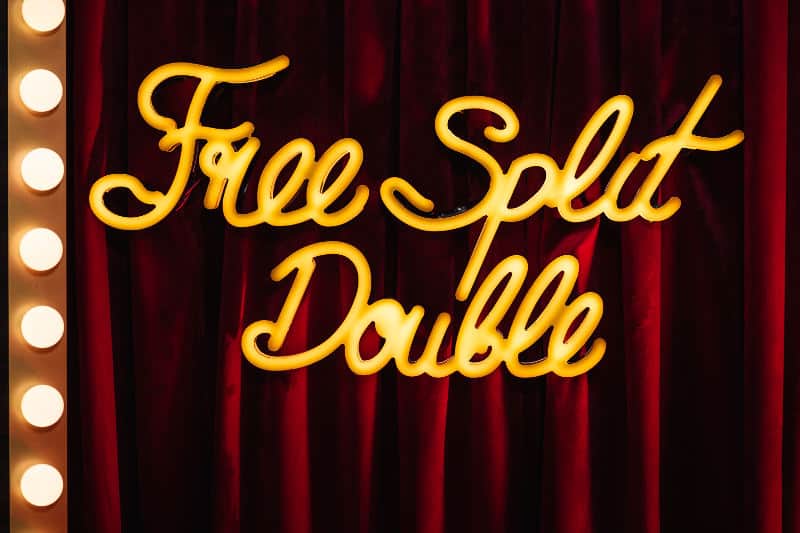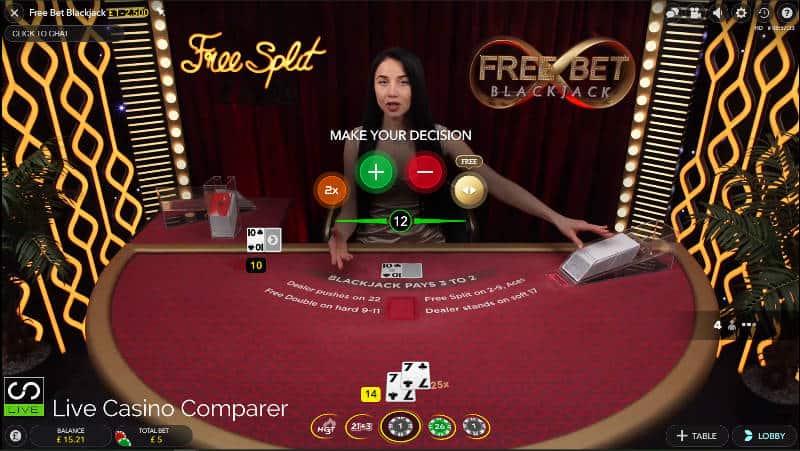 How is Free Bet Blackjack different from normal Blackjack?
It's important to understand that blackjack free bet rules are different from regular Live dealer Blackjack.
First off it's important to point out that Blackjack Basic Strategy should still be used if you want to maintain an optimum chance of winning.
So lets looks at what's the same and what's different between Free Bet and normal Blackjack.
Similarities between Free Bet and normal Blackjack
Both games are played with 8 decks.
The game is played to Vegas Rules (where the dealer gets 2 cards).
The dealer peeks for Blackjack.
Dealer stands on all 17's (Hard and Soft).
Double Down on initial 2 cards.
Split any pairs
Split Aces only get one card.
No Doubles on Splits.
Blackjack pays 3:2, insurance pays 2:1.
Differences
Free double down bet if first two cards equal 9, 10 or 11.
Free Split Bet on Split pairs.
When the dealer busts on 22, all winning player hands are "Pushed", i.e. Bet returned to player.
What's Special about Evolution Free Bet Blackjack
Evolution Gaming has used it's Infinite Blackjack table to create a one to many version of this new game.
Rather than being limited to 7 Seats, Live Dealer Free Bet Blackjack can be played by an unlimited number of players. The cool thing is each player can play the hand their own way, with other players decisions not affecting the outcome of their hand.
Also present is the option to play up to 4 Side Bets alongside the main hand.
One of them, "Bust It", almost acts as an insurance for the new "Dealer pushes on 22" rule.
The start of the game begins with the layer placing a bet on the table. There is 4 optional side bets that can be played alonside the main hand.
If you're plaining on playing them, now is the time to place the bets.
Once the betting window has counted down the dealer will signal No More Bets and deal the first two cards to the Player and Dealer positions.
The players cards are dealt face up while the dealers 2nd card is dealt face down.
When the Dealers Up Card is an Ace
If the dealer is showing an Ace he will offer the table the Insurance bet.
The dealer then peeks at his hand. If he has a Blackjack, the game is over and all bets are lost. Players who took the Insurance Bets are paid 2:1.
No Dealer BJ
If there is no dealer Blackjack or the first card isn't an Ace, Players are asked to make a playing decision from one of the following:
Hit – The player can take an additional card to get closer to 21. The decision to do this is based on instinct, experience or knowledge of Basic Strategy.
Stand – The player decides to take no more cards, as he believes he can't improve his hand.
Double – the player can double his bet and take one additional card. If the initial hand value is 9, 10 or 11, the Double is provided as a Free Bet.
Split – A hand can be split if it contains a pair. If the player splits a hand that's not 10's, the bet is provided as a Free Bet.
When all players have completed their choices, the dealer reveals his hand and the two are compared.
When both hands are the same value, this is called a Push and the players initial bet is returned.
If the player has a better hand than the dealer the player is payed even money 1:1 on his bet.
If the dealer has bust, all winning players are paid even money on their bets.
However if the dealer busts with 22, all winning player hands are pushed, no winnings are paid and bets are returned to the players.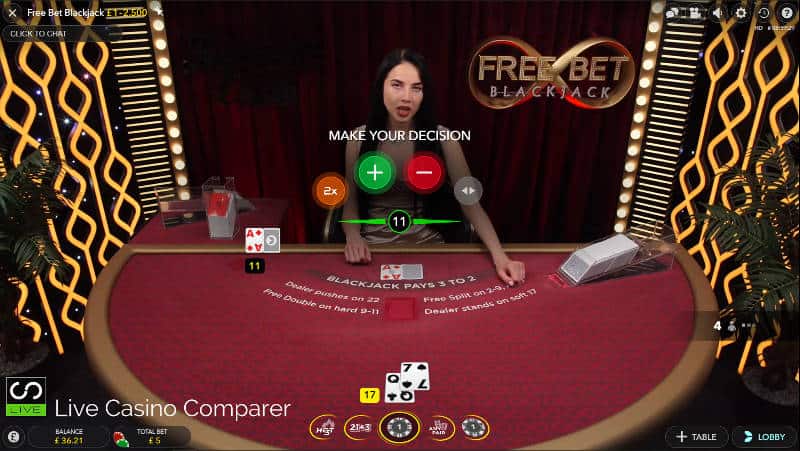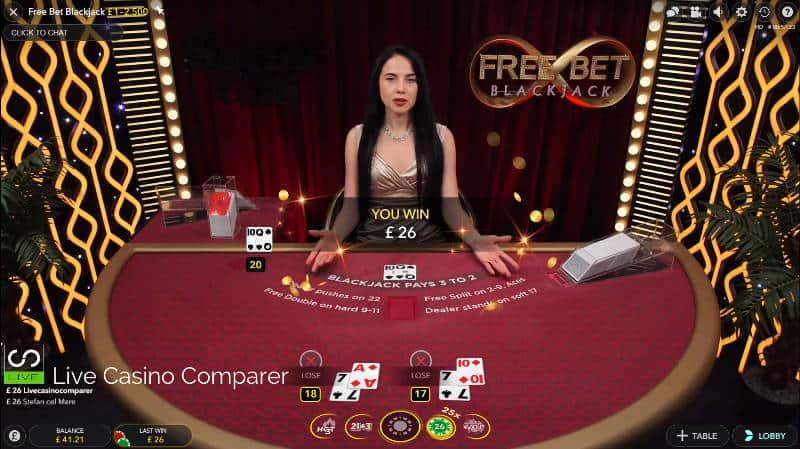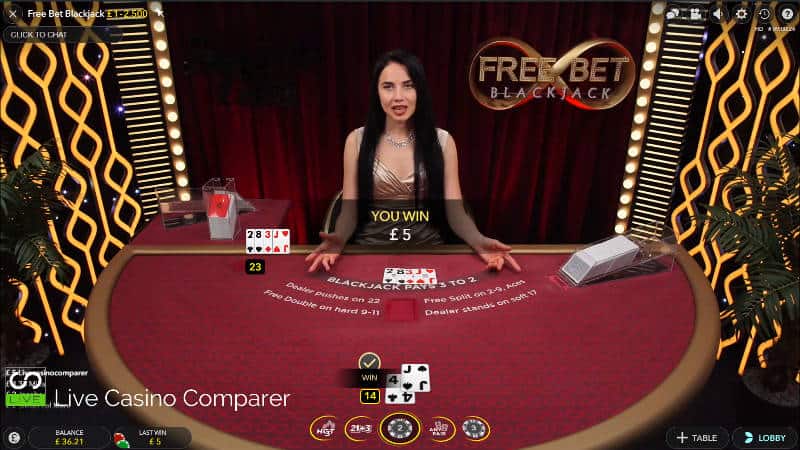 Free Bet Blackjack Side Bets
4 Side bets can be played alongside the main hand.
They're not free, but certainly worth playing if you like to add a bit of spice to the game.
Any Pair – This pays out of the payers initial two cards are a pair. Suited Pairs pay 25:1, while a mixed pairs pays 8:1.
21+3 – The dealers up card and the players initial 2 up cards are used to form a 3 card poker hand.  The best hand is suited Trips at 100:1, while a Straight Flush Pays 40:1. Trips pay 30:1 while the more common hands of Straight 10:1 and Flush 5:1 complete the pay outs.
Hot3 – This pays if the players two up cards and the dealers up card total 19, 20 or 21 or is 3 7's!. The payouts vary from even money for a 19, 2:1 for 20, 4:1 for unsuited 21, 20:1 for suited 21 and 100:1 for 3 x 7's.
BustIt – Is probably my favourite and pays out on the number of cards the dealer has when they Bust out. 3 cards pays 1:1, 4 cards 2:1, 5 cards 9:1, 6 cards 50:1, 7 cards 100:1, 8+ cards 250:1.
Remember in this game, when the dealer busts with a 22 the players hands all push, so this bet acts as a sort of insurance when that happens.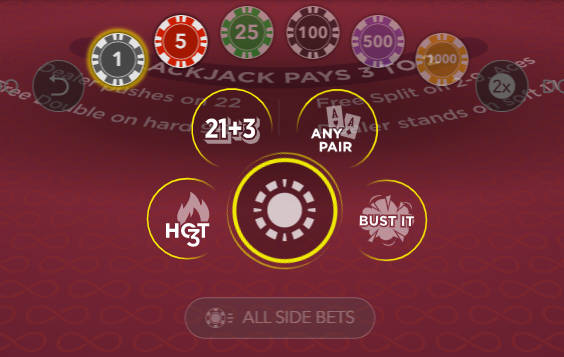 Free Bet Blackjack Strategy
Is there really a strategy for playing Live Dealer Free bet Blackjack?
The simple answer is YES. It's Blackjack basic Strategy. Just follow it and you'll do a lot better than playing without it.
However there's no guarantee that's you're going to win!
A word of Caution though
Just because you're being offered a Free Bet for Doubles and Splits doesn't mean you should always take them. It may be a free stab at winning, but basic Strategy should be followed regardless of whether the bet is free or not.
Return to Player (RTP)
Free Bet Blackjack has a return to player (RTP) based on the first hand out of the shoe of 98.45%.
This is lower than the 99.28% offered on the normal Evolution Live Blackjack tables.
The Side Bets RTP return is:
BustIt – 94.12%.
Hot3 – 94.60%.
21+3 – 96.30%.
Any Pair – 95.90%.
As RTP's go, this isn't too bad. It's better than Roulette (97.30%), but worse than normal Blackjack.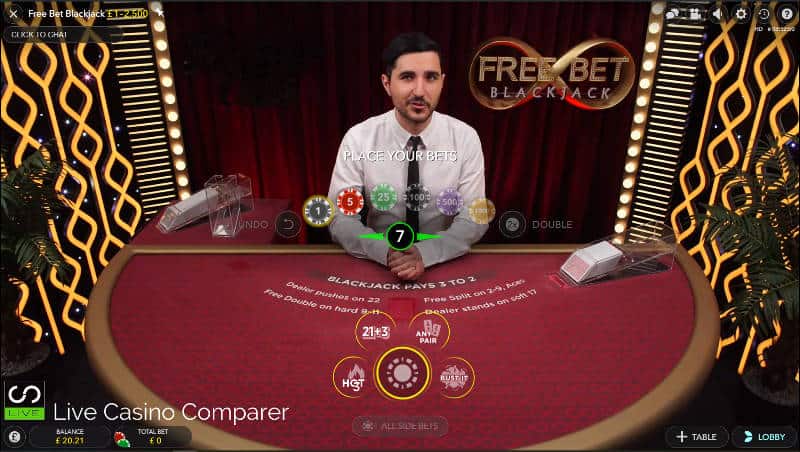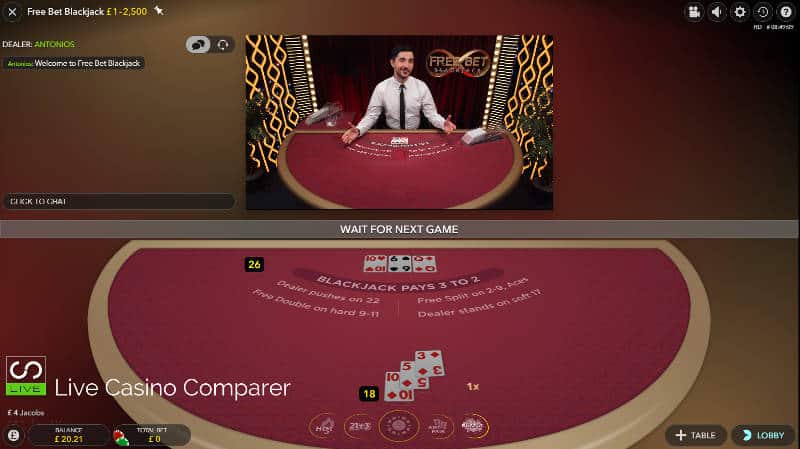 Free Bet Blackjack has been developed with all device types in mind.
Desktop, Tablet and mobile users will find the playing interfaces intuitive to the device you're playing on.
No Free bet Blackjack App is required, you play in your browser. The software does the rest.
For Mobile users you're able to lock the orientation if you prefer Landscape or Portrait play.
The mixed mode screen for poor connection speeds auto loads when it detects a problem, so you can continue to play wherever you are. ( That's the marketing blurb.  The reality is you'll experience screen freezes and drop outs if connection speeds are very slow).
Summary
It's really refreshing when a new variation of Live Dealer Blackjack is released. Up to now, new releases have been based on the standard game we've grown to love.
Free Bet Blackjack is different.
It's a popular game in the larger land based casinos, especially in Las Vegas. While it offers a lower RTP than the traditional game, which may not suit the high rollers, it's a game aimed squarely at the regular gambler looking for a bit of fun.
The Evolution version provides just that.
The use of the Infinite Blackjack technology with the newer side bets ensures a quick paced game for an unlimited number of players.
The Free Bets add something extra. While it's easy to use them, it's not always wise to do so.
The more discerning player will still refer to basic strategy if they want to extend their play time.
The side bets, well, I play them all! They're great fun 🙂