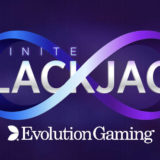 Evolution Infinite Blackjack Launches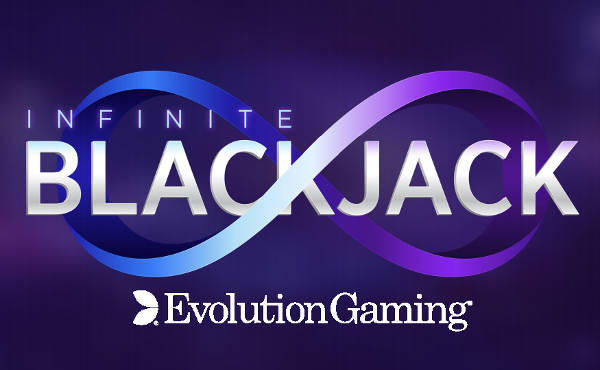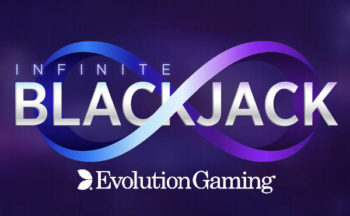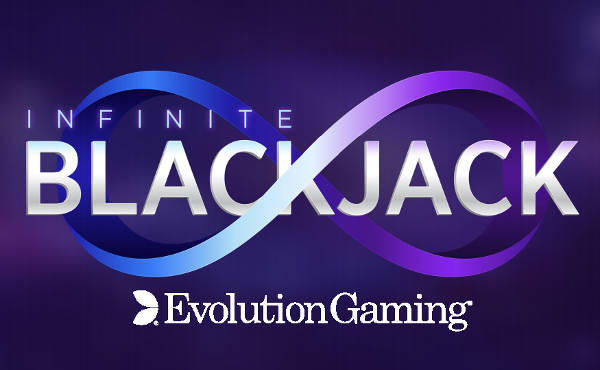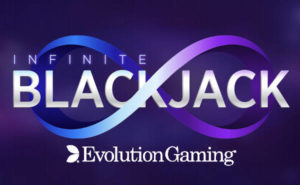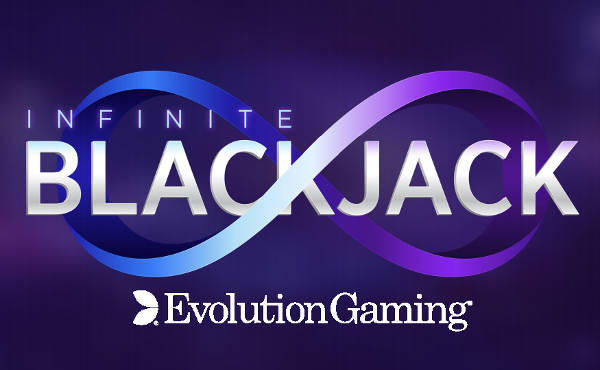 Posted October 17, 2018 by
Neil Walker
Evolution Gaming has launched "Evolution Infinite Blackjack", a one handed game of 8 Deck Blackjack played to Vegas Rules, that an infinite number of players can play.
You've probably seen similar games to this from other software providers, called Unlimited Blackjack or Common Draw Blackjack.
But as you'd come to expect there's a number of unique features in this game that make it different.

So what is Evolution Infinite Blackjack?
In Live Infinite Blackjack all players are dealt the same starter hand by the live dealer.
After the initial deal, each player is able to play the hand as they wish. All players can therefore end up with different hands and different potential wins, just as if they were sitting at a standard seven-seat Blackjack table.
While physical cards are dealt onto the table, only the cards played by the player are displayed as virtual cards in the playing interface. This give a more personal playing experience and makes it easier for the player to see the result of their hand.
Normal Blackjack rules apply, so players can Stand, Hit, Double and Split a hand.
Each player makes their own playing decisions on the hand, with the outcome for them stored until the end of the game round.
The dealer then plays their hand and depending on the outcome all bets are settled.
A Video Review of Infinite Blackjack
See me win a straight flush and a whole host of other side bets as I more than double my money playing.
What's Different about Infinite Blackjack?
A number of new features have been developed for this game.
Information about other players decisions is displayed.
There is a new Rule called the 6 Card Charlie.
There are 4 side bets, two look familiar, 21+3 and Pairs, with two new ones, The Hot 3 Side Bet and the Bust It side bet.
The table has a slot in the middle where the players cards are placed. The cards drop into the table, never to be seen again lol.
What is a 6 Card Charlie?
If a player's hand ends up consisting of six cards (regardless of whether it has resulted from a Split) with a total card value of 21 or less, the player automatically wins the main bet, even if the dealer has Blackjack.
When the dealer has a Blackjack and the players hand is 16 or less, the dealer will automatically continue to deal cards to the players hand to see if a Six Card Charlie hand can be obtained. If it does the player hand will win regardless of the dealer BJ.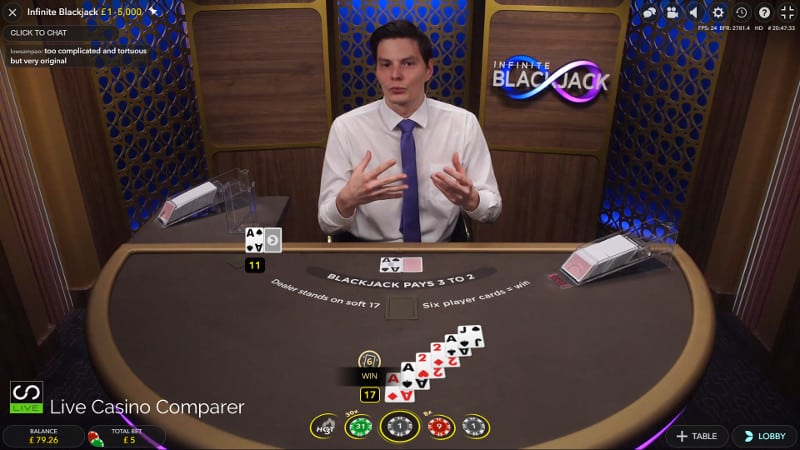 What about the Side Bets?
Blackjack is sometimes all about the side bets. Evolution Infinite Blackjack has brought us two new side bets that have never been seen before at Live Dealer casinos.
I'm really excited about this as it's ground breaking to add new side bets and I can't wait to play them.
Two old favourites are provided:
21+3 is a poker derived side bet where the players first two cards and the dealers up card form a poker based hand. Suited Trips pays 100:1, Straight Flush 40:1, Three of a Kind 30:1, Straight 10:1 and Flush 5:1.
Any Pair – is if the players first two cards form a Pair. A suited Pair pays 25:1, while any pair pays 8:1.
The new side bets are the ones that excite me most:
The Hot 3 Side Bet – You bet on whether the players first two cards and the dealers up card form a total of 19, 20 or 21.  19 pays 1:1, 20 pays 2:1, 21 unsuited 4:1, 21 suited 20:1, while Three 7's pays 100:1.
The Bust It Side Bet – You're betting on how many cards the dealer will bust with. It needs to be 3 cards or above to win the bet. 3 cards pays 1:1, 4 – 2:1, 5 card 9:1, 6 cards 50:1, 7 cards 100:1 and 8 or more cards 250:1.
Return to Player (RTP's) for Infinite Blackjack
The RTP's  for Infinite Blackjack are:
Infinite Blackjack – 99.51%.
Any Pair Side bet – 95.90%.
21+ 3 Side bet – 96.30%.
Hot 3 Side Bet – 94.60%.
Bust It Side Bet – 93.82%.
Other Game Information
Evolution Infinite Blackjack is available 24×7.
It can be played on all devices, Desktop, Mobile and Tablet.
It's available to all

Evolution licensed casinos

.
Where you can play
Evolution Infinite Blackjack is available at all Evolution Live Casinos.
I've been playing at Leo Vegas.