Free Live Casino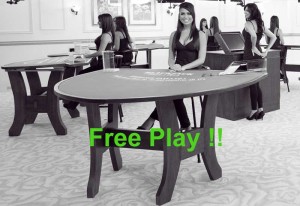 I think it's sometimes a big ask to expect people to pay for something when they haven't tried it out before.
You wouldn't buy a car without taking it for a test drive or buy a house without looking around it, but quite a few online casinos expect you to register and deposit your money before they even allow you to see what you're getting. 
Hopefully by reading my live casino reviews you've compiled enough information to take that next step, but sometimes that's not enough and you really want to try things out for yourself.
A lot of the live casino software companies actually have the facility to allow free live casino play, but most online casinos don't have the option switched on.
Fortunately there are a few that will let you play Free Live Blackjack, Free Live Baccarat and Free Live Roulette.
Back in 2013 it was easy, you could rock up to one of the casinos, click on the link, select fun money and away you go.  Since then, because of people abusing the facility the live casinos now require you to register.
It's a fairly straightforward process and I guess it's their way of getting something back for offering the facility.
You don't get anything for free these days, so in exchange for your email address you'll get to play live casino for free and the casino will be able to send you marketing information unless you choose to opt out, (just remember to do so 🙂 ).
Casino
Blackjack
Roulette
Baccarat
Casino
Hold Em
3 Card
Poker
Sic Bo
Software
Country
Accepted
Play
Visionary IGaming

Goto Casino
Visionary IGaming

Goto Casino
RNG Free Play
Evolution

Goto Casino
NetEnt

Goto Casino
Practice & Play at a Free Live Casino 
The thing with free play is you'll be playing on a real table with real dealers and you'll be playing alongside players who are playing with real money. They won't know you're a fun player.
I used to and sometimes still do play Free Live Baccarat or Free Live Roulette to try different playing strategies. In fact I used Free Live Baccarat to help me develop my Baccarat Playing Strategy.
I don't bother as much with Blackjack as I tend to play to standard basic strategy, but I do like to experiment with raising and lowering my stakes when I'm on winning and losing runs to see what that does to my bankroll.
There are some restrictions with Free play, most notably the ability to chat to the dealer is normally not available.
Fortunately one of my best live casinos, Celtic Casino offers free live casino play.
If you don't mind not playing for free but just want to watch the action then pick any from the Evolution Gaming live casinos page as they have some of the best live games.