Casinos with Dedicated and Exclusive Live Dealer Tables
I often mention playing at dedicated and exclusive live dealer tables and studios in my reviews.
I'd say 90% of the time I will choose a live casino that has exclusive and dedicated tables over one that doesn't have them.
Here's the reason why.
Having exclusive live dealer tables & a studio is a significant investment for a casino, you don't get fly by night casinos doing this.
It signals intent from the casino they are serious about players that want to play with live dealers. More often than not you'll get a superior playing experience and better after care service from these casinos. They know and understand the true value of a tables games player, and treat us accordingly.
Casinos that just have the standard live casino solution, will at most, only offer a standard service. While this may be good at one or two casinos, it's certainly not true of them all.
I choose casinos with dedicated tables every time, rather than somewhere offering me crazy bonuses and inducements to get me to play there.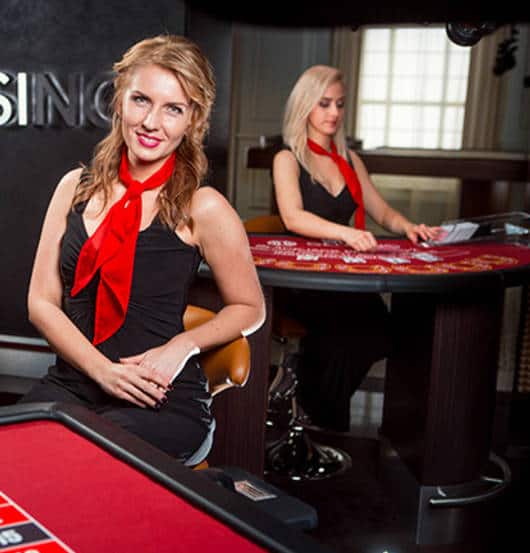 Benefits of playing on exclusive live dealer tables
There's a few benefits of playing at casinos with dedicated tables – all aim to give a great playing experience.
You are more likely to receive on table promotions on an exclusive table. There will be prize draws, bonus cards, raffles and the like. And, you'll only be competing with players from the same casino for these prizes, not 1000's of others. So you stand a better chance of winning!
You'll strike up better relationships with the dealers and the casino hosts. The casino swill use the same dealers all the time, so if you're a regular you'll be remembered and be personally greeted. If you have problems they're resolved more quickly. All round you get a better service.
You'll get a seat at Blackjack
If you're a Blackjack player you're more likely to get a seat at a branded table than not. The reason being there's less competition for the seats from other players.
More stake varieties – Both Min and Max
You'll also get a better range of Minimum and Maximum stakes, as they tend to be tailored more to the players that use the casino in question. You'll find more low stakes tables than anywhere else.
Casinos with Dedicated Live Dealer tables
Casino
Blackjack
Roulette
Baccarat
3 Card Poker
Dream Catcher
Provider
USP
Play

More Info.
11 Tables
5-5k
2 Tables
0.50 – 500
n/a
n/a
n/a
Evolution
Promotions.
Online Casino Host.
Goto Casino

More Info.
2 Tables
5-10k
1 Tables
1 – 500
n/a
n/a
n/a
Evolution
Good for new players.
Goto Casino

More Info.
31 Tables
15-50k
3 Tables
1 – 500
n/a
n/a
n/a
Evolution
NetEnt
Roulette Tournaments.
Native Language Dealers.
Goto Casino

More Info.
13 Tables
5-10k
2 Tables
1 – 25k
n/a
n/a
n/a
Evolution
Promotions.
Goto Casino

More Info.
25 Tables
0.50 – 20k
3 Tables
0.25 – 10k
n/a
n/a
n/a
Evolution
Chatty Dealers.
Goto Casino

More Info.
1 Table
5-5k
n/a
n/a
n/a
n/a
Evolution
Free seats normally.
Goto Casino

More Info.
6 Tables
3-2.5k
2 Tables
0.50 – 10k
1 Table
5 – 5k
1 Table
1 – 2.5k
n/a
Evolution
Live Casino Host
Variety of games.
Goto Casino

More Info.
10 Tables
5-10k
2 Tables
0.50 – 500
n/a
n/a
n/a
Playtech
Varied Blackjack Choice
Goto Casino

More Info.
10 Tables
5-10k
2 Tables
0.50 – 500
n/a
n/a
n/a
Playtech
Bookable BJ Tables.
Goto Casino

More Info.
9 Tables
5-400
2 Tables
0.20 – 50
n/a
n/a
n/a
Playtech
Private BJ Tables.
Goto Casino

More Info.
2 Tables
5-1k
n/a
n/a
n/a
n/a
Evolution
Goto Casino

More Info.
6 Tables
5-1k
3 Tables
0.50 – 25k
n/a
n/a
n/a
Evolution
NetEnt
Club Royale Tables
Salon Priv at Club Royale
Goto Casino

More Info.
2 Tables
5-5k
4 Tables
0.20 – 1k
2 Tables
5 – 5k
1 Tables
1- 250
n/a
Evolution
Crockfords VIP
Dual Play Roulette
Goto Casino

More Info.
1 Table
5-1k
n/a
n/a
n/a
n/a
Evolution
Goto Casino

More Info.
8 Tables
5-4k
2 Tables
0.50 – 5k
n/a
n/a
n/a
Evolution
Shared with Betway.
2 Dual Play Roulette tables from
the Hippodrome Casino.
Goto Casino

More Info.
1 Table
5-1k
n/a
n/a
n/a
n/a
Evolution
Goto Casino

More Info.
2 Tables
5-5k
1 Table
0.50 – 500
n/a
n/a
n/a
Evolution
Russian & English Dealers
Goto Casino

More Info.
4 Tables
5-5k
1 Table
1 – 10k
n/a
n/a
0.10 – 2.5k
(TopWheel Treasures)
Evolution
TopWheel Treasures
Goto Casino
Who's got what when it comes to dedicated tables
The major software providers – Evolution, Playtech, NetEnt and Ezugi all provide dedicated tables and environments.
A large majority of sports book operators use Playtech Software and most have invested in dedicated live casino studios.
Evolution probably has the largest selection of branded studios and tables, with most located in the Malta and Latvia studios.
NetEnt has recently added it's Virtual Studios, with branded tables now available at Mr Green and Unibet.
Leo Vegas has 13 exclusive live dealers tables. They can be accessed from a special tab called the Chambre Separee in the Evolution lobby. The tables are physically located in two locations, Malta and Riga, Latvia.
Blackjack
There are 11 tables with something to suit every player type. If you like lots of noise and chat, the Celebrity Tables with two dealers keep the entertainment going. Danish players get their own native language dealers. Silent Blackjack is reserved for players that like minimal chat, while the general play tables offer something in between the two. Sports lovers also get their own table where you can discuss the latest sporting news with a clued up dealer.
Stakes range from low to high, with a VIP table for those that like to play higher stakes.
Native language dealers are used for the Danish and Italian tables. The English speaking dealers have soft accents so it's quite easy to understand them.
Roulette
There's two tables, a general play table and the same again with an Italian speaking dealer.
Stakes for straight up numbers range from 0.50 to 500 a spot.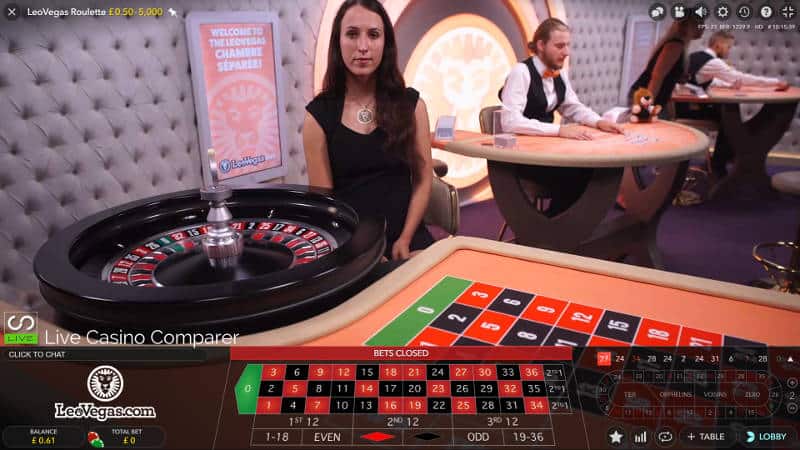 Promotions
On table promotions are regular. They tend to favour Blackjack more, with Bonus cards and giveaways being the most popular.
Unique Selling Point
There is a live casino host available most of the time who can be spoken to on chat. The host monitors what's going on and can either be contacted by the dealer or you can ask to speak to them if you have a query.
Royal Panda has 3 dedicated live casino tables. They're located at Evolution's Riga studio in an area reserved for customers with only a few tables.
While Royal Panda actively markets these tables for high stakes players they are actually suitable for all player types, so don't let the marketing put you off.
Blackjack
There are two Blackjack tables, a general play table and one for VIP's, where the minimum & maximum stakes are higher. You can play for €5 a hand, so a great place to play if you only have a limited bankroll.
Roulette
The one Roulette table, has stakes from £1 to £500 for a single number. The maximum even money bet is £10,000.
Promotions
There aren't many ad-hoc promotions on the tables, although at Christmas time they do run special promotions. They do have a long standing promotion on the 21st of each month, whereby if you get dealt a Blackjack you'll be entered into a prize draw on the 22nd.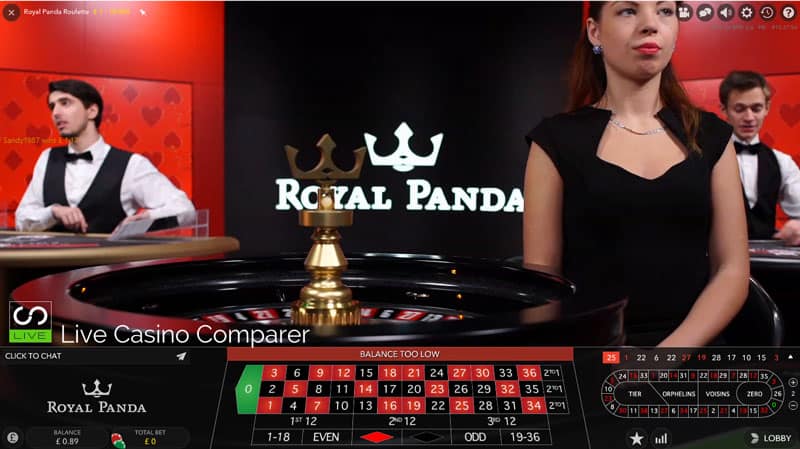 Unique Selling Point
The casino is simple and straightforward, it's a good introduction to exclusive tables for new players.
The Unibet Live Casino has 31 exclusive live dealer tables, covering both Blackjack and Roulette.
The makeup of the tables ebbs and flows, so it's difficult for me to accurately document what they have.
The main table language is English, but you're just as likely to hear the dealers switching between French, Flemish & German to name a few.
They sometimes have dedicated language tables and sometimes not. My review has the most up to date information on the tables.
Blackjack
There are 29 Blackjack tables, two are reserved for high rollers with a £50 min and a maximum bet size of £50k a hand.
Regular players get a huge choice between all the Unibet exclusive tables. Stakes range from a £5 minimum up to £5k a hand.
Roulette
Roulette players get a choice of 2 tables. There's no real difference between the two.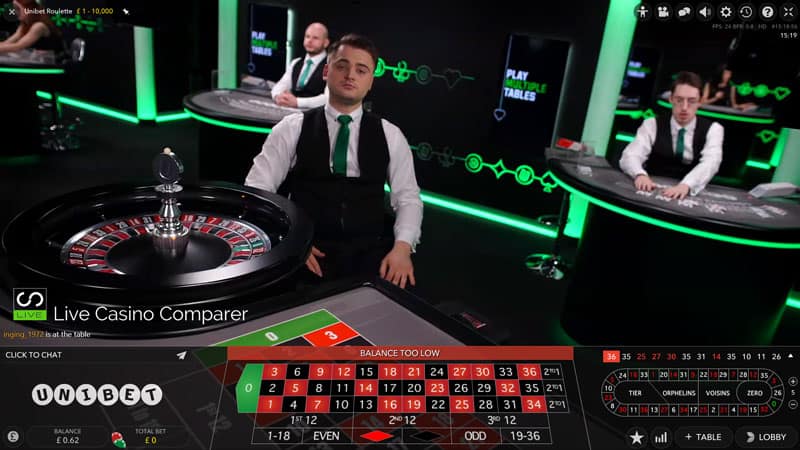 Promotions
Unibet is the place if you like Roulette tournaments, you'll find plenty running here. You'll see the roulette leader boards in the main lobby. Opt in at any time. Blackjack players also get rewarded with promotions, but not on a regular basis.
Unique Selling Point
You can't ignore the range of tables on offer. If you struggle to get a seat on Blackjack anywhere else then stop by here.
William Hill is the grandfather of Live Casinos. They were among the first casinos to spot the opportunity and get dedicated tables.
Their solution has grown over the years, they were the first to introduce themed tables aligned with Slot games & locations of the world.
They've being going through a period of change and have consolidated their live tables into two sets. A William Hill branded set of tables and a set of Vegas tables.
As of August 2018 there are 13 Blackjack Tables and two Roulette Tables.
Blackjack
The themed Vegas tables lead the way Pig Wizard, Goddess and Genie Jackpots. Stakes start low at £5 a hand right up to £10k on the William Hill Tables.
Roulette
There's a good variety of dedicated roulette with a Vegas Speed roulette table. Stakes start at £1.
Promotions
William Hill is probably the most prolific exponent of live casino promotions. The most popular are live draws, where play on the tables gets you tickets in the draw. They sometimes have stunning prizes and they go down to 500-1000 places at times, so you're almost guaranteed to win something.
Unique Selling Point
Themed tables across a big studio area at Evolution. Lots of Prize Draw promotions.
Pokerstars is another casino that's made a huge investment in dedicated tables.
There is 28 tables, with 25 of them dedicated to Blackjack.
Blackjack
The 25 tables are named after countries in the world, which I found confusing to begin with as I thought they were native language tables.
English is the default language, but there are one or two native language tables hiding among them. Stakes are really good, with minimum bets starting at $0.50 up to a max of $20k.
Roulette
There's a good selection of three tables. The general play table has a really good minimum bet of 0.25 a number, while high rollers get a table to themselves with the minimum stake being $5.
A Spanish speaking dealer can be found on the Ruleta En Vivo table.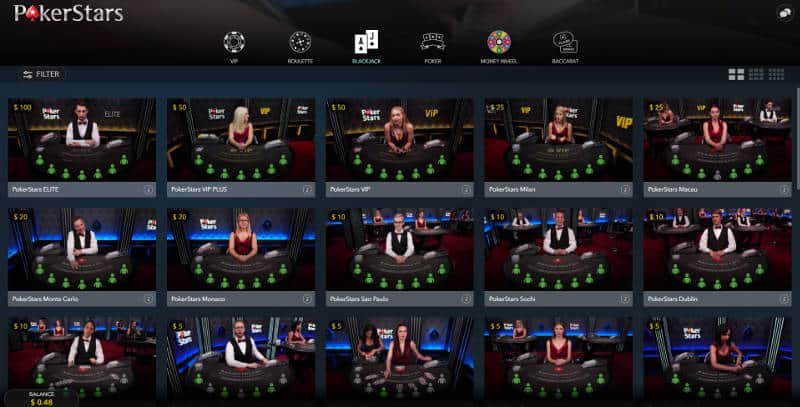 Promotions
Pokerstars isn't really known for a lot of promotions on their exclusive tables. There are one or two so keep an eye on my Promotions page to see what's coming up.
Unique Selling Point
The USP has to be the dealers. They are very chatty and personable. Also the large number of tables means you'll seldom have trouble getting a seat.
My heart sinks a bit when I come to describe BetVictor. A few years ago they were the leading place to go for Live Casino games. They had a big selection of suppliers and also dedicated tables.
How time has changed. We're left with one dedicated Blackjack table :-(.
Stakes range from £5 up to £5k.
Promotions
Unfortunately BetVictor doesn't really run them.
Unique Selling Point
The Blackjack table never seems to be busy, which is a shame on one level but on another it's great news as it's like my little secret table.
I can normally get a seat here whenever I want.
Like a limited number of casinos, Grosvenor casino has a rich heritage behind them with a large land based presence in the UK.
The downside is their live casino tables are only accessible to UK based players.
As for dedicated tables and games they have more covered than anyone else, with 10 Tables covering Blackjack, Roulette, Baccarat and 3 Card Poker.
Blackjack
There are tables to suit low rollers with minimum stakes of £3 a hand. The maximum/minimum across the rest of the tables is £10, so not out of reach for most players.
Roulette
Grosvenor has two types of dedicated Roulette tables. The Grosvenor Victoria Roulette is live streamed from the casino floor of the Victoria Casino in London. The studio roulette table is called Grosvenor Roulette and is the table to play if you like to chat with the dealer.
Baccarat
The Baccarat table is also a live streamed table from the Victoria Casino in London, Stakes are reasonable at £5-£5k a hand.
3 Card Poker
This is a dedicated table for Grosvenor players only and has some of the lowest starting hands around. It will cost you £1 to place a bet and another £1 if you want to play the hand.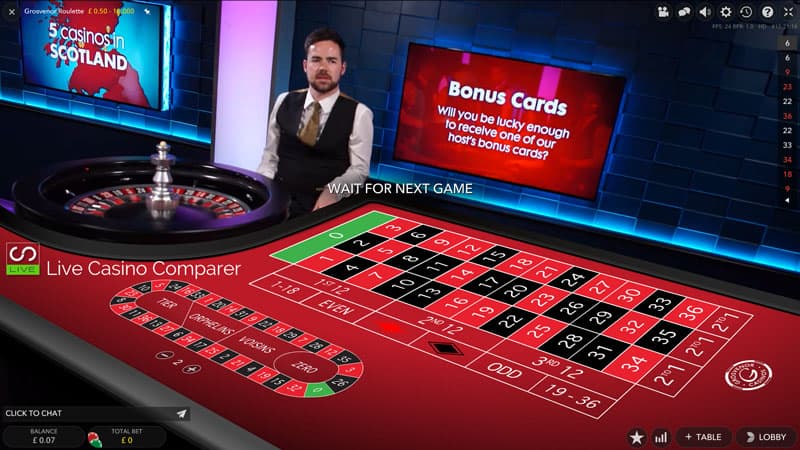 Promotions
On table promotion are either planned events or ad-hoc, driven by the Casino host who wanders around the casino floor. You may be given a cash prize for the next Blackjack or 5 card hand.
Unique Selling Point
A Casino host that monitors play and then wanders around the studio dropping cash into your account if you're having a particularly bad time!
Paddy Power boasts a live casino from Playtech and like their partner Betfair, has a good selection of dedicated tables.
Blackjack
There are 10 branded live blackjack tables that are categorised between Low/Mid & Vip to distinguish the stake levels available.
Typically the low tables start at a minimum wager of £5, Mid at £15 and VIP at £25.
Roulette
There's two options for roulette split between a regular and Vip table.
Promotions
The promotions are aimed more at attracting new players than rewarding existing ones. There are some but they don't happen that often.
Unique Selling Point
The game choice for Blackjack is varied with tables offering both European & Vegas Rules.
Betfair is almost a clone of the Paddy Power live casino when it comes to their dedicated tables.
They have exactly the same setup, naming convention and number.
Each however has their own pool of dealers and that is the main difference between the two.
Blackjack
Blackjack players will find 10 tables with Low/medium and Vip stakes.
Roulette
Roulette players get 2 tables, one to suit regular players and one for VIPs.
Promotion
There is nothing for regular customers.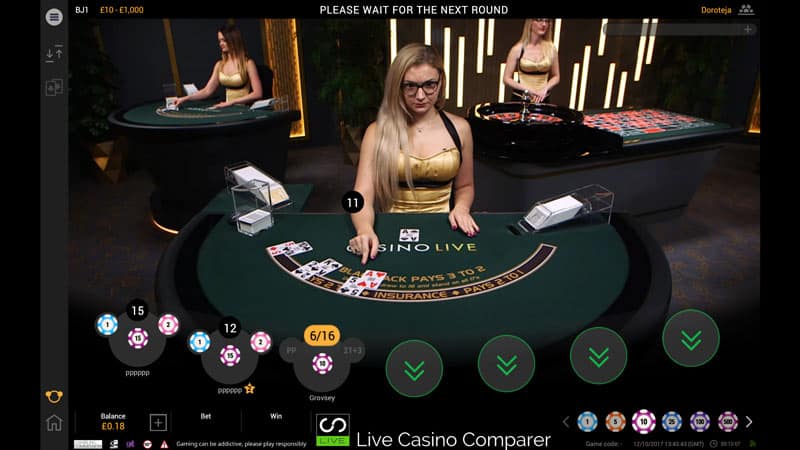 Unique Selling Point
Just a really good selection of exclusive tables. Betfair also has an extensive set of casino games and a very popular Sports book.
Bet365 is another Playtech Live casino that has done some remodeling. Their exclusive studio in Latvia boasts dedicated tables for Blackjack and Roulette, with VIP's given the option for private play on certain tables.
Blackjack
Players get a choice of 9 tables, including a Dragon branded table for £1 Blackjack.  All other tables start from £5 a hand.
Roulette
You'll find two tables, both have relatively low min stakes, with the normal table offering a 0.20 minimum bet on straight up numbers. The Premium table starts at £1.
Promotions
On table promotions are rare but they do happen occasionally. It's best to keep your eye out on my promotions page for the latest offering.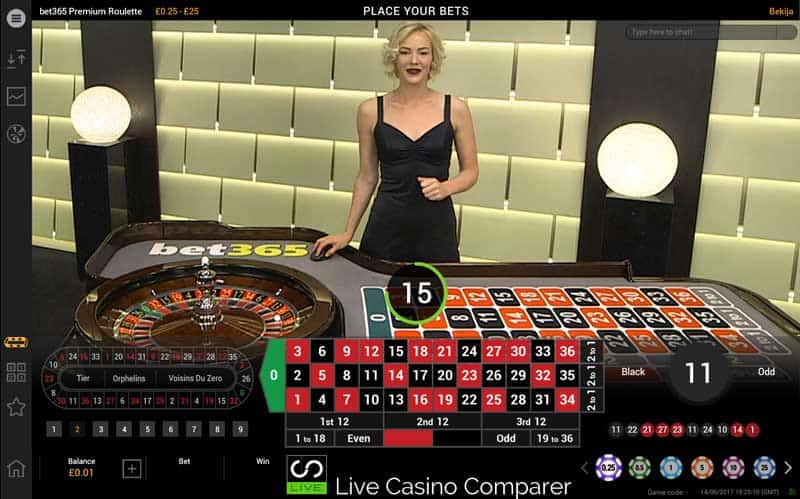 Unique Selling Point
This has to be the ability to  be given access for one on one play with the dealer. You have to be a regular player and have deposited a certain amount to qualify. If in doubt speak to customer services to see how to get access to this facility.
Dublinbet has live casino tables from a number of suppliers and offers a good alternative for non UK players.
The dedicated tables are restricted to 2 tables from Evolution Gaming.
Blackjack
Two exclusive tables with stakes from €5 to €1000.
Promotions
Promotions tend to be more leader board focused. They are regular though so it's worth checking to see what the current offer is.
Unique Selling Point
Not for UK players. Superpoints can be earned while playing which can be redeemed for free spins and bonus money.
Mr Green has an extensive number of dedicated Blackjack and Roulette tables from Evolution Gaming and NetEnt with the innovative Live beyond Live set of tables.
Blackjack
There is a total of 9 tables, from two different studio locations. The standard Mr Green dedicated blackjack tables are streamed from Latvia. Depending on the time of day stake ranges across the tables can vary (it's a case of supply & demand). The good news is the minimum bet is £5 which will suit most players. There's a dedicated native German language table.
The newest set of Mr Green Club Royale Tables are streamed from Tbilisi in Georgia. These offer a VIP experience with one table dedicated for Salon Prive play. Stakes start at £10 a hand.
Roulette
Three tables here one of which is a themed Sports Roulette table. Play here if you like chatting and listening to sporting talk.
Promotions
Mr Green is good at providing promotions on the dedicated table. Prize draws with the odd bonus card promotion thrown in. Sometimes jackpots are rolled over if not won during a month.
Unique Selling Point
Their attention to detail for the dedicated tables and also the breadth of suppliers they have.
The VIP Club Royale Tables offer a real exclusive treat. The Salon Prive Table has a balance requirement of £1000. Stakes are £25 a hand but you get the table to yourself.
Live Beyond Live is something different that's not seen anywhere else.
Genting has three things going for their exclusive tables. Firstly, they have two dedicated studios, one for regular players and the Crockfords one reserved for VIP's. Secondly is the selection of games at the tables. Third is the live streamed dual play roulette tables from their land based casinos. All in all an intoxicating package.
Blackjack
Blackjack players get two tables, one in the Genting lounge and the other in the Crockfords. Both has the complete range of blackjack side bets. Stakes start low at £5 a hand at Genting while the Crockfords stakes are much higher.
Roulette
There are 4 tables, 2 studio based and two located at the Manchester and Birmingham land based casinos. All can be accessed through the lobby. Genting and Crockfords both have dedicated tables.
Baccarat
Two slightly different versions. The Crockfords table has Baccarat Squeeze, while the Genting table is without the squeeze.
Three Card Poker
Definitely a favourite of mine. The Three Card Poker table is located in the Genting Lobby which is available to everyone.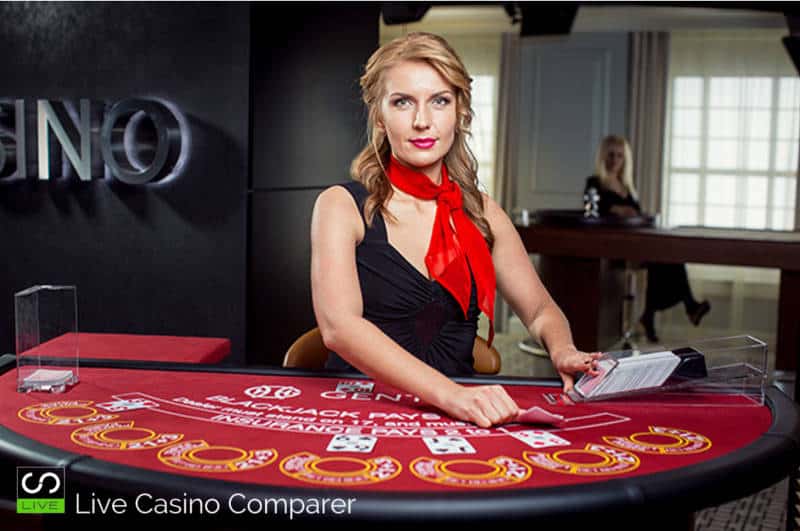 Promotions
Genting has regular promotions, but they don't make as much as they could from their dedicated environments. Keep you eye open on my live casino promotions page for the latest exclusives.
Unique Selling Point
The USP has to be the two dedicated studios and the selection of games available on dedicated tables. If you want a casino backed by a huge land based presence, Genting is the place to be.