Evolution First Person Blackjack
First Person Blackjack is a Random Number Generator (RNG) based casino game.
This is not Live blackjack, there is no live dealer and there are no other players at the table.
It's just you playing against the computer in a virtual 3D animated world.
This is a complete departure for Evolution Gaming who's main focus is live dealer games.
First person Blackjack has been created to elevate RNG Blackjack to a new level.
The game is delivered with the same consistent look and feel of the live dealer games, which should allow for a more familiar transition between the two.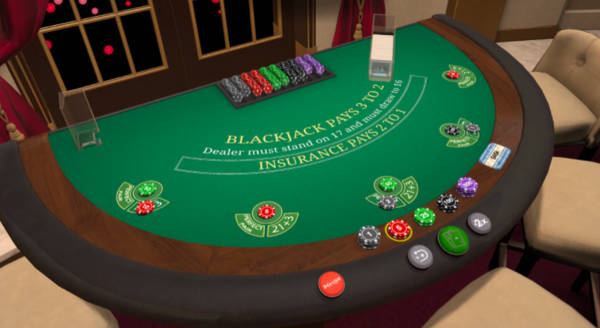 Game Details in Summary
The game is dealt from a six deck shoe with Vegas Rules.
Blackjack side bets of 21+3 and Perfect Pairs.
New shoe at the beginning of every game round.
Up to 5 playable hands.
Double on anything.
Split pairs once.
Split Aces get one card.
Dealer peeks for Blackjack if he has an Ace.
RTP of 99.29%
Special Options
In addition to the game rules above, First Person Blackjack comes with a couple of cool features.
The chip stack reflects the actual balance of the player.
A "Deal Now" button, much like the one used on the live tables instructs the dealer to deal now.
The table is displayed in 3D animation, which adjusts the view of the table to the hand you're playing.
"Go Live" Button that takes you directly to the Live Casino Games Lobby.
Playing Evolution First Person Blackjack
First Person Blackjack is played to normal blackjack rules.
The player has to make the best hand possible without busting over 21.
Two cards are dealt to each player and the dealer.
When the dealer is showing an Ace, all players are offered Insurance. If the dealer has a Blackjack the game round is ended and those taking Insurance receive their pay out.
If there is no Blackjack the game round continues as normal.
Each player in turn has the opportunity to:
Stand – i.e. take no more cards.
Hit – Take one more card.
Spilt – Can create two hands from a pair.
Double – Can double his initial bet and take only one additional card. Split hands cannot be doubled.
A Re-bet Button allows you to repeat the bet of the last hand while the Undo button will cancel the last bet made.
For more information read my How to Play Blackjack introduction and my Blackjack betting Strategy which gives you the best opportunity to play well.
Playing the Side Bets
First Person Blackjack comes with 2 Blackjack Side bets:
21+ 3 is a poker side bet where the players first two cards and the dealers up card need to form a poker a hand. So that's a Flush, Straight, 3 of a Kind, Straight Flush and Suited Trips.
Perfect Pairs is where you're dealt a pair. Payouts depend on the type of pair, a mixed pair, Coloured pair and a perfect pair which is the same colour same suit.
Main Bet and Insurance Bets

The RTP for the main game is 99.29%.
21+3 Side Bet

RTP for the 21+3 Side Bet is 96.30%.
Perfect Pairs Side Bet

RTP for the Perfect pairs Side Bet is 95.90%.
First Person Blackjack on Mobile
First Person Blackjack has been optimised for play on mobile devices.
Tablet users will see virtually the same as a desktop user, while phone users will get Landscape and portrait versions.
Summary
This is an interesting game from Evolution. I can't really criticise what's been produced as it's slick, presented well with a great deal of thought going into the aesthetics of the game.
I wish they had been bolder with the game rules as that is where the game could differentiate from the competition.
Still, if you're new to live casino games and not sure about playing, this is a really good alternative.