UK Live Casinos
Regulation for UK Live Casinos
In 2015 the UK Gaming Market became regulated, covering betting on Sports, Horse Racing, Poker, Bingo, Casino, Lottery & online UK Live Casinos.
The UK Gambling Commission made it a requirement that any operator who transacts with or advertises to British Residents requires a gaming licence.
Furthermore, Operators can only use software and games from businesses that have also been registered with the UK Gambling Commission.
The Casinos in this short list are my 5 best casinos for UK players.
There is an extended list towards the bottom of the page, this gives details on the games and a few more casinos worth trying.
The Impact of Regulation
The net result of these two changes saw loads of Casino Operators leave the UK market. The ones that wished to remain had to apply for a licence and pay the Tax.
The regulations were introduced to provide greater player protection, but there are some that suggest it's just another cash cow for the government.
If you're a UK resident and play online you will have noticed some of the regulations creeping into the casino operations. While this list is not exhaustive (you can read more on the commissions' website), it will give you a flavour of the changes:
Stricter rules for KYC (Know your Customer)
The removal of auto spins features on slot machines.
Making it easier for players to self-exclude from playing.
To set deposit limits.
The ability to set play time reminders.
Is the change positive?
I'd say Yes. Regulation has to be a good thing if there is a central body deciding on a set of rules and then monitoring them.
While not everyone was a fan as some of the well-known brands just disappeared we have seen the regulations in action.
A number of operators have had their licenses suspended and fines dished out for non-compliance.
There is also a better framework in place for dealing with player complaints, with the development of a network of independent arbitrators being formed to provide this service.
Unfortunately, since the introduction, there have been a number of online casinos that have gone out of business.
Whilst the regulations required casinos to ring fence players monies for this very issue, the reality of being able to payout was different and most players lost their money.
UK Live Casinos for British Players
Not all Live Casino suppliers have UK Licenses. British players are therefore restricted to games from the operators below.
Evolution Gaming – 8 Live Games streamed from Studios in Riga and Malta.
MediaLive – 3 Live Games streamed from studios in Gibraltar.
Playtech – 7 Games streamed from studios in Latvia & Philippines.
NetEnt – 2 Games streamed from studios in Malta.
Authentic Gaming – Live Streamed Roulette from land based casinos, inc the USA.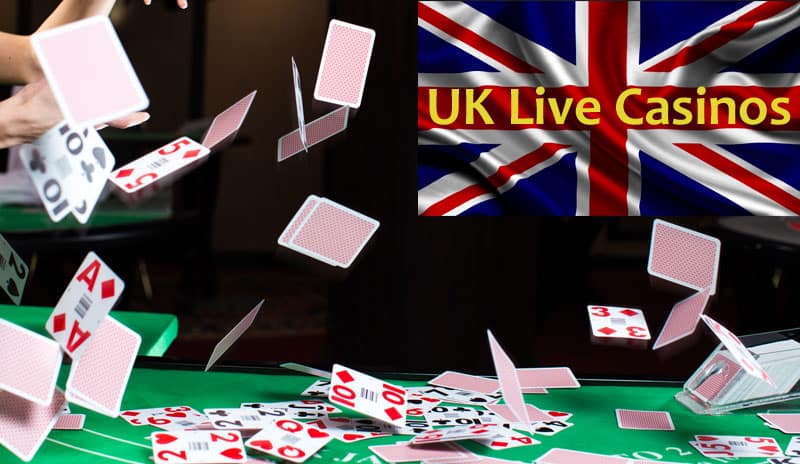 The UK market is something that I know the most about.
I've lived in the UK all my life and as you'll see from my About page I have a real interest in Land Based and live casinos.
There are some casinos that don't hold a UK License still targeting UK players. Most are based offshore and pay no tax to the government.
It's not illegal to play at these sites, in fact, I have some of the more reputable ones listed on this site.
It's up to the Commission to go after these casinos and censure them if they're able.
So in my experience these are the best UK Live Casinos currently providing live casino games to UK residents.
UK Live Casinos List
Casino
Stakes
Dedicated
Tables
Software
Bonus
Countries
Accepted
Play
Blackjack £0.50 – £10k
Roulette £0.10 – £50k
Baccarat £2 – £5k
Casino Hold'em* £0.50 – £2.5k
3 Card Poker £1 – £10k
Caribbean Stud Poker* £1 – £3k
Texas Hold'em Bonus Poker* £0.50 – £k
Ultimate Texas Hold'em £0.50 – £500
Dream Catcher £0.10 – £1k
Evolution
NetEnt
To see the latest Live Casino Promotions.


Click Here.

Goto Casino
Blackjack 0.50 – 500
Roulette 0.10 – 50k
Baccarat 5 – 500
Casino Hold'em 1 – 50
3 Card Poker 1 – 300
Caribbean Stud Poker 1 – 250
Ultimate Texas Hold'em 0.50 – 250
Dreamcatcher 0.10 – 1k
Evolution
To see the latest Live Casino Promotions.


Click Here.

Goto Casino
Blackjack £0.50 – £5k
Baccarat £1 – £35k
Roulette £0.50 – £75k
Casino Hold Em £0.50 – £7.5k.
3 Card Poker £1 – £10k.
Caribbean Stud Poker £1 – £3k.
Ultimate Texas Holdem £0.50 – £500.
Dreamcatcher £0.10 – £2.5k.
Evolution
Extreme Live Gaming
NetEnt
To see the latest Live Casino Promotions.


Click Here.

Goto Casino
Blackjack £1 – £7,500
Baccarat £5 – £5,000
Roulette £0.10 – £10000
Casino Hold'em £1- £50
Sic Bo £1 – £1000
Hi-Lo £1 – £1000
3 Card Brag £5 – £500
Playtech
To see the latest Live Casino Promotions.


Click Here.

Goto Casino
Blackjack £5 – £5k
Baccarat £1 – £10k
Roulette £0.10 – £1k
Casino Hold Em £1- £3k
3 Card Poker £1 – £3k
Caribbean Stud Poker £1 – £3k
Evolution
To see the latest Live Casino Promotions.


Click Here.

Goto Casino
Blackjack 0.50 – 10k
Roulette 0.10 – 500k
Baccarat 1 – 25k
Casino Hold'em 0.50 – 7.5k
3 Card Poker 1 – 10k
Caribbean Stud Poker 1 – 3k
Ultimate Texas Hold'em 1 – 1k
Dreamcatcher 0.10 – 2.5k
Evolution
Playtech
To see the latest Live Casino Promotions.


Click Here.

Goto Casino
Blackjack
Baccarat
Roulette
Casino Hold Em
Sic Bo
Hi Lo
3 Card Brag
See Casino

Goto Casino
Blackjack £5 – £5k
Baccarat £1 – £2k
Roulette £1.00 – £100k
Casino Hold Em £0.50 – £4k
3 Card Poker £1.00 – £10k
Caribbean Stud Poker £1 – £3k.
Ultimate Texas Hold'em £1 – £1k.
Dreamcatcher £0.10 – £5k.
Evolution
NetEnt
To see the latest Live Casino Promotions.


Click Here.

Goto Casino
Blackjack £5 – £2.5k
Baccarat £10 – £15k
Roulette £0.10 – £50k
Casino Holdem £0.50 – £1.5k
3 Card Poker £1 – £10k
Caribbean Stud Poker £1 – £1.5k
Ultimate Texas Hold'em £0.50 – £500.
Evolution
To see the latest Live Casino Promotions.


Click Here.

Goto Casino
Blackjack £5 – £5k
Baccarat £1 – £10k
Roulette £0.10 – £1k
Casino Hold'em £1 – £3k
3 Card Poker £1.00 – £5k
Ultimate Texas Hold'em £0.50 – £500
Caribbean Stud Poker £1 – £1.5k
Dreamcatcher £0.10 – £10k.
Evolution
To see the latest Live Casino Promotions.


Click Here.

Goto Casino
Blackjack $0.50 – $20k
Roulette $0.10 – $10k
Baccarat $1 – $15k
Casino Hold'em $1 – $1.25k
3 Card Poker $1 – $3k
Caribbean Stud Poker $1 – $1k
Ultimate Texas Hold'em $0.50 – $500
Dream Catcher $0.50 – $5k
Evolution
To see the latest Live Casino Promotions.


Click Here.

Goto Casino
Blackjack 0.50 – 5k
Roulette 0.10 – 25k
Baccarat 1 – 10k
Casino Hold'em 0.50 – 5k
3 Card Poker 1 – 5k
Caribbean Stud Poker 1 – 1k
Ultimate Texas Hold'em 0.50 – 500
Dreamcatcher 0.10 – 2.5k
Evolution
Authentic Gaming
NetEnt
Extreme
To see the latest Live Casino Promotions.


Click Here.

Goto Casino
Blackjack 0.50 -10k
Roulette 0.10 – 10k
Baccarat 1 – 15k
Casino Hold'em 0.50 – 3k
3 Card Poker 1 – 5k
Caribbean Stud Poker 1 – 2k
Ultimate Texas Hold'em 0.50 – 1k
Dream Catcher 0.10 – 5k
Evolution
To see the latest Live Casino Promotions.


Click Here.

Goto Casino