Playtech Live Casino Software

This article is about the Playtech Live Casino product. I describe the games they have developed and give a breakdown of the playing options. 
I describe the games that are available, the rules and the options open to casinos taking their games. and a load range of
I've also provided a lot of images so you can get a feel of what to expect when you visit a casino hosting the Playtech Live casino games.
Background
Playtech was founded in 1999 and is now one of the leading casino software developers in the world, employing more than 3000 people across 12 countries.
They provide a whole range of services that include Information Management Systems, over 500 Casino, Poker and Bingo games, a Sportsbook, Poker, Online Bingo, Lottery, Retail, Binary Options, Social Gaming and of course Live Casino Games.
The Playtech Live Casino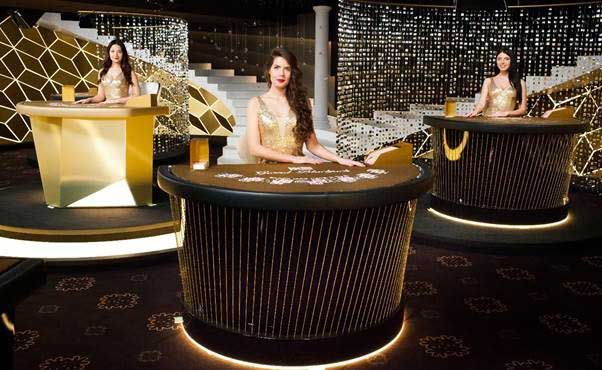 The Live Casino was first launched in 2003. 
Like a lot of the early adopters, Playtech has gone through quite a journey in developing their live casino solution.
They have just completed, in early 2017, a major redevelopment of their live casino platform and the opening of a brand new studio, that brings their solution up to a level where they can really compete with the market leader Evolution Gaming.
Playtech offers a full range of Live Casino games, with the exception of Live 3 card poker, which only Evolution Gaming currently offer. 3 Card Brag is Playtech's alternative.
The good news for Playtech is that they are one of the few software providers who offer Live Sic Bo, which is a very popular game in the Asian Market.
The Playtech live casino provides the following:
Two Live Dealing Studios – A European Studio is based in Latvia and an Asian Studio located in the Philippines. This means they can offer a wider range of gaming experiences to their customers. Casinos like

Bet365

and

Paddy Power

to offer access to both studios which gives their players a greater choice of tables and games.
Blackjack.
Roulette.
Baccarat.
Dragon Tiger.
Casino Hold'em.
Sic Bo.
Hi-Lo.
3 Card Brag.
All games are available on Mobile Devices
Clients of Playtech can choose which games they take, so some of the more niche games like Sic Bo, Hi-Lo, Dragon Tiger and 3 Card Brag are only found at a limited number of casinos.
General Details
The Live Casino games can be accessed from either a software download or through an internet browser. 
There's no difference in the games that you'll play, the only thing you'll notice is a slightly different lobby and quicker game load times on the download version.
I find that the browser version is more than satisfactory and follows the general trend of the industry.
Software downloads are now old technology and Playtech is one of the few brands that still has the capability. I don't know how long it will be available for.
Playtech will provide customers who pay for it, their own dedicated tables and studio areas.
These are normally fully customised with the Casino brand and goes right down to the clothing the dealers wear.
The dedicated environments offer players a more personalised experience and are more popular than the generic tables that everyone else uses.something more than the 
Players are more likely to get a seat at Blackjack in a dedicated area and the casinos are able to offer on table promotions that increase player loyalty.
The dealers are specially trained to deliver on brand casino play and may even be bilingual or speak in Italian, Spanish, Mandarin, Russian, German, French depending on the casinos' requirements.
A new facility, Live Multi-Game exists that allows players to pick up to 3 different games to be displayed on one screen. This is in addition to Dual Roulette which allows you to view two roulette tables side by side.
Playtech Live Casinos
Casino
Games & Stakes
Dedicated Tables
Bonuses
Country Accepted
Play
Blackjack 5 – 500
Roulette 1 – 300
Baccarat 1 – 2.5k
Casino Hold'em 2 – 50
Hi-Lo 2 – 325
Sic Bo 5 – 200
3 Card Brag 2 – 50
Bet365 Mini Baccarat
Bet365 Premium Blackjack
Bet365 Premium Roulette
100% up to £100, minimum £10 Deposit to qualify.

Play now
Blackjack 1 – 7.5k
Roulette 0.10 – 200
Baccarat 5 – 5k
Casino Hold'em 1 – 50
Hi-Lo 0.10 – 1k
Sic Bo 1 – 1k
3 Card Brag 5 – 500
Betfair Blackjack – Eu Style
Betfair VIP Blackjack – EU Style
Betfair Roulette
Bet £10, get £10. 20 x Wagering Requirement

Play now
Blackjack 2.50 – 5k
Roulette 0.10 – 20k
Baccarat 0.50 – 2.5k
Casino Hold'em 1 – 1k
3 Card Brag 5 – 500
PP Blackjack – US Style
PP Blackjack
PP Roulette
PP VIP Roulette
Deposit £10 to get £10

Play now
Blackjack 1 – 5k
Roulette 0.10 – 100
Baccarat 1 – 250
Casino Hold'em 1 – 1k
Hi-Lo 1 – 5k
3 Card Brag 1 – 1k
Sky Blackjack 1
Sky Blackjack 2
Sky Roulette
£20 No Deposit Bonus, 50x wagering with 20% bet contribution

Play now
Blackjack 2.50 – 100
Roulette 0.10 – 15
Baccarat 2 – 100
Casino Hold'em 0.50 – 50
None
Welcome Bonus of 100% match up to £150. High Rollers get £300 for a £1000 deposit.

Play now
---
Live Blackjack
Three versions of Blackjack are offered.
Unlimited, where one player hand is dealt and an unlimited number of players can bet on the outcome.
7 Seat Euro Style Blackjack (the dealer takes one card).
7 Seat Vegas style Blackjack (the dealer takes two cards).
All versions are played from an 8 Deck Shoe, which may be dealt from a manual shoe or a Shuffle Master shoe.
The cards are manually shuffled.
The dealer stands on soft 17.
You can double on any hand.
Pairs and Aces can be Split.
Splits can be Split and you can Double on splits.
Perfect Pair, Bet Behind and 21+3

side bets

.
Play Multi Hand and at some tables multi-seat. 
---
Live Roulette
It's Live European Roulette with single zero as opposed to the American version with double zero.  If you're after that version you can find it at one of the Visionary iGaming casinos.
You've got several different types of tables to choose from.
London Roulette that has a dealer from London. ( The Dealer is based in Latvia but is English). 
Dual Roulette has the ability to play two tables at once.
French Roulette – Has the French table layout but doesn't offer

La Partage

.
French bets can be placed using the racetrack feature
Prestige Roulette – Streamed in HD with multiple camera angles, similar to Evolutions Immersive Roulette.
Speed Roulette for those that like a quicker game.
UK Roulette with a native UK dealer.
Asian & European Dealers depending on which studio you're playing at.
Full Table stats can be viewed in the user interface and special bets can be placed by using the Racetrack icon. There is also a facility to save your favourite bets for reuse.
---
Live Baccarat
There are Single & Multi-Player tables, with Baccarat Side Bets of Player / Banker Pair and Big / Small are available on all versions.
All Games are played with an 8 Deck Shoe.
Mini Baccarat – Normal baccarat with essentially quicker bet times
Progressive Baccarat – This offers an additional side bet for a progressive jackpot.
Baccarat Squeeze – Where the dealer will squeeze the cards for players to see.
VIP Baccarat – Higher stakes tables for high rollers.
All games have a complete set of

Baccarat Roadmaps

.
---
Live Dragon Tiger
A Single Player game where you bet on whether the Dragon or Tiger will win.
The game is played with an 8 Deck Shoe.
One card is dealt to the Dragon and one to the Tiger.
The high card wins.
Side bets of Odd / Even /Big & Small can be played.
It's a very simple game to pick up and play.
Baccarat style roadmaps are constructed as the shoe is played.
---
Live Casino Hold'em
This is a one to many format game, i.e Dealer deals one player's hand that multiple people can play at the same time.
It's a Texas Hold'em style game, where you have to beat the dealer with a better 5 card poker hand than he has.
It's played with 1 deck that is shuffled after each hand.
There's an optional Pairs Plus side bet that pays out if you have a pair or better regardless of what the dealer gets.
---
Live Sic Bo
A game where you bet on the outcome of 3 dice being rolled.
It's only available in the Asian Dealing Studio.
---
Live Hi Lo
Hi Lo is a six-deck game played with the 10's removed.
You have to predict whether the next card dealt is higher, lower or the same as the previous one.
The game is dealt from a Shuffle Master dealing shoe.
The first three cards are burned for each hand, the fourth card is the one played with.
There is a range of betting options, with the more obscure outcomes having the higher payouts.
Full details on how to play and the payouts available are in my

Hi-Lo review

.
---
Live 3 Card Brag
A one to many format game played with one deck of 52 Playing Cards.
Similar to

Live 3 Card Poker

. The dealer and player both get dealt 3 cards.
The best poker hand wins.
The highest hand possible in 3 card brag is a Prial (Three of a Kind) – this pays 40:1.
The deck is shuffled after each game round.
Pair Plus Side can be played by itself or alongside the Ante Bet.
The RTP 98% for the main bet and 97.86% for the Pair Plus bet.
You'll find a more detailed review here.
---
The Software Lobby
Each of the games has its own lobby showing the tables that can be played. You can filter them by stakes ranges, exclude full tables, or let the software take you to a random table.
Once at a table you get the following options:
Change table limits. You can select the limits you want to play.
Change the camera view from Mixed mode to full table mode.
Chat with the dealer.
Switch sounds on/off.
Enable auto confirm bets.
Switch on / off dealer voices.
Hide your bets.
View your game history.
---
Multi Table Option
The Multi Table option allows you to play up to three different games on one playing interface.
Extremely useful if you're playing multi-table Blackjack or roulette, but in my opinion a nightmare if you decide to mix your games.
There's too much going on and I certainly found it difficult to keep up with playing on more than two tables.  
This is certainly a popular option, with other live casino providers making it available as well.
I just wonder how many people actually use it.
---
Mobile Live Casino
The games have been written in HTML5 so they can be played on any Mobile device.
You'll be able to play Blackjack, Roulette, Baccarat, Dragon/Tiger and Hi-Lo.
The pictures are from my Android Mobile phone.
---
Playtech Live Casino Summary
The Playtech Live Casino has been going through a complete overhaul since the start of 2016.
A new playing interface has been developed, which is modern in feel and completely Mobile friendly.
A new studio has been built in Riga, Latvia and the tables and clients are slowly being migrated from the old to the new studio during 2017.
Playtech's first completely new game, Live 3 Card Brag was launched in early 2017.
New versions of Baccarat and Roulette have been rolled out, which have given players more options and a better playing experience.
Blackjack players now have the choice of European & Vegas Rules and there's now a full range of Blackjack side bets playable on the tables.
A new training facility has also been developed at the new studios. This has helped to roll out a number of improvements to the way games are dealt and the interactions the dealers have with players.
If you hadn't noticed the dealers are more chatty and have been given some extra freedoms that previously were frowned upon. 
I'm really happy to recommend Playtech live casinos now. They are a viable alternative to the games from Evolution Gaming.
The only downside for prospective clients is Playtech's well-known dislike for sharing live casino space with other brands. They like to be the only Live Casino supplier at an online casino.