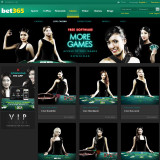 Bet365 Live Casino Review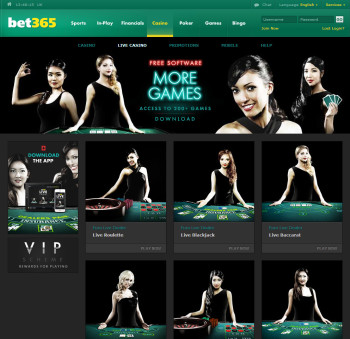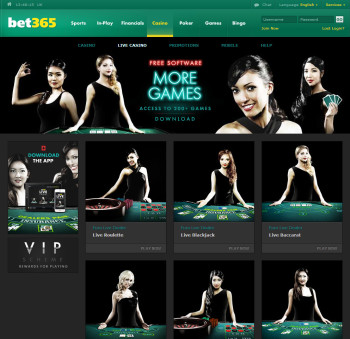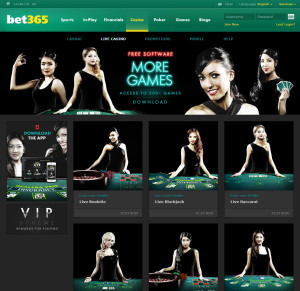 Games
:
3 Card Brag, 7 Seat Blackjack, Baccarat, BlackJack, Casino Hold Em, Exclusive Roulette, French Roulette, German Roulette, Hi Lo, La Partage, London Roulette, Mini Baccarat, Prestige Mini Baccarat with Squeeze, Prestige Roulette, Roulette, Sic Bo, Speed Baccarat, Speed Roulette, Unlimited BlackJack, VIP Baccarat
Software
:
Playtech Asia, Playtech Europe
Network
:
Asian, European
Banking
:
Cheque, Click2Pay, Credit Card, Fastbank Transfer, Instadebit, Laser Debit, Maestro, MasterCard, Neteller, PayPal, Paysafecard, Skrill, Skrill 1-Tap, Ukash, Visa Debit, Visa Electron, Wire Transfer
Format
:
Download, Mobile, No Download, PC
:
Play now
What I liked
Market leading online casino
Great support
Great software
What I didn't like
Nothing really!
Review Summary
I'm a fan of Bet365 and their live casino. They have a good range of games available with some dedicated tables for Blackjack, Roulette & Baccarat. The games are streamed from European and Asian studios so there are some really great experiences to choose from.
Posted June 17, 2013 by
Neil Walker

Unfortunately players from United States are NOT accepted.
Bet365 are an industry leading online casino that provides an extensive range of live casino games that can be played on a PC or Mobile devices.
Unsurprisingly the Bet365 live casino is a pretty good offering that is underpinned by the Playtech software brand.
They have chosen to add dedicated tables to the standard generic Playtech offering, with tables for Blackjack, Baccarat and Roulette.  They are one of the few live casinos that offer live Sic Bo and Live Hi-Lo. Betfair is an obvious alternative.
You can play directly through your browser on your PC. No download is needed.
The Live Casino offers:
Blackjack – Unlimited and 7 Seat Blackjack with Perfect Pairs, Bet Behind & 21+3 Side Bets. Pre-decision is available and if you're playing on your own you can tell the dealer to deal the cards without waiting for the timer to complete.
Roulette – Standard European Roulette with La Partage at the French tables. There's lots of tables and options here. Speed Roulette has been introduced if you want to play a quicker game and London Roulette is available in the evening if you like the British accent!. If you fancy winning a Progressive Jackpot then play Age Of Gods Live Roulette.
Baccarat – This comes in three formats. Mini with or without Squeeze, Normal and with a Progressive Jackpot. Side bets are available on all games.
Casino Hold'em – This is a one to many game, rather like unlimited blackjack. It's a poker based game where you have to make a better 5 card poker hand than the dealer to win.
Sic Bo – There's only one table and this is based in the Asian Studio which can be found in the Sapphire Room.
Hi-Lo – This is a fairly basic game where you bet on whether the next card is going to be higher or lower than the previous one. There are other betting options if you like a great return on your bet.
3 Card Brag – This is a one handed game against the dealer. You're both dealt three cards and the best hand wins. Pair Plus side bet adds options for higher payouts. It's Playtech's version of 3 card poker.
On mobile, you can play Blackjack, Roulette and Baccarat.
You need an account to be able to access the games and you will need to make a deposit to view the tables and games.
The minimum deposit is £5 or £10 to qualify for a bonus. Terms and conditions do apply, so do read them when you sign up.
The live casino has three dealing studios which cater for different player markets.
A European studio is located in Riga, Latvia. The dealers all speak English and the general play tables are green and blue. The Ruby Room is also located here with tables in a beige.
An Asian studio based out of Manila in the Philippines referred to as the Sapphire Room. The tables are purple in colour and the dealers all speak English.
The third is the newest addition, The Emperor Room, which is a Mandarin speaking studio based out of the Philippines. The tables are red in colour.
Game Summary
| Games | Stakes | Dedicated Table | Side Bets | No.Decks | Multi Hand | Multi Player |
| --- | --- | --- | --- | --- | --- | --- |
| 3 Card Brag | 2 – 50 | | Pair Plus | 1 | | |
| Mini Baccarat | 1 – 2.5k | | Pairs / Big – Small / Egalite | 8 | | |
| 7 Seat Baccarat | 5 – 100 | | Pairs / Big – Small | 8 | | |
| Speed Baccarat | 5 – 100 | | Pairs / Big – Small / Egalite | 8 | | |
| Progressive Baccarat | 5 – 100 | | Pairs / Big – Small | 8 | | |
| No Comimission Baccarat | 5 – 100 | | Pairs / Big – Small | 8 | | |
| Prestige Mini Baccarat with Squeeze | 5 – 100 | | Pairs / Big – Small / Egalite | 8 | | |
| Bet365 Mini Baccarat | 5 – 100 | | Pairs / Big – Small / Egalite | 8 | | |
| Bet365 Premium Blackjack | 10 – 500 | | PP / BB / 21+3 | 8 | | |
| Unlimited Blackjack | 5 – 100 | | PP / 21+3 | 8 | | |
| Blackjack | 5 – 300 | | PP / BB / 21+3 | 8 | | |
| Blackjack – EU Style | 5 – 100 | | PP / BB / 21+3 | 8 | | |
| Casino Hold'em | 2 – 50 | | Aces or Better | 1 | | |
| Age of the Gods Roulette | 2 – 150 | | n/a | n/a | n/a | |
| Bet365 Premium Roulette | 1 – 150 | | n/a | n/a | n/a | |
| Roulette | 1 – 150 | | n/a | n/a | n/a | |
| Speed Roulette | 1 – 150 | | n/a | n/a | n/a | |
| French Roulette | 1 – 150 | | n/a | n/a | n/a | |
| London Roulette | 1 – 150 | | n/a | n/a | n/a | |
| German Roulette | 1 – 150 | | n/a | n/a | n/a | |
| Prestigue Roulette | 1 – 150 | | n/a | n/a | n/a | |
| Exclusive Roulette | 5 – 300 | | n/a | n/a | n/a | |
| Hi-Lo | 2 – 325 | | n/a | 8 | | |
| SicBo | 5 – 200 | | n/a | n/a | n/a | |
Playability
As with most of the live casinos I've reviewed, you have two methods of viewing the tables.
There is the live video feed of the dealer, so you can interact with them, see them deal and shuffle the cards.
Then there's a mixed mode where computer generated images are superimposed on the screen, so you can see the cards and hands more clearly.
I think it's down to personal preference which one you choose. I prefer full-screen mode.
There is a range of options available to configure the session, from the camera angles, to chat, to displaying your bets etc.
It's all quite straightforward and probably one of those things that you need to have a play with to determine the correct settings.  The default settings are a good starting place.
The dealers are all very friendly. They are polite and answer questions about the games, but very rarely give out personal information.
Some do have very heavy European accents which I struggle to understand sometimes, so it's a bit of trial and error to find a good dealer that meets my high expectations.
Software
The starting point is the playing lobby where you can choose which games to display.  You have the choice to show games from all the dealing rooms or just particular ones depending on your playing preferences.  The games are categorised by game type and it's pretty logical from there on.
Each of the tables has different stake limits that you can select before sitting down at the table.
A recent addition apart from the Emperor Room is the ability to have multiple games open in one window, which is a great way to play multi tables and not miss any of the action.
The mobile software is just as impressive, so if you've got a good WiFi or 4G connection you ought to try it out.
I'd recommend signing up through your PC first as the process can be a bit fiddly on a smaller device.
The software interface also comes with the ability to play mini casino games, so you can play your favourite slots whilst playing Roulette. 
Disconnections are handled in a sensible way.  If you've made a bet and are disconnected during play, then when you rejoin you will be able to play out the hand as if you were still playing live but this time you're playing against a recording of the hand.
I think this is better than letting a computer play your hand for you, as other casinos do.
Bet365 live casino images
Payment Options
As you might expect, Bet365 offer a whole range of deposit and withdrawal methods.
I tend to deposit and withdraw using my debit card, which I find quick and straightforward.
Deposits are instantaneous and withdrawals back to the card can be just as quick.
I've listed in the overview section above all of the methods accepted.
Security
Bet365 have everything in place to ensure that it is safe and secure to play with them. What does that really mean? well, I look for certain things when choosing a casino to play at.
They must be registered and licensed. They must be externally audited (both the company and also the games that I play), I want to know they are fair.
I check that when giving my banking details they are passed over a secure HTTPS link and that the payment methods are industry leading.
I also seek out the opinions of other players and review bodies, as you can never be too careful with your money.
I'm more than happy to play and deposit at Bet365 and you'll find that I only list casinos on Live Casino Comparer that I have personally played at and verified.
Bonus and Loyalty
VIP Players get an enhanced loyalty scheme.  
If you've achieved VIP Status and you're a Blackjack player you'll get their VIP table offered to you if it's available.
You can then play one on one with the dealer. I like this as I'm a fast player and like to bang through the hands.
If you're interested in increasing your bet sizes above those advertised then the customer support team are more than happy to help.
Support
As you would expect with a leading online casino brand, Bet365 offer a range of support options.
You can use messaging, email, telephone call back, freephone telephone, fax, post and chat.
Chat is by far the quickest and normally they are able to resolve any queries you may have while you are in the session.
Summary
I'm a fan of Bet365 and their live casino, they have a good range of games available, and you can play either through your browser or the down-loadable software on your PC or mobile device.
I don't think you will be disappointed and would encourage you to try them out.
They are one of only a few providers that offer live Sic Bo and Mandarin speaking dealers.
If it's not for you then you could try Bet Victor Live Casino who have 2 live casinos to choose from or check out my other Live Casino Reviews.