Betgames War of Bets
War of Bets is a straightforward of who has the highest card wins. If there is a tie, both hands lose. 
But the guys at Betgames have made it more interesting. The game is all about the betting. 
Where you can play Betgames War of Bets
Casino
Stakes
Dedicated
Tables
VIP
Tables
Bonus
Countries
Accepted
Play
Bet on Poker 1 – 100
Bet on Baccarat 1 – 100
War of Bets 1 – 100
Lucky5 1 – 100
Lucky7 1 – 100
Wheel of Fortune 1 – 100
Dice 1 – 100
100% Welcome bonus up to £100.

Play now
Betgames War of Bets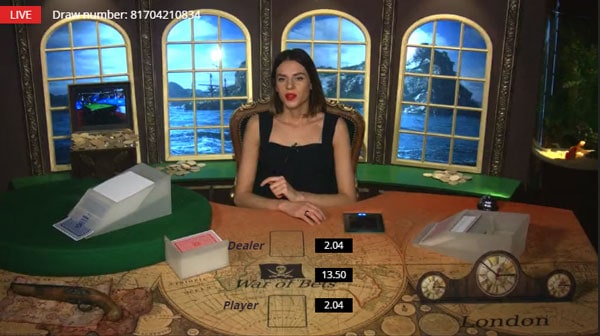 Rules of War of Bets
The rules of the game are very simple. 
One card is dealt to the Player position. 
The dealer is then dealt his card.
Whoever has the higher card, wins. 
Aces are counted as High, a two or deuce is the lowest you can get.
The game is played with 6 decks of cards that have been manually shuffled before they are placed in the dealing show.
The shoe is changed when there are approximately 40 cards left.
 Ties or "War" is declared if both hands are the same.
The Betting
What brings this game alive is the betting.
There are two betting rounds, one before any cards are dealt and one after the player has received a card.
You can bet on both rounds or just one and place as many bets as you like, the choice is yours.
You can select the following betting options.
Main Bet

The odds displayed here are before any cards have been dealt. War is a tie.
Colour

Bet on whether the dealer or players card will be Red or Black.
Suit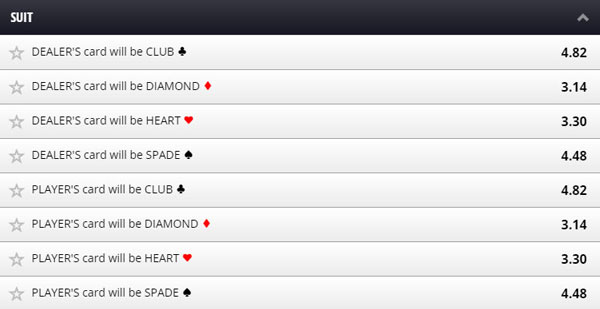 Four options for each playing position. Tthe odds are not all the same, because of the cards that have already been used during previous game rounds.
Value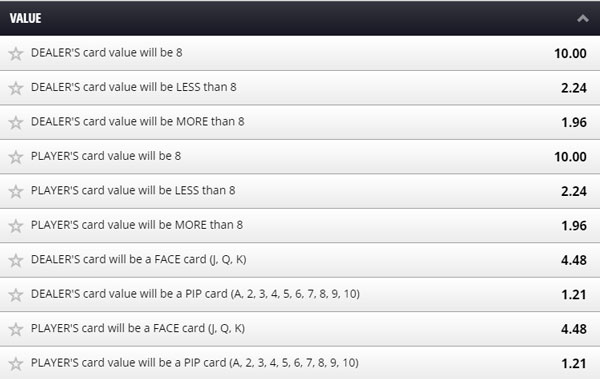 These bets can seem a little more complicated. There is a few more options and flexibility, all fairly straightforward.
Bet Slip
The bet slip is where you place your bet. You select any additional options from the headline bet you've chosen from above and the enter the amount you want to wager. Press "Place Bet". It's as simple as that
Press "Place Bet". It's as simple as that.
The Results
The results are displayed on the playing interface. Previous results can be viewed on the Results Pages, as displayed below.
You can also select to watch a recording of the game round.