Betgames Live Casino Software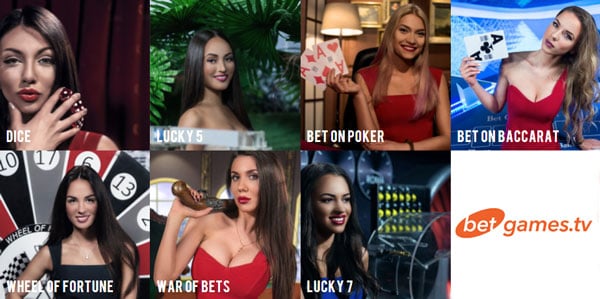 BetGames offer something different from the other live casino solutions out there. 
They've been around since 2012 and their games have mainly been enjoyed by players in the CIS countries, Turkey, South Africa and Asian & Latin regions.
I've known of BetGames for a while but haven't bothered with a review as it was unlikely that UK based players would ever be able to play the games. 
However that's changed now they have a UK Gaming License, so I thought it time to take a closer look at what they have to offer.
Summary
They haven't gone for the traditional casino games or studio setup that you see everywhere else.
They've got a mixture of Lottery based games and table games, which are all different from the casino based games you'll find at most of the other solution providers.
Apart from "War of Bets", most of the games they run are sort of available at other suppliers, like BetConstruct and Ezugi. 
If I was to highlight the differences they'd be:
TV style broadcasts and streaming from their studios. 
The use of glamorous models to present the games.
Lottery based games with loads of different betting options possible.
Wheel of fortune.
The only supplier to have a Casino Wars type game.
All of the card based games have multiple better rounds, and the odds are adjusted after cards are dealt.
The Best Betgames Live Casinos
Casino
Games & Stakes
Dedicated Tables
Bonuses
Country Accepted
Play
Bet on Poker 1 – 100
Bet on Baccarat 1 – 100
Dice 1 – 100
Wheel of Fortune 1 – 100
Lucky 5 1 – 100
Lucky 7 1 – 100
War of Bets 1 – 100
None
100% up to £100. Wagering of 30x deposit and bonus.

Play now
Playing options and Interface
All of the games run 24/7. The non-table based games are run every 5 minutes, although each game is staggered so you get a chance to move from one game to the next.
Another unique feature I like is how the betting panels have been laid out. They haven't been crammed into the streaming interface. 
You get the full screen to view all the betting options. The bet selection is very easy, and it looks like they have taken their lead from the sportsbooks where you get a betting slip to see the bets you've placed.
As a traditional table games player, I was initially put off by the different games. 
Having played them all I can really see the appeal. The opportunity to place lots of different bets can be very exciting and the odds payouts on some of them can be up to 2000/1.
Streaming
I was very impressed with the streaming quality. You can see and hear the presenters and games very well.
I didn't like the fact that the lottery game broadcasts cut off rather abruptly after the result is shown. It's a bit too quick for my liking as I like to take in the result while the stream is still active.
All results are posted on the webpage, but it's nice to be able to compare the two so you can personally verify the result with what's on the stream.
Devices
All the games can be played on all devices. 
Demo games
You can try out all of the games on their Demo site. You can also try all of the different device options without needing to use a different device which is pretty cool.
Licensing
BetGames originally held a gaming license from Curacao.
During 2016 they got a UK Gambling Commission license. I'm really pleased, being a UK resident, I'll hopefully be able to see the games start appearing at UK based Live Casinos. 
The Games
They currently have 7 games but there are another two that are in development, "Lucky 6" and "Dice Duel".
I'll post details of these once I've had the chance to play and review them.
---
Bet on Poker
A live game with rules and gameplay similar to the most popular form of poker – Texas Hold'em.
Played with one oversized deck of 52 cards.
Cards are manually shuffled by the dealer at the table.
6 player positions can be bet on.
The best 5 card poker hand wins.
The game is played against other hands NOT the dealer.
Odds for each playing position are updated after each dealing round.
Bets for each betting round are locked in at the odds taken. bets placed on following rounds have no bearing on previous round bets.
You bet on which hand will win in the final showdown.
You can also bet on what the winning hand combination will be. 
---
Bet on Baccarat
Bet on Baccarat is a live game similar to Baccarat or "Punto Banco". The difference is that there is a betting round after each card is dealt.
Played with 6 decks of oversized cards.
The cards are manually shuffled at the table.
You can bet on the main hand of Banker, Player or Tie.
You can also bet on side bets of Pairs (all combinations) and Big/Small.
Bet on the colours of the cards i.e. More Red or Black, whether the next card is Red or Black or if an Equal Number of colours will be drawn.
Bet on the Suit of the cards, whether they will be all the same suit, what the next card will be etc.
Finally, you can bet on Total of the hand, or whether each hand will be more or less that 9.5 or the total of a hand being an odd or even number.
---
Dice
This is similar to the Asian dice game, Sic Bo. 5 dice are rolled and you can bet on a whole range of combinations.
Played with 5 dice that are rolled once by the presenter.
The Game is run every 5 minutes.
Bets can be placed on Combinations, Numbers, the Total Sum and Odds/Evens.
Odds range from 1.01 to 500/1.
---
Lucky 5
This is a lottery based game where 5 numbered balls are drawn from 36. The difference is the number of betting combinations. There are over 70.
5 balls are drawn from 36 (9 are White, 9 Green, 9 Red and 9 Blue).
There is a new game every 5 minutes.
Bets can be placed on combinations of Numbers, White Balls, Green Balls, Red Balls, Blue Balls and combinations of those.
Odds range from 1.03 to 1000/1.
---
Lucky 7
This is a lottery based game where 7 numbered balls are drawn from 42. The difference is the number of betting combinations. There are over 90.
7 balls are drawn from 42 (21 are Black and 21 Yellow).
There is a new game every 5 minutes.
Bets can be placed on combinations of Numbers, Black/Yellow Balls, Total Sum, Total Count, Odd/Even and Black/Yellow.
Odds range from 1.01 to 2000/1.
---
Wheel of Fortune
This is a very straightforward game. One large wheel that is spun to chose a winning number.
The wheel is split into 19 sectors.
There is a new spin every 5 minutes.
There are over 30 betting outcomes to chose from.
You can bet on Numbers, Colours and Even/Odd combinations.
Odds range from 2 to 18/1.
---
War of Bets
This is another straightforward game. This is a card game involving two sides – Player and Dealer. The highest card wins.
The game is played with 6 decks of 52 cards.
You can bet on the Dealer/Player outcome.
You can bet on the colour of the cards, the suit and the value of the cards.
Bet before and after the first card has been dealt.
Odds are adjusted after the first card has been dealt.
---
Betgames Live Casino Software Summary
Well, I'm majorly impressed with the games, the quality of the streaming and the fact they offer something different really appeals to me.
I really hope that we get to see casinos in Europe take on their games.
The gambler in me really likes that you get to place many bets as the game on the table develops and I think others will like that too.
The lottery-based games should really appeal to the gamblers. It's not a straight lottery, the betting options are countless so you always feel you have a chance of winning. 
If you're not sure have a look at the demo system.