Betconstruct Live Blackjack
First off, I've got to say WOW. I didn't think it was possible.
Betconstruct Live Blackjack has the best rule set of any online live dealer Blackjack I've played.
Ezugi and Visionary iGaming has come close, but now it's possible to play live blackjack with a set of rules that suits everything I love about blackjack.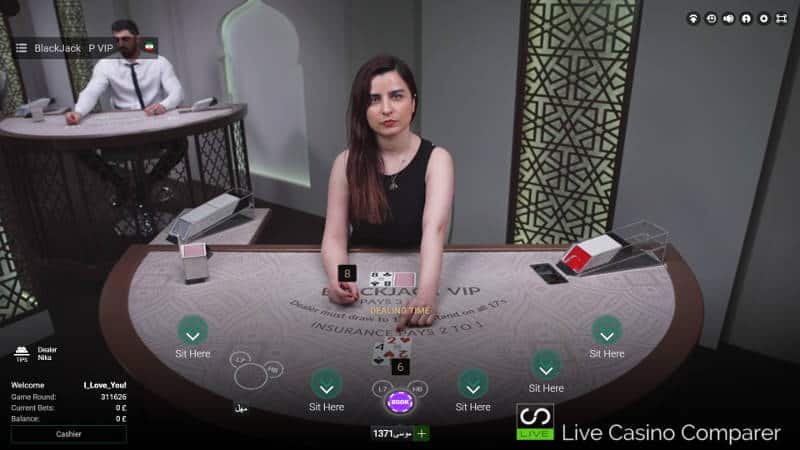 What's so hot about Betconstruct Live Blackjack?
Let's look at the rules first.
The game is played with 8 decks – that's standard everywhere.
It's played to Vegas Rules – Dealer has two cards.
Pairs can be Split – Aces only get one additional card.
You can double on any hand value AND Splits.
You can Surrender your hand for half your stake back.
There is a range of different

side-bets

, including Perfect Pairs, Honey Bonus and 7's.
The dealer stands on Hard and Soft 17's.
Betconstruct Blackjack Video Review
I'm not going to lie, the Blackjack lobby displaying all of the tables is probably one of the worse I've seen.
It's very dark and hardly inspiring. It's a shame as the information displayed for each of the tables is quite good.
I like that you can see the previous dealers hands, the language of the table and the stake information.
What would be really useful is information on the side bets that each of the tables has. As they are different, it would nice to know which table that has the side bets you want.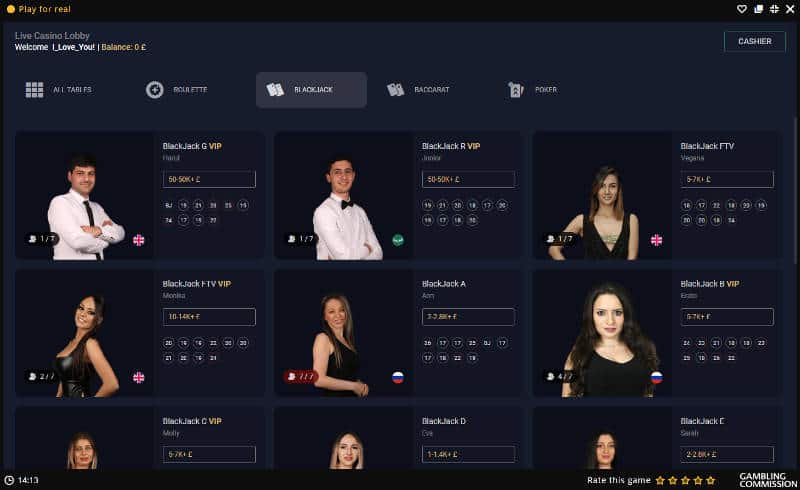 Betconstruct Live Blackjack Tables
Betcontrust provides a real mix of 7 seat live dealer blackjack tables. These are all generic – i.e available to all licensees (Casinos).
Low limit Tables
VIP Tables
Native Language Tables
Branded Tables by Fashion TV.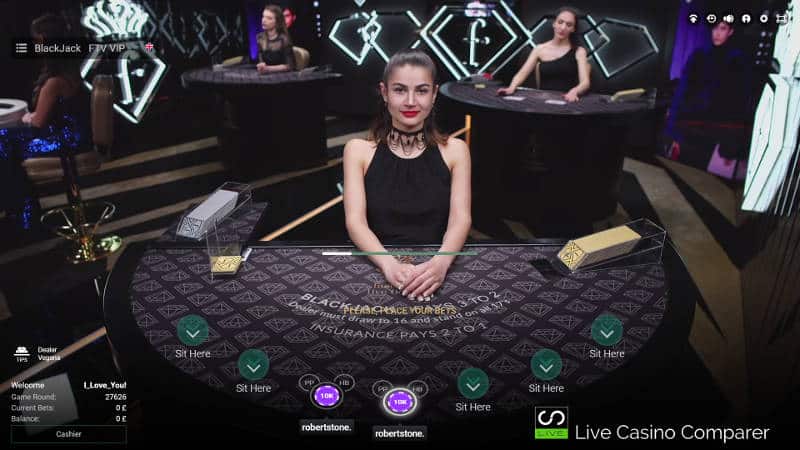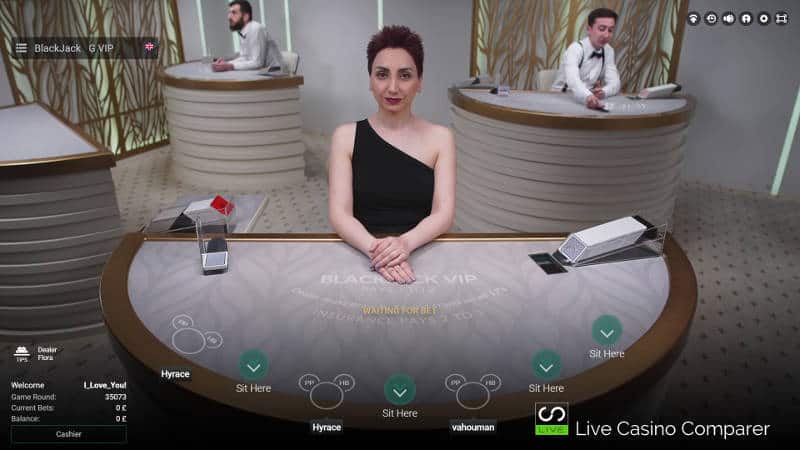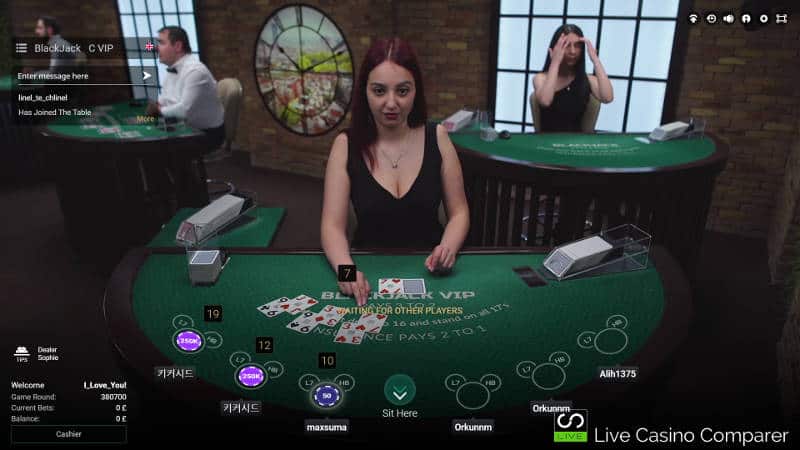 Betconstruct Live Blackjack Side Bets
There are 3 Side Bets available at the tables, however only two can be played at one time. For that reason a number of tables offer different combinations of the side bets.
If you like playing a particular one you're going to have to hunt it out.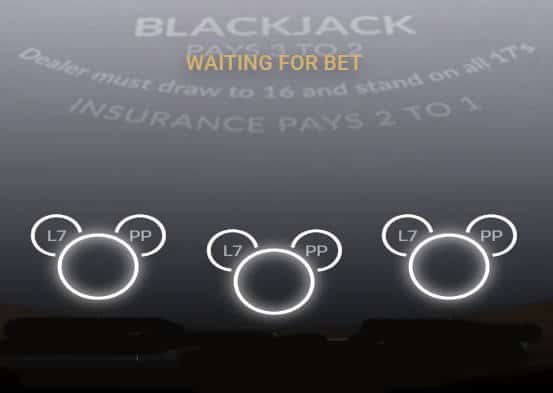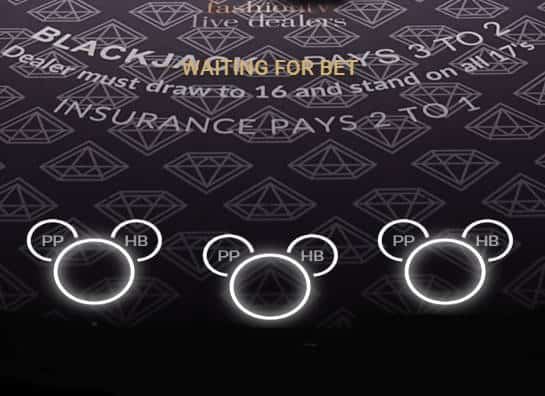 Honey Bonus
The Honey Bonus covers two different outcomes.
The first takes the dealers up card and the players first two cards to see if they form a 3 card poker hand.
A flush pays 5:1
Straight pays 10:1.
3 of a Kind pays 20:1
The second is if the players hand forms a Suited Blackjack. if this occurs the payout is 3:1.
Lucky 7
The more 7's in the players hand the better the payouts. Only the first 3 cards the player gets count towards the side bet.
For 1 seven the payout is 3:1.
2 unsuited 7's payout is 25:1.
2 Suited 7's payout is 50:1.
3 unsuited 7's payout is 100:1.
3 Suited 7's the payout is 500:1.
Perfect Pair Bonus
This operates on the players first two cards. If they form a pair then the following payouts are made:
Any pair pays 5:1.
Same colour pair 12:1.
Suited pair pays 25:1.
If anything, the playing interface is a little more sophisticated that say the Evolution Gaming or Playtech ones.
A lot of little features have been added in, that allow you to customise your playing experience.
Sound Effects can be switched on/off.
You can have Background Music.
Chat can be enabled or disabled and you can chose whether to see other players chat.
There's a pre-recorded voice. Don't even turn this on!
Select to show side bets on the table.
The screen size can be adjusted as can the Video quality from VIP to high.
Blackjack Surrender is a rule option that not many casinos offer on Live Blackjack. It's because it reduces the edge to the casino ever so slightly.
Surrender is where you're allowed to "surrender" your hand after your first two cards are dealt.
As long as the dealer isn't showing an Ace, you'll get half your stake back when you surrender.
It's a good tactic to use if your bankroll is low and you have one of those weak hands against a strong dealers up card.
My Basic Blackjack Strategy guide gives more details on the best time to use it.
Betconstruct Live Blackjack has loads going for it.
I've already stated that it has the best playing rules of any Live Casino provider.
There's not as many tables as you'd find elsewhere, but what they do have is a good selection.
VIP's get a good selection of tables, as do low rollers. You may have to play on a table where the dealer doesn't speak your mother tongue, but that's no bother really.
The playing interface is comprehensive, but there are some issues for me with how dark the area is whether the cards are placed.
If you love side bets you should really try Lucky 7's or the Honey Bonus.