Betconstruct Live Roulette
Betconstruct Live Roulette has something unique other Live Roulette games don't have.
It's the ability to Build your Bets at the table, without having to place real money bets while you do it.
It's something so simple it's mystified me why the other live casino providers haven't provided it before.
Well I don't have to worry, I'm delighted Betconstruct has spotted this obvious omission and developed the functionality for the player interface.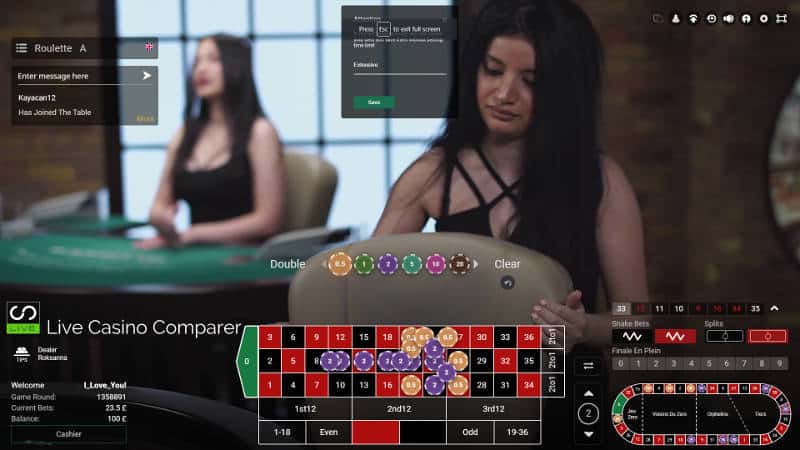 Betconstruct Live Roulette Summary
In summary this is what you can expect from Betconstruct live dealer roulette:
Firstly, it's European Roulette played with a single zero on the wheel.
In the main

TCS John Huxle

y Wheels are used.
There's 2 Video views (Face on and over the top of the wheel).
Bet building mode enables you to set up and save your favourite bets.
There's a great selection of pre-configured special bets (Finale en Plain, Red and Black Splits, Red and Black Snake bets).
Statistics of the last 500 spins and ability to bet directly on the statistics results
Betting on the normal grid and Racetrack views.
Available on desktop, tablet and mobile.
Betconstruct Roulette Video Review
If you look past the very dark clours of the lobby you'll find a range of Roulette tables to chose from.
All tables come with images of the dealers that are updated when the dealer logs into the table.
Previous number results are displayed making it easier to choose a table where your numbers maybe hitting.
Varying Stake options are available at each table. Some tables start with a high minimum stake, which tend to encourage VIP players.
I don't understand why there's a need to separate players like this on online live Roulette. It makes no sense!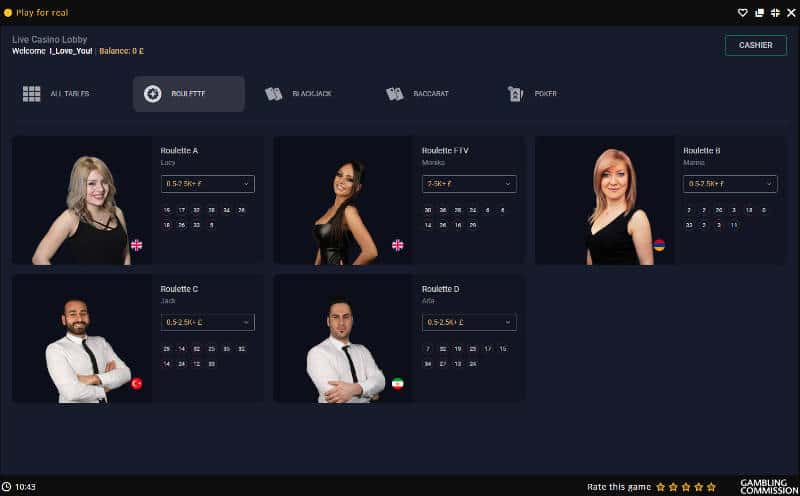 Betconstruct Live Roulette Tables
A fairly normal mix of tables, from different studio areas.
My personal favourite is the multi camera table. This looks very similar to the Evolution Live Roulette solution. I guess it's because it looks familiar.
The Fashion TV table is more about the dealer than camera angles of the table, however the closeup of the wheel is very good. I especially like the white wheel which is a nice variation.
There's less Native Language tables than you get on Blackjack, but that's because BJ needs lots of seats. Roulette is unlimited players per table so they can afford to have less:-).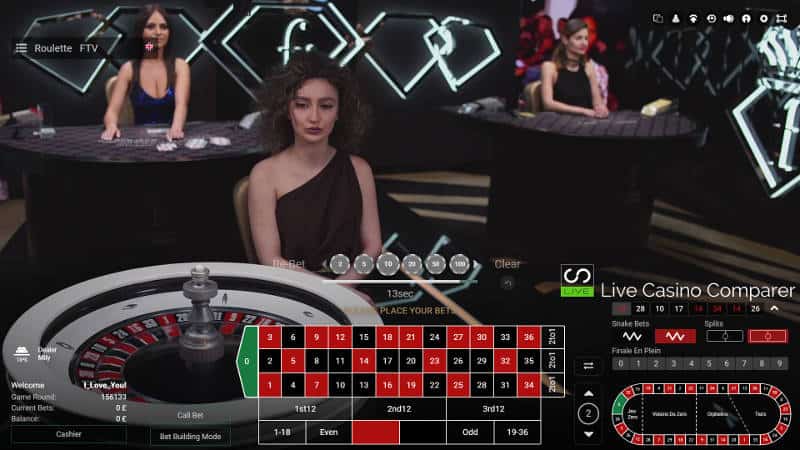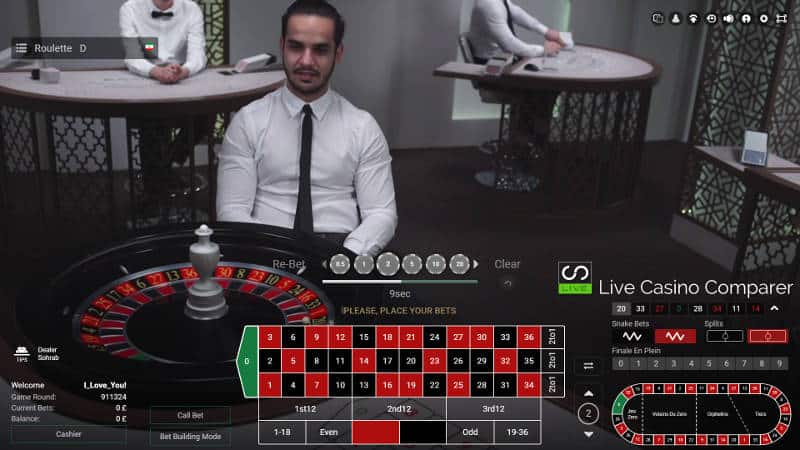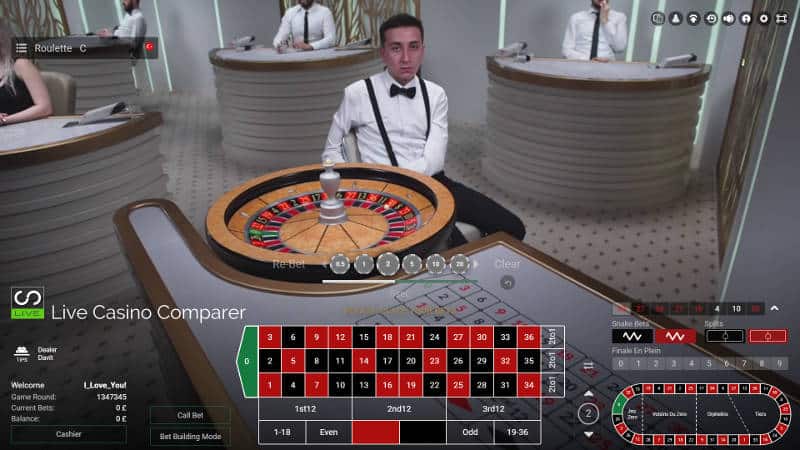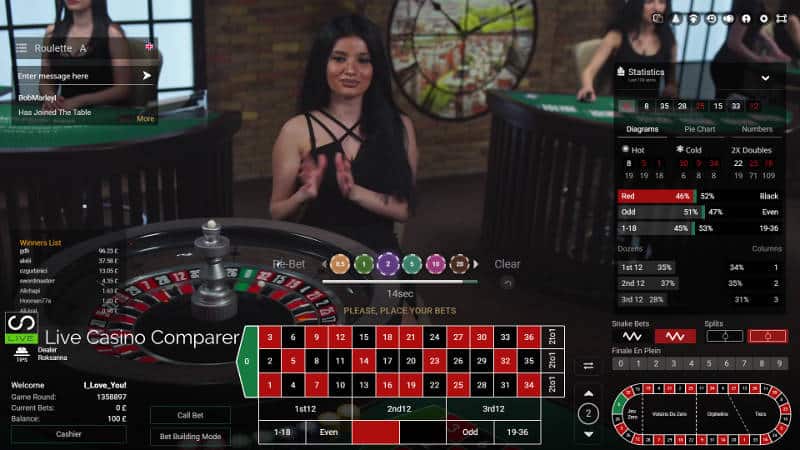 The display of results in the statistics is generated from the last 500 Spins.
The stats are presented in three ways; Pie Charts, Numbers and Diagrams.
They cover the following common areas:
Hot, Cold and Doubles.
Red/Black, Odd/Even, High/Low.
Dozens – 1st/2nd/3rd number distribution.
Bets can be placed wherever a number is displayed in the stats.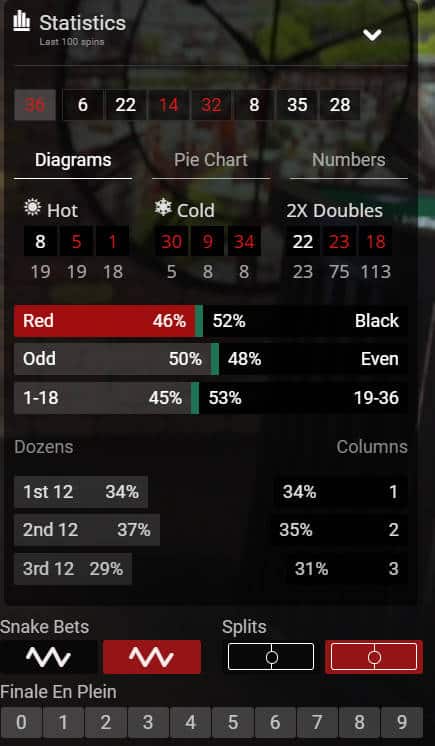 The playing Interface is one of the better ones I've come across and is common across all of the Betconstruct live casino games.
Sound Effects can be switched on/off.
You can have Background Music.
Chat can be enabled or disabled and you can chose whether to see other players chat.
There's a pre-recorded voice. Don't even turn this on!
Statistics from the last 500 spins.
Ability to place pre-configured bets.
Ability to build your bets offline.
Multi Camera Angles with closeup views of the wheel
Inter changeable betting grid, with the racetrack.
Up to 9 Neighbour Bets.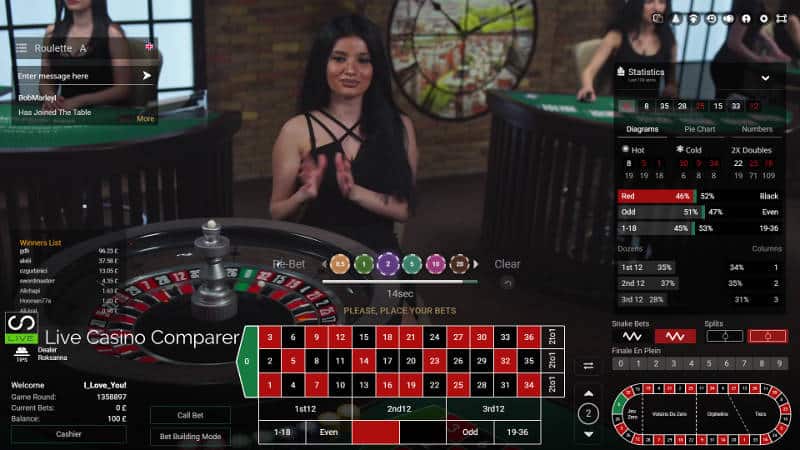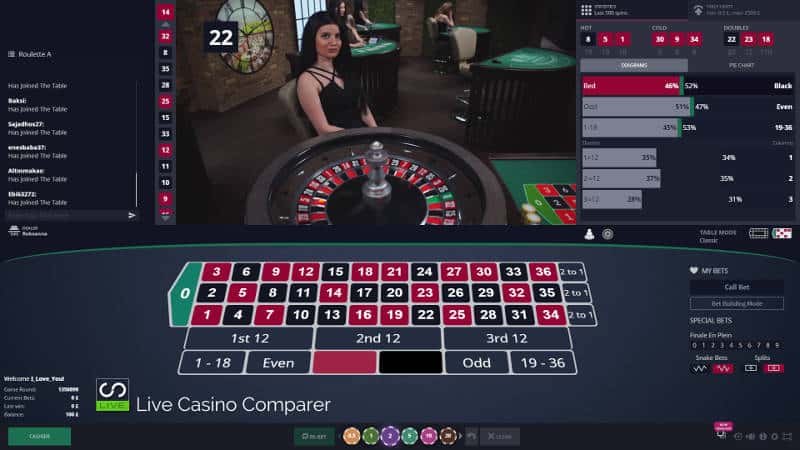 I have to say a few words about the Bet Builder.
It's a fantastic addition. Being able to build your favourite bets before placing a real money bet is such a good thing.
All you do is enter the mode and start placing you chips on the betting grid or racetrack. Once complete there's a box at the top of the screen where you enter the name you want the bet saved as.
When you want to use it, just select the Call Bet box and you'll find it listed there. Click on it and the bets are placed. Simple.
As Live Roulette games go the Betconstruct version compares well.
What makes this game different is the Bet Building capability and some of the playing interface settings.
It's not much, but can make all the difference to your playing enjoyment.
The dealing experience is not consistent across the tables. Some of the dealers are really chatty, others appear like they can't be bothered. I've had good and poor experiences.
The best and worst were on the Fashion TV branded tables.
The games are available to most countries, including the UK.
I would say the experience is as good as you'll get on an Evolution or Playtech table.
Try out the Bet Builder though. It's pretty cool.