Ezugi Andar Bahar
In my Video Review above you'll see me demonstrate how to play Ezugi Andar Bahar, with some comments about the presentation of the game thrown in for good measure :-).
Ezugi Andar Bahar is a popular Indian card game that's been developed into a new Live Dealer table game.
While it's origins lay in Bangalore, India, Andar Bahar appeals to all players that like card games.
It's simple 50/50 type game, that's easy to learn and play that has some innovative side bets which add an exciting edge to game play.
The object of the game is to predict which playing position will be the first to match a card with a "Joker" card. As soon as a match is made the game is over and a new hand begins.
You can place a side bet on how many cards you think will be dealt before a match is made. These bets have enhanced payouts and when played, can add some anticipation and excitement to the game round.
How to Play Ezugi Andar Bahar
Andar Bahar or Katti as it's sometimes known, is played with one deck of 52 playing cards, which is shuffled and changed after each game round.
The dealer takes one card from the deck, which becomes the "Joker" card and is laid face up on the table.
There are two playing positions, Andar and Bahar. Before any cards are dealt the player chooses which one of the positions they feel will match with the Joker card and places a bet on it.
Position Andar pays 1.9:1 while Bahar pays 2:1. The Ander bet is where the casino makes it's edge.
There is an optional side bet that can be made and I'll cover that in more detail below.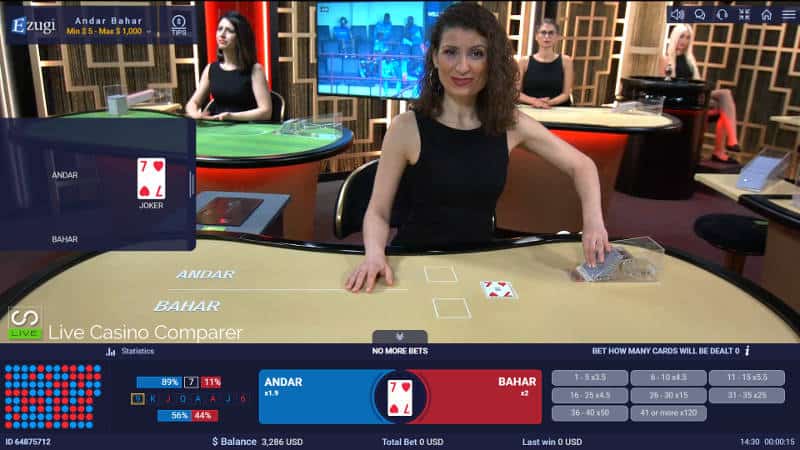 Once betting time is over one card is dealt firstly to the Andar position and then alternately to the Bahar position. This keps going until a matching card is dealt. The position that contains that card wins and the game round is over.
Side bets are calculated and paid out at the same time.

Ezugi Andar Bahar Side Bet Options
To spice the game up there is a range of side bets.
The side bet can be played with or without a main hand bet.
The objective is to pick the number of cards that that will be dealt before a match with the "Joker" card is made.
The payouts are more generous than the main game round, with the highest being 120:1, for 41 or more cards dealt.

Predicting how many cards will be dealt before a match is made is not that straightforward. It could be the very first card or the thirty first!
However here's some points to consider.
There are three possible match cards in the remaining 51 card deck.
As each new card is dealt the probability of hitting a duplicate card goes up. i.e the more cards dealt the more likely the next card will be a match.
So do you bet on the early, mid or long ranges?.
Personally I bet on the mid ranges, which give a better rate on return.
Bets on 11-15 return 5.5:1,  while 16-25 returns 4.5 and 26-30 a nice 15:1.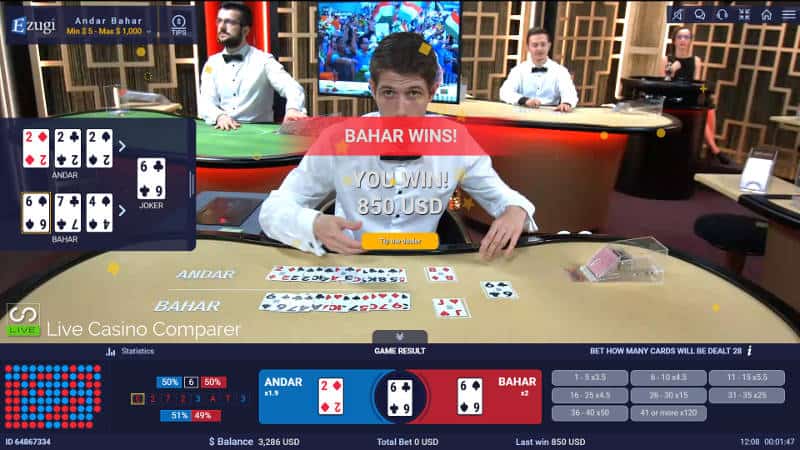 Ezugi presents three statistics in the playing interface.
The first looks very like a Road Map from Dragon/Tiger. It indicates the history of hand wins, with either a red or blue dot depicting the playing position that's won.
In addition, the last 8 "Joker" cards are displayed, along with the % of wins for Andar and Bahar.

As stats go, they don't mean a lot. The one meaningful stat missing is the number of cards dealt in each game round. This stat would help you see trend for the Side bets, and was something I was looking for when I started playing.
Unfortunately it's not available. perhaps the nice people at Ezugi will consider this for a future update.
Summary
Apart for the obvious attraction for Indian players, Ezugi Andar Bahar offers table games players a good alternative to the Baccarat, Dragon Tiger, Hi Lo type games.
There is no skill required in playing as the live dealer does everything. All the player has to do is pick the playing position to bet on and maybe which side bets to play.
The attraction of the game for me is the side bets. I found myself counting the cards as they're dealt and preying the match card wouldn't be dealt before it entered my side bet range.
It didn't seem that difficult to get a 15:1 payout. Perhaps I was lucky, but I felt it was more likely during this game.
You can be waiting all day for a side bet paying that much to hit in Blackjack or Casino Hold'em.