Playtech Live Blackjack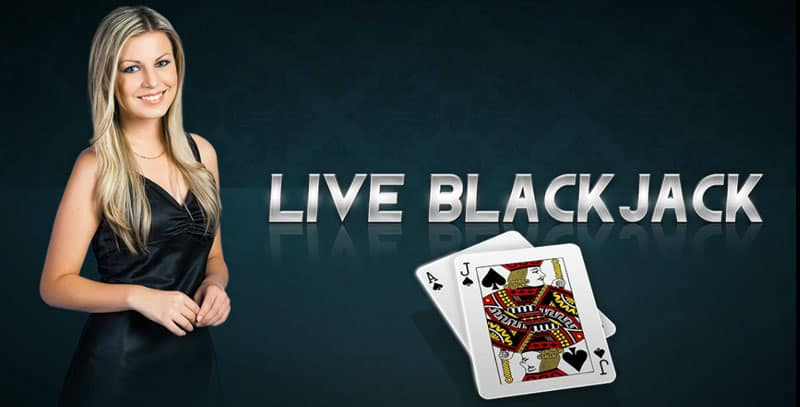 Playtech is one of the original pioneers of Live Casino but for a while Playtech Live Blackjack has been stuck with a fairly basic product compared to some of its competitors.
However during 2016 changes were implemented that make their live blackjack games more player friendly.
The addition in August 2016 of a full range of side bets was the last missing piece of the jigsaw and players now have a real alternative to Evolution Live Blackjack.
In fact Playtech offer a couple of things that Evolution don't:
Half your stake back on losing doubles to a Blackjack when dealer is showing a ten.
Unlimited Blackjack.
Choice between Vegas and European Rules.
Ability to Double down on splits (not Aces though).
So in reality they now provide a more comprehensive choice for players.
Playtech Live Blackjack Descriptions
3 versions of Live Blackjack can be played at a Playtech Live Casino. The core rules for each of the game are essentially the same with one or two minor differences.
The common game rules are:
Played with 8 decks from a manual dealing shoe (although some tables do use Shufflemaster dealing shoes.
The shoe is changed after 4 decks have been dealt.
You can Split like cards and also double on them.
Double on any value of hand.
Split Aces only have one additional card.
If you double when the dealer is showing 10 and you lose your hand to a Blackjack, you'll receive half your stake back.
The Dealer never checks for BJ but will offer insurance if his up card is an Ace.
You can play multiple seats on the same table.
Full range of

Blackjack side bets

can be played (Perfect Pairs, Bet Behind, 21+3).
Vegas Rules 7 Seat Blackjack
In Vegas Rules Blackjack, the Dealer is dealt two cards, one face up one face down at the same time as the players.
European Rules 7 Seat Blackjack
In European rules, the Dealer is dealt one card face up and gets his second card after all player hands have been played through.
Unlimited Blackjack
This is a one to many game where each of the 5 hands can be played by an unlimited number of players. This is a much better option than playing Bet Behind on a full 7 seat table but in my opinion not as good as being in complete control of your own cards.
No other players action on the hands have any impact on the way you choose to play the hand.
The game is played to Vegas Rules (dealer gets two cards)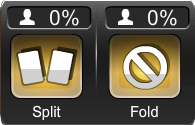 Special Split Rules apply for Unlimited Blackjack – If a split situation occurs you'll be offered only two options, to Split the hand or Fold it. If you choose to Fold your initial stake minus 20% will be returned to you.
Soiree Blackjack Table
This table is worth a special mention because it's been created for very High Rollers.
Players using the table have a choice of keeping or changing the dealer every 30 minutes.
New shoes and shuffles can also be requested from a dedicated VIP host.
The table is multi seat, so not restricted to just one player and certain request are limited to players with a particular balance.
I'm currently trying to fond out what that may be as I don't have the funds to test it myself!
The Discojack Table
This table is for players looking for fun. It's in a themed studio that pays homage to the 70's & 80's.
So slip on your flares, comb your Mullet, put on your shades and get dancing!
Table Locations
Playtechs blackjack tables are located at European and Asian Studios.
The European Studio is located in Riga, Latvia and has a very large selection of Blackjack tables.
There are a couple of themed rooms, such as the Ruby Room where the tables are Beige in colour and there's also a Spanish and Italian Room.

The Asian Studios are located in Manila, Philippines and are ideally positioned for the Asian markets.
There are two rooms, The Sapphire Room which is English speaking and has Blackjack Tables and the Emperors Room, which is Mandarin speaking and doesn't have Blackjack.
Types of Tables
The tables are all distinguished by their names and also table colours.
The European studio has gone through a period of change during 2017.
The Blackjack tables used to be named after Greek Gods, but now have more regular names that describe the type of table it is.
The Asian Studio has Green, Purple and Red tables and are named after semi precious stones.
The table range is more limited than the European studio.
Playing Formats
Live Games can be played on PC, Mobile and Tablet.
The tables are not displayed in widescreen format yet.
It's not an issue with PC format, but on Mobile the screen really should be full screen.
It's almost un-playable on an Android mobile phone.
There doesn't seem to be a way to have the display in Full Screen mode, so the images are really too small to be able to play with any degree of comfort or success.
PC Mode
Mobile Phone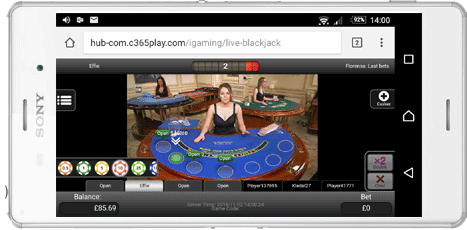 Playing Interface
You'll come across two types of playing interface depending on which table you sit at.
The more modern interface is more full screen than it's older counterpart which is square.
What's immediately noticeable is the rather odd looking positions for the side bets. The image has been likened to Micky Mouses ears.
Once you've been told that you can't stop seeing them!
The playing interface has a very old school feel about it, primarily because the screen size is square, so you get big black borders around the interface when playing.
That said though, the interface itself comes with all the options you'd expect.
Whatever interface you're playing, you'll have the option of two viewing modes.
Full Screen is for when your connection speeds are ok. You get a Mixed mode if you have bandwidth issues.
The selection of the mode is auto detected by the playing interface, but you can override it in the settings.
Both interfaces come with the following options:
Chat – You can speak to the dealer in real time. You type in the chat box and they respond verbally. By default you won't be able to see other players chat, unless you're on a dedicated table.
Sound – You can adjust the volume levels or mute it completely.
Camera View – Either Full Screen or Mixed mode.
Help  – There is a full list of all the playing rules for all games.
General Settings – Disable warning messages & Skip the intro.
Game Settings – Enable Fast Play, Enable Auto Confirmed Bets, Show Community chips (more for Roulette), Hide your bets from other players and leave winning chips on the table.
Audio Settings – Can be used to can enable / disable Games Sounds, Background Sounds and the Dealers voice.
Playing History – Shows the results of the last few hands.
Side Bets – Switch on/off to display them on the table.
Playing Features
When you actually play you'll get a range of on screen prompts and information about what's going on during the game hand. Some are very useful, others you can't play without.

Pre-Decision – After your initial two cards have been dealt you can decide what action you're going to take next by using the Pre-decision Option that appears below your seat. It's a smaller version of the big decision buttons and are designed to speed up the game.

Hot Player notification – shows how many times a player has won since his last loss. Useful if you're picking someone to bet behind.
Side Bets – A selection of side bets can be played alongside your main hand.
Perfect Pairs – You can bet on your own first two cards and / or the dealers cards. If either set form a pair then you'll win according to the pay out table.
21+3 – Is a poker derived side bet which pays out if your first two cards and the dealers up card form a poker hand.
Bet Behind – You can place a bet behind one or more of the other players on the table. The hand is controlled by that player and you have to follow his betting pattern for splits and doubles.  Make sure you use the Hot Numbers and also that the player is using standard blackjack strategy.
Playing Decisions

Hit – You want another card.
Stand – You don't want any more cards.
Double – You'll double your bet and take one more card.
Insurance – Available when the dealers up card is an Ace. You can insure your hand for half you stake. If the dealer has a Blackjack you win 2 x the insurance bet.
Splits – You can split your hand if you have a pair. If you get two aces you only get one additional card to each hand. If you have another pair you can hit / stand or double on each of the hands.
Dedicated Tables
One of the options Playtech offer their licensees ( and they have to pay extra for it) are dedicated tables.
These are normally in their own studio area and are fully branded by the casino. quite often there will be a number of tables.
These are normally better to play at, as the casinos are able to run on table promotions.
You're also more likely to get a seat when the main Playtech tables are busy.
Here's a selection of dedicated tables.
Alternatively my comprehensive list of live casinos will give you more to choose from for all suppliers.
Betfair/Paddy Power Dedicated Blackjack Table
Disconnection Policy
If you suffer a disconnection when playing then all is not lost. You'll be frozen out of the game that you were playing (unless you can get back before it's your turn to play).
If you return and the hand has finished you'll be directed to an RNG version of the game that has an exact representation of the table as you left it.
You'll then be able to play out the hand to its conclusion before re-joining the live table.
Note: – Any further cards dealt on the live version after you're disconnected are not carried over to the RNG game, (now that would be too easy wouldn't it!) J