Blackjack Basic Strategy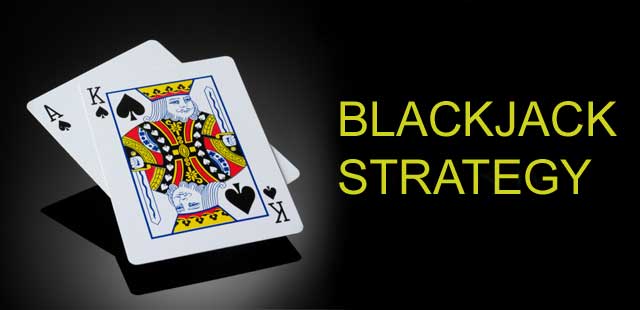 Those familiar with Blackjack will understand there is a correct mathematical way to play blackjack.
It's known as Basic Strategy and if used correctly minimises the house edge and gives the player the best chance of winning.
In fact it's such an accepted way of playing that Land Based and some Online Casinos even provide guides on how to use Blackjack basic strategy.
If you're a regular at land based casinos then you'll also know that dealers will also help remind you of the strategy. Especially if you're about to do something stupid!
In most instances where you can't remember it you can ask for a prompt and they're happy to help.
Using the Strategy at Online Live Casinos
At online live casinos the dealers do not have the opportunity to help with basic strategy. They will sometimes prompt you if there is an option for a double or a split, but that's about it.
To be honest I wouldn't take their advice, stick to basic strategy!
Some live casino software does have the ability to enforce basic strategy and some of the disconnection solutions involve using basic strategy to play out the hand.
So you can see that it's something widely accepted and respected.
What is Blackjack Basic Strategy?
In a nutshell, Blackjack basic strategy involves taking the appropriate action with your cards based on what you have been dealt and what the up card of the dealer is showing.
The possible actions to take are:
Stand – you take no more cards.
Hit – You take a card.
Split – You create two hands if you are holding a pair.
Double – You take one additional card only and double your bet.
Surrender – You surrender your hand before the dealer has completed his hand. The return is normally 50% of your initial bet, but can be more if you're playing

Blackjack Early Payout

.
The basic strategy I've replicated below is based on a game using 4 to 8 decks, and covers whether the dealer stands on soft 17 or not.
It also covers the surrender element of blackjack, which is not available at many online live casinos but is at Land Based.
Surrender is generally not advertised as it reduces the houses edge, so it's always worth asking if you can surrender hands.
If you're interested, Surrender for live casino Blackjack can be found at Celtic Casino and Fairway Casino.
Blackjack Advanced Strategy
Advanced strategies are those things that advanced players can do to reduce the house edge even further.
These can involve Card Counting which is a method of keeping track of the hi and lo cards in the deck. If you know the count you're able to determine the optimal time to increase your bets.
It's a well documented technique that gets in the press and films have been made about it.
I won't be going into more detail here but you can read more about it at Wikipedia.
Other techniques include Shuffle Tracking.
Probably the simplest bit of "Advanced" advice I can give you is common sense and having an appreciation for the laws of probability.
What do I mean by this?
Well if you're following basic strategy and been hitting your hand and getting low cards there will come a point when a high card will appear.
Have a look around the table and observe what cards have been drawn. If they are low cards the probability is high that you will get a high card.
Personally I stop following basic strategy at this point and stand, regardless of the moans that other players might give you.
This strategy keeps you in the hand and you can hope that the dealer busts.
Blackjack basic Strategy – Dealer stands on Soft 17
Your Cards
Dealers Cards
Hard Cards
2
3
4
5
6
7
8
9
10
A
4-8
H
H
H
H
H
H
H
H
H
H
9
H
D/H
D/H
D/H
D/H
H
H
H
H
H
10
D/H
D/H
D/H
D/H
D/H
D/H
D/H
D/H
H
H
11
D/H
D/H
D/H
D/H
D/H
D/H
D/H
D/H
D/H
H
12
H
H
S
S
S
H
H
H
H
H
13
S
S
S
S
S
H
H
H
H
H
14
S
S
S
S
S
H
H
H
H
H
15
S
S
S
S
S
H
H
H
Su/H
H
16
S
S
S
S
S
H
H
Su/H
Su/H
Su/H
17+
S
S
S
S
S
S
S
S
S
S
Soft Cards
2
3
4
5
6
7
8
9
10
A
13
H
H
H
D/H
D/H
H
H
H
H
H
14
H
H
H
D/H
D/H
H
H
H
H
H
15
H
H
D/H
D/H
D/H
H
H
H
H
H
16
H
H
D/H
D/H
D/H
H
H
H
H
H
17
H
D/H
D/H
D/H
D/H
H
H
H
H
H
18
S
D/S
D/S
D/S
D/S
S
S
H
H
H
19+
S
S
S
S
S
S
S
S
S
S
Splits
2
3
4
5
6
7
8
9
10
A
2-2
SP
SP
SP
SP
SP
SP
H
H
H
H
3-3
SP
SP
SP
SP
SP
SP
H
H
H
H
4-4
H
H
H
SP
SP
H
H
H
H
H
5-5
D/H
D/H
D/H
D/H
D/H
D/H
D/H
D/H
H
H
6-6
SP
SP
SP
SP
SP
H
H
H
H
H
7-7
SP
SP
SP
SP
SP
SP
H
H
H
H
8-8
SP
SP
SP
SP
SP
SP
SP
SP
SP
SP
9-9
SP
SP
SP
SP
SP
S
SP
SP
S
S
10-10
S
S
S
S
S
S
S
S
S
S
A-A
SP
SP
SP
SP
SP
SP
SP
SP
SP
SP
Blackjack Basic Strategy – Dealer hits on Soft 17
Your Cards
Dealers Cards
Hard Cards
2
3
4
5
6
7
8
9
10
A
4-8
H
H
H
H
H
H
H
H
H
H
9
H
D/H
D/H
D/H
D/H
H
H
H
H
H
10
D/H
D/H
D/H
D/H
D/H
D/H
D/H
D/H
H
H
11
D/H
D/H
D/H
D/H
D/H
D/H
D/H
D/H
D/H
D/H
12
H
H
S
S
S
H
H
H
H
H
13
S
S
S
S
S
H
H
H
H
H
14
S
S
S
S
S
H
H
H
H
H
15
S
S
S
S
S
H
H
H
Su/H
Su/H
16
S
S
S
S
S
H
H
Su/H
Su/H
Su/H
17
S
S
S
S
S
S
S
S
S
Su/H
18+
S
S
S
S
S
S
S
S
S
S
Soft Cards
2
3
4
5
6
7
8
9
10
A
13
H
H
H
D/H
D/H
H
H
H
H
H
14
H
H
H
D/H
D/H
H
H
H
H
H
15
H
H
D/H
D/H
D/H
H
H
H
H
H
16
H
H
D/H
D/H
D/H
H
H
H
H
H
17
H
D/H
D/H
D/H
D/H
H
H
H
H
H
18
D/S
D/S
D/S
D/S
D/S
S
S
H
H
H
19
S
S
S
S
D/S
S
S
S
S
S
20+
S
S
S
S
S
S
S
S
S
S
Splits
2
3
4
5
6
7
8
9
10
A
2-2
SP
SP
SP
SP
SP
SP
H
H
H
H
3-3
SP
SP
SP
SP
SP
SP
H
H
H
H
4-4
H
H
H
SP
SP
H
H
H
H
H
5-5
D/H
D/H
D/H
D/H
D/H
D/H
D/H
D/H
H
H
6-6
SP
SP
SP
SP
SP
H
H
H
H
H
7-7
SP
SP
SP
SP
SP
SP
H
H
H
H
8-8
SP
SP
SP
SP
SP
SP
SP
SP
SP
Su/SP
9-9
SP
SP
SP
SP
SP
S
SP
SP
S
S
10-10
S
S
S
S
S
S
S
S
S
S
A-A
SP
SP
SP
SP
SP
SP
SP
SP
SP
SP
Key
| | |
| --- | --- |
| H | Hit |
| S | Stand |
| D/H | Double if you're allowed, otherwise hit. |
| Su/H | Surrender if you're allowed, otherwise hit. |
| SP | Split |