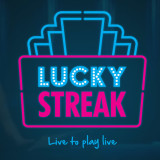 LuckyStreak Live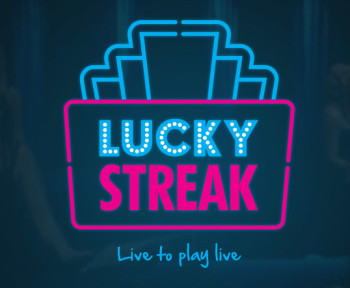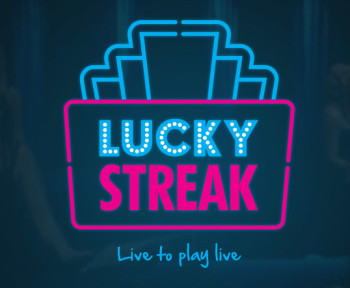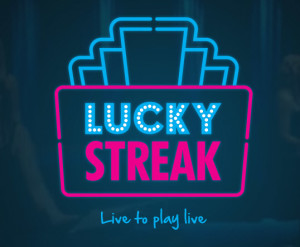 Posted November 9, 2015 by
Neil Walker
9th November 2015
LuckyStreak Live are a new live casino company that is aiming to provide the ultimate playing experience for players.
They are a new kid on the block and will have to go some to make inroads into the very competitive live casino market. They are up against the likes of Extreme Live Gaming who have also recently launched in Europe.
Extreme were bought by Novomatic in 2014 and have been able to gain a presence by taking advantage of Amaya's withdrawal from Europe and becoming the live casino provider of choice for some of the main software platform providers.
The key to LuckyStreaks success will be their ability to provide a quality product coupled with the ability to grow a client base through partnerships and having the necessary licenses in place to tap into the growing live casino player base.
I've been fortunate to come across LuckyStreak Live before they have launched with an online casino. In fact I got the heads up from the forum at LiveDealer.org. But I do happen to know that they will be going live with Casino Cruise who I've previously mentioned on Live Casino Comparer as they used to have a Vivo Live Casino, but are now migrating to Evolution and LuckyStreak.
So I've decided that I'm going to follow their journey with interest and provide regular updates on their progress. A sort of mini project on what it takes to become a successful Live Casino operator.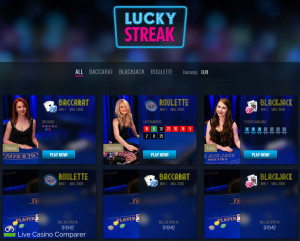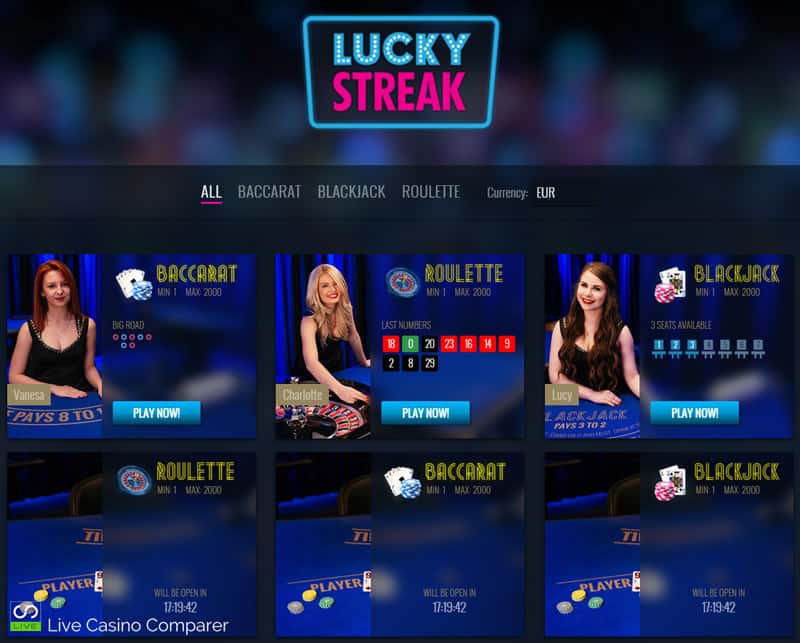 What can we Expect from LuckyStreak Live?
As a player first and foremost I'm going to be interested in how they develop their product in line with their objective of "Seeking to build the best live casino experience possible".
For me it's all about the playing experience, the quality of the game, the rules being deployed and how the dealer interacts with me. I have my own particular things that I like and i'll be looking to see how close they get to them.
I've been in contact with their Business Manager, Tim Whitney and asked him for the low down on Lucky Streak.
What licenses do you hold?
We are in the process of getting GLI approval and a Curacao license.
We are looking into getting a UKGC license, but this will take us some time – so unfortunately you will not be able to play our games in the UK for now.
Who owns the company?
The company is 100% privately held by industry veterans and private investors.
Where are you located?
The Development team and leadership is in Tel Aviv, Israel. The studios are located in Lithuania.
How many employees do you have?
Around 65 employees including studio personnel as well as Development and Sales.
Where are the live Studios located?
Lithuania.
Is the software all developed by yourselves?
Yes, we developed the software in house.
How many tables do you have for each game type?
At the moment we have 2 BlackJack, 2 Baccarat and 1 Roulette table.
What languages are spoken / offered by the dealers.
English & Russian.
Do you have any dedicated tables for customers.
At the moment no. Once a dedicated table becomes a requirement from a client we can fully customise the games including dedicated tables and unique UI.
How many customers (Online Casinos) do you have?
We have signed agreements with 5 platforms and 6 independent operators. Going live with the first client, a big poker network next week (w/c 9th November 2015). We are continuing to onboard clients every month.
Are you open 24 x 7.
Currently 18/7.
In December 24/7.
Can the casinos choose what table limits to have.
Yes, limits are flexible to operators.
Are the side bets on Blackjack available to all casinos free of charge or are they an optional extra.?
The side bets are included in the offering.
Will the games be available on mobile? If yes will all devices be able to play them (IOS, Android, Windows etc)?
Eventually yes.
We have experience with native Android & IOS apps for Baccarat and Roulette. We are now working on a solution which will be playable across all platforms – an HTML5 solution which will meet our high standard.
What are your unique selling points , i.e. what do you have that the other live casino software providers don't have.
Technology – We have invested heavily in technology, hiring a team of experienced developers from the industry with backgrounds in Live, casual gaming and security. Our system is built in a way where it is easy for us to customise and localise the product to match specific tastes.
User experience – For us, the most important part of the business is for the end user to have a great experience. In efforts to create a great environment, we have a rigorous hiring and training policy.LuckyStreak dealers are trained to engage the users while preserving a classy casino environment. We believe that great user experience leads to more time on the table which leads to higher GGR.
Flexibility – LuckyStreak provides clients the ability to visually brand the tables to meet their standards, change the language of the interface or even adapt the casino and alter it to the customers liking.
People – We are investing a lot in the hiring and HR process to find the right studio staff. We train the dealers to be as engaging as possible and to provide an all around professional and fun environment.
When I was playing the table I could see others players chat. Is this configurable so that you can only see chat from players from the same casino as you or is it always open?
Chat rooms are configurable, so an operator can decide if the chat will be dedicated to their casino or part of the "public" chat.
How are disconnections handled?
Depends at what point the player disconnects. Everything is saved on the server, so we know exactly what the situation was before the disconnection. In most cases the players get their money back.
Can you play multi tables / games?
Technically yes, although it is not operational yet within the software. You can open 2 different windows. We are currently working on in-game multi table mode.
Is there any online help?
The online help is dedicated for the customers – the casino operators. We do not have a live online help for the end users, the customers handle that.
Thank you.
Keep your eyes out for the next installment, when I'll be giving you an indepth look into the games and software at LuckyStreak Live.