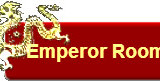 Bet365 add Emperor Room to Live Casino



Posted June 6, 2014 by
Neil Walker
Bet365, who have traditionally catered for both European and Asian tastes in live casino have gone a step further and added Playtech's new Mandarin speaking Emperor Room to it's portfolio.
The Emperor Room
The Emperor Room can be accessed from the Live Casino Lobby on either the download or browser versions of the software.  A button "Emperor Room" is located on the lobby screen and when pressed will select all the games for the Emperor Room. Baccarat (Mini & Normal) and Roulette (European and French) are currently the only games being offered.
As you can see from the picture the live casino room has just the one Roulette table and three Baccarat tables.   Stakes on Roulette are £0.25 – £25 and for Baccarat £5 – £150.

According to the people at Bet365 the Emperor Room is only available to certain player groups at the moment while they bed it in.  I'd expect to see a more formal press release during the summer of 2014 and perhaps the addition of a few more games.
You can see more images and information in my Bet365 live casino review or follow this link to go to the Emperor Room.