Evolution Live Lightning Dice
Live Lightning Dice, brings together a simple Dice Game with Evolution's innovative random Lightning Multipliers.
Unlike Super Sic Bo, where there's multiple ways to bet on the outcome of 3 dice being rolled, Live Lightning Dice only allows bets on the total sum of the 3 dice.
The lightning bit comes after betting is closed. Several numbers are chosen at random to have multipliers up to 1000x applied to them.
If you've bet on one of these totals and the result is that number, you can win big!
In this lightning dice review I'll cover how the game is played, the sort of playing strategies that work and ultimately what I think of this game.
Lightning Dice Tips & Tricks
Before you start to play, there are a few things you need to know about Lighting Dice.
Only numbers 3 & 18 (Triple 1's & Triple 6's) qualify for the 1000x multiplier.
Bets are restricted to just the sum of the 3 dice.
6 Sum bets (5, 7, 8, 10, 11, 13 & 14) pay out less than the corresponding bets on Super Sic Bo.
The 50x multiplier is applied to the most numbers – 8, 9, 10 , 11, 12 & 13.
The 500x and 250x are only applied to two numbers each.
The RTP based on the Total 3 or 18 Bet is 96.21%.
My

strategy

explains the best numbers to bet on and why.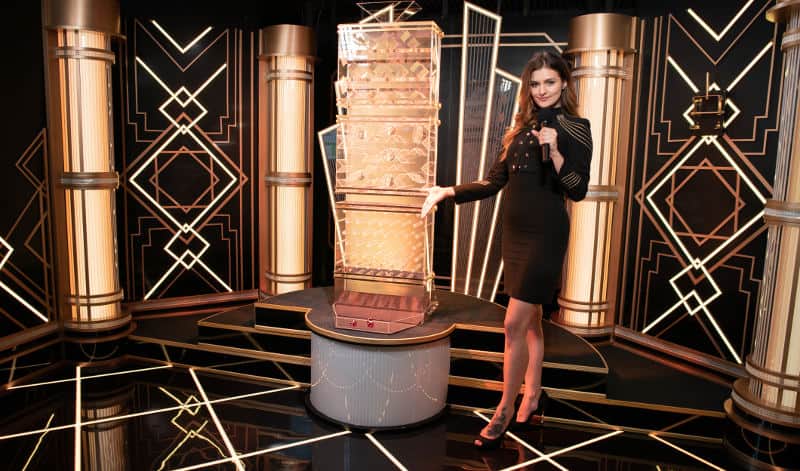 Once you get past the rather intense lighting and innovative way of "rolling" the dice, getting to grips with the rules is really straightforward.
3 Dice are rolled and you place a bet on what the total sum of the 3 dice will be.
You can bet on one, some or all of the total possible outcomes before the dice are rolled.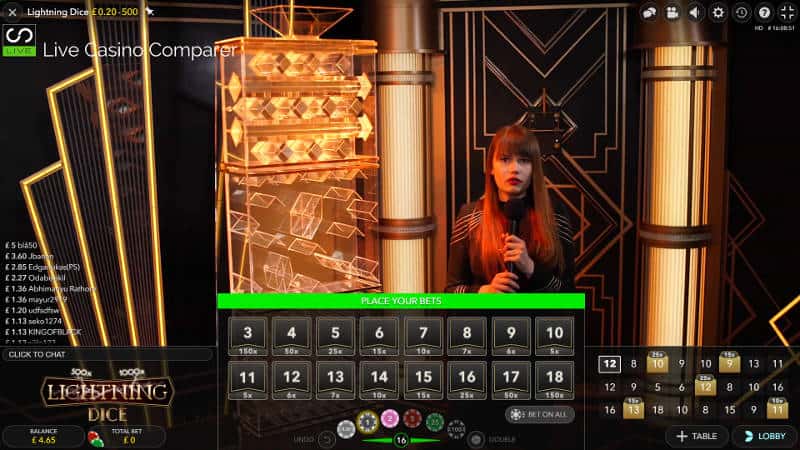 When Betting has closed, the Lightning process begins. 1 to several numbers are selected to have multipliers added to them.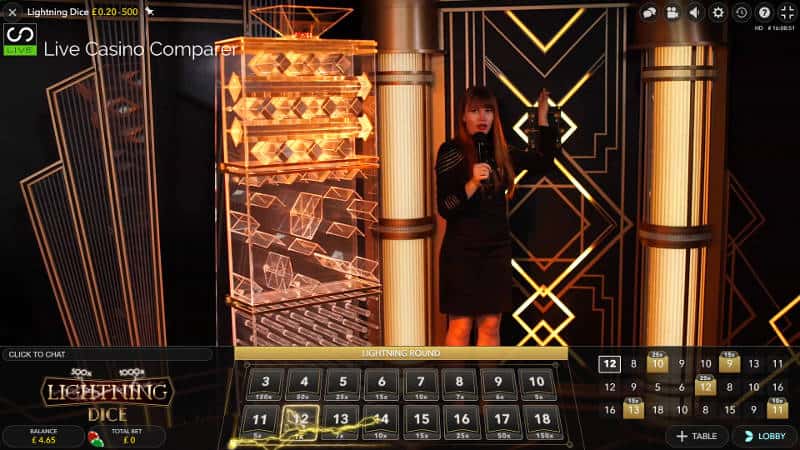 The dice are released into the Perspex maze by the presenter using a switch on the wall.
The camera closes in on the dice as they tumble down the clear Perspex tower until they hit the bottom, fully shaken!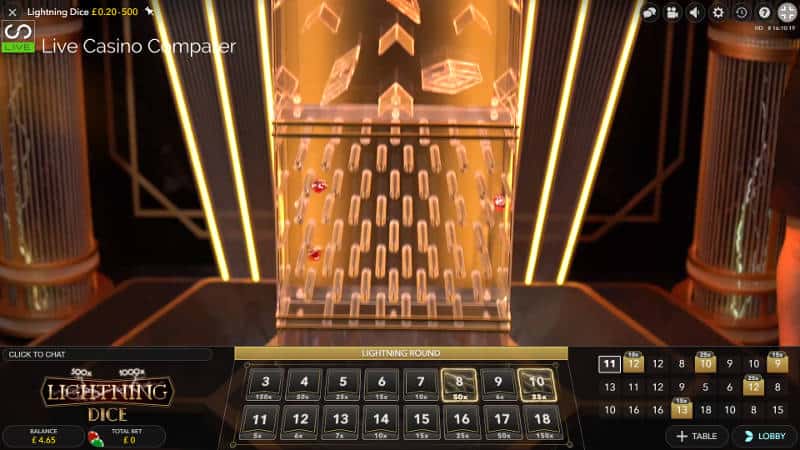 A close up of the dice is shown revealing the winning number.
Winning Bets are paid while the presenter replaces the dice at the top of the tower ready for the next game round.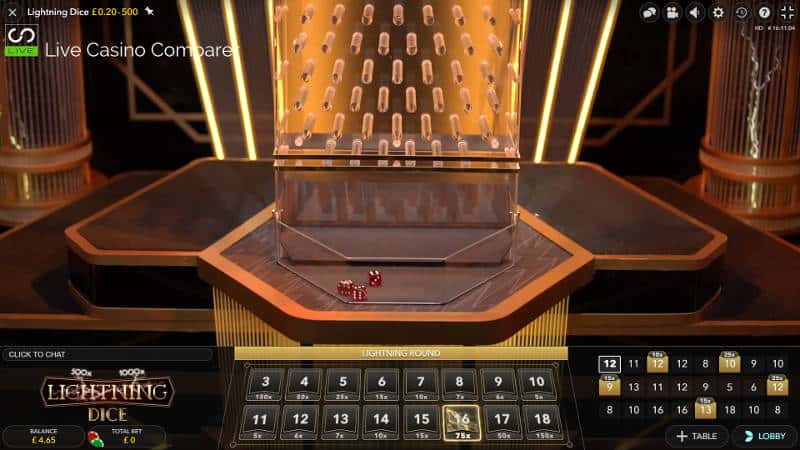 If you want to enjoy playing Lightning Dice, you're going to need a playing strategy.
It's not the sort of game you can just chuck money at and hope to win the big payouts.
You need to have an approach that will give you the best chance to enjoy yourself and maybe come away with a profit.
I'm not going to pretend you'll win big. While that's possible the odds are stacked against it as you'll see later.
Using a playing strategy will help you turn over your bankroll and put you in a position to come away with something. Maybe you'll hit that 1000x payout!
I'm going to explain some of the mathematics behind the game, so you can understand the likelihood of the numbers coming in and what that means to how you should bet.

You can bet on 3 dice totals from 3 up to 18. You'll notice on the betting grid the payouts that you'll receive.
You can bet on as many totals as you like. Evolution even provides a "Bet All" button to make it easier. My advice is, never do that!
As you can see from the statistics grid, each Sum comes with the number of combinations the dice can make to get that total.
The more combinations, the better the chance of getting that total. The 3rd column shows the probability of the totals happening.
| Sum | Combinations | Probability |
| --- | --- | --- |
| 3 | 1 | 0.463% |
| 4 | 3 | 1.389% |
| 5 | 6 | 2.778% |
| 6 | 10 | 4.630% |
| 7 | 15 | 6.944% |
| 8 | 21 | 9.722% |
| 9 | 25 | 11.574% |
| 10 | 27 | 12.500% |
| 11 | 27 | 12.500% |
| 12 | 25 | 11.574% |
| 13 | 21 | 9.722% |
| 14 | 15 | 6.944% |
| 15 | 10 | 4.630% |
| 16 | 6 | 2.778% |
| 17 | 3 | 1.389% |
| 18 | 1 | 0.463% |
The value bets are on numbers 8, 9, 10, 11, 12 & 13. All these numbers can receive a multiplier of up to 50x. Their base pay outs range from 5x to 7x. So you'll still get a decent return if these totals come in.
Theses are the Totals that appear most often. In theory you only need to hit one of the numbers every 7 game rounds to break even (assuming you're betting on just one number).
However you'll never win big money, but you will turn over you bankroll a few times, giving a longer playing session.
If you're after the big wins, place a small bet additionally on numbers 3 or 18, as these can have the 1000x multiplier applied to them.
I've included a real life example of the results history, this clearly demonstrates how often the Sum totals are  8, 9, 10, 11, 12 & 13.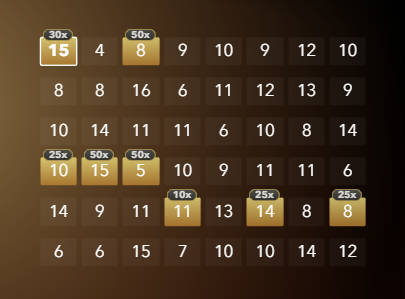 What about the Lightning Multipliers?
The Lightning Multipliers can be applied to any total on the board.
However, unlike Lightning Roulette, where all numbers can receive all multipliers, Lightning Dice multipliers are restricted to certain numbers.
3 & 18 will receive between 149:1 – 999:1
4 & 17 will receive between 49:1 – 499:1
5 & 16 will receive between 24:1 – 249:1
6 & 15 will receive between 14:1 – 99:1
7 & 14 will receive between 9:1 – 99:1
8 & 13 will receive between 6:1 – 49:1
9 & 12 will receive between 5:1 – 49:1
10 & 11 will receive between 4:1 – 49:1
Just to confuse matters.
The odds displayed on the betting Grid are paid in addition to your stake which you get back.
If you win and a multiplier is active, you only get paid what the Multiplier is (this includes your stake)!
Should you bet on every number like Lightning Roulette?
The simple answer is no.
In lightning roulette there is an equal chance of hitting a number on the wheel, and all numbers have an equal chance of receiving the top multiplier of 500x.
In lightning Dice there isn't an equal chance of hitting each total, see above, so the same betting strategy should not be used.
What do I recommend?
My objective is to have a long play time and if I can return a profit so much the better.
My recommendation is:
Place a bet on 8 or 13 and 9 or 12 and 10 or 11. That's 3 bets.
One pays 5:1, one pays 6:1 one pays 7:1. All three have a chance of up to 50x being applied.
If you get one winner every 5 rounds you'll break even.
Then for a bit of fun, I put a small wager on 3&18 just in case the 1000x comes in :-).
Playable Devices
The playing interface is designed to be used on all device types.
The mobile interface is nice and uncluttered and works well in Landscape and Portrait modes.
As with all Evolution Interfaces, two playing modes are available depending on your connection speed and playing preference.
Summary
The concept of random multipliers being applied is very clever, as that is the hook to get people to the game.
Unfortunately, unlike Lightning Roulette where there's a equal chance of the big multipliers being applied to the number you've bet on, the same is not true for Lightning dice.
The Probability of hitting a 1000x win is very small, and is in my opinion not a sensible bet.
The value bets are 8,9,10,11,12 & 13. WIns on these will help you turnover your bankroll a number of times, unless you're really unlucky. Stick to these numbers.
The studio initially looks great, but for me the monochrome effect makes it difficult to bring into focus all of the different elements. It should look great, but for some reason I really don't like the studio look.
As for the game itself, I don't think i'll play live lightning dice again, unless there is a good bonus being offered somewhere.
There are better alternatives, like Super Sic Bo.
This is very niche and doesn't achieve the same excitement you get with Lightning Roulette.