Best Live Casinos 2018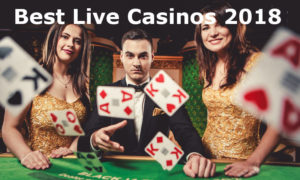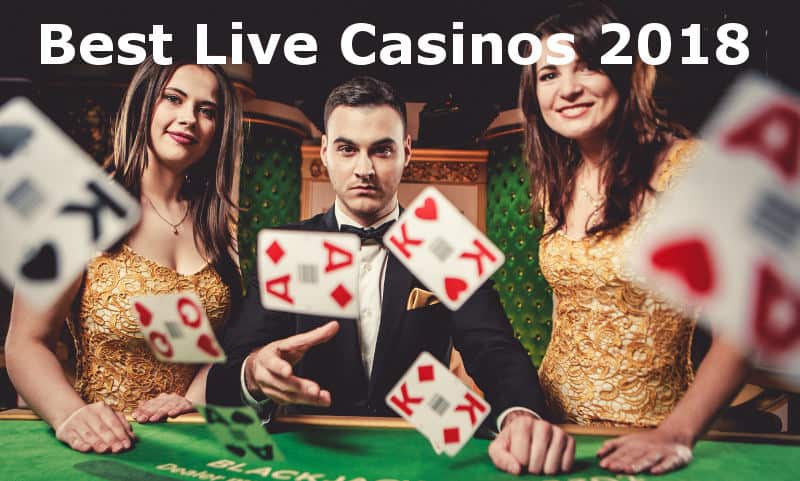 If you're looking for somewhere to play games against live dealers this year you should check out the best live casinos 2018 below.
2017 was a great year for the lovers of live casino and 2018 is not going to be anything different.
We've seen a range of new games like Texas Holdem Bonus Poker, Dream Catcher, No Commission Baccarat, Unlimited Blackjack with Auto Splits etc released by some of the major live casino providers.
Land Based streaming has become the flavour of the last few months, with many of the providers now providing land based Roulette and Baccarat solutions.
We're even about to see the first USA streamed roulette table from Foxwoods Casino. Who'd have thought that would happen!
Experienced players know that it's better to play at casinos with dedicated environments and tables because:
If you're a Blackjack player you're more likely to get a seat at a table.
You'll be offered more on table promotions and bonuses.
You know that the casino is serious about its players and live casino. It's not cheap to have your own tables, it requires quite an investment to set it up and keep it going.
You get to know the dealers better as they are rostered onto fewer tables (and they like that too, as they have their favourite players).
In 2018 we are going to see even more new live games released. The iGaming trade show ICE that was held in London in the early part of February is traditionally the place where operators make their announcements for the coming year. My ICE show report contains lots of information about live casinos in 2018.
My Top Tips for 2018
Keep an eye out for Evolution Gaming. They have announced a range of new games at ICE and they are gradually being released at the start of 2018.
Virtual Reality is being tried and tested by the likes of Ezugi and Extreme Live Gaming.
Expect a UK licenses for Ezugi.
Ezugi will relaunch their lobbies and playing interfaces.
Play at a USA Land based roulette table made possible by Authentic Gaming and Foxwoods.
NetEnt are starting to get their thing together and will be making investments in their Live Dealer solutions.

Live Beyond Live

is the first. Expect to see more.
Best Live Casinos for 2018?
Whilst I already have a list of the Best Live Casinos I think in 2018 you should be playing at one of the following.
Mr Green are up and coming this year. With a new Head of Live Casino we should expect to see rapid change
Leo Vegas continue to innovate. I expect to see them slow down a bit and consolidate what they have. They have a new guy in charge of their live casino, so will be interesting to see whether he can continue to drive the brand forward.
Codeta are facing a struggle to re-energise themselves after a bit of a lull during 2017. A face lift to the website has helped and they are thinking along the right lines. I like what they are doing and continue to support their efforts.
Unibet continues to grow their dedicated tables and they have multi-language tables. Perhaps they are more focused on the Scandinavian countries, most tables are in English and they have a good range of promotions every month.
Grosvenor falls into the same camp as Unibet but is focused only on the UK market.
Then there's a bunch that all offer something similar, Royal Panda, Genting (great VIP Experience here) and Betfair.
Lastly is William Hill, they have by far the largest dedicated areas and have all sorts of promotions running every week.
Casino
Stakes
Dedicated
Tables
Software
Bonus
Play
Blackjack 0.50 – 10k
Roulette 0.50 – 10k
Baccarat 1 – 10k
Casino Hold'em* 0.50 – 5k
3 Card Poker 1 – 1.5k
Caribbean Stud Poker* 1 – 1.5k
Deal or No Deal 0.10 – 200
Football Studio 1 – 15k
Live Lightning Dice 0.20 – 2k
Side Bet City 0.50 – 250
Super Sic Bo 0.20 – 10k
Texas Hold'em Bonus Poker* 0.50 – 2k
Ultimate Texas Hold'em 0.50 – 500
Dream Catcher 0.10 – 10k
Evolution
To see the latest Live Casino Promotions.


Click Here.

Goto Casino
Blackjack 0.50 – 10k
Roulette 0.10 – 25k
Baccarat 1 – 10k
Casino Hold'em* 0.50 – 5k
3 Card Poker 1 – 5k
Caribbean Stud Poker* 1 – 1k
Deal or No Deal 0.10 – 100
Dragon Tiger 1 – 10k
Football Studio 1 – 10k
Live Lightning Dice 0.20 – 1k
Side Bet City 0.50 – 100
Super Sic Bo 0.20 – 5k
Texas Hold'em Bonus Poker* 0.50 – 1k
Ultimate Texas Hold'em 0.50 – 500
Dream Catcher 0.10 – 2.5k
Evolution
NetEnt
Authentic Gaming
To see the latest Live Casino Promotions.


Click Here.

Goto Casino
Blackjack 1 – 10k
Roulette 0.10 – 25k
Baccarat 5 – 500
Casino Hold'em 1 – 50
Casino Stud Poker 0.50 – 1k
Hi-Lo 0.10 – 1k
Sic Bo 1 – 1k
3 Card Brag 5 – 500
Dragon Tiger 5 – 500
Spin A Win 0.10 – 5k
Playtech
To see the latest Live Casino Promotions.


Click Here.

Goto Casino
Blackjack 0.50 – 500
Roulette 0.10 – 50k
Baccarat 5 – 500
Casino Hold'em* 1 – 50
3 Card Poker 1 – 300
Caribbean Stud Poker* 1 – 250
Deal or No Deal 0.10 – 1.8k
Dragon Tiger 5 – 500
Football Studio 5 – 2.5k
Live Lightning Dice 0.20 – 1k
Side Bet City 0.50 – 100
Super Sic Bo 0.20 – 5k
Ultimate Texas Hold'em 0.50 – 250
Dream Catcher 0.10 – 1k
Evolution
To see the latest Live Casino Promotions.


Click Here.

Goto Casino
Blackjack 0.50 – 10k
Roulette 0.10 – 250k
Baccarat 1 – 25k
Casino Hold'em* 1 – 3.5k
Deal or No Deal 0.10 – 4.5k
Dragon Tiger 1 – 25k
3 Card Poker 1 – 5k
Caribbean Stud Poker* 1 – 1k
Side Bet City 0.50 – 250
Super Sic Bo 0.20 – 10k
Football Studio 1 – 25k
Live Lightning Dice 0.20 – 2k
Texas Holdem Bonus Poker* 0.50 – 2k
Ultimate Texas Hold'em 1 – 1k
Dream Catcher 0.10 – 5k
Evolution
NetEnt
To see the latest Live Casino Promotions.


Click Here.

Goto Casino
Blackjack 0.50 – 25k
Roulette 0.50 – 50k
Baccarat 1 – 10k
Casino Hold'em* 1 – 1.5k
Deal or No Deal 0.10 – 100
2 Hand Casino Hold'em 1 – 1.5k
3 Card Poker 1 – 10k
Caribbean Stud Poker* 1 – 1.5k
Dragon Tiger 1 – 500
Football Studio 1 – 100
Live Lightning Dice 0.20 – 1k
Texas Hold'em Bonus Poker* 0.50 – 250
Side Bet City 0.50 – 100
Super Sic Bo 0.20 – 5k
Ultimate Texas Hold'em 0.50 – 500
Dream Catcher 0.10 – 2.5k
Evolution
To see the latest Live Casino Promotions.


Click Here.

Goto Casino
Blackjack 0.50 – 10k
Roulette 0.10 – 50k
Baccarat 2 – 5k
Casino Hold'em* 0.50 – 2.5k
3 Card Poker 1 – 10k
Caribbean Stud Poker* 1 – 3k
Deal or No Deal 0.10 – 900
Super Sic Bo 0.20 – 2.5k
Texas Hold'em Bonus Poker* 0.50 – 1k
Ultimate Texas Hold'em 0.50 – 500
Dream Catcher 0.10 – 1k
Evolution
NetEnt
Authentic Gaming
To see the latest Live Casino Promotions.


Click Here.

Goto Casino
Blackjack 0.50 – 10k
Roulette 0.50 – 75k
Baccarat 1 – 35k
Casino Hold'em* 0.50 – 7.5k
Dragon Tiger 1 – 10k
3 Card Poker 1 – 10k
Caribbean Stud Poker* 1 – 3k
Deal or No Deal 0.10 – 200
Football Studio 1 – 10k
Live Lightning Dice 0.20 – 2k
Side Bet City 0.50 – 250
Texas Holdem Bonus Poker* 0.50 – 1k
Ultimate Texas Hold'em 0.50 – 500
Dreamcatcher 0.10 – 2.5k
Super Sic Bo 0.20 – 10k
Authentic
Evolution
Ezugi
LuckyStreak
NetEnt
Wirex
To see the latest Live Casino Promotions.


Click Here.

Goto Casino
Blackjack 0.50 – 10k
Roulette 0.10 – 500k
Baccarat 1 – 25k
Casino Hold'em* 0.50 – 7.5k
Dragon Tiger 1 – 25k
3 Card Poker 1 – 10k
Caribbean Stud Poker* 1 – 3k
Deal or No Deal 0.10 – 200
Side Bet City 0.50 – 250
Super Sic Bo 0.20 – 10k
Football Studio 1 – 10k
Live Lightning Dice 0.20 – 2k
Texas Hold'em Bonus Poker 1 – 1k
Ultimate Texas Hold'em 1 – 1k
Dream Catcher 0.10 – 2.5k
Evolution
Playtech
To see the latest Live Casino Promotions.


Click Here.

Goto Casino

www.begambleaware.org