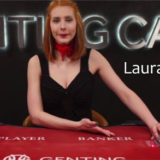 Interview with Laura – Live Dealer at Genting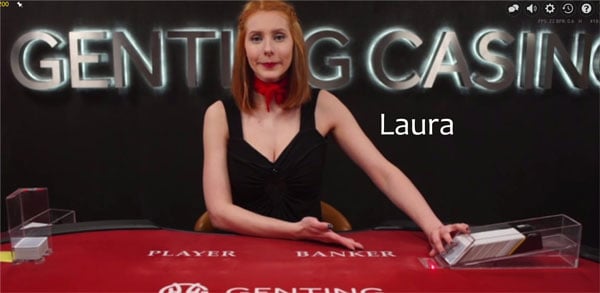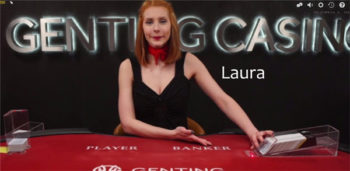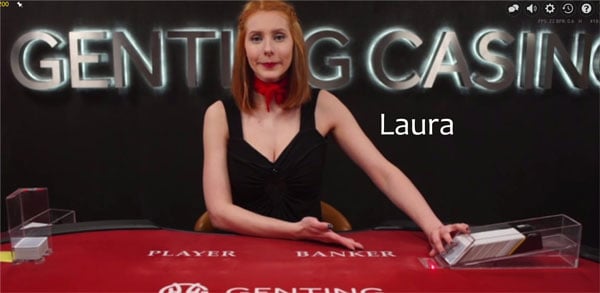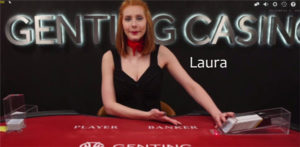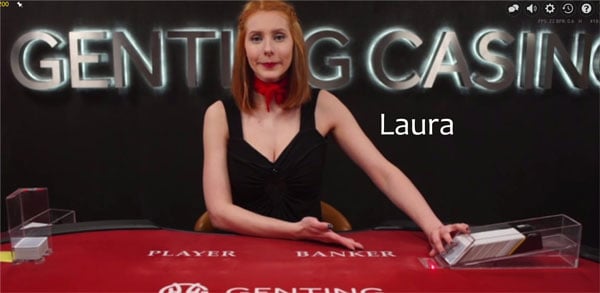 Posted March 3, 2017 by
Neil Walker
Continuing the series of Live Dealer interviews, we have Laura who is a live dealer at Genting Live Casino.
The Genting studios are located in Riga, Latvia and this is where Laura works alongside 100's of other game presenters/dealers.
Genting has two studios, one for regular players and one for their VIP's which is branded the same as their VIP land Based Casino, Crockfords.
What is your name, please?
Laura.
How old are you?
22 years old.
What nationality are you?
Latvian.
What languages do you speak?
Latvian, English, Russian and German (just a little).
What did you study at school/university?
I studied to become a chef.
Have you had any previous jobs, if so what were they?
Yes, I was working as a chef for a while.
What attracted you to become an online live dealer?
My friend told me about how great this job was.
Had you had any previous experience of either presenting or dealing live table games?
No.
What skills do you need for the role of a live dealer?
The ability to act freely in front of a camera and adapting to new situations and circumstances is very important.
You also need to be responsible working on your own and in a team. Of course, patience and ability to work under pressure are very useful for a game presenter.
How long have you been a live dealer?
For 10 months already, time really flies here.
What sort of career progression is available to you?
The best part of working here is that we always have a chance to grow and develop ourselves, learn new things. New positions open all the time and we're able to apply for those.
Can you describe a typical day for you at work?
I usually arrive an hour early, to put on make-up, my uniform and fix my hair.
I often grab a snack and some coffee which is an integral part of my day. While at the pre-shift meeting we are informed of any changes that have been made.
Then off to the Genting tables, to greet with my colleagues and players.
How long is a typical shift?
8 Hours.
How long do you deal at the same table?
30 minutes.
Do you only deal on the Genting tables?
Yes.
Do you deal on the Crockfords tables?
Yes.
Training
What training are you given?
A full training course.
Who provides the training?
Qualified trainers in the Academy area.
How long does the training take and do you have to pass tests before you are allowed to deal.
2 weeks and yes, every trainee is given a test to determine whether or not they're suitable for this job.
What does the training involve?
It covers game rules, how it's played, all procedures and how to follow them.
How to act in front of the camera and speaking with players.
All the things you need to know to become a fully functioning game presenter.
Do you have to be trained in all the games before you are allowed to deal for real?
Of course.
Dealing
Is your on table performance measured? If so, in what way?
Yes, we get evaluated multiple times during the month. For our presentation skills, how we act while at the tables, if we follow the procedures correctly, etc.
There are many criteria by which we are evaluated.
How important is the chat facility?
Very. It is the way that players can communicate with us, to let us know if something is not right or they're not pleased about something so we can let the right people know.
Do you have pre-prepared questions to get players talking?
No. I'm a spontaneous person and I don't find it hard to try and engage a person in a conversation.
For me pre-prepared questions sound stilted, not everyone will find this one question interesting.
Was there anything that surprised you about being a live dealer?
No, not really.
Technology
What info do you have about the player?
Their nickname.
Do you know how much people are betting?
Yes.
Personal
Do you play casino games yourself?
No.
What is your favourite game? and why?
Not a big fan of playing games, but Uno is pretty fun.
What is the best part about your job?
Learning new things and expanding my knowledge. I like the fact that everything happens in English so I have a chance to exercise my language skills every day.
Always meeting new people online and in hallways as well.
What's the best thing about working for Genting / Evolution?
A great work environment, feeling the fact that the employer cares for all the employees.
What do your friends think of your job?
They're quite interested. They are always asking me what it's like working such a job.
What are your hobbies?
In my free time I really enjoy drawing, bike riding and reading books, peaceful activities mostly.
Do you have any pets, if so what are they and what are their names?
I had a cat and his name was Miķelis (it would translate as Mike in English).
What sorts of music do you like and why?
I enjoy every kind of music as long as it is soothing and pleasant to my ears.
It could be rap music, classic rock, classical pieces as well.
All music is good if it comes from the heart.
Have you been to any concerts recently? If so what and how was it?
Yes. I went to a Latvian band named Ansamblis Manta and to a band called Slipknot as well.
The concerts were awesome, made me happy.
If you could have a super power for a day what would it be and what would you do?
Healing, I'd help people in need.
Do you play or watch sport?
Not really, I'm not a big sports fan.
What is your favourite food?
Lasagna and pasta with sun-dried tomatoes and blue cheese. Yum!
Thank you very much for your time, Laura.