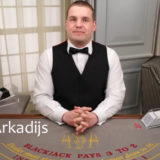 Interview with Arkadijs – Live Dealer at Genting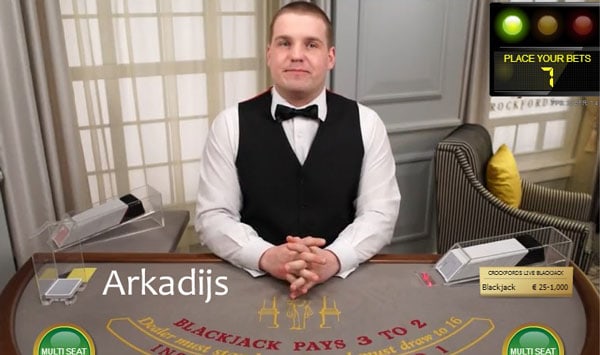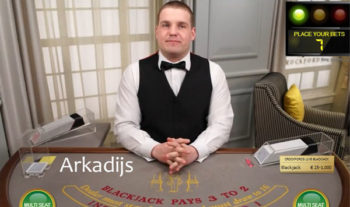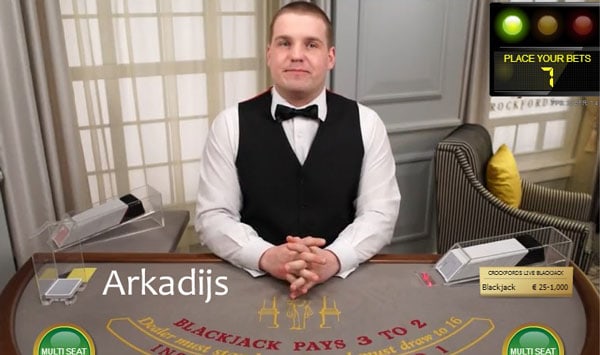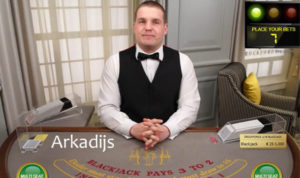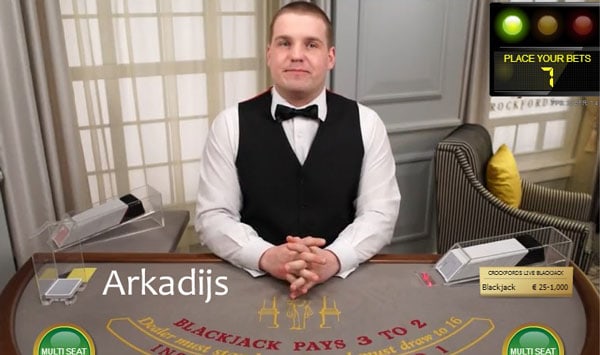 Posted September 8, 2016 by
Neil Walker
So starting off:
What is your name please?
Arkadijs.
How old are you?
24.
What nationality are you?
Polish/Latvian/Russian
What languages do you speak?
Russian/Latvian/English.
What did you study at school / university?
Sociology of organisations and public administration.
Have you had any previous jobs, if so what were they?
Security guard, bartender.
What attracted you to become an online live dealer?
Ability to do exiting work in a challenging environment, communicating with different types of people from different countries – players/colleges etc. and to help people become rich. 🙂
Had you had any previous experience of either presenting or dealing live table games?
No
What skills do you need for the role of a live dealer?
To be a professional live dealer you definitely need to have good communication skills, the ability to be ALIVE in front of the camera, patience and ability to work under pressure.
How long have you been a live dealer?
13 months
What sort of career progression is available to you?
In Evolution Latvia there are always opportunities to grow within the company, there are a lot of vacancies which suits different types of people, so you can definitely find something for yourself.
Can you describe a typical day for you at work?
Mostly these are nights, waking up after an evening nap, having a coffee, calling friends/colleagues with whom I am driving to work with and meeting them, arriving at work 30-40 min before shift starts.  I listen to news at the pre-shift meeting, working at live tables, communicating with players, chilling at brakes, having fun with friends and then driving home.
What other jobs need doing when you're not dealing at the tables?
Studying and typical household duties.
How long is a typical shift?
8 hours.
How long do you deal at the same table?
30 min.
Do you only deal on the Genting tables?
Yes.
Do you deal on the Crockfords tables?
Yes.
Training
What training are you given?
I was trained how to be professional dealer in casino games like roulette, blackjack, three card poker and baccarat. Not just dealing techniques and basic rules, but ability to perform and do my best for players convenience.
Who provides the training?
Professional trainers in evolution academy.
How long does the training take and do you have to pass tests before you are allowed to deal.
For different games its different, for example when I started my path with Evolution Latvia we had 3 weeks long training.
I was taught all the basics things you need to learn to become professional dealer in blackjack and roulette games.
We had 2 exams for each game, so 4 in total. Theoretical – written test and practical with dealing at live tables.
Do you have to be trained in all the games before you are allowed to deal for real?
Yes.
Dealing
Is your on table performance measured? If so, in what way?
There is a big table of game presenter performance ratings, with a lot of details etc.
Main things, which determine performance, are presentation, game rules and procedure following, aliveness/ communication and game communication.
How do you know when you're doing a good job?
You just know it when it comes.
How important is the chat facility?
The main chain between player and game presenter is chat, it's impossible to imagine it without chat.
Do you have prepared questions to get players talking?
No.
What subjects are you not allowed to talk about?
Religion, Politics, Sex, Drugs, Personal information, Organisation information.
Technology
What info do you have about the player?
Nickname and info which he/she shares with me in chat.
Do you know how much people are betting?
Yes.
Personal
Do you play casino games yourself?
No.
What is the best part about your job?
Communication with people.
What's the best thing about working for Genting / Evolution?
International organisation with opportunity to growth within it, being part of Evolution is the best thing about it. 
If you could choose 7 people to deal blackjack to who would they be and why?
 (They can be anyone, alive or dead, famous or not).
Dale Carnegie – my favourite author of ''how to'' books. A person with sharp mind and a lot of interesting thoughts about life, about people and society.
Peter Griffin – mathematician. A theoretical pioneer and author of ''The Theory of Blackjack'', probably best blackjack player in the world.
Muhammad Ali – my idol, in boxing, in personal growth. The example of personality and unbreakable character, strong mind, body and soul.
Richard Branson – founder of virgin group. Supreme businessmen you could learn a lot from him.
Shaquille O'Neal – His wide soul and sense of humour is just hilarious.
Jessica Alba – to add some beauty in our company.
What are your hobbies.
Boxing, riding a bicycle, Fishing, Books, Movies.
What is your favourite holiday destination and why?.
A place with sun, sea, and lots of culture to observe.
What sorts of music do you like and why?
I listen to everything, from classics to heavy metal, depends on my mood and need in the moment.
Have you been to any concerts recently? If so what and how was it?
Yes, there were Russian rappers L'One and Timati, in Ogre – an open air stage arena in Latvia, it was awesome. The energy that they were able to give to the performance can't be described in words.
If you could have a super power for a day what would it be and what would you do?
I would like to be able to teleport myself so that I could travel to every city in the world.
Do you play or watch sport?
I'm a big fan of football . YOU'll NEVER WALK ALONE, Liverpool for life.  Big fan of UFC as well.
What is your favourite food?
Meat.
Wow, thanks Arkadijs, what great answers. I love the 7 players at the Blackjack table, what an eclectic mix of people and I'm with you with Jessica Alba.
You can see and meet Arkadijs at the Genting Live Casino Tables most evenings.