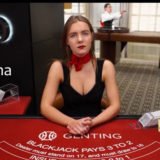 Interview with Anna – Live Dealer at Genting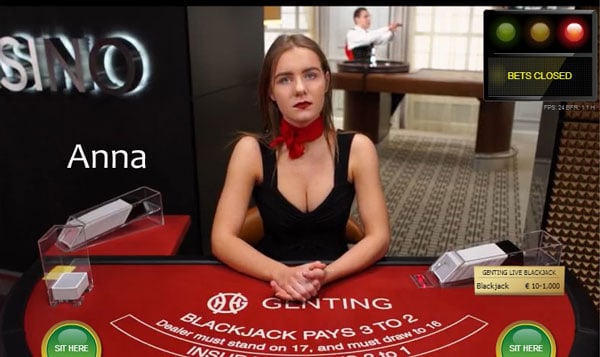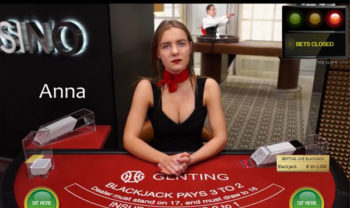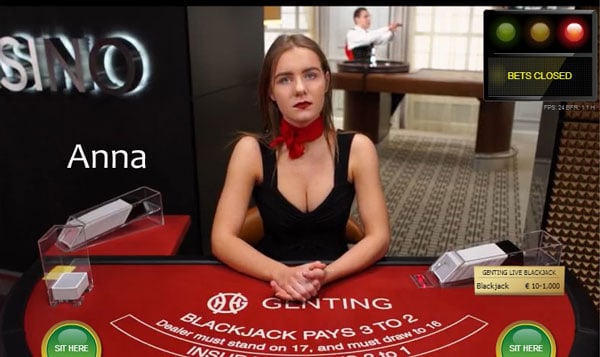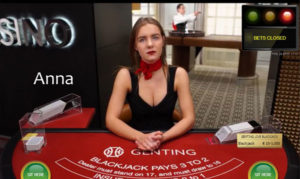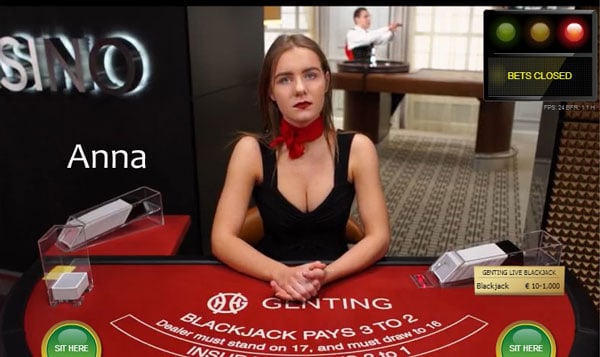 Posted October 13, 2016 by
Neil Walker
So starting off:
What is your name please?
Anna.
How old are you?
19.
What nationality are you?
Latvian.
What languages do you speak?
Russian, Latvian, English, German (a little bit).
What did you study at school / university?
Medicine and Dermatology.
Have you had any previous jobs, if so what were they?
No, this is my first working place.
What attracted you to become an online live dealer?
Opportunity to meet new people, I wanted to try something new and unusual.
Had you had any previous experience of either presenting or dealing live table games?
No.
What skills do you need for the role of a live dealer?
First of all you should be talkative, to involve players in to the game. Of course you should know how to stay confident and professional.
How long have you been a live dealer?
6 months.
What sort of career progression is available to you?
There are always new opportunities arising and I can always find something new.
Can you describe a typical day for you at work?
I arrive about 20-25 minutes before my shift, already with my make up on.
I change my clothes, put on my uniform and fix my make-up and hair.
Before our shifts Service Managers inform us of any news and updates, after this I check my rotation and go to the tables.
We sit and play the games, talk to players and sometimes to each other.
How long is a typical shift?
8 hours.
How long do you deal at the same table?
30 minutes.
Do you only deal on the Genting tables?
Yes.
Do you deal on the Crockfords tables?
Yes.
Training
What training are you given?
Full training.
Who provides the training?
Training is provided by our trainers in the Training Academy.
What does the training involve?
A lot of things connected with our job, training involves info about all games. For example the rules of the game, all game procedures.
We also learn the company rules and procedures, how to communicate with players and how to act in front of camera.
Do you have to be trained in all the games before you are allowed to deal for real?
Yes. Everyone should pass the test and try to deal to the real players. If they are feeling confident about everything they are ready to deal for real.
Did you need any special training for the Genting tables? 
No.
Dealing
Do you need a license to be able to deal live casino games?
Yes.
How do you know when you're doing a good job?
My Team Leader or manager will tell me.
How important is the chat facility?
It is very important because we have a chance to have a conversation with players and know what they like or dislike.
Do you have prepared questions to get players talking?
No.
What subjects are you not allowed to talk about?
Politics, religion, any personal information.
Was there anything that surprised you about being a live dealer?
No.
Technology
What info do you have about the player?
Only their nicknames.
Do you know how much people are betting?
Yes.
Personal
Do you play casino games yourself?
No.
What is your favourite game? and why?
My favourite game is Blackjack because it is very interesting to make decisions and watch how other players are doing it.
What is the best part about your job?
New people, getting experience in new languages.
What's the best thing about working for Genting / Evolution?
The company policy, the way we make changes to others, professionalism in work, lots of opportunities for development for all employees.
What is the funniest thing that has happened to you at work?
Can't remember one special thing, every day brings something funny.
What do your friends think of your job?
All my friends like what I am doing; they are very interested about what do.
If you could choose 7 people to deal blackjack to who would they be and why?  (They can be anyone, alive or dead, famous or not).
I would like to deal to my relatives and friends so they could see and understand what exactly I am doing. To give them opportunity to see me from another side.
What are your hobbies?
First of all, sports. Every day I spend some time in a gym or swimming pool.
Second of all, reading informative books or watching informative channels like Discovery.
What is your favourite holiday destination and why?
Any warm country, for example Malaysia is a nice place, delicious food and friendly people.
You will enjoy it there every time you visit. The place is a mixture of all traditions, cultures and religions.
Do you have any pets, if so what are they and what are their names?
No.
What sorts of music do you like and why?
I like deep house music, deep house never loses its soul. It can work its way down into your core and do profound things. It messes with your sub consciousness.
I like, that this music is at times quite relaxed and at other times extremely groovy.
Have you been to any concerts recently? If so what and how was it?
I recently saw a popular Russian band IOWA, who I absolutely love.  She is incredible live so that made it great.
If you could have a super power for a day what would it be and what would you do?
Precognition. I would love to know what will happen in future which will make my life happy and stress free.
Having this power of precognition can help me to know all my future events and I could escape dangers that will harm me and my beloved ones.
Do you play or watch sport?
Swimming.
What is your favourite food?
I love Chinese food, but my favourite dish is Italian Lasagna.
Thank you very much for your time Anna. You can find Anna dealing at the Genting Live Casino most days. Checkout the 3 card poker table as she is there quite often.
Drop by, say hello and mention that you've seen the interview on LiveCasinoComparer.