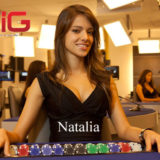 Interview with Natalia – Live Dealer at Visionary iGaming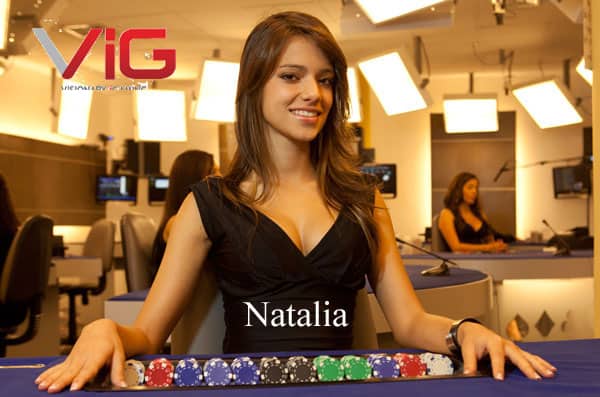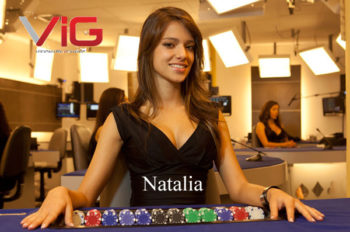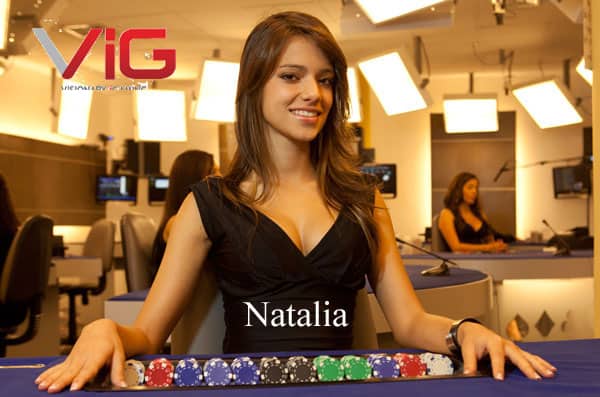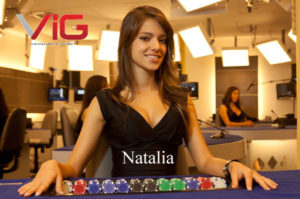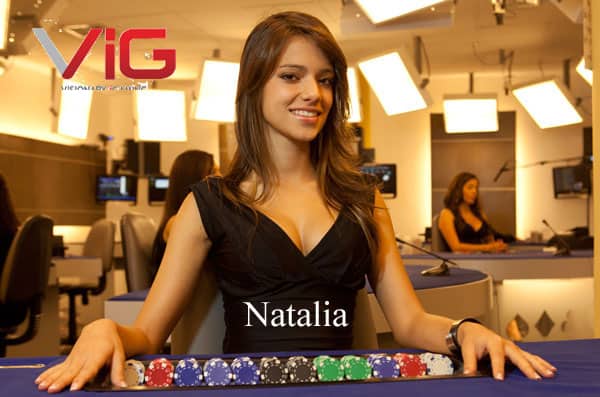 Posted April 18, 2016 by
Neil Walker
Natalia is the second of two interviews I've performed with dealers at Visionary iGaming. What's impressed me most is the length of time that both Natalia and Elena have worked as live dealers. 
If you think you recognise Natalia and you haven't played at either Celtic or Fairway live casinos there's a good chance that you've seen her image used in connection with articles suggesting that roulette is rigged in some way.  I can testify that Natalia is not an Ex Dealer "Spilling the beans", but very much a current one employed by Visionary iGaming.
It's unfortunate that not all of my questions were answered. I had some real good ones up my sleeve too. Oh well not to worry, you'll get to see them in my next set of interviews.
So I have pleasure in introducing Natalia to you.
What is your name please?
Natalia.
How old are you?
28.
What nationality are you?
Costa Rican.
What languages do you speak?
Spanish & English.
What attracted you to become an online live dealer?
It's a job where you can have fun while doing it.
Had you had any previous experience of either presenting or dealing live table games?
No.
What skills do you need for the role of a live dealer?
You need to be friendly, focused every second in the game, have empathy with the player, be happy no matter how your day was and just enjoy the game.
How long have you been a live dealer?
7 years.
What sort of career progression is available to you?
From dealer to Pitboss Assistant and then Pitboss.
What other jobs need doing when you're not dealing at the tables?
Some days I am a PBA (Pitboss Assistant).
How long is a typical shift?
7 to 8 ½ hours.
How long do you deal at the same table?
30 minutes.
How many dealers are there?
60 dealers.
Dealing
Is your on table performance measured? If so, in what way?
Yes, every 2 weeks, our supervisor evaluates the procedure we follow while dealing, not being sleepy, the make-up, smile while dealing and one of the most important things is try not to make misdeals while playing.
How do you know when you're doing a good job?
You don't make misdeals and the supervisor congratulate.
How important is the chat facility?
Very very important! It's a great tool the players can communicate what they are experiencing immediately.
Do you have pre-prepared questions to get players talking?
No.
What subjects are you not allowed to talk about?
Especially our Facebook information and our phone number, a lot of players ask for it.
Was there anything that surprised you about being a live dealer?
Yes, I always thought the casinos had tricks for players not to win.
But now that I actually deal on a Live Casino I know is not true. They don't cheat, are really transparent and if you win depends on the luck you have each day.
Personal
What is the best part about your job?
I get to meet players from all over the world.
What's the best thing about working for ViG?
You have a great flexibility on your schedule and this allows you to study, reach your personal goals and improve your quality of life.
What do your friends think of your job?
They think I know a lot of tricks and want me to teach them how to always win.
What are your hobbies?
Cheerleading! It has been my passion for 7 years. I practice and also I'm a cheerleading teacher.
Do you play or watch sports?
I practice cheerleading!
Is there anything else you'd like to say to give the readers an insight of online live casinos?
A Live Casino is like a real one but you can play from the comfort of your home or any place.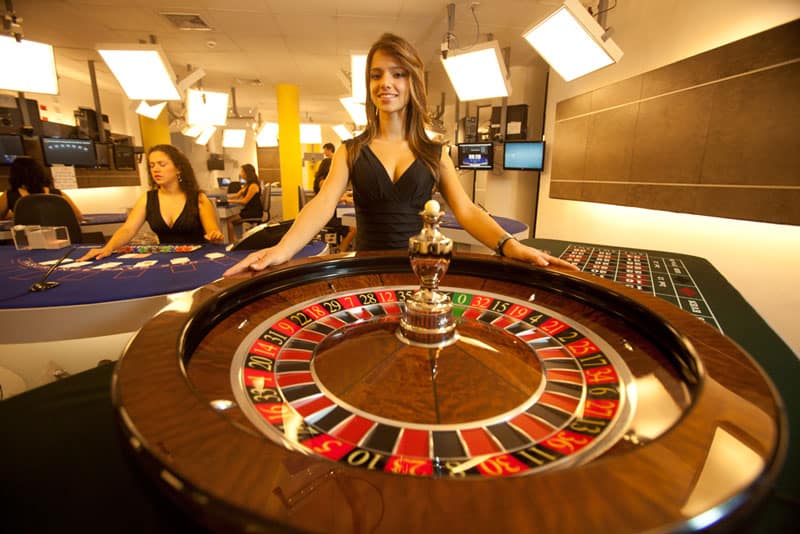 Thank you Natalia.