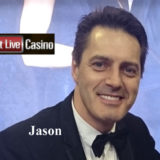 Interview with Jason – Live Dealer at Smartlive Gaming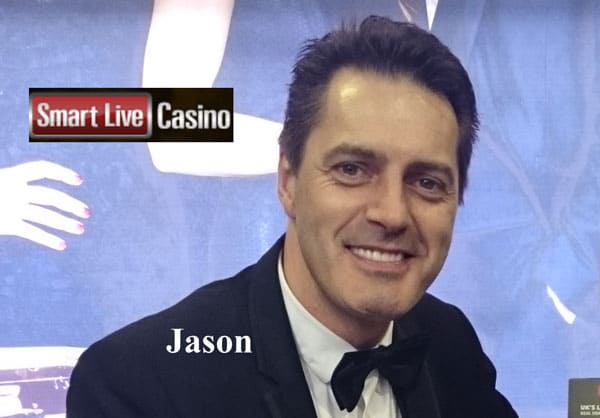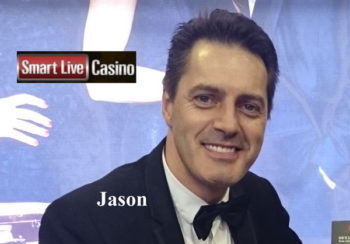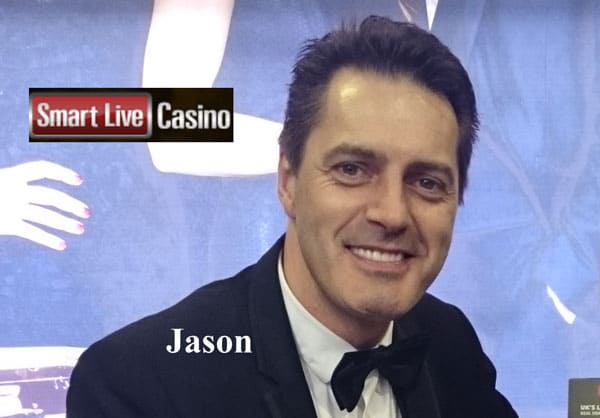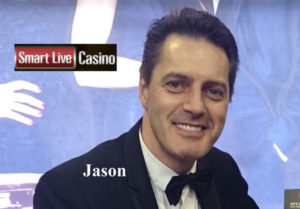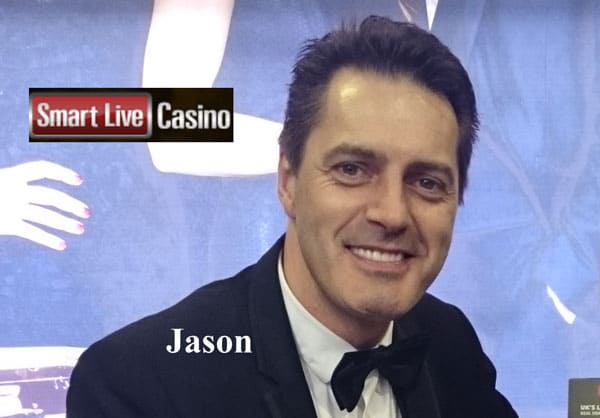 Posted May 6, 2016 by
Neil Walker
Jason Davies Live Dealer Interview
I first met Jason at an iGaming conference in London in February 2016.
He was there with Naomi and a bunch of presenters promoting SmartLive Casino. I didn't know then that I'd be interviewing him a few months later.
He's a good looking chap and a nice fellow to boot and if you go to the Smartlive casino you'll see how genuine he comes across. He's also up for a laugh so most of the time you'll see him having fun while he's dealing at the tables. 
If you're interested to know more about Jason then just google his name. You'll find that he's appeared in a number of TV commercials and presented and hosted a whole range of things.
So kicking the interview off……………….
What is your name please?
Jason Davies.
How old are you?
Over 40.
What nationality are you?
Welsh/British.
What languages do you speak?
English &  basic Welsh.
What attracted you to become an online live dealer?
The opportunity to work in Live TV.
Had you had any previous experience of either presenting or dealing live table games?
I had been presenting for many years , no experience of dealing.
What skills do you need for the role of a live dealer?
Friendly, informative, presentable and Knowledgeable of the games.
How long have you been a live dealer?
6 years.
What sort of career progression is available to you?
None at Smartlive.
Can you describe a typical day for you at work?
Arrive at the studio 30 mins before live on air.
What other jobs need doing when you're not dealing at the tables?
Shuffling cards for blackjack.
How long is a typical shift?
8-9 hrs.
How long do you deal at the same table?
3- 4 hrs in 30 minute sessions.
Training
What training are you given?
You learn how to deal, shuffle cards, spin the ball, and general knowledge of casino games.
Who provides the training?
Amina Akram, who works at Smartlive Gaming and has been a presenter. There are recordings of her on YouTube.
How long does the training take and do you have to pass tests before you are allowed to deal.
Learning to deal is different for everyone. You have to be proficient in the games before you are allowed to deal at the tables.
What does the training involve?
Learning how to deal, shuffle cards, spin the ball, and general knowledge of casino games and website.
Do you have to be trained in all the games before you are allowed to deal for real?
Mostly Blackjack and roulette , we are encouraged to learn other games on the website.
Dealing
Do you need a license to be able to deal live casino games and if so who provides it?
Yes , the UK Gambling Commission.
Is your on table performance measured? If so, in what way?
I believe a report is completed every day by the producers.
How do you know when you're doing a good job?
By not making mistakes.
How important is the chat facility?
It's vital to have a rap-pour and make connections to players. I believe it helps to encourage them back.
Do you have pre-prepared questions to get players talking?
General questions which include, Hi welcome to the table how are you today?
What subjects are you not allowed to talk about?
We have to avoid talking about any subject which could put the company in question and rules set by Ofcom.
Was there anything that surprised you about being a live dealer?
How passionate players are.
Technology
When you are dealing what information do you have in front of you?
On Blackjack we have the software instructing us what to do. On roulette we have the live feed on a monitor showing the clock and players involved in each game.
What info do you have about the player?
Just their name.
Do you know how much people are betting?
Yes.
Personal
Do you play casino games yourself?
Yes
What is your favourite game?
Poker.
What is the best part about your job?
The people I work with.
What's the best thing about working for Smartlive?
Working inside a friendly fun environment.
What is the funniest thing that has happened to you at work?
Doing Auld Lang Syne on New Years Eve … great fun.
What do your friends think of your job?
They think it's good with great flexibility.
If you could choose 7 people to deal blackjack to who would they be and why?
Elvis Presley, Stephen Fry, Gandhi, Richard Burton, Sophia Loren, Billy Connolly, Mohammed Ali. … I think they would all have some incredible things to say with great stories.
What are your hobbies?
Sport, Theatre & Films.
What is your favourite holiday destination and why?
The Maldives, I went there on my honeymoon.
Do you have any pets, if so what are they and what are their names?
I have a Cockapoo called Betsy.
What sorts of music do you like and why?
All music has its place at different times.
Have you been to any concerts recently? If so what and how was it?
Stereophonics. It was a fantastic gig.
If you could have a super power for a day what would it be and what would you do?
The ability to heal anyone.
Do you play or watch sport?
I watch all sports and play a little football.
What is your favourite food?
Sunday roast.
Thank you very much for your time Jason.
If you're interested in seeing and talking to Jason then he's a regular presenter at the Smartlive Casino. He works on the Smart live dedicated tables that are hosted out of the offices in London.
You can read more in my review of Smartlive casino or just click here to be taken directly to the casino.