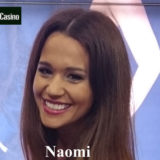 Interview with Naomi – Live Dealer at Smartlive Gaming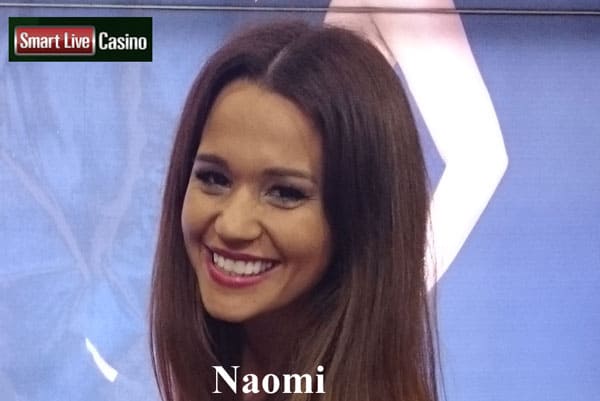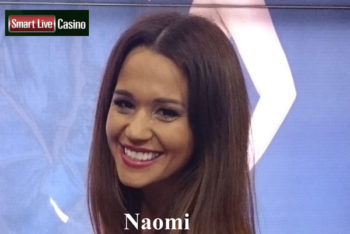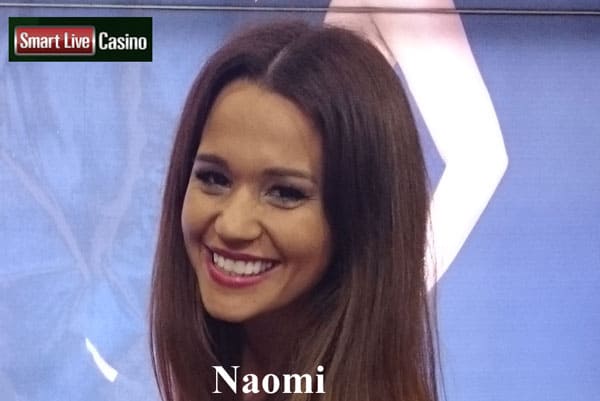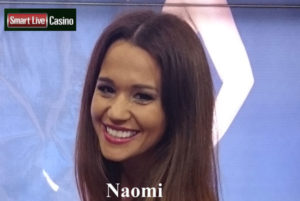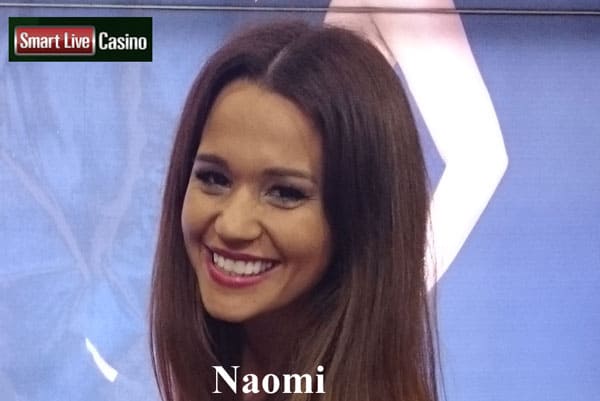 Posted May 16, 2016 by
Neil Walker
Like a lot of live dealers, the presenters have a background in presenting and acting.
Naomi is no different, she is a Model, Presenter, Singer and has also been a reality show contestant as well as working as a live dealer at Smartlive Casino for the past 9 years.
I bumped into Naomi and her co-presenter Jason at a conference in February 2016 and chatted to them for a while before they started their promo work for the day.
So it was great to be able to interview them both a few months later.
What is your name please?
Naomi.
How old are you?
30.
What nationality are you?
British.
What languages do you speak?
English.
What attracted you to become an online live dealer?
I got approached to launch a channel.
Had you had any previous experience of either presenting or dealing live table games?
I hadn't before they approached me, no.
What skills do you need for the role of a live dealer?
You need to be lively, on the ball, fun, engaging, have full knowledge of the games.
How long have you been a live dealer?
Almost 9 years!
What sort of career progression is available to you?
I can move up to a higher level of management.
Can you describe a typical day for you at work?
I work between 2 tables, am on my feet, chatting, talking about the game, having fun and drinking lots of tea and coffee in my breaks!
What other jobs need doing when you're not dealing at the tables?
I model and I'm also a fashion blogger.
How long is a typical shift?
6 hours on screen and 8 hours in the studio.
How long do you deal at the same table?
It varies but longest will be 90 minutes in one stint. Total is 3 hours on each.
Training
What training are you given?
I was given full extensive training – I was already previously trained so I had to prove I knew the game etc.
Who provides the training?
Whoever holds the highest level licence.
How long does the training take and do you have to pass tests before you are allowed to deal.
The training generally takes at least a month and then lots of practice and refreshing before being allowed on screen.
What does the training involve?
Learning both games (Blackjack & Roulette), full knowledge of the games and lots of practice.
Do you have to be trained in all the games before you are allowed to deal for real?
Yes.
Dealing
Do you need a license to be able to deal live casino games and if so who provides it?
Yes, from the UK Gambling Commission.
Is your on table performance measured? If so, in what way?
No.
How do you know when you're doing a good job?
I always do a good job ha ha.
How important is the chat facility?
It's great to interact with players and get to know them. Then they feel like they know us and will be more inclined to come and join us and play.
Do you have prepared questions to get players talking?
No just general chat and hot topics, sports action, weather etc.
What subjects are you not allowed to talk about?
Nothing 18+ or anything which is deemed unsuitable, death etc.
Was there anything that surprised you about being a live dealer?
Nope 🙂
Technology
When you're dealing what information do you have in front of you?
We have a full computer system on blackjack that shows all cards, add up scores and basically shows all the information about the game.
On roulette we have a monitor which shows us exactly what the players see at home.
What info do you have about the player?
We see their username and that's it.
Do you know how much people are betting?
Yes.
Personal
Do you play casino games yourself?
Sometimes, roulette.
What is your favourite game? and why?
Roulette as I like the thrill of the game and the buzz if my number comes in.
What is the best part about your job?
We have a great time. The people I work with we are always happy and we have fun whilst dealing.
What's the best thing about working for Smartlive?
The great team.
What is the funniest thing that has happened to you at work?
Many things. I have had times where my voice has decided to come out really high pitched and shocked me, I have laughed so much. I was also once sick on air, however that was not fun!!
What do your friends think of your job?
They think its cool but always say I must know how to win ha ha.
If you could choose 7 people to deal blackjack to who would they be and why?
Trey Songz, Mariah Carey, Pharrell Williams, Whitney Houston, Simon Cowell, Cheryl Cole & David Beckham.
What are your hobbies?
Fashion and taking out my son.
What is your favourite holiday destination and why?
Dubai. I love everything about it including the hot weather. I took my son for my 30th last year and I'm already planning my next trip!
Do you have any pets? if so what are they and what are their names.?
Yes, I have 2 dogs, Lili and Bobby.
What sorts of music do you like and why?
I like a good R and B beat as I love to dance when I'm out.
If you could have a Super Power for a day what would it be and what would you do?
Million percent time travel.
Do you play or watch sport?
I don't play sport I don't mind watching it though, I love watching athletics and gymnastics and sometimes football.
What is your favourite food?
Japanese. 🙂
Thank you.