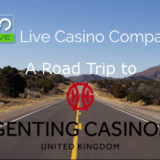 Genting Dual Play Roulette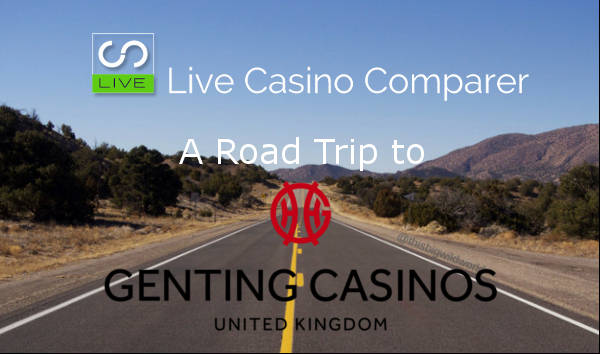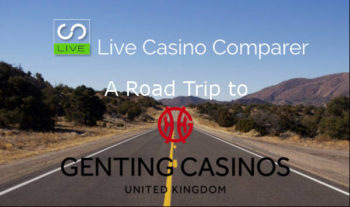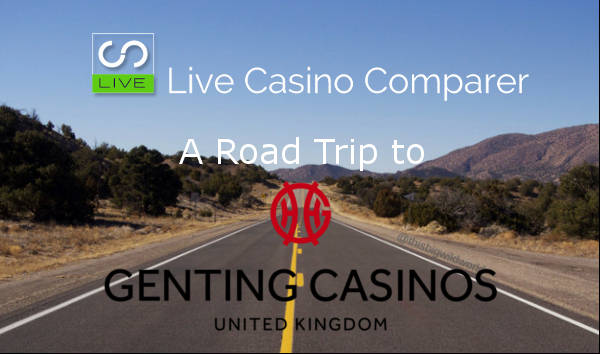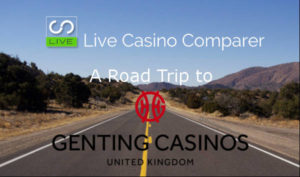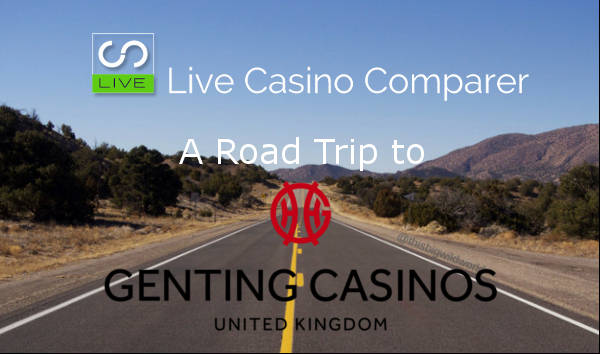 Posted September 10, 2018 by
Neil Walker
A UK Road Trip to Play Genting Dual Play Roulette
Dual Play Roulette is a real land based roulette table which is also streamed online, so players on PC's, Mobiles & Tablets can join in the play at the same time.
Genting has two of these tables, one located at their Resorts World Casino in Birmingham and the other in Manchester.
This is my diary/blog of a recent road trip I took to visit the Casinos and play on these tables.
Watch my videos to see me play on the tables and with my mobile as I reveal what the experience is really like.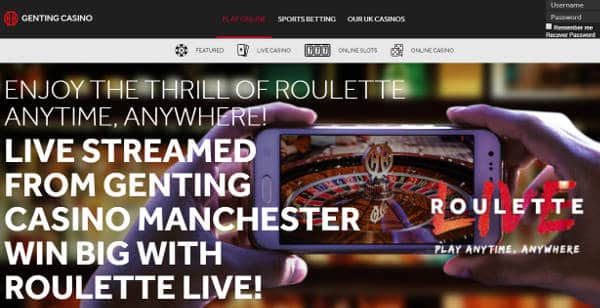 Overview of Genting Casino & Live Casino
Genting Casinos has both an online and an extensive land based casino presence here in the UK.
It's a USP that's only a few casino operators can boast. Genting is one of a few that's taken active steps to integrate their land based solutions with their online live casino solution.
As a player and a reviewer of online live casinos, it's the integration that really interests me.
At the last count Genting has 42 land based casinos. Famous brands such as Crockfords, Casino International, The Palm Beach and Maxims head that list.
Gentings online presence is impressive when it comes to Live Casino, but not so much if you're a slots player (although I believe that is changing as I write this).
As you'd expect, the tradition and experience of running land based operations has found its way online to their live casino.  Players are offered three different playing experiences, all underpinned by the impressive Evolution Gaming live dealer software.
Playing online at Genting
There are 9 live table games available (Blackjack, Roulette, Baccarat, Casino Hold'em, 3 Card Poker, Caribbean Stud Poker, Ultimate Texas Hold'em, Dream Catcher & Football Table), streamed from three separate studios.
Evolutions general play tables deliver all 9 games in an environment where you share the tables with players from other casinos.
Genting then has two additional dedicated studios:
The first has Blackjack, Roulette, Baccarat and Three Card Poker reserved for their players only.
VIP's and high rollers get their very own set of tables at the Crockfords Live Casino. Access to them is by invitation only to play Blackjack, Roulette and Baccarat Squeeze.
Whilst you'd think this already sets Genting apart from other operators (and it does), they have gone one step further and installed Dual Play Roulette tables at the Resorts World Casino in Birmingham and their Manchester Casino. Both are streamed to an online audience.
The tables are streamed online in real time, so you're able to play a casino paced game of roulette alongside real people playing in the casino.
A Road Trip to see Genting Dual Play Roulette in Action
I've been recommending Genting as a good place to play live casino games on this site for a while.
So I was delighted when I managed to set something up with them to have a look at their Dual Play Roulette tables.
I wanted to see if they actually lived up to the marketing hype we've seen pumped out by Evolution Gaming and other suppliers of these types of table.
I was keen to see the tables in use,
how they've been setup,
whether the cameras are intrusive,
if there's lag between what we see online and what's happening in the casinos,
and how easy it is to play on your mobile.
Genting covered my expenses for the trip, paid for my meals and even gave me some stake money for use on the tables. I was given un-restricted access in the casinos to both the tables and staff, which made everything so much easier for me to review.
As you'll see and read, I performed the reviews in my own way and with no input or direction from Genting.
I got what I wanted, which was access to the Genting Dual Play Roulette Tables. Genting got a factual review with external insight into their casino products, warts and all. A win for both sides 🙂
This article is a broad summary of my trip and experiences. The attached videos is a raw, factual and interesting view of my day with the guys from Genting.
View with caution there is gambling involved. 🙂
Beginning my Trip
I met my hosts for the day, Harry Lang who's a Marketing Consultant and Alex Naspe, Head of Casino Interactive for Genting UK, at Euston Station in London.
Genting Casino – Manchester
We traveled by train up to Manchester first, where we stopped off for a bite to eat at Australisia, a stunning Australian/Asian Fusion restaurant in the City.  After Lunch we walked to the first casino of the day, Genting Manchester.
On Arrival we were greeted by Ashleigh Bell – PR & Marketing Manager, who showed us around and made arrangements for me to have access to everything I needed in the Casino.
At this point my hosts drifted into the background to leave me to get on with my review of the Dual Play Roulette table.
I did a lap around the casino before heading to the Roulette table.
Genting Dual Play Roulette – Manchester
The Dual Play Table (known internally as AR01) is located in a prime position in the center of the casino. It was by far the busiest table. To be honest it's not obvious that it's being used for streaming live onto the Internet.
The cameras are tucked away at the wheel end of the table, and actually quite difficult to see. They don't intrude into the table or game. The dealer runs the game as a normal play table, with no special things being done for online players.
The only clue the feed is going online is from the video screens above the table. I didn't see one person looking at them, so i'd say that was a success from within the casino.
I settled down into position 1 at the table and using my newly received £100 chip I cashed up £50 and place a few bets across the table.
Videoing while playing is actually quite difficult. I had a winner on my first spin, Lucky number 11! I didn't really look back from then, and left the table in profit by £30.
Playing Dual Play Roulette on my Mobile
I then switched to playing on my mobile phone.
I was keen to see whether there was lag between the actual table and what I would see online. While I suspected there would be some lag I was surprised to find that it was about 1 second.  Again, I won on my first spin!
The playing interface itself is very good on mobile. If you're not a regular player like me it does take a few spins to get to know where everything is.
My Camera work wasn't brilliant at this point, but I managed to confirm that what we see online is exactly what is happening in the casino, regardless of any lag being present.
I played a few game rounds before decamping and heading to the Blackjack table.
Playing Blackjack
After interrogating the dealer about the playing rules, I determined that the game was not going to be to my liking (European Rules with a ShuffleMaster dealing shoe).
However, with no alternative I reluctantly sat down and played about 10 hands.
Well the gambling gods were smiling on us. I walked away with even more profit, doubling up the initial £100 I'd been given to £200. Harry got a few more quid in his pocket!.
I cashed in to use the stake money for the Birmingham Casino.
Travelling onto Birmingham
An Uber took us in the rain to Manchester Piccadilly Station, where we caught a slow cross country train to Birmingham International Station.
For those that haven't been to this area of Birmingham, it's on the outskirts and next to the NEC Exhibition Centre, The Genting Arena, Birmingham Airport and Genting Resorts world.
I can only imagine how busy it gets when there are conferences and concerts on.
We arrived and the whole place was deserted, something to do with the school holidays and it being August!
We booked into the Resorts World Hotel and I was given a superior room.
The difference between a normal room and the Superior room is a Free Mini Bar. The room was nice, clean and comfortable, with a nice big shower
Like all honest citizens, I emptied the mini bar the following morning. I paid for my greed on the train, feeling quite sick after consuming too much of the free chocolate.
Dinner & a Gamble
We met for a quick drink and a meal in the famous Andy Waters restaurant. I can thoroughly recommend it. The food was delightful, the service great and location even better for the casino.
We were then met by Alfio Indelicato  – Deputy General Manager, Genting International Casino and taken on a grand tour of the casino.
Alfio explained that the casino wasn't that busy.
However on some nights they could have 20,000 customers passing through if there were events being staged at the nearby arenas.
Birmingham Dual Play Roulette
The Dual play table wasn't busy when we arrived. It's located in a prime position, you can't really miss it when you enter.
The setup was exactly the same as at Manchester, with cameras at one end and TV screens above the rig.
Harry and I took our seats and placed our bets.
I'm more used to placing my Roulette bets online, so I struggle to remember what numbers to cover if I want to bet the Tiers sections of the wheel. The very helpful dealer sorted that for me on every spin, so that made my life easier.
I wasn't so lucky on this table and lost most of my initial bankroll while Harry bet on 7 first spin and it came in!
Mobile play at Birmingham
I gave my mobile another go, this time sitting at the table.
The lag between my mobile and what was actually happening at the table was about 4-5 seconds.
That's not long enough to be exploited by anyone as bets were closed well before the ball started it's dance in the wheel.
But in my opinion long enough to require some investigation, which was duly noted by Alex.
We left as the table started to get busy and headed off to play some Ultimate Texas Hold'em Poker.
Playing Ultimate Texas Hold'em & Slots
The table wasn't full and the dealer, Anna, took good care of us and me especially.
I've not had such a good run for a while. I was hitting flushes, straights and even a full house. I was playing the Trips side bet, so my balance got up to a nice £250.
After losing a few hands in a row, I decided to bank my profit and try a few spins on the slots.
I picked the old but favourite Cleopatra and saw my balance virtually disappear over the first 100 spins. Then typically I hit a bonus round. 15 Spins later I'm sitting there dazed as my balance has recovered and I'm sitting on a £150 profit. Time for bed I thought 🙂
That was the end of my sessions in the casinos.
Summary
Reflecting on the trip I learnt a few things, specifically about Dual Play Roulette and about Genting.
Genting has some clear ambitions to be the best online live casino. The 2 Genting Dual Play Roulette tables are just the start. If they can get a coherent strategy together they will certainly achieve that.
I'm excited for them as ultimately I'm looking for a great playing experience whether I'm playing online or at my local casino.
While player points are not transferable between online and the land based casino, a single play wallet is. You can deposit into your online account and withdraw at the casino. In reverse you can cash in your winnings and pay them into your online account, ready for you to use at home.
This is really convenient if you like to play in both environments.  I decided to do neither with my winnings, preferring to keep the cash in my pocket so I could treat my family to something at the weekend.
The Dual Play Roulette table doesn't interfere at all with what's going on in the casino. It was the busiest table in both casinos and was given a prime spot.
While Mobile play is possible, it's not actively promoted in the casino. I didn't see any signs or posters encouraging it's use either as we entered or in the bar areas. There may have been something above the dual play table, if it was it's a bit obscure and no-one is really looking up in a casino!
I'd certainly recommend using a mobile when it's really busy at the table and you can't get you bets down. You can stand a few paces back, soak up the atmosphere and place your bets without getting elbowed in the ribs or having drinks spilled over you.
As for the delay at Birmingham – well, it was within acceptable operating limits. It's quite understandable that there will be delay/lag between what you see physically at the table and on a device somewhere. The images, data and sound has to get from the table, over a few internal networks, across the internet and then to your device. It's hardly surprising that this can take a few seconds on occasions.
Thank You
I'd like to thank those that made this trip possible. Harry and Alex for being great hosts. The Casinos Management Ashleigh and Alfio. All the dealers, especially Anna who dealt me some lovely hands. And finally the backroom staff that made all the arrangements- Paul Trindle, Kath Barton and Dave Scott.
Online Genting Dual Play Roulette
I filmed a specific review of Genting Dual Play Roulette last year, before i did this review, which you may find interesting to watch.
Fancy Playing?
To play the Dual Play Roulette tables all you need to do is follow this link to sign up at Genting Online Casino.