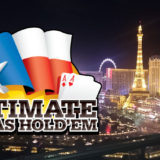 Playing Ultimate Texas Holdem in Las Vegas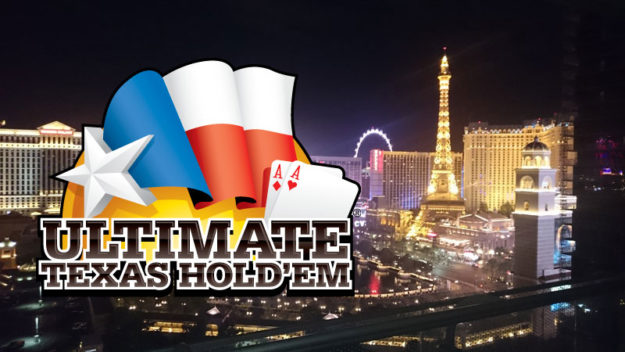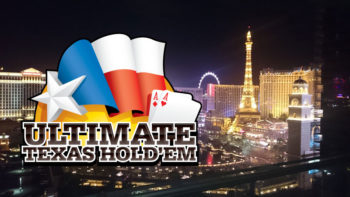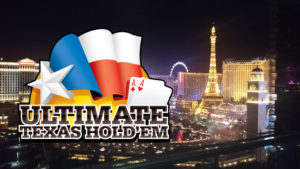 Posted October 7, 2016 by
Neil Walker
I've been playing the new Live Ultimate Texas Hold'em from Evolution Gaming since it launched a few weeks ago. I've been loving the game and I think the reason is the Trips side bet.
I get a rush when I hit it. It feels very much like when you hit a bonus round when playing slots. Getting the chance of hitting a decent pay out really gets the juices going.
Ultimate Texas Holdem in Las Vegas
Anyway, I've been in Las Vegas for a work conference (and finding out new information for www.livecasinocomparer.com). So it was only natural that I hunted out the Texas Hold'em tables while there.
I'm normally a Blackjack player. I like building a chip stack slowly and Blackjack is perfect for that. If you can ride the loosing hands and double up when you can I find that I can play for hours and normally return a small profit.  Obviously there are times when things don't go to plan and I lose, but I've usually had good sessions and met some nice people along the way.
However this time I wanted more of a quick fix from my gaming so I chose Ultimate Texas Hold'em.
It's Different from Live Ultimate Texas Holdem
The game in Las Vegas is played slightly differently from the Live version produced by Evolution Gaming.
It's still a single deck game, but it is played on a 5 seats table. Each player is dealt their own two cards. The dealer takes two and the first betting round begins.
If the table is friendly you'll find that players will share what their two hole cards are. This is really useful as it help you to decide how to bet, maybe not in the initial round but certainly when the flop is dealt.
None of the casinos stopped us, but we were talking rather than showing each other the cards, so the EYE in the Sky couldn't detect it and the dealer wasn't going to let on.
The dealer would then burn a card and deal the flop.
After the flop the dealer would burn another card and deal the Turn and River cards.
The betting rounds were the same. 4x or 3x before the flop, 2x after the flop and 1 x after all cards had been dealt.
Then there is the show down.
Progressive Jackpot
I played on tables that had a Progressive Jackpot. It cost $5 to play and if you got a trips or better hand with the flop and your first two cards you'd win a cash prize.
The Jackpot during my stay was up to $104,000 and could be won with a Royal Flush.
A straight Flush would win 10% of the Jackpot and if you were on the table and someone hit it and you were also playing the side bet, you'd win an Envy pay out of $10k for the Royal and $5k for the straight Flush.
Other prizes were $1,500 for Quads, $250 Full House, $200 Straight and $45 for Trips. I hit the flush and trip on a number of occasions and missed the Royal and a Straight Flush by one card each time!
How did I get on?
I'd really like to say that I took Las Vegas to the cleaners, but it turned the other way to favour the house.
I had some really good sessions where I hit some Full Houses and Straights and the odd Flush early on, which game me enough chips to have a long session and return a profit.
Other sessions were like pouring money down the drain. I hit absolutely nothing and bust out.
Quite often I'd go and play Blackjack afterwards just to make myself feel better.
Royal Flushes
I saw two in a few days, neither hit the Progressive, but they were nice wins for the Man and Lady who got them.
I think one paid about $15,000 and the other $20,000. Both were American citizens so had to pay £30% tax on the winnings. Ouch !!
The very nice dealer at the Cosmopolitan allowed me to take a couple of pictures of the first one. The dealer at the Encore was less obliging so I didn't get a picture there.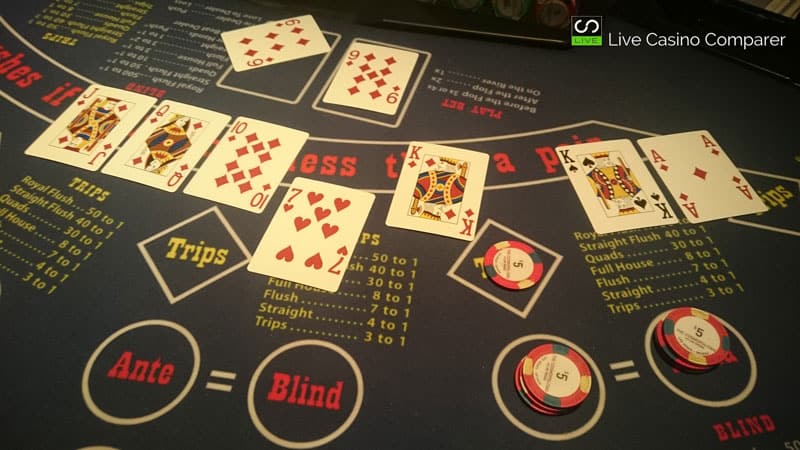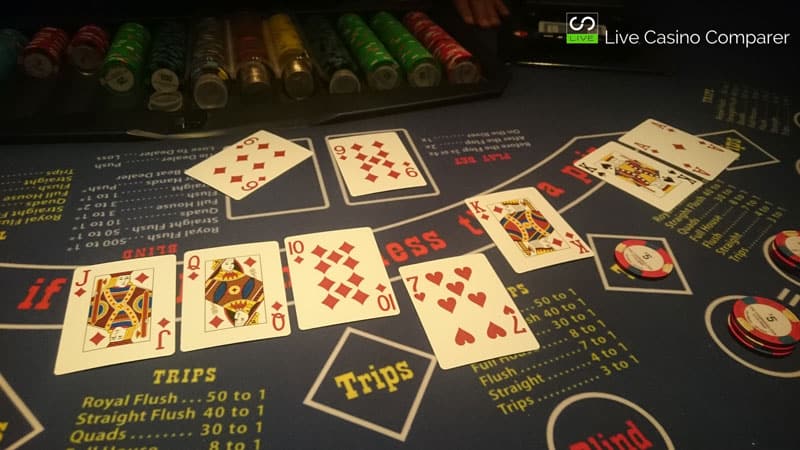 If you look closely you'll see that the dealer hit a Straight Flush while the player got the Royal Flush!
What did I learn?
Play the board when you have nothing. If you have a Jack or higher in your hand and there is a pair on the board it's worth a 1x play bet to save your other bets.
If you have King or higher before the flop 4 x times your bet will give you a decent pay out if you beat the dealer and they don't qualify.
Follow my Texas Hold'em Strategy to see when to place your bets for the cards you hold. I didn't a couple of times and regretted it.
It's hard to win and easy to lose. I enjoyed my playing time and kept to my playing budget. It would have been very easy to chase losses, but I'm pretty good at setting myself limits and sticking to them.
Vegas is a blast, I enjoy it every time I go.
Next time I'm determined to hit that Progressive Jackpot.
Fancy Playing Online?
Live Ultimate Texas Holdem has been released by Evolution and most of the Evolution Live Casinos have taken the game.
If you want to play then I'd recommend Leo Vegas, Grosvenor and Unibet as three places to try.