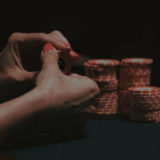 Land Based Casinos that stream Live Roulette tables online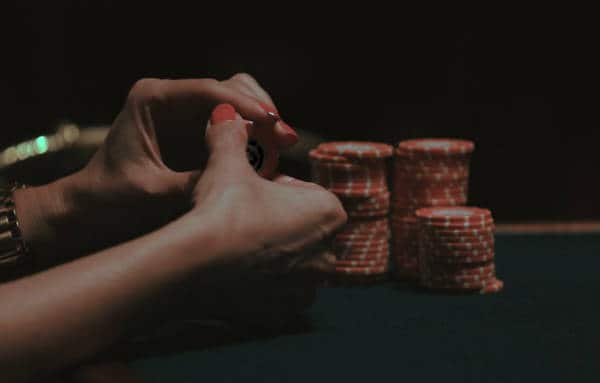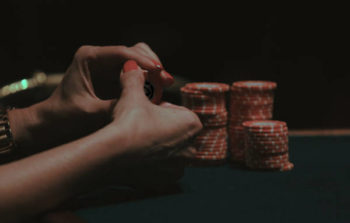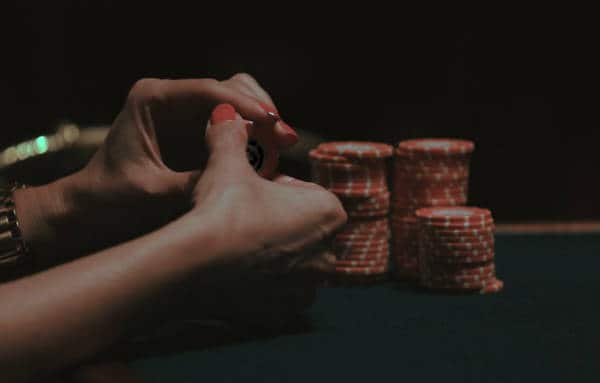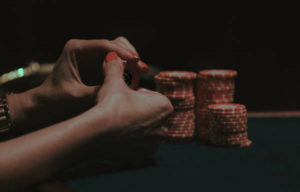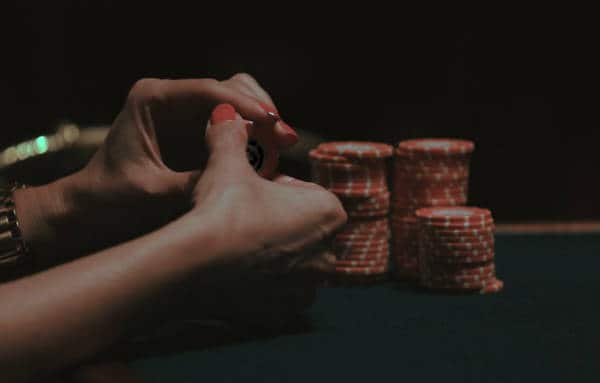 Posted January 11, 2018 by
Neil Walker
The trend for streaming live roulette from land based casinos is increasing.
Players like the additional trust factor it gives and Bricks and Mortar casinos like it because it's a great way to earn extra income and advertise.
Most live casino providers now offer these tables from locations around the world.
So here's a run down of the Land Based casinos that stream live roulette tables and where you can play them online.
Land Based Casinos that stream Live Roulette
London, England.
Malta
Gibraltar
Bucharest, Romania.
Italy
Georgia
Denmark
USA
London, England
Aspers Casino London
Aspers Casino Westfield Stratford City, 312 The Loft, Montfichet Road Olympic Park, London, E20 1ET.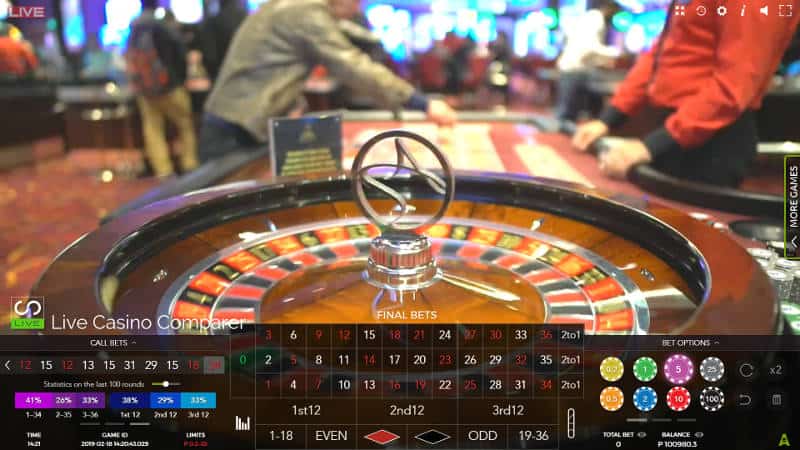 Aspers is one of the biggest land based casinos in the Uk. It boasts the largest gaming floor.
There is one table open to the public and online players 24×7.
The table is streamed online by Authentic Gaming and is their first UK based live roulette table.
Try playing at Leo Vegas.
---
The Hippodrome Casino
The Hippodrome Casino, Cranbourn Street, Leicester Square, WC2H 7JH London, United Kingdom.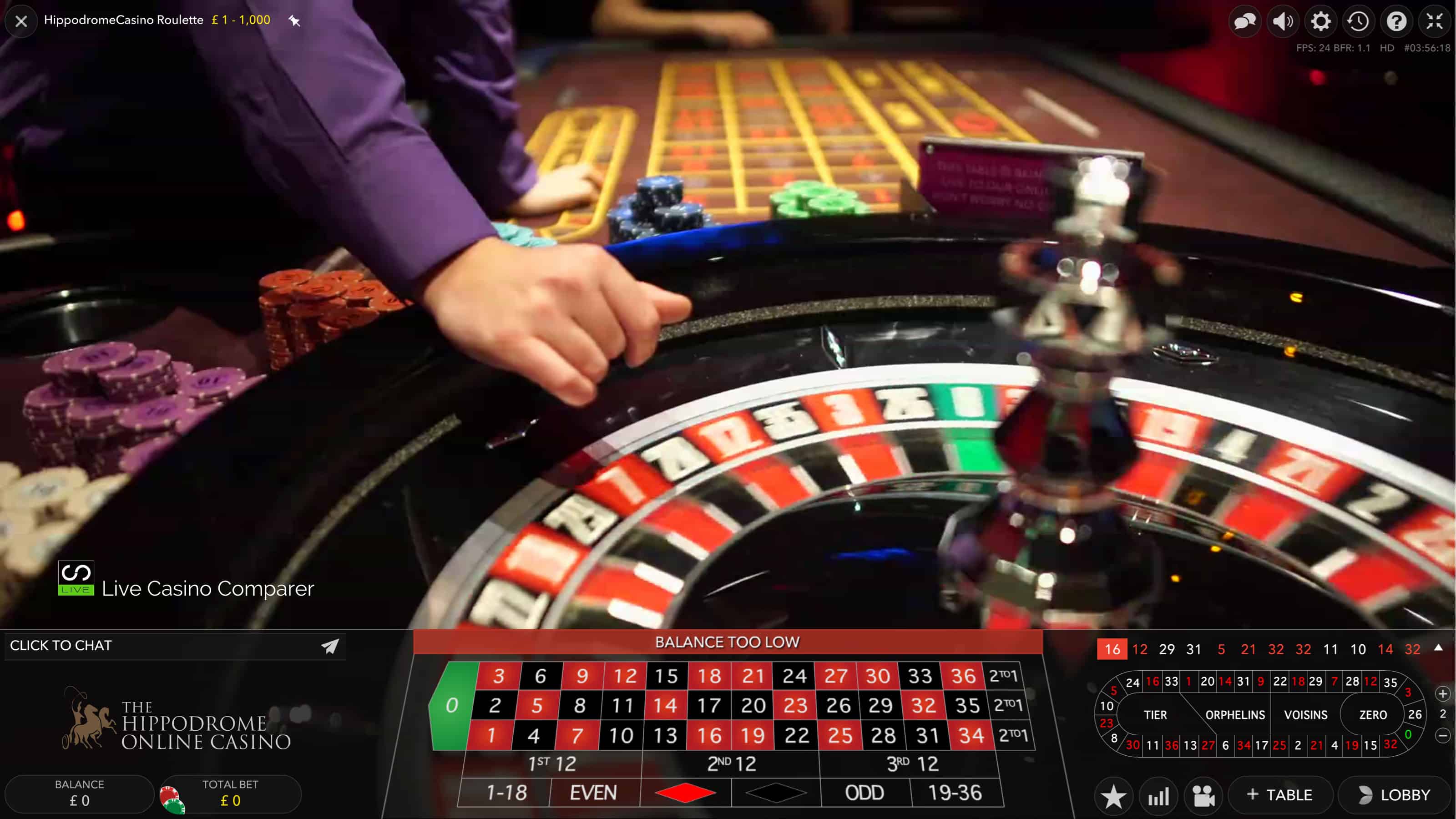 The Hippodrome streams two tables online from their casino in Leicester Square.
The Hippodrome Grand Casino Roulette table is open 24×7.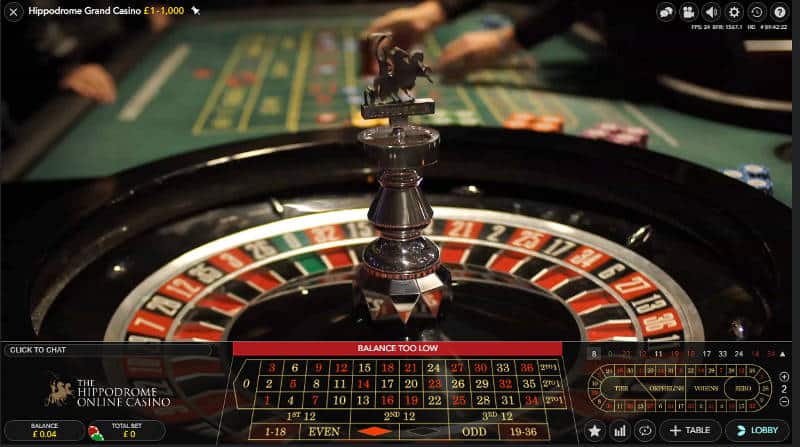 The Hippodrome Casino Roulette table is open from 6pm everyday and is located in Lola's.
This downstairs area is a noisy environment, with a Cabaret show going on in the background every evening. It's so loud the croupier has to shout!
It's powered by Evolution Software and you'll find it online at the Hippodrome Live Casino and Leo Vegas Live Casino.
---
Genting International Casino
Genting International Casino – Resorts World Birmingham, Pendigo Way, Birmingham, B40 1NT.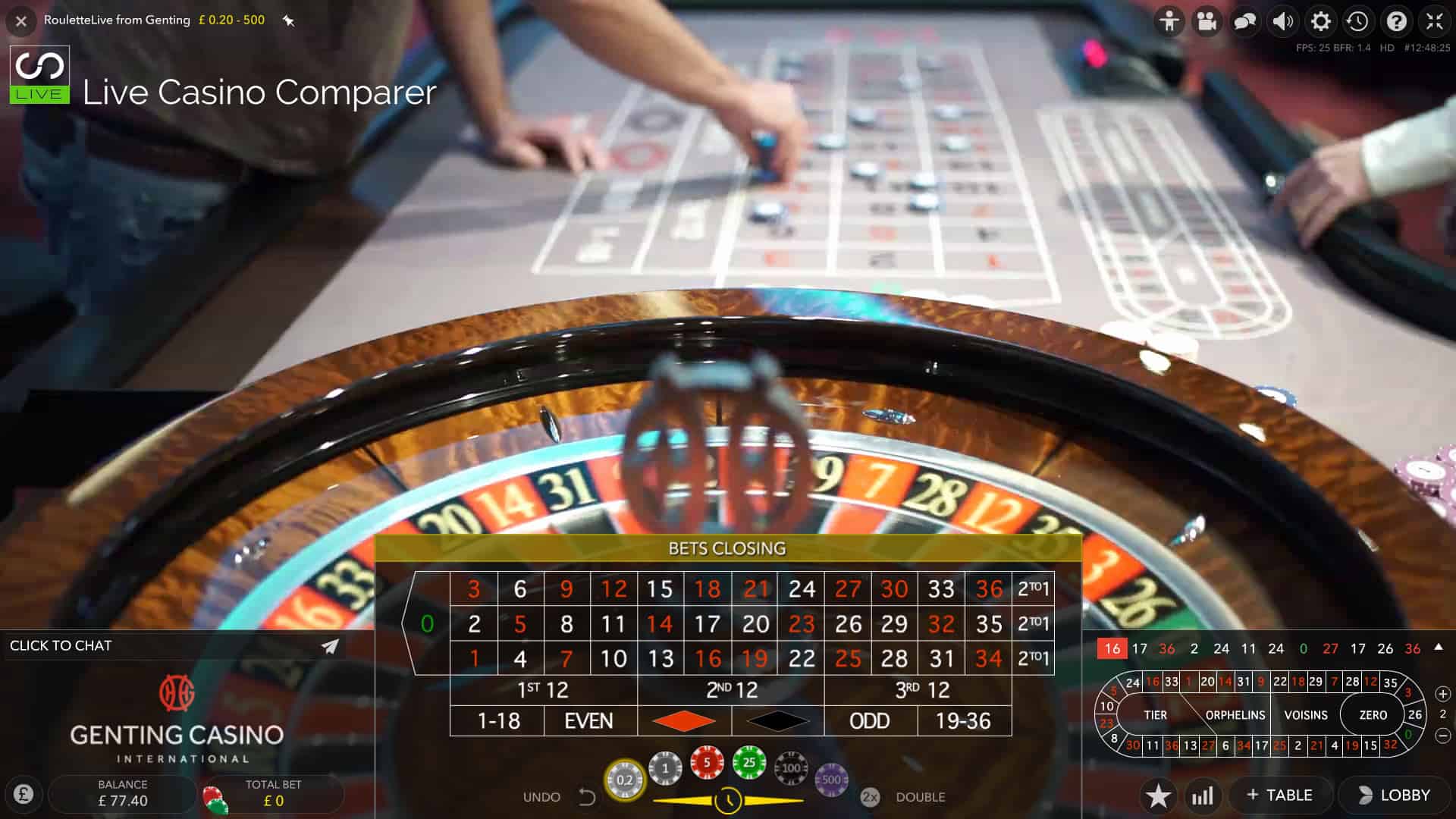 The table takes center stage in the Resorts World Casino. You won't be able to miss it as it's right in front of you on the gaming floor
The table is open 24/7.
Genting Manchester Casino
The Manchester Roulette is streamed from the Genting Casino in Manchester, 110 Portland St, Manchester M1 4RL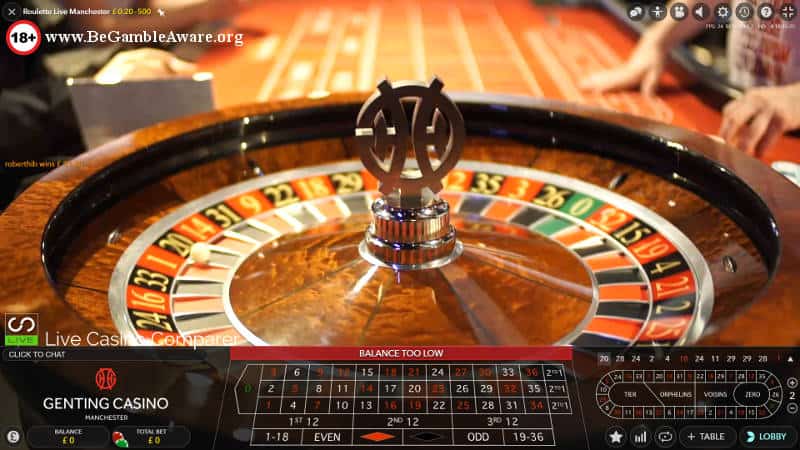 The table is the main focus on the casino floor and is open 24×7.
Genting Palm Beach Casino
Genting Palm Beach Casino – 30 Berkeley St, Mayfair, London W1J 8EH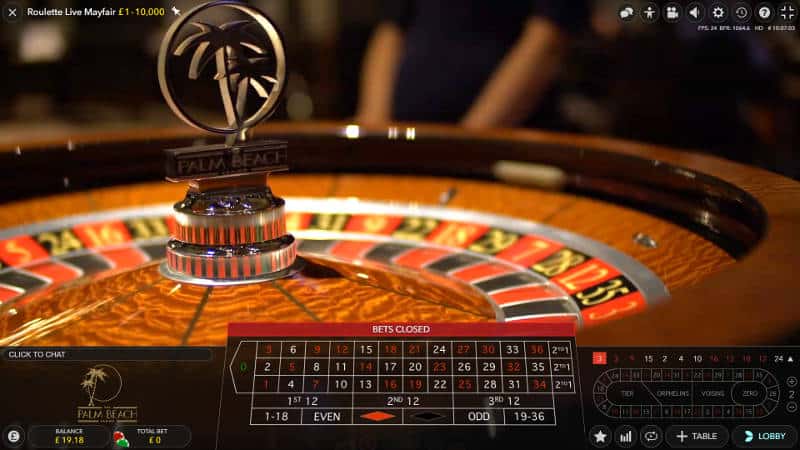 This is the latest of Gentings Live Stream Roulette, Live Mayfair Roulette. The table is streamed live from the exclusive Palm Beach Casino in Mayfair London.
The table is open 24×7.
All of the Genting Live Roulette tables are provided by Evolution Gaming.
You can play online at Genting Live Casino.
---
Grosvenor Casino The Victoria London
The Victoria London, 150 – 162 Edgware Road, London, W2 2DT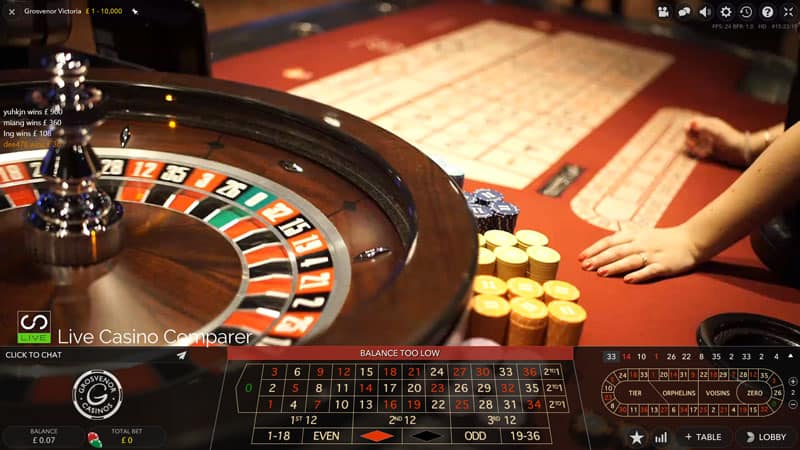 This is a much quieter environment than at the Hippodrome.
A lot of players switch between the different casinos in London, I know I do. It's all about ambiance.
Depending on my mood I may well end up here for the evening because it's nice and quiet.
The table is another one powered by Evolution Gaming and it's only currently available at Grosvenor Live Casino.
They have some pretty good promotions, so it's worth checking them out.
---
The Ritz Club London
The Ritz Club London – 150 Piccadilly, London, W1J 9BS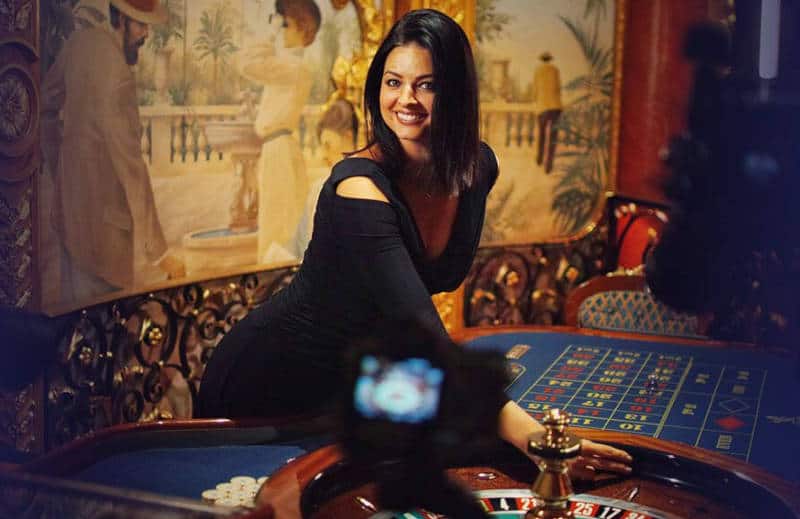 This is a private members club located in Piccadilly London.
They have an online casino that's for members only.
The live casino is provided by Evolution Gaming and they have invested in their own Dual Play Roulette table for their members. It can be accessed at the casino and also online.
Currently the only way to play is to become a member of the Ritz Club. Membership details are on the Ritz Club website.
---
Malta
Portomaso
Portomaso Casino – Portomaso, St. Julians, PTM01, Malta.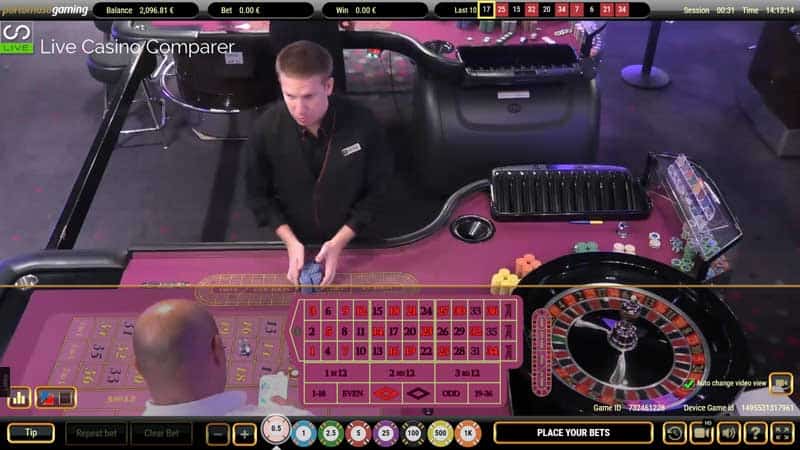 There's actually a few tables within the Portomaso Casino that are enabled for live streaming.
What's good about their setup is there's no obvious cameras. Everything is mounted in the ceiling out of the way. The only way players in the casino know that the game is being streamed is by small signs on the table.
The games are kept to a quick pace, but that can change dependent on the the number of players at the table.
Portomaso Gaming provides the technology.
You'll be able to play these tables at Leo Vegas and at some Ezugi Casinos as they also take a stream from the Portomaso . Just lookout for OTT Roulette.
---
Oracle
Oracle Casino – Isle Promenade, Qawra, SPB 2508, Malta.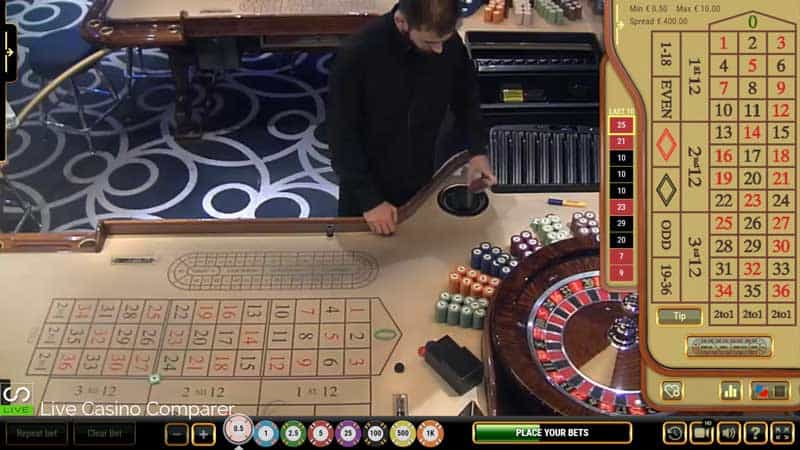 The Oracle Casino is also owned by the same people that own the Portomaso.
Portomaso Gaming also provide streams of the tables from here.
The casino is in a different part of Malta and is therefore a bit quieter. It has a very different vibe from the busy Portomaso Casino in St Julians.
Online you'll be able to play at Leo Vegas.
---
Dragonara
Dragonara Casino – Dragonara Palace, Dragonara Road, St Julian's, STJ3143 Malta.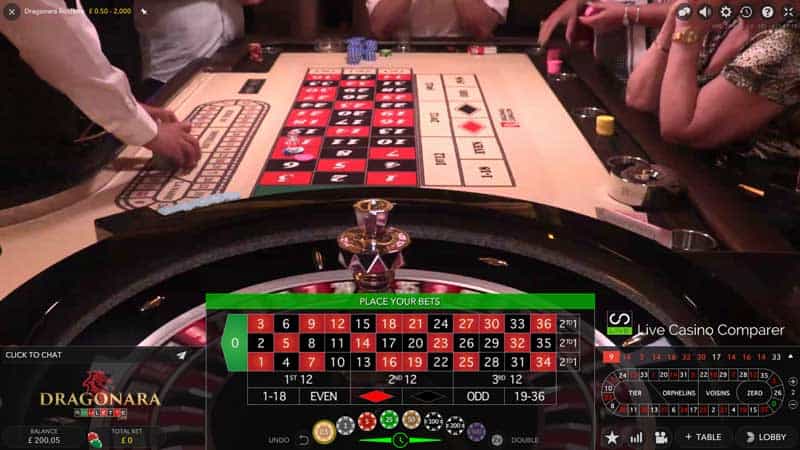 This is where it all started. Well the modern day, main stream, land based streaming.
Evolution Gaming were the first to offer streaming of land based roulette in stunning HD to a wide audience.
Vuetec (now out of business) were the pioneers of the technology, but couldn't quite get the online playing experience right for the modern player.
The casino is located on a small peninsula just on the edge of St Julians. It's a nice walk down there.
The table has gone through a couple of changes since it was first installed with camera rigs etc.
Honestly though, when you're in the casino you don't notice the cameras.
When playing online the images are crisp and the game moves along nicely.
You can find the table online at pretty much any Evolution online casinos. Just take your pick, you'll have a great experience wherever.
---
Casino Malta
Casino Malta
by Olympic Casino – Eden Place St Augustine Street, St George's Bay, San Ġiljan STJ 3310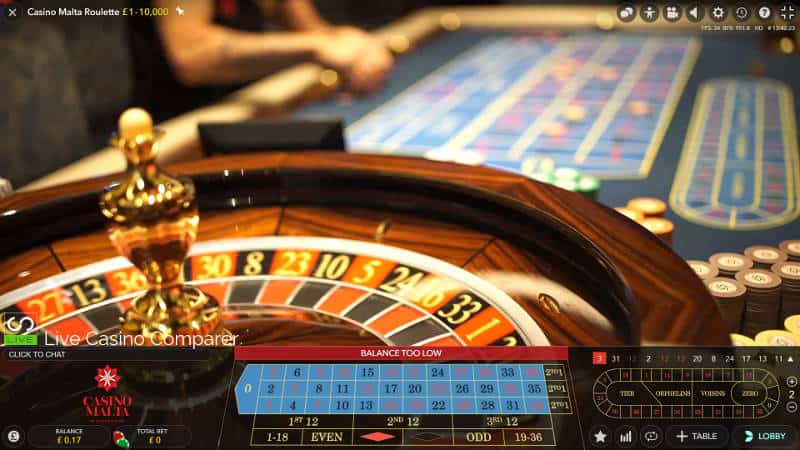 Casino Malta is the biggest land based casino on Malta. It's located underneath the Intercontinental Hotel and is a cracking casino.
It's big, has a huge bar and a great selection of Slot and Table Games.
The Live Roulette table was added in late 2018 and is a huge draw for players visiting the island.
The table is provided by Evolution Gaming and it can be accessed at the Mr Green live Casino is you fancy trying your luck.
---
Gibratlar
Casino Admiral
Casino Admiral – Ocean Village Marina, Gibraltar, GX11 1AA.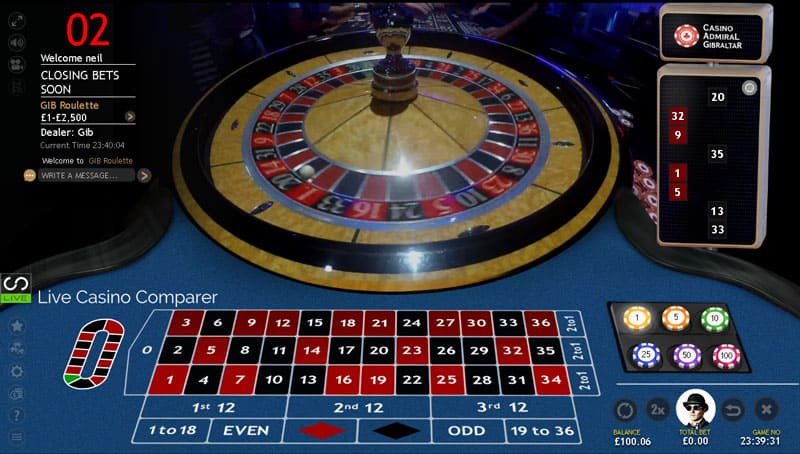 Extreme Live Gaming has created this table in association with Casino Admiral.
To be honest it's not the most welcoming table, but it's functional and works very well with the Extreme Playing interface.
It's available at all Extreme Live Casinos. If I was to recommend one it would be at the Bet Victor Live Casino.
---
Romania – Bucharest
Grand Casino
Grand Casino
– Calea 13 Septembrie 90, București 050726, Romania.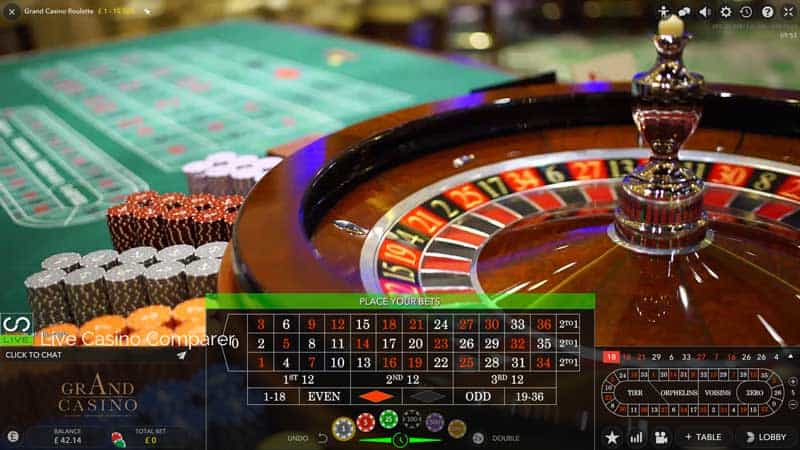 Another first from Evolution Gaming and proving to be a popular table, if the numbers and feedback in player forums is anything to go by.
The table oozes class, that's why I like it and that's why I think you'll enjoy playing on it.
It can be found at a few Evolution based casinos, but not all as it's an optional extra.
Pick of the bunch for me include Mr Green Live Casino and Unibet Live Casino.
---
Platinum Casino
The Platinum Casino – Calea Victoriei No 63-81, District 1,Bucharest.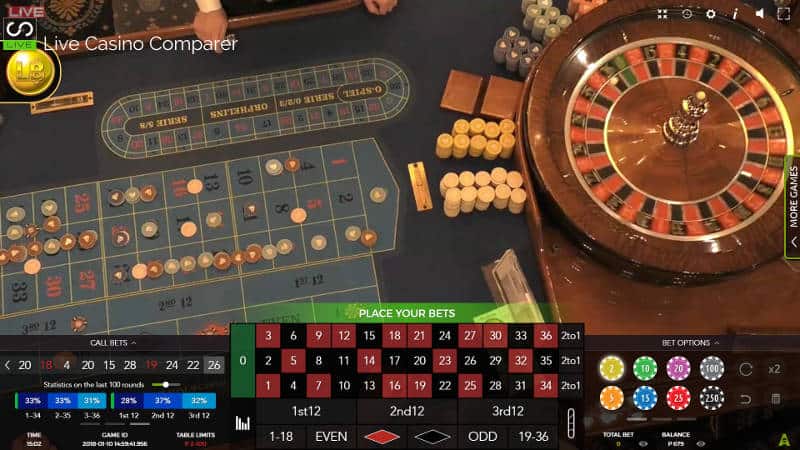 Another casino that's opened it's doors to Authentic Gaming.
The Casino is located to the side of the Radisson Blu Hotel and claims to be the best casino in Bucharest. Who am I to argue?
Authentic streams one live table. Depending on where you're playing you'll have the option of playing with or without the Lucky Ball side bet.
Just to mix it up a bit why not try the tables at DublinBet Live Casino.
---
Italy
St Vincent Resort & Casino
St Vincent Resort & Casino – Via Italo Mus, SNC, 11027 Saint-Vincent (Ao) Italy.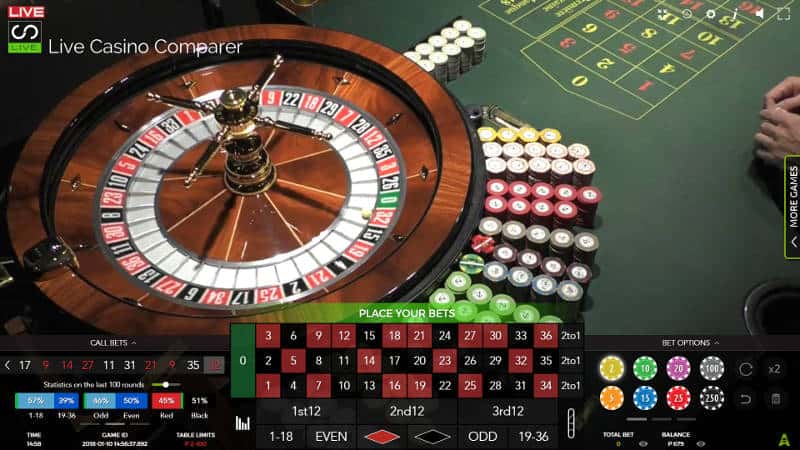 The St Vincent Resort and Casino is a famous Italian Spa attracting visitors from around the world. The resort has a casino that attracts low & high rollers.
Authentic Gaming started to stream the tables online in 2015 and since then has developed a very good product.
There are actually three tables being streamed, each aimed at different levels of players. Original, Superieur and Professional denote the levels you can expect at each table, including a very traditional French version with multiple croupiers.
Leo Vegas has used the resort as a prize destination for players and has even held tournaments there.
Mr Green is a good playing option.
---
Georgia
Casino International
Casino International  – 40 Rustaveli Avenue, 6010 Georgia, Batumi.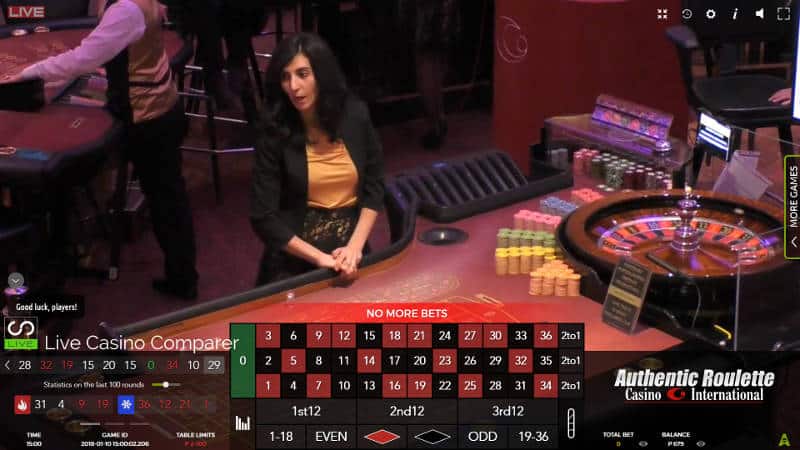 The Hilton Casino International is located in Batumi on the banks of the Black Sea near the border between Turkey and Georgia.
Authentic Gaming stream a couple of tables from this location.  A normal play table and a turbo play table.
They also stream a table for online players only, called their Casino Floor Table.
The tables are available at all Authentic Gaming Casinos.
Pick of the bunch would be Leo Vegas.
Shangri La Casino
Shangri La Casino Tbilisi, Georgia 0105.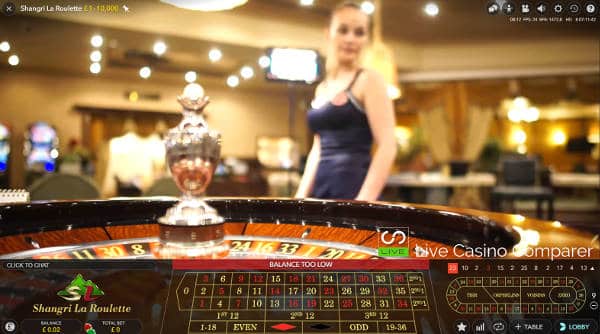 This is an Evolution Dual Play Table streamed from the famous Shangri La Casino in Tbilisi.
The casino is located on the right bank of the River Mtkvari near the bridge of Peace if you ever fancy visiting.
The table is open 24×7 and can be played at Unibet, although it's also available at a number of other Evolution Casinos.
---
Denmark
Royal Casino
Royal Casino, Store Torv 4, DK-8000 Aarhus C, Denmark.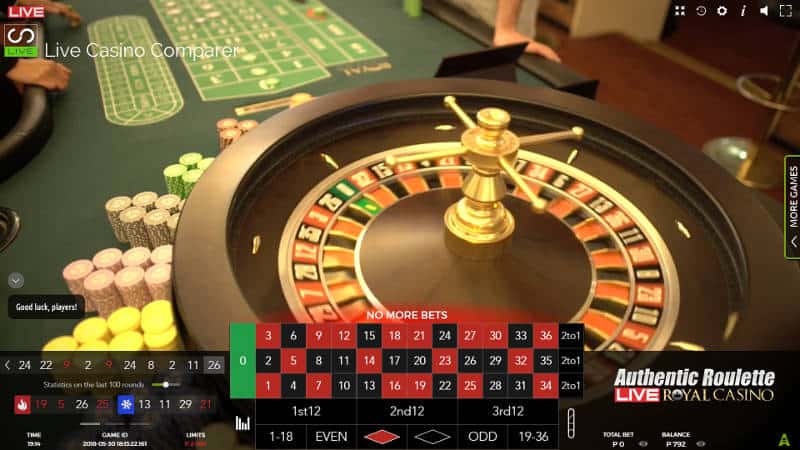 Authentic Gaming provides this table from the Danish Royal Casino in Aarhus.
The table is suited for players that speak Danish, as that is the main table language in the casino.
This is not a 24 x 7 table, if you fancy playing the table is open to online players during these hours:
Sun/Mon between 19.00 – 02.00 CET.
Tue/Wed/Thu 19.00 – 03.00 CET.
Fri/Sat 19.00 – 04.00 CET.
The table can be played at most casinos taking Authentic Roulette games, the picks are Leo Vegas, Mr Green and Unibet.
---
USA
Foxwoods Casino
Foxwoods Resorts Casino – 350 Trolley Line Boulevard, P. O. Box 3777, Mashantucket, CT 06338-3777.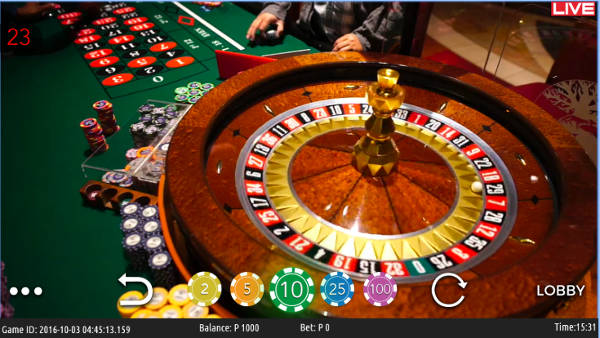 This is a Live Casino first. Live Roulette streamed online from a casino in the United States of America.
Authentic Gaming beat everyone else to it to strike a deal with a US casino.
This table is European Roulette and within the casino it's restricted to VIP players. Online, the table is available to everyone.
If you fancy playing then Mr Green and Leo Vegas both have access to the table 24×7.
Resorts Casino Hotel – Atlantic City
Resorts Casino Hotel, 1133 Boardwalk, Atlantic City, NJ 08401.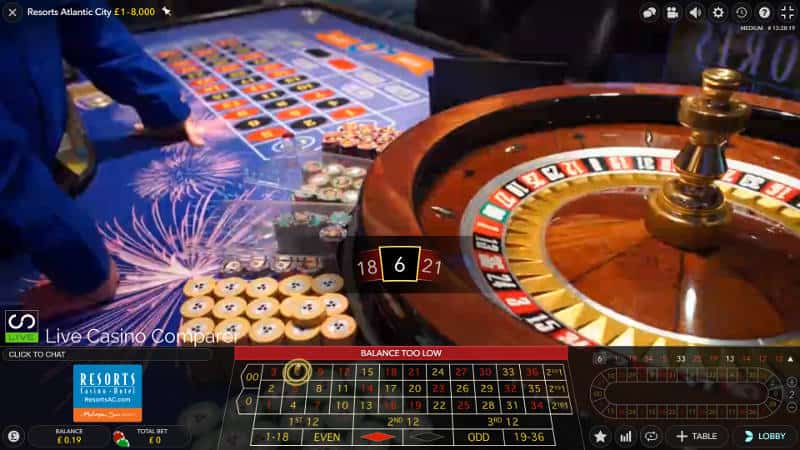 This casino has two firsts.
It's the first Evolution Dual Play Roulette table to be streamed live from a casino in the United States of America.
Second, this is the first American version of Roulette to go online from a land based casino.
The table is open 24×7 and can be played at Mr Green and William Hill.
---
What's the attraction of Land based tables
There's up sides and downsides depending on your point of view. So lets run through a few of them.
The table is more trustworthy
Most people believe that a table on a real casino floor is more trustworthy than one in a studio.
Depending on the solution implemented there is actually more monitoring technology for a studio table than one on a casino floor.
Performance issues are going to be spotted a lot sooner in a studio.
You could therefore argue that the game in the studio is more likely to be fairer to the player and the casino. The one on the casino floor may have an underlying issue that takes longer to detect and therefore results may be bias one way or another.
Familiarity breeds Trust and brings players in
Holiday makers and visitors to land based casinos are more likely to play at online brands if they recognise the tables being provided.
Obviously this helps players but also the online and land based casinos as they get good quality players and potentially make more revenue.
Revenue Generator
The land based table is able to make more revenue because the table can now take an unlimited number of players.
This works well for players at the casino Resort/Hotel, as they can continue to access the table if its too busy or they want relax away from the main gaming floor.
Players from other parts of the world also get to play, which give the table unprecdented reach.
Who wouldn't want to play a table from Las Vegas if you had the chance?
Cost Effective
A streamed land based table is very cost effective as no major capital outlay is required and existing equipment and floor space can be utilised.
It's a relatively easy decision for a casino. One that I'm surprised many more are not taking up.
Speed of Play
This is probably one of the major player experience things that need to be overcome. Some players like quick games and others are happy to go with the flow.
Studio games traditionally complete within 60 seconds. A Land Based table can take 5 – 8 mins, depending on how busy they are and what chip work is required by the dealer to settle the on table bets.
Tables are being sped up though.
We've seen Authentic Gaming introduce a Turbo Table and a Casino Floor table to satisfy players who like a quicker game.
Summary
I don't care what side of the fence you sit on. I think its good to have variety and options when playing live casino online.
I'm all for choice and really glad land based streaming is taking off.