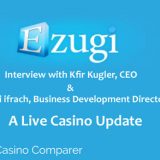 Interview with Ezugi – A Live Casino Update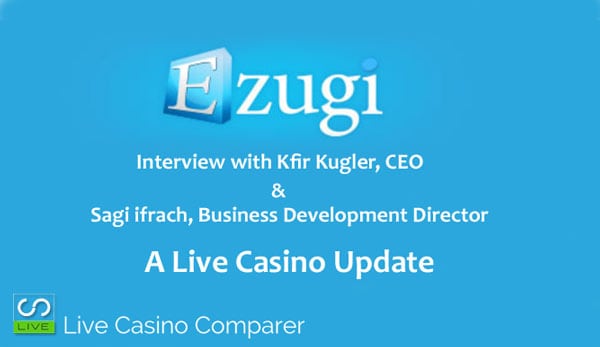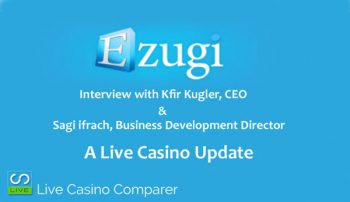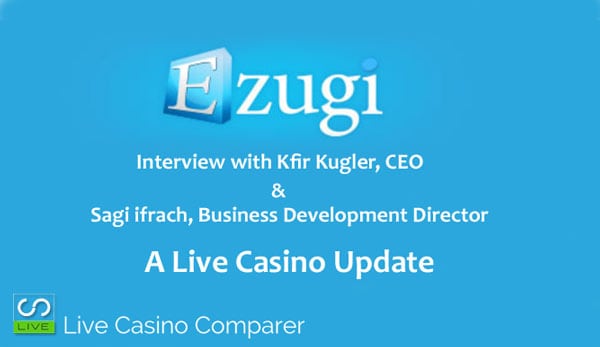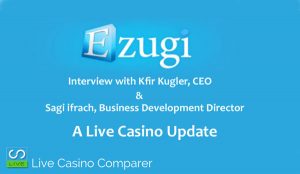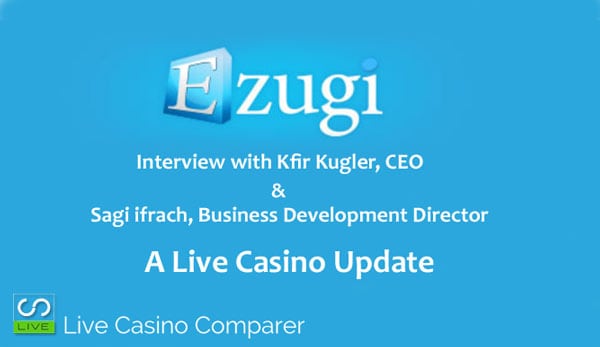 Posted January 19, 2017 by
Neil Walker
While Ezugi has been relatively quiet in the press during 2016 it has been a very busy year for them.
2017, looks to be even busier as they continue to build their Live Casino solutions.
I sat down with Sagi iFrach, Business Development Director and Kfir Kugler, CEO, to get an update on what's been happening and what we can expect to see in 2017.
Thanks for agreeing to chat with me. For those who are not familiar with Ezugi could you give a quick overview of the company and what you offer?
For those who are not familiar with Ezugi could you give a quick overview of the company and what you offer?
Ezugi is a leading technology provider specialising in live dealer casino gaming. We focus on providing our customers with the most realistic gaming experience we can.
How many Live Games do you currently offer?
We currently offer 15 Live Games, although more are in development.
The existing games include Blackjack with Side Bets, Hybrid Blackjack, American and European Roulette, Automatic Roulette, Keno, Lottery, Wheel of Dice, Baccarat, Knockout Baccarat, Casino Hold'em, Auto Sic Bo, Sede, Andar Bahar and Dragon/Tiger.
We're also able to develop games to suit specific customers or player markets.
Regulation of Online Gaming is great for player protection, but it can make it difficult for operators to get their product to market in some countries. What licenses do you hold?
Ezugi is registered and licensed by the Curacao eGaming Licensing Authority, the SCG in Bulgaria and in Belgium and Hungary.
Where do you stream your games from? Do you have your own Studios?
We have our own studios and we also work in partnership with local operators to enable us to provide games into countries that have very specific licensing requirements.
We are currently broadcasting from 8 Casinos/studios around the world and have 46 live tables which will increase to 70 by the 2nd quarter of 2017.
All of our studios operate 24/7, and we cover English, French, Dutch, Spanish, Russian and Turkish languages.
Costa Rica – we have a Spanish and English speaking studio based in San Jose with 10 tables.
Belgium – with the Golden Palace Casino.
Bulgaria – Studio in the Havana Club Casino for a land base client wishing to penetrate live casino in the regulated Bulgarian market. We service the Bulgarian lottery.
Cambodia Studio – we have tables streamed from Hatien Vegas in Cambodia.
Latvia –  our Bet on Numbers, Lottery and Keno games are streamed from here.
Hungary- We are working with Atlantic Vegas and expect to launch in Dec 2017.
I understand you launched your games on mobile earlier in the year. What has been the impact of that?
We have developed our own HTML 5 in-house streaming solution for mobile which went live in June 2016.
Mobile Traffic now accounts for over 35% of our turnover and is growing fast so we are very pleased.
What new developments can we expect to see during 2017?
We have a huge amount that is due for delivery during 2017.
Casino Hold'em has just been added and it's being broadcast live from our Eastern European studio 24/7.
We'll also be introducing a number of new games throughout the year:
Super Six / No Commission Baccarat – March 17.
Insurance Baccarat – March 17.
Caribbean Poker – August 17.
Bet on Poker – June 17.
Bet on Baccarat – June 17.
Russian Poker – September 17.
A shared lobby is also in development, which will bring together all the games from the different studios into one central location. 
OTT (Over The Table) Roulette is our land-based streaming solution for Roulette. This will give both land-based and online operators the ability to offer a truly authentic gaming experience to their players.
Thank you Gentlemen, it was great spending time chatting with you.
Summary
Two things excite me most about the coming year.
The possibility that Ezugi will gain a UK License.
The launch of a suite of games that will allow them to become more competitive against the likes of Evolution Gaming.
Ezugi have a great product and I've been following their development for a few years.
Up to now, to enable me to review the games, I've had to rely on using a VPN to overcome the IP blocking of the UK.
During that time I've fallen for their live Blackjack. It's got one of the best set of game rules out there, and one I'd play more if I had the chance.
Ezugi will be exhibiting at ICE in February 2017. I'll be visiting their stand to get updates on the progress of their new developments.
Be sure to read my next update on Live Casino Comparer.