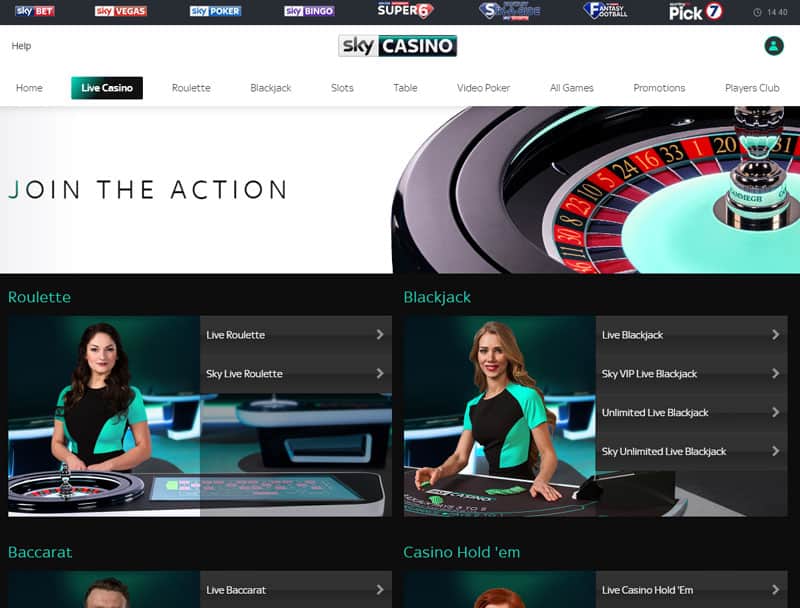 Live Dealer Games – Playtech
Blackjack
Roulette
Baccarat
Casino Hold'em
Hi-Lo
3 Card Brag
Sky Live Casino Review
Live Casino Comparer no longer recommends Sky Live Casino. They have demonstrated business practices that lead me to believe they cannot be trusted to put Players interests first. If you're reading this review please seek out an alternative Playtech Live Casino to play at.
The Pros
Dedicated Blackjack and Roulette Tables
New fresh look and feel
£20 No deposit bonus
Respectable cash out times
Good for low rollers
On table promotions
********************************************
Live Casino Comparer Announcement
September 2017 – At the beginning of September Sky took a business decision that had a negative impact on all of their Online Marketing partners.
While change is inevitable, the manner in which it was made leads me to believe that Sky Casino does not have its players best interests at heart.
I would therefore advise you to seriously consider playing at an alternative Live Casino.
Fortunately, BetFred uses the same software as Sky and also has a large set of dedicated tables.
You'll get exactly the same playing experience and actually have access to more Live Casino games than you will at Sky.
I truly believe that if Sky can behave in this manner you are likely to experience problems at some point with your relationship with them.
*********************************************
Sky are probably one of the most recognised brands in Europe for News, Sports and Entertainment.
In addition, they also have a large portfolio of online gaming products such as Sky Poker, Sky Vegas, Sky Bet, Sky Bingo, Sky Casino, Soccer Saturday Super Six, and Fantasy Football that arguably gives them the greatest reach of all the online casino/sportsbooks in the marketplace.
I personally have Sky TV, telephone, and broadband from them and trust them as a brand that I'm happy to do business with.
The Sky Live Casino was launched in 2014 with Playtech's live casino software as well as online slots and games. A true competitor for Bet365 and Casino.com.
The live casino games are streamed from Playtech's studios in Latvia and the Philippines and they have also built their own studio so they can offer a fully branded experience when playing Roulette and Blackjack.
The games list is very comprehensive and you'll find dedicated tables for:
Blackjack – 7 seat blackjack, played with 8 decks with a multi-seat option. You can sit at up to 3 seats. The dealer stands on all 17's. Bet Behind and Perfect Pairs

side bets

can be played.
Roulette – European single zero roulette with the full range of French bets. It's a multiplayer game and you can choose whether to see the community chips and display your bets to other players.
There are Playtech's generic tables that you share with players from other live casinos:
Blackjack – 7 seat blackjack with 8 decks and a multi-seat option with perfect pairs and bet behind side bets.
Unlimited Blackjack – this is an 8 deck game that has 5 betting positions where you can bet on one or more of the positions. Standard Blackjack strategy is applied to splits and you can choose to play the hand or exit the game with your stake returned to you minus 20%. Regardless of how other players play each hand the outcome for you is dependent on your play only. For example, if you have chosen to stand and another player playing the hand busts out your stand still applies to you.
Roulette – European Roulette with a choice of tables with standard or French layouts. French and other bets are available at all tables. There is also the option of playing Automatic Roulette, where a real wheel is spun using compressed air rather than using a real dealer (It's cheaper for the casino to do this and it gives more spins per hour!). La Partage is available on the French Roulette table.
Baccarat – An 8 deck game between Player and Banker. There is a range of

side bets

Player Pair / Banker Pair / Either Pair / Perfect Pair / Big / Small that can be played alongside the main hand. There is a complete set of Baccarat road maps for each table that gets refreshed after each shuffle. Not sure how to bet on Baccarat then check out my Baccarat Betting Strategy.
Casino Hold'em – This is a single deck game that is shuffled after each hand. Quite often there is a second person to do the shuffling. There is an optional AA side bet that can be played alongside the main bet.
Hi-Lo – Played with 6 decks, it's a simple game, where you have to guess whether the next card is higher or lower than the last one. There are a few different betting variations with increased payouts. A good starting game for those new to Live Casino games.
3 Card Brag – A game against the dealer. two hands are dealt, the player and dealer. You bet on the player hand. The best 3 card hand wins. Similar to 3 card poker but the bets hand is a Prial (3 of a kind). It pays 40:1 so better than 3 card poker which pays 30:1 for the same hand.
Sky Live Casino Game details
| Games | Stakes | Dedicated Table | Side Bets | No.Decks | Multi Hand | Multi Player | |
| --- | --- | --- | --- | --- | --- | --- | --- |
| 3 Card Brag | 1 – 1k | | Pair Plus | 1 | | | |
| Mini Baccarat | 1 – 250 | | Pairs / Big-Small | 8 | | | |
| 7 Seat Baccarat | 5 – 250 | | Pairs / Big-Small | 8 | | | |
| Sky Blackjack 1 | 5 – 1k | | PP / BB | 8 | | | |
| Sky Blackjack 2 | 10 – 1k | | PP / BB | 8 | | | |
| Sky Blackjack 3 | 5 – 1k | | PP / BB | 8 | | | |
| Sky Blackjack 4 | 10 – 1k | | PP / BB | 8 | | | |
| Sky Blackjack VIP | 25 – 1k | | PP / BB | 8 | | | |
| Unlimited Blackjack | 1 – 1k | | PP / BB | 8 | | | |
| Blackjack – EU Style | 5 – 1k | | PP / BB | 8 | | | |
| Blackjack | 5 – 1k | | PP / BB | 8 | | | |
| Casino Hold'em | 1 – 1k | | Aces or Better | 1 | | | |
| Sky Roulette | 0.10 – 25 | | n/a | n/a | n/a | | |
| Sky Bet Roulette | 0.10 – 25 | | n/a | n/a | n/a | | |
| Roulette | 0.10 – 25 | | n/a | n/a | n/a | | |
| Slingshot Roulete | 0.10 – 25 | | n/a | n/a | n/a | | |
| Speed Roulette | 0.10 – 25 | | n/a | n/a | n/a | | |
| French Roulette | 0.10 – 25 | | n/a | n/a | n/a | | |
| London Roulette | 0.10 – 25 | | n/a | n/a | n/a | | |
| Prestigue Roulette | 0.10 – 25 | | n/a | n/a | n/a | | |
| Hi-Lo | 1 – 5k | | n/a | 6 | n/a | | |
Sky Live Casino Images
The specified gallery is trashed.
Playability
You'll find that the Playtech software and dealers are very good. The games are relatively quick and the dealers are always up for a chat.
The Sky dedicated area with its own tables goes one step further with Sky being able to offer on table promotions and bonuses.  There is normally something going on every week, so it's worth keeping an eye on the promotions page.
The other advantage that the dedicated tables have over the generic ones is you're more likely to get a seat if you're playing Blackjack at busy times.  The generic tables can get very busy.
You can view the action on the tables from two perspectives, one full table mode where it's just you, the table, and the dealer. The other is a mixed-mode where the dealer and real table is consigned to a smaller screen, while the rest is taken up with computer-generated images of the table and cards/roulette wheel etc.
It's one of those things that you have to try out for yourself to see which one you prefer. I would recommend using the mixed-mode if your internet connection is a bit laggy as the computer images are updated before the real images are.
I have a constant battle with my two kids who like to stream music, movies and play games online so sometimes I have to use the mixed mode or not play at all. Guess who runs my house!
For Roulette players, there is the added bonus of being able to play two tables at the same time using the Dual Roulette function by displaying the tables together in the playing interface.
Banking
If you're located in the UK then you will experience very respectable withdrawal times.  Other countries are not bad but not as quick as the UK.  Sky offer deposits and withdrawals for all the major Credit  / Debit cards and the most popular online wallets, like Paypal, Neteller, etc.  A full list of the banking options appears at the top of the page.
Security
Sky Casino hold a gaming licence from the Alderney Gambling Control Commission.
Customer Service
I'm pleased to say that Sky Customer Service is better than you get with your TV subscription.  You certainly don't have to wait as long for a rep to answer your call!.  I've not had to use support much, which is a good thing, but on the occasions I did, to check out the terms of a bonus on live casino and get my debit card registered my questions were answered promptly and efficiently.
The support team can be contacted by telephone, email, and chat on a 24 x 7 basis.
Bonus & Promotions
There are two welcome bonuses that can be used at the Sky Live Casino.
£20 completely free when you first register an account.  The £20 has to be played through 50 times before you can withdraw any winnings. All table games have a 20% contribution applied to all bets so the wagering is a further 5 fold before a withdrawal is possible.
Secondly, there is a two-stage deposit bonus and this differs depending on your deposit amount.  If you deposit up to £100 you'll get a 100% match bonus up to £100.  This is followed by a second deposit bonus of up to £200 for a 50% match up to £100.
If you deposit up to £500 you'll get a 100% match up to £500, followed by a deposit of £1000 will earn you a 50% match up to £500.
The wagering requirements are 20x the Deposit and Bonus at a contribution rate of 20% and they have to be completed within 30 days.
If you're interested to see how these bonuses stack up against the other live casinos I've reviewed then check out my live casino bonuses page for further details.
As well as the bonuses there are regular promotions and you'll rack up player points when you play that can be redeemed for cash.  1000 points will get you £10.
Summary
I wasn't sure I was going to like the new Sky Live Casino as I've always been a fan of the Evolution one, but now that I've played there a few times I'm becoming a convert and have been pleasantly surprised.
The dealing room looks great and so do the dealers in their smart new uniforms. There are loads of dedicated tables and plenty of generic ones with different games, so whatever you favour you'll find it here.
The only downside is there's no 3 card poker (3 Card Brag is a good alternative) but you can head over to Grosvenor Casino to play that.
I'm certainly comfortable playing at Sky and I also dabble with Texas Hold'em Poker occasionally at their poker room.
The fact that they process withdrawals quickly is a major plus point for UK based players so I'm happy to recommend that you try playing there, even if it's just to use the free £20 no deposit bonus.  What have you got to lose?