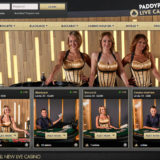 Paddy Power Live Casino Review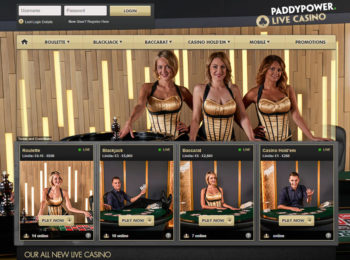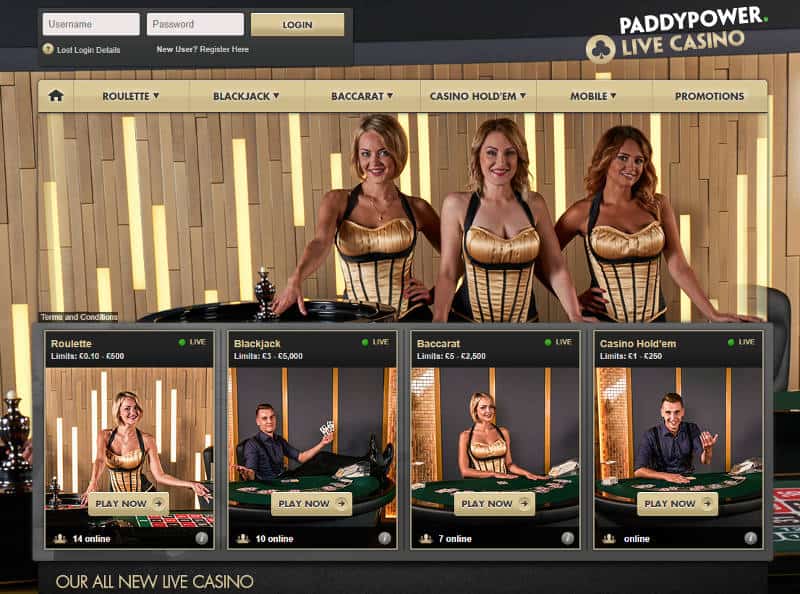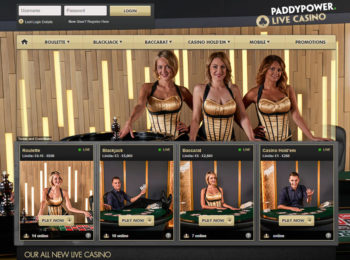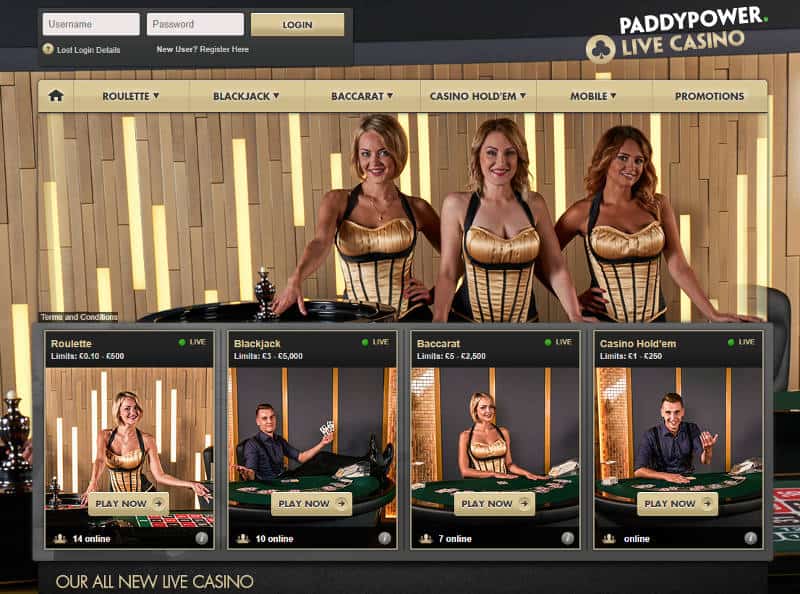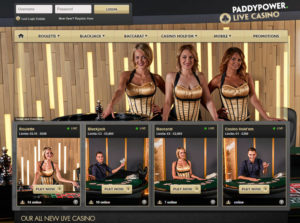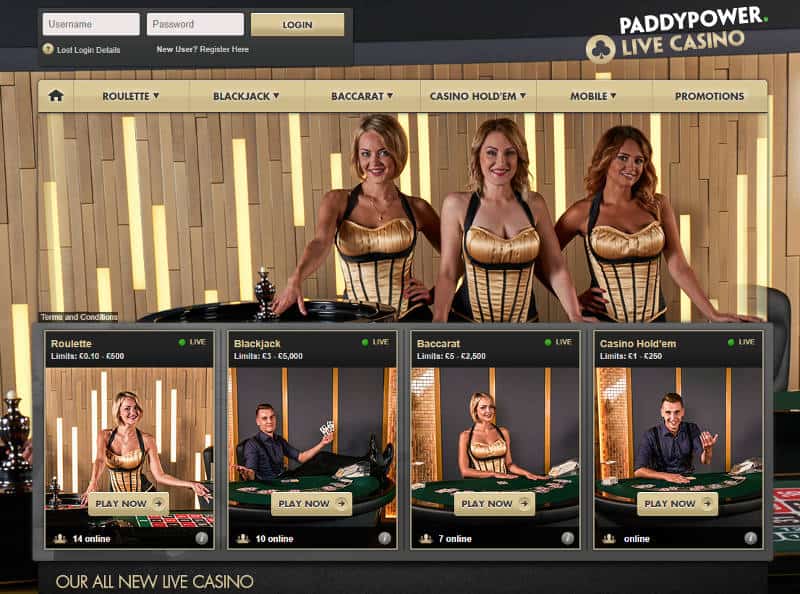 Games
:
3 Card Brag, 7 Seat Blackjack, Baccarat, BlackJack, Casino Hold Em, Dual Roulette, Exclusive Roulette, French Roulette, Hi Lo, La Partage, Mini Baccarat, Prestige Roulette, Roulette, Sic Bo, Speed Roulette, Spin A Win, Unlimited BlackJack, VIP Baccarat
Software
:
Playtech Asia, Playtech Europe
Network
:
Asian, European
Banking
:
Credit Card, Delta, Laser Debit, MasterCard, Neteller, Skrill, Solo, Switch, Visa Credit, Visa Electron
Format
:
Mobile, No Download, PC
:
:
Click to Play
What I liked
Multiplayer on BlackJack and Baccarat
British Dealer for Roulette
Dedicated Blackjack & Roulette Tables. Good range of tables and stakes
Mobile option for Roulette
What I didn't like
Limited VIP tables
Review Summary
The Paddy Power live casino has a good selection of games, offers multi-player BlackJack and Baccarat and a British Roulette croupier. There is also a downloadable app for your Mobile.
Posted June 21, 2013 by
Neil Walker

Players from United Kingdom are accepted.
The Paddy Power live casino is provided by one of the leading live casino software providers, Playtech.
The live casino studio is located in Riga, Latvia and it's from there that all the games are streamed.
Paddy Power has made a significant investment with Playtech. They've taken the generic table solution from Playtech, which comprises of Blackjack, Roulette, Baccarat, Casino Hold'em, 3 Card Brag, Hi-Lo, Spin A Win, Dragon/Tiger and Sic Bo.
They've also had their own dedicated area built within the studios to house their own fully branded Blackjack and Roulette tables.
All the games can be played in a download and non-download format.
There's also a mobile option in a downloadable app format for Android and IOS devices. You can see more details about this on my
You can read more details about this on my Mobile Live Casinos page.
Game Summary
Blackjack is presented in a number of options, starting with Unlimited which is a one to many game. 7 Seat Blackjack comes in European and Vegas formats complete with Perfect Pairs & 21+3 Side bets. The dedicated tables allow Paddy to offer on table promotions and you're more likely to get a seat on these during busy periods.
Roulette is presented in European Style with a number of options including Speed Roulette, Prestige Roulette and French Roulette. La Partage is also available on the French tables.
Baccarat comes in 3 formats, standard, mini and VIP.
Casino Hold'em which is a poker derived single hand game that's played against the dealer completes the available games.
3 Card Brag is played against the dealer. Two hands of 3 cards are dealt. You bet on the player hand. The best 3 card hand wins.
Hi-Lo is a simple game where you have to predict whether the next card dealt will be higher or lower than the previous one. You'll often see this branded as Casino Wars in land based casinos.
Spin A Win is a Wheel of Fortune type game where you bet on which number the wheel will stop on. There's the added excitement of a multiplier and a couple of side bets make it even more interesting.
Sic Bo is an Asian Dice Game where you have to predict the outcome of the roll of three dice. There is loads of different betting options to keep even the keenest gambler interested.
Dragon/Tiger is a simplistic version of Baccarat. One card is dealt to the Player and Banker (Dragon/Tiger). The high card wins.
| Games | Stakes | Dedicated Table | Side Bets | No.Decks | Multi Hand | Multi Player |
| --- | --- | --- | --- | --- | --- | --- |
| 3 Card Brag | 5 – 500 | | Pair Plus | 1 | | |
| Baccarat Lounge | 5 – 500 | | Pairs / Big – Small | 8 | | |
| Grand Baccarat | 5 – 500 | | Pairs / Big – Small | 8 | | |
| Golden Baccarat | 5 – 500 | | Pairs / Big – Small | 8 | | |
| Squeeze Baccarat | 5 – 500 | | Pairs / Big – Small | 8 | | |
| Speed Baccarat | 5 – 500 | | Pairs / Big – Small | 8 | | |
| Mini Baccarat | 5 – 500 | | Pairs / Big – Small | 8 | | |
| Tiger 7 Seat Baccarat | 5 – 500 | | Pairs / Big – Small | 8 | | |
| Progressive Baccarat | 5 – 500 | | Pairs / Big – Small | 8 | | |
| Prestige Mini Baccarat | 5 – 500 | | Pairs / Big – Small | 8 | | |
| No Commission Baccarat | 5 – 500 | | Pairs / Big – Small | 8 | | |
| Paddy Power Blackjack 1 – 8 | 3 – 2.5k | | PP/BB/21+3 | 8 | | |
| Paddy Power VIP Blackjack 1-2 | 25 – 10k | | PP/BB/21+3 | 8 | | |
| Soho Blackjack 1 – 4 | 10 – 2.5k | | PP/BB/21+3 | 8 | | |
| Unlimited Blackjack | 1 – 1k | | PP/BB/21+3 | 8 | | |
| Blackjack Lounge 1 – 6 | 5 – 2.5k | | PP/BB/21+3 | 8 | | |
| Grand Blackjack | 50 – 2.5k | | PP/BB/21+3 | 8 | | |
| Royale Blackjack 1 – 5 | 25 – 5k | | PP/BB/21+3 | 8 | | |
| Soiree Blackjack 1 | 50 – 10k | | PP/BB/21+3 | 8 | | |
| Casino Hold'em | 1 – 50 | | Aces or Better | 1 | | |
| Soho Casino Hold'em | 1 – 50 | | Aces or Better | 1 | | |
| Casino Stud Poker | 0.50 – 1k | | 5+1 Bonus/Progressive Jackpot | 1 | | |
| Dragon Tiger | 5 – 500 | | Odd/Even/Big/Small | 8 | | |
| Hi-Lo | 1 – 1k | | n/a | 6 | n/a | |
| Paddy Power Roulette | 0.50 – 80k | | n/a | n/a | n/a | |
| Paddy Power VIP Roulette | 1 – 200k | | n/a | n/a | n/a | |
| Age of the Gods Roulette | 1 – 25k | | n/a | n/a | n/a | |
| Roulette Lounge | 0.50 – 25k | | n/a | n/a | n/a | |
| Slingshot Roulete | 0.50 – 25k | | n/a | n/a | n/a | |
| Speed Roulette | 0.50 – 25k | | n/a | n/a | n/a | |
| French Roulette | 0.50 – 25k | | n/a | n/a | n/a | |
| London Roulette | 0.50 – 25k | | n/a | n/a | n/a | |
| Prestige Roulette | 1 – 80k | | n/a | n/a | n/a | |
| Spread Bet Roulette | 0.50 – 80k | | n/a | n/a | n/a | |
| Live Football Roulette | 0.50 – 80k | | n/a | n/a | n/a | |
| Royale Roulette (American) | 1 – 80k | | n/a | n/a | n/a | |
| Sic Bo | 1 – 1k | | n/a | n/a | n/a | |
| Spin a Win | 0.10 – 5k | | Odd/Even/Multiplier | n/a | n/a | |
Playability
Searching for games is very straightforward. Everything in the lobby is presented very clearly and there is a help section if you need it.
All the available variations of the games are listed and you can see how many seats are free and the table stakes.
Tables offering lower minimum stakes tend to fill up quickly in the evening, so you may have to wait for a seat when it's busy.
I normally have about three casinos that I like to play at regularly, so If I'm having trouble finding a seat at one, I will try one of the others that also have dedicated tables.
You'll find that the  Bet365 Live Casino is a good alternative as it runs on the same Playtech software and also has access to the Asian dealing studio.
You can choose to view the action on any of the tables and use the chat facility to speak directly with the dealer.
I like to do this before I sit down at the table, as I get to see whether the volume settings are OK and if I'll  have any trouble understanding what is being said. If either is an issue I'll move on and find another table.
On the whole, the dealers are very good, but you do get one or two that have heavy accents that I find difficult to understand. In common with other live casinos, the dealer speaks back to you while you are restricted to typing in your comments.
Once you've joined a table there are one of two ways that you can view the action.
Mixed Mode – where the live dealer is superimposed on a computer generated image of the table. This makes it easier to see the cards. You also get a window that allows mini games to be played, such as other Paddy Power live casino games or slots.
Full Window Mode – where you just have the live feed from the casino and the dealer displayed directly in front of you.
Choosing the mode to view the table is very much a personal thing, so experiment and see what you like best.
There's also a whole range of settings available to customise your session which includes tweaking the sound, deciding whether to show your bets to other players and the ability to auto-confirm bets.
Disconnections when playing
If you're worried about disconnections during play then I'd like to reassure you that the software interface has been developed to handle this depending on what game you were playing.
If you're playing Roulette or Baccarat and you get disconnected after you have placed a bet, the game will continue to be played as normal.
If you win your winnings will be paid into your account.  Your game history will allow you to see your bet and the result of the game.
If you are disconnected while playing Blackjack or Casino Hold'em, then after you have logged back in, you will be taken to a non-live version of the game.
Only the cards that were on the table at the moment of disconnection are carried over.
In some cases, the video stream may have allowed you to see the dealer cards drawn or revealed after your disconnection.
These cards are not carried over to the non-live game round, so you get no advantage there!. Once you've finished playing you can return to live game.
The recovery game is played with RNG software, not with a live dealer.
Software
I was pleased to find that Paddy Power has chosen to take more than the basic live casino package from Playtech.
Not only have they taken the communications network, the standard dealing rooms and the live dealers. They have also chosen to add dedicated tables and employed a British dealer for Roulette.
This displays their commitment to providing a good player experience and sets them apart from other live casino providers.
If you want to find other live casinos running on the Playtech software platform then click here.
Paddy Power Live Casino Images
These are a few screenshots of the some of the Paddy Power live casino games. Click on them to view in full-screen mode.
Payment options
Paddy Power provides a large range of deposit and withdrawal methods.
There are some restrictions depending on your country of origin, so it's best to check this out once you have signed up for your free account.
I have listed all of the available payment options in the summary section above.
I've listed all of the available payment options in the summary section above.
Security
Who can you trust and how do you get that trust? Security of my money,  my data and the integrity of the company that I am choosing to do business with is a big deal for me.
Sometimes we get it wrong. We've all done it, regretted buying something from someone we didn't know, bought something that didn't work and so on.
Dealing with online casinos is no different. You should take the same precautions and do some research, just don't believe what they tell you.
So how do I know Paddy Power are safe and trustworthy?
Once they became known to me, I googled them to see what others were saying about them. I frequent a number of online casino forums and searched there and asked for recommendations.
I looked at their website to see what they were saying about security and their licensing.  I've checked to see that they do have a valid license at The Alderney Gambling Control Commission website.
They deal with payment card information and because of that, they are regulated by the Payment Card Industry. They have very strict guidelines on what security measures have to be in place before you can take and hold payment information.
Paddy Power will have to prove every 3 months that their networks and IT infrastructure are secure. I know this as I've worked in an environment where I was personally responsible for this!
Data is held in an encrypted format meaning that it is useless to anyone unless they have the codes to unscramble it.
I've played there, tested out the deposit and withdrawal process and even met some of the staff at a conference.
When you put all that together, with the fact that they are a trusted brand in the industry I would have no hesitation in playing and recommending Paddy Power live casino.
That's why they're listed as one of my trusted casinos on Live Casino Comparer.
Bonus and Loyalty
Paddy Power has some interesting Promotions and playing incentives.
Details of the current promotions can be found on their website.
Support
As you would expect from a leading online live casino, support is available on a 24 x 7 basis. They provide all the expected channels to contact them, email, instant chat, telephone and post.
I personally always use the Instant chat. It can take a few seconds for someone to respond to your initial query, but once you have the agent online they deal with your requests politely and quickly.
You do not have to be a signed up member to use instant chat, so if you are able to give it a try.
Summary
Paddy Power is known first and foremost as a sports book with both an online and high street presence.
The live casino is a good addition to their online product portfolio.
It's pleasing to see that they have gone the whole hog to provide players with the best experience, by having dedicated tables and access to the games on your mobile device.
The general games, the number of tables and user interface are all good.  They also have a good range of multi-player games across BlackJack and Baccarat.
No qualms from me on playing here and definitely one of my preferred online live casinos.

www.begambleaware.org