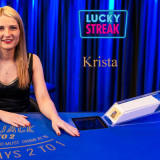 Interview with Krista – Live Dealer at LuckyStreak Live Casino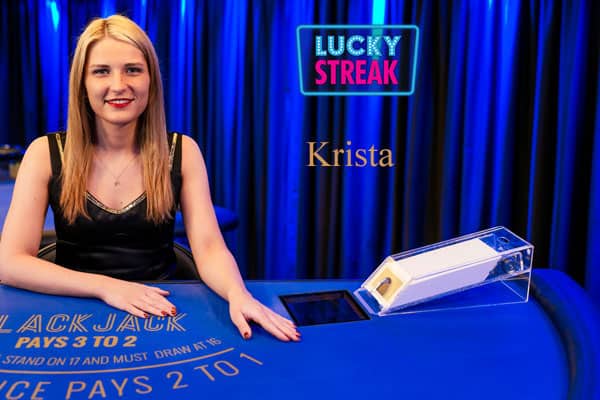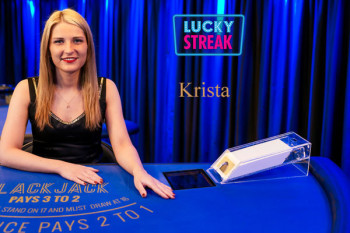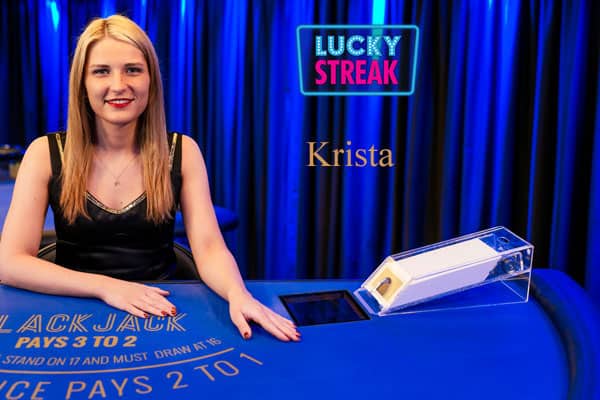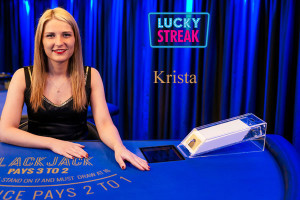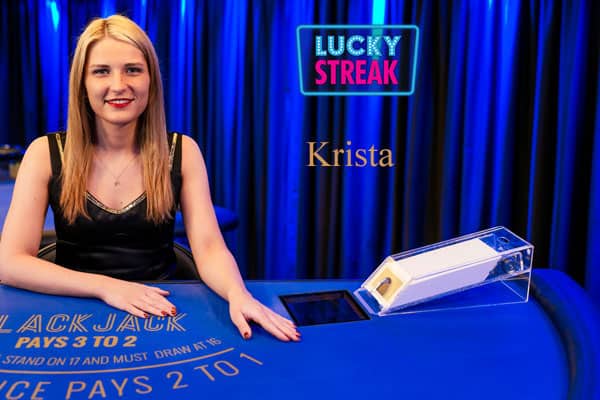 Posted March 24, 2016 by
Neil Walker
Krista – Live Dealer at LuckyStreak
What is your name?
Krista.
How old are you?
I'm 21 years old.
What is your nationality?
Lithuanian.
What languages do you speak?
Lithuanian, Latvian & English.
What attracted you to become an online live dealer?
The atmosphere, the people around and the biggest reason: I can combine it with school.
Had you had any previous experience of either presenting or dealing live table games?
No, this is my first experience.
What skills do you need for the role of a live dealer?
Intelligence, good communication, accuracy and fast learning skills.
How long have you been a live dealer?
10 Months.
What sort of career progression is available for you?
I can start as a dealer and later become PA (and even Pit Boss. That's all up to you.
You'll get out of the job as much as you put in (job opportunities, bonuses, etc).
Can you describe a typical day for you at work?
The atmosphere here is great! That's why I'm at work every day at least 1 hour before I need to start.
I have a morning coffee do my make up and chat with girls, then I'm off to the tables unless I have been assigned another role, such as PA or CM (Chat Moderator).
On my free time I study or spend more time with girls or just relax. Sometimes I also leading some chat sessions or meetings with other dealer's.
What other jobs need doing when you are not dealing at the tables?
As I said, for me it is also some jobs as a PA or leading some sessions.
How long is a typical shift?
9 hours.
How long do you deal at the same table?
30 minutes.
How many dealers are there?
Depends on the shift.
What is the male/ female split?
In our Casino we only have female dealers.
Training
What training you are given?
I'm given all sorts of different training to be able to do my job here. You should be willing to learn and help so you can grow in your job.
Who provides the training?
We have professional trainers who have a lot of experience and at one time were dealers themselves.
How long does the training take and do you have to pass tests before you are allowed to deal?
Around 3-4 weeks. Each person is different, but that is the average time. We are tested on our performance.
What does the training involve?
As I said – tests, table rules, communication and good chat with players. Appearance and some other important things are needed to be part of the LuckyStreak family.
Do you have to be trained in all the games before you are allowed to deal for real?
Of Course.
Dealing
Is your on table performance measured?
Yes, we have our own evaluation system.
How do you know when your are doing a good job?
The Pit Bosses and management give feedback about dealers performance. Also, as I said before, we have an evaluation system. So every girl after each month knows what is good and what needs to be improved.
How important is the chat facility?
Really important. That's one of the biggest parts of training process.
Do you have pre-prepared questions to get players talking?
Yes, we have good examples, how to start chat. Some entertaining questions, and as we call them: "Ice-breakers".
What subjects are you not allowed to talk about?
There is a lot of topics, what we can't include in chat: politics, drugs, religions etc.
Was there anything that surprised you as being a live dealer?
Actually – everything. Because I never knew that I will be in a place like this and that I will love my work so much.
Technology
When you are dealing what information you have in front of you?
A system that shows time when I can deal and where I need to put cards.
What information do you have about players?
Nicknames.
Do you know how much people are betting?
Sometimes.
Personal
Do you play casino games yourself?
No. Have tried once, but wasn't my lucky day.
What is your favorite game and why?
Blackjack, because you can see every player's actions and see who is winning and who knows and understands how to play.
What is the best part of your job?
Just to see my friends what I can call as well – second family. Grow and have fun as well, of course.
What is the best thing about working for Lucky Streak?
I can be myself and do my best and they see that and appreciate my work. Of course, all the team is like my second family and I just like to be around those peoples. Even in my free time.
What is the funniest thing that has happened to your work?
Some weird sentences from me or player's at the tables. But actually we have funny moments every day.
What do your friends think of your job?
Nothing much. Not everyone knows where I'm working. But some of them have asked if they can come to work here as well.
If you could choose 7 people to deal blackjack to who would they be and why?
Me and my closest colleagues.
Is there anything else you would like to say to give readers an insight of online live casino?
It's a lot different from what you think at first. It's a much better world!
So, if you have even a small thought to work in a place like this: just try! 🙂
Thank you for spending some time telling us about life at LuckyStreak.