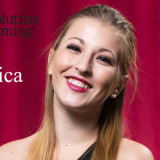 Interview with Janica – German Dealer at Evolution Gaming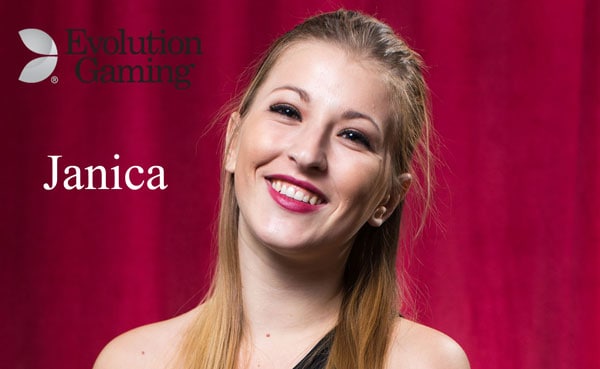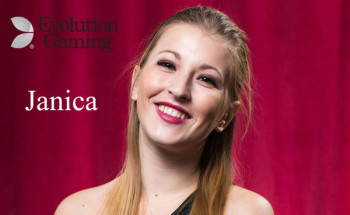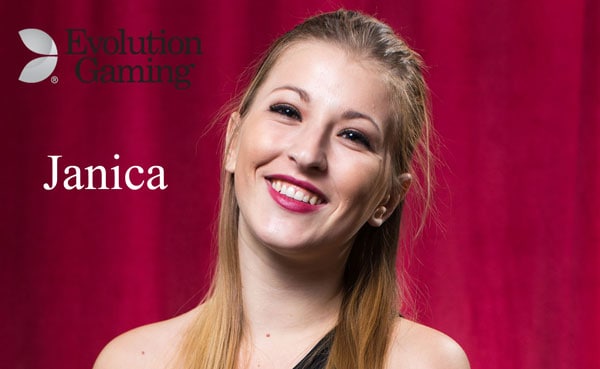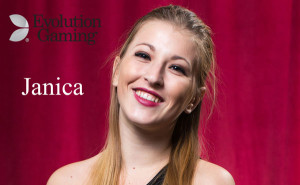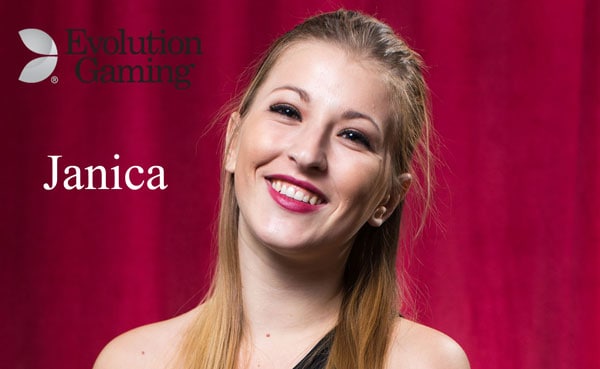 Posted March 23, 2016 by
Neil Walker
Janica has been with Evolution for approx 7 months and is part of a team of 20 German speaking dealers who work around the clock dealing live games to casinos that have taken the native German language tables.
As I was to find out, and it shouldn't really be that surprising, each nationality has their very own ways of doing things, so working in a team of like minded individuals can improve the team ethic.
Janica popped in to see me while I was visiting the studios in Malta and we had a bit of a laugh as we went through the questionnaire I had brought with me.
What is your name please?
Janica.
How old are you?
23 years old.
What nationality are you?
German/Maltese.
What languages do you speak?
German, English and Maltese (not the best :-)).
What attracted you to become an online live dealer?
I wanted to try something new and try some new experiences.
Had you had any previous experience of either presenting or dealing live table games?
No.
What skills do you need for the role of a live dealer?
I think the most important skills are being able to be comfortable in front of a camera and talking to a camera.
It takes a little getting used to in the beginning. Also patience is very important and being able to work under pressure. Pressure would either be caused by yourself (making a mistake and remaining calm and keeping the players happy until its resolved) or by a rude player (keeping calm and not letting them get under your skin).
And obviously, be a team player and know how to tackle any difficult situations, on and off camera.
How long have you been a live dealer?
7 months and counting!
What sort of career progression is available to you?
The great thing about this job is that there are always new opportunities arising and I can always ask my manager about which position he would think is best suited for me and they would always be more than willing to help me excel in the company.
Can you describe a typical day for you at work?
I arrive about half an hour before my shift, put on my uniform and fix my make-up and hair.
Management will inform us of any updates before our shift and it's off to the tables.
We sit and play the games, talk to them, cheer with them and give any advice and help with regards to the game when needed.
What other jobs need doing when you're not dealing at the tables?
There's a lot one can help out with!
Essentially yes, we are divided into teams depending on our tables and nationality, however we all help each other out at the end of the day.
Be it the shufflers needing help or anyone on another team or anyone in management, there's always someone who could use a hand every now and again.
How long is a typical shift?
8 hours.
How long do you deal at the same table?
No longer than 30 minutes.
How many dealers are there?
The amount of dealers on each team varies according to the number of tables each team has and the opening hours of each table.
In my team, we are 20 people and counting.
What is the male / female split?
I would say there is an equal divide in the team of males and females.
Training
What training are you given?
A full 2-week training is given to each future employee.
Who provides the training?
Training is provided by our qualified trainers in the Training Academy.
How long does the training take and do you have to pass tests before you are allowed to deal?
As stated, training takes 2 weeks for each new employee. A test is given at the end of the training for each game.
What does the training involve?
Full info on how the game is played, the rules of the game, the company rules and procedures, how to deal with certain situations and people, how to act in front of camera, pretty much everything you need to feel confident and comfortable on the table.
Do you have to be trained in all the games before you are allowed to deal for real?
Yes of course. Nobody is allowed onto the table until they have passed the test/ are fully capable to deal the game and be confident about it.
Personal
Do you play casino games yourself?
Personally no. Not that I don't want to, I just haven't got round to it yet! 
What is your favourite game? and why?
My favourite game to deal would be Blackjack.
Poker is also interesting to me; I've just always really loved any card games.
What is the best part about your job?
I think the best part is not only learning more and more each day, but the people you meet online. Some players can really brighten up your day.
What's the best thing about working for Evolution Gaming?
I think the best thing for me would be the sense of feeling completely and totally comfortable there. From dealers to management, everyone is friendly and helpful and it makea it enjoyable to be at work.
What is the funniest thing that has happened to you at work?
There's too many to count – the funniest memories would be my times on the table with our regular players.
They know all of us and feel comfortable around us and love to make jokes and watch us smile.
What do your friends think of your job?
My friends think it's interesting and that it sounds like a great job.
They're always happy to hear my stories and definitely think I've landed a good one.
If you could choose 7 people to deal blackjack to who would they be and why?
(They can be anyone, alive or dead, famous or not).
Stephen De Raffaele (World record holder for longest amount of hours dealing Blackjack).
My mother (for her support).
My boss (for the continuous guidance and productive criticism).
My 2 trainers (to show how much I've learnt in my time dealing).
Dustin Mars (Card Cheater – just to see what he'd come up with).
and Ben Affleck (He actually loves playing Blackjack and it would be a great laugh).
Is there anything else you'd like to say to give the readers an insight of online live casinos?
I urge anyone who'd like to give it a go to try it.
It's a wonderful experience and you can learn so much. Not only from the training and the job itself, but also from all the stories you hear from more experienced dealers.
Apart from that, it's actually enjoyable and doesn't make you wake up and say you don't feel like work.
Also you've got an endless amount of future opportunities to grow if you end up doing well.
Thank you very much for your time.