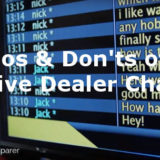 Dos & Don'ts of Live Casino Chat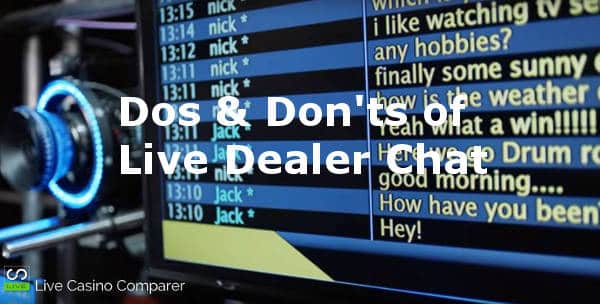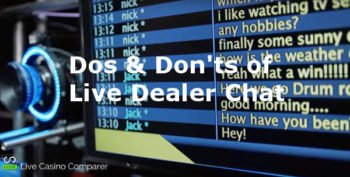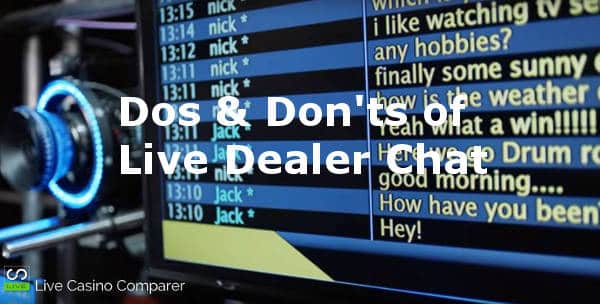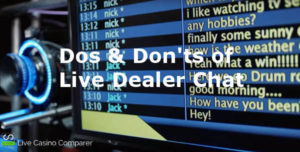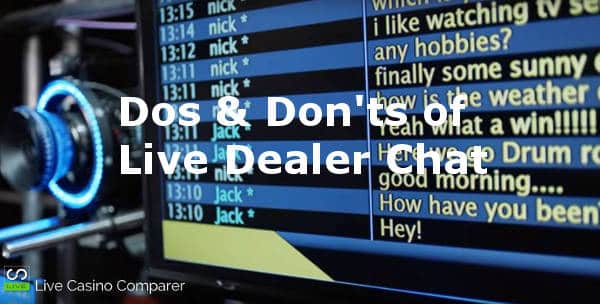 Posted December 18, 2018 by
Neil Walker
One of the unique elements of playing Live Casino games is the option to chat with the dealer.
Here's my top #15 Player Tips for using chat when playing live dealer games online.
#15 Dos and Don'ts of Using Live Casino Chat
Do say hello to the dealer when you're greeted at the table. Even if you don't want to chat it's polite.
Don't be rude to the dealer. If you're losing or having a bad day don't take it out on the dealer. They are just doing their job.
Do behave the same as if the dealer is in the same room as you.
Don't be a dick. Live Dealer chat is not a dating app, so don't think you have a chance with the dealer. You don't!
Don't blame the dealer for the cards you're dealt or the spin of the ball in roulette. The dealers are trained to deal, shuffle and spin the ball in a particular way. They won't change just because you don't like it.
Do have a laugh with the dealer. Jokes and banter is fine.
Don't give out any personal details, like you're address, real name, email address or telephone number. Other players may be able to see this information. The dealer doesn't have access to the info once it's gone from the screen.
Do remember that all chat is monitored by someone else.
Don't talk about sex, politics, religion or anything that is contentious. The dealers will guide you if you ask something inappropriate.
Don't ask for personal details from the dealer, they won't give them. Be aware that the name the dealer uses is probably a stage name.
Do show the dealer respect. Respect that they are doing a job. Being rude, nasty or insulting will lead to a chat ban at the very least and maybe a ban from the casino completely.
Do use the correct channels for support, which are through the casino or separate chat window with the supervisor. The dealer will be unable to help you directly, but they can alert support on your behalf.
Do accept that dealers  can make mistakes. The dealers are trained to a high level, but even the best can make a mistake. Please be patient when mistakes are being resolved. If you feel that you've been adversely affected by a mistake please contact support.
Do brighten up a dealers day by opening up a conversation. Some dealers are actively encouraged to chat to players, others are told wait until they are spoken to. If you're in the mood to chat the dealers will appreciate it.
Don't forget, using the mixed mode playing interface is normally better for chat, as you get to see the history of whats been said in the past.
A Players Guide on Live Dealer Chat
Playing table games online with a live dealer is a social experience made even better by the Player/Dealer Chat facility.
Almost all Live Casino games have chat as an option in the playing interface. In fact it's become so integral to the games, that not having a chat facility is like removing a major sensory organ for a cross section of players.
However having a chat facility comes with some responsibilities that players would be wise to understand before heading to the tables.
How does Live Casino chat work?
The Live Casino chat facility works in this way.
Players are given the ability to chat with the dealer through the playing interface.
Generally a separate window or a box within the playing interface is provided for players to type their comments, questions or complaints into.
The dealer sees the messages pop up on their chat screen.
Each players username is displayed and the name and chat is allocated a colour, making it easier for the dealer to track each conversation.
The dealer replies verbally to the chat, their comments are picked up by their microphone and relayed back to the player through the playing interface.
It's usual for other players not to see another players chat, but all players can hear the dealers responses.  There are some exceptions to this, most notably when you're playing on a dedicated table.
So where are the best places to chat?
#1 Casinos with Dedicated Tables
Casinos with dedicated tables are the best places to head for if you want to chat with a dealer
The dealer is going to be a regular.
It's a dedicated environment so the dealers are trained on brand, this often means being more engaging with players.
They are likely to remember you and recall previous conversations you've had.
#2 Sports or Themed tables
By their very nature Sports & Themed tables are setup to offer more than just the basic game. If you love sports visiting a sport table such as Top Table or Leo Vegas Sport Blackjack will provide lost of opportunities to debate the latest trends in sport.
#3 The Native Language Tables
English is the default table language at all live casino tables. Native or Foreign Language tables are in their ascendancy, and quite rightly to. You tend to find the native language tables are very chatty, it's a bit like a private club. I sometimes play at them, not because I understand what is being said, but because the table is normally upbeat and the dealer is engaged with the players. A great example is the Arabic Roulette Table at Genting.
#4 Salon Prive Tables
If you have the bankroll the Salon Prive tables offer a very personal playing experience. You'll be playing one on one with the dealer, and if you're enjoying yourself you can request the dealer stays on after their 30 minute slot. You also have the ability to have the shoe re-shuffled if it's not to your liking. Leo Vegas has a great selection of Salon Prive Tables.
#5 Presenter Led Games
The presenter led games like Live lightning Roulette and Dream Catcher are very inclusive games. The only issue is the number of players playing them and getting your chat responded too. You need to be witty and different if you want to hold the dealers attention.
What are the tables to avoid?
The generic play tables have a higher throughput of players so are more difficult to engage with the dealer.
Of course if you're playing for a long session it's possible to build a relationship with the dealer. They are more likely to spend time chatting with you than others at the table.
Summary
Live Dealer Chat isn't for everyone. If you're one of those players that likes the dealer to concentrate on just dealing rather than chatting try Silent Blackjack at Leo Vegas.
I'd encourage you to chat with the dealer, even if it's just saying "Hello" or "Thank You".
Manners cost nothing. Simple communication can lift the mood during the game making it a more enjoyable experience for everyone.
Try it and see what happens.