Net Entertainment Live Casino Software

Net Entertainment was founded in 1996 by a leading Scandinavian land based casino company.
They developed a complete range of online casino games that includes slots, table games, video poker, lottery, virtual horse racing and keno, with a range of them being available on mobile devices.
 The games are easily recognised as they have very rich graphics, clever animations and a range of innovative features and functions.
The Net Entertainment Live Casino was launched in beta form in early 2013.  Since then, they've rolled out to a number of customers, some of which you will find live casino reviews for in my grid below.
NetEnt Live Casinos
Casino
Games & Stakes
Dedicated Tables
Bonuses
Country Accepted
Play
Blackjack 1 – 2.5k
Roulette 0.50 – 75k
None
100% Match up to £250.
Wagering is 70x the Bonus.


T&C's Apply

Play now
Blackjack 1 – 5k
Roulette 1 – 75k
None
50% Back on Losses up to £50.
There is no Wagering requirement.


T&C's Apply

Play now
Blackjack 1 – 5k
Roulette 1 – 75k
None
200% Match up to £100.


T&C's Apply

Play now
Blackjack 1 – 5k
Roulette 1 – 75k
None
100% Match up to £300.
Wagering is 35x the Deposit.


T&C's Apply

Play now
Blackjack 1 – 10k
Roulette 1 – 75k
None
No Live Casino Bonus.

Play now
Blackjack 1 – 5k
Roulette 0.50 – 75k
None
No Live Casino Bonus.

Play now
Blackjack 1 – 5k
Roulette 1 – 75k
None
100% Match up to £150.
Wagering is 40x the Deposit & Bonus.


T&C's Apply

Play now
Blackjack 5 – 5k
Roulette 1 – 75k
None
No Live Casino Bonus.

Play now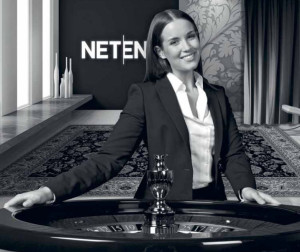 The Net Entertainment Live Casino or rather the dealing studio is located in Malta.  It has been built with the latest technologies, so they can offer:
High definition video streaming with low latency, to reduce the lagging that you sometimes get when playing.
Tables that are open 24/7.
The ability for casinos to brand the tables using the latest Chroma Key Technology.
Use of the latest gaming equipment to ensure faster game rounds, eg. use of the Shufflemaster dealing shoe in Blackjack.
Support for 27 currencies and 24 languages.
Native English, Italian, Dutch, German, Italian and Norwegian speaking dealers.
Automatic and dealer hosted tables.
Easy integration with the other Net Entertainment products & Back Office solutions.
Dedicated 7 Seat Blackjack tables.
The ability to play on Desktop and Mobile Devices.
The Games
They currently offer 2 games, Blackjack and Roulette. Both come in a number of different variations.
---
Live Blackjack
Blackjack comes in two formats
Common Draw Blackjack – Only one hand is dealt that an unlimited number of players can bet on. Other players decisions have no impact on your hand. A shufflemaster Dealing shoe is used to shuffle and deal 6 decks. 
7 seat Blackjack -This is a more traditional version of Blackjack where only 7 seats are available. You're dealt your own hand.  Shufflemaster and manual dealing shoes are used on the tables. 
Both of the games come with the following playing rules.
6 Decks are used and are changed when the shoes is about 50% through.
The dealer only takes one card, this is Europan Rules.
Insurance is offered on a Dealer Ace.
You can double on any hand value and also on Splits.
Only one additional card is dealt to split Aces.
You can take even money on a Blackjack is the dealer is showing an Ace.
---
Live Roulette
There's several different versions of Live Roulette at NetEnt.
European Roulette.
European Roulette with

La Partage

.
French Roulette with and without La Partage.
Themed European Roulette.
Automatic Roulette.
All of the games come with a Racetrack and the ability to save your favourite bets. You can opt to see other players chips, but I'd advise against that at busy times, as you won't be able to see the betting grid!
Automatic Roulette is for players that like a quicker game. It's a real wheel, but instead of using a dealer compressed air is used to fire the ball into the wheel and a laser is used to read the winning number.
---
Mobile Live Casino
I'm rather surprised that I'm saying this but the mobile live casino is very good indeed.
---
Themed Tables
NetEnt has the ability to create Themed tables for promotional purposes.
Quite often Prize draws are offered where players can earn tickets for the draw by just playing at a particular table.
Free spins are also offered so you'll sometimes find that a table has been themed with a popular slot, like Starburst.
You earn free spins for hitting certain milestones when playing at the table.
It's a promotional tool and one that NetEnt does particularly well.
Summary
The Live Roulette from Netent is very good and it compares well with the other Live Casino providers.
Blackjack on the other hand comes a very poor second when you compare like for like across the live casinos.
Having six decks is great, but they ruin it by using Shufflemaster dealing shoes and playing to European Rules only.
They also have no Blackjack sidebets, so they are limiting the appeal of their games immediately.
---