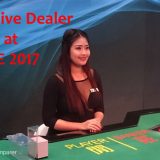 Asian Live Dealer meets the West at ICE 2017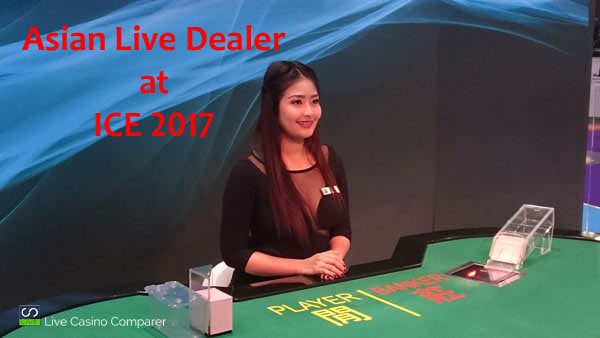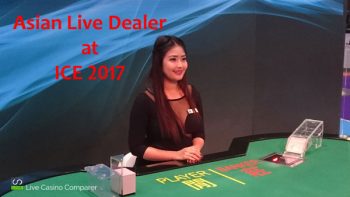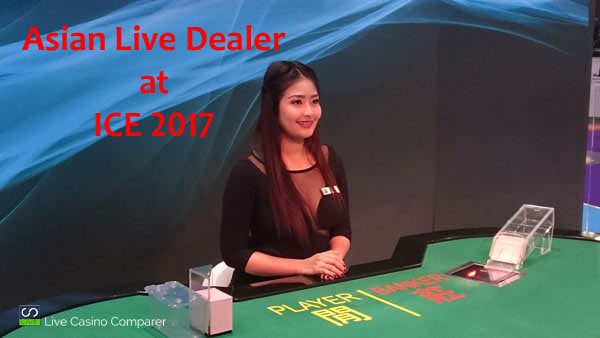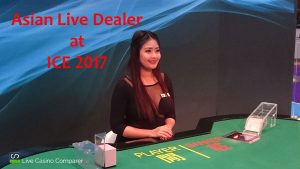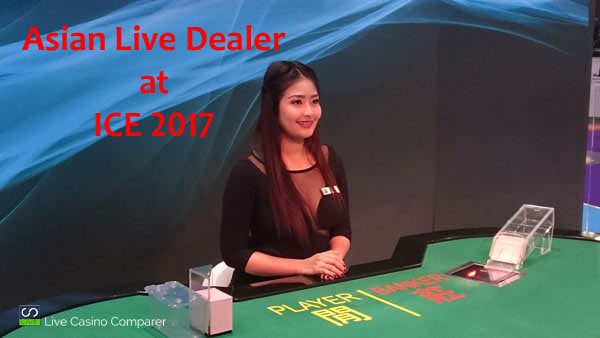 Posted February 15, 2017 by
Neil Walker
Asian Live Dealer meets the West at ICE 2017
I was puzzled why there were so many Asian Live Dealer providers at the ICE Totally Gaming Conference. I must admit I was a bit intimated at the thought of visiting their stands.
I thought they probably wouldn't want to talk to me as I wasn't in their market. How wrong was I!
I went to Japan on a skiing trip 2 years ago, so was familiar with some of the customs when you meet someone new. So I was able to present my business card in the correct respectful manner and that got me off to a good start.
It was a familiar story with all of the Asian solution providers, they were all looking to create partnerships with European Operators so they could share games and content with each other.
A few had even gone as far as releasing Blackjack (I'm not sure if they had side bets), in readiness for any new collaborations (It's not a game generally known to the Asian market).
My impression of their products is they are as advanced if not more so than their European counterparts.
---
Asia Gaming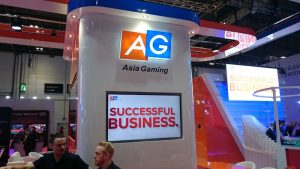 Asia-Gaming had a very large stand and were presenting their new live Blackjack along with Baccarat.
They had a couple of live tables and screens set up so you could play along with the live feed.
If you looked closely, the table and live stream were not quite in sync with each other. Not surprising as they were relying on bandwidth and technology from the event organisers.
I'd be very surprised if others didn't pick up on this and we start seeing some stuff hit the different gaming forums.
Anyway, Asia-Gaming has 3 Studios in Manilla with 60 tables, 95% of them are Baccarat.
It was interesting to hear about some of the Asian playing habits. How some players like no noise or chat and fast games and others like a more social experience.
They provide tables and lobbies tailored to both. Their product is fully mobile and while it was being demonstrated I saw that they had over 27,000 players playing online at that moment. Wow!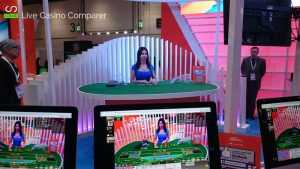 ---
Asia Live Tech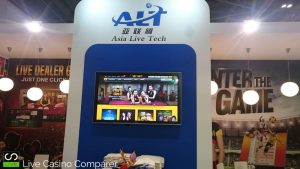 Asia Live Tech had a slightly smaller stand and were at ICE to explore opportunities in other countries.
I'd actually had some dialogue with them a few months ago as they were interested in me performing a review of their games. So it was nice to finally meet them in person.
They currently offer Baccarat, Sic Bo, Fan-Tan, Xoc Dia, Dragon Tiger, Roulette, Lottery and Keno to an Asian market.
All of the live games are developed in HTML5 so are playable across all devices.
---
SkyCity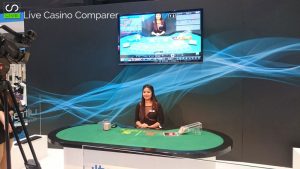 SkyCity is the B2B Brand of Ultraplay which has a studio based in the Philippines.
It has 20 tables that provide Baccarat, Baccarat Squeeze, VIP Baccarat, Speed Baccarat, Super Six, Sic Bo and Dragon Tiger.
The default table language is English with other languages possible, depending on customer requests.
They are looking to expand into the European market and are particularly interested in the youth market.
Although I would say from what I saw that's more to do with Slots than live casino games.
---
SA Gaming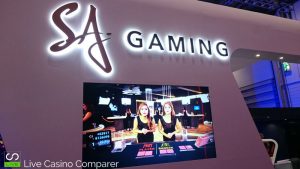 SA Gaming streams their games from studios in Manilla, Philippines, where they have 20 tables.
Their main game is Baccarat which they offer as single or multi-player games with versions of No Commission, Super 6 and with Side Bets.
They also have Dragon/Tiger, Roulette, Sic Bo, Fan-Tan, Blackjack and Lotto.
The platform for mobile is already available with an HTML5 version currently under development.
They are keen on partnering with a European solution provider.
---
BB-IN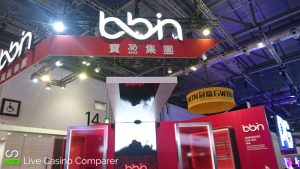 BBIN, is probably one of Asia's largest Live Casino operators. But they have the worst conference brochures. You need a degree in origami to open them!
They seem to cover most casino based solutions and for Live Casino they have one studio located in the Philippines where there are over 35 tables.
They offer 13 games to a mainly Chinese Market, of which more than 500 operators are using their solutions.
Their software is fully HTML5 and they also have an App that can be used on Mobile devices.
The company is interested in forging links with European partners.
---
N2-Live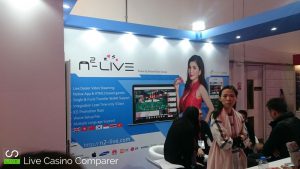 N2-Live are a new live casino company born from parent Entwinetech.
They are currently using the Entwinetech Manilla Studios in the Philippines where 28 tables provide players from China, Korea and SE Asian with Multi and Single player Baccarat.
The new N2-Live brand has been developed to offer customers an alternative to the more traditional solutions provided by Entwinetech, which will continue to operate alongside the newer operations.
Two new studios are being built in Vietnam and Manila to house the new setup.
Baccarat and Roulette are available on desktop and Mobile.
95% of their traffic and income comes from Baccarat.
I found it interesting that the mobile version of Roulette lacked some functionality that is standard across all European developed versions.
There was no Racetrack to place bets and there was no zoom in on the wheel so you could watch the spin complete.
Just goes to show you the importance of having localised feedback for games development.
---
Summary
I'm sure one or two of the suppliers have been at previous conferences, but this year they came on mass.
Some were there purely because their competitors were there, whilst others had clearly prepared a strategy for gaining a European partner.
Baccarat and Sic Bo looked familiar to me, but I came to understand a bit more about the cultural differences between Eastern and Western players.
I'm no authority on the Asian market, but it was interesting to hear that in some studios dealers are not allowed to talk. They just deal. If the player wants to chat then he has to play at a table that has another person seated next to the dealer.  This person does the speaking.
Different lobbies are provided to players so they can pick the playing experience they like most.
Players generally like a fast game, but there are multi-player tables where the game is slower and more social.
Partnering makes a lot of sense. There is a large Asian population across Europe that aren't really being catered for that well. Real Asian tables would attract these players, as would European tables for European players living is Asia.
Personally, I can't wait to see a bit more choice and diversity in Live Casino.