Vuetec Live Casino Software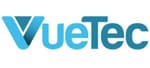 Vuetec closed down the part of the business that ran live casinos and developed Live Casino solutions in 2015 so they could concentrate more on the business to business markets.
Actual Gaming have taken over some of the casino operations and also the management and ongoing development of the live casino software solutions business.
This review has now been replaced with the Actual Gaming Review.