Betgames Dice
Betgames Dice is very similar to the popular Asian dice game Sic Bo.
5 identical dice are rolled once every 5 minutes by the game presenter onto a table top. As long as all the dice 
As long as all the dice land with a face flat down it's a valid roll. 
There is only one betting round. Bets can be placed before the dice are rolled.
The Video below shows one game round being played.
Where you can play
Casino
Stakes
Dedicated
Tables
VIP
Tables
Bonus
Countries
Accepted
Play
Bet on Poker 1 – 100
Bet on Baccarat 1 – 100
War of Bets 1 – 100
Lucky5 1 – 100
Lucky7 1 – 100
Wheel of Fortune 1 – 100
Dice 1 – 100
100% Welcome bonus up to £100.

Play now
Betting
There are 4 types of bets you can make.
Combinations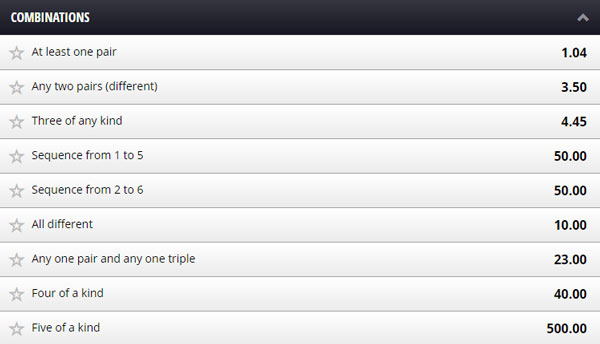 Here you can choose to bet on sequences, pairs, multiples of the same number or if the dice will all be different.
The longest odds are for 5 of a kind which pays 500:1.
Numbers

Some of these are technically combinations. But no matter, this is where you select multiple numbers, or whether the result will or won't contain a number.
3 of a kind pays 25:1.
Total Sum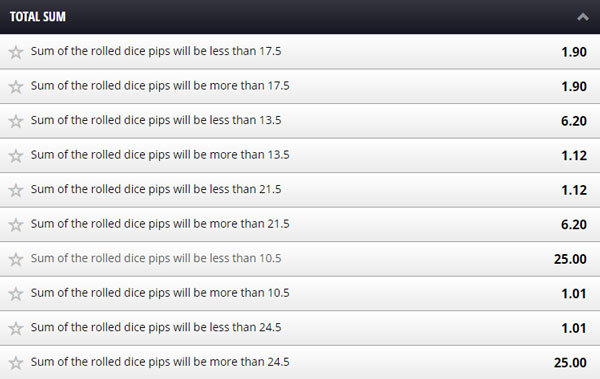 Theses are bets that cover the sum of the dice when they are all added up. You can bet Hig or low.
The average for all dice added together is 15 (that's 3 points per dice), so this gives you a baseline to bet from. (well that's how I do it!).
Odd/Even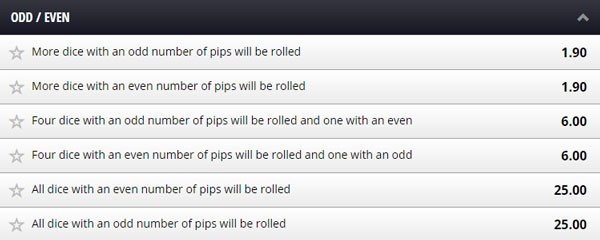 Bets for whether the dice totals will have an odd or even number total or if there are more dice with odd/even number of pips.
Placing your Bet
You use the Bet Slip to place your bet.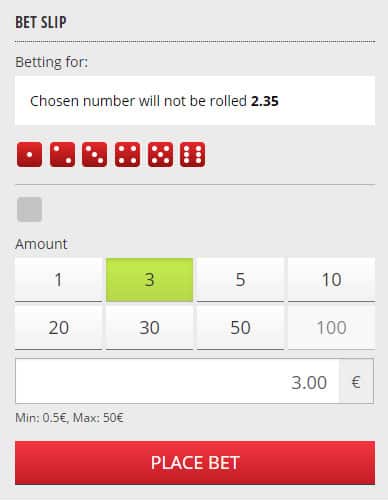 Select one of the options on the bet selection grids and the bet slip will show the details for making that bet.
Select the details and the bet amount and press "Place Bet".
You can bet on as many of the combinations as you like. 
Betgames Dice Results
The results are a little hard to see on the screen and the live feed closes quite quickly so it's possible to miss the result.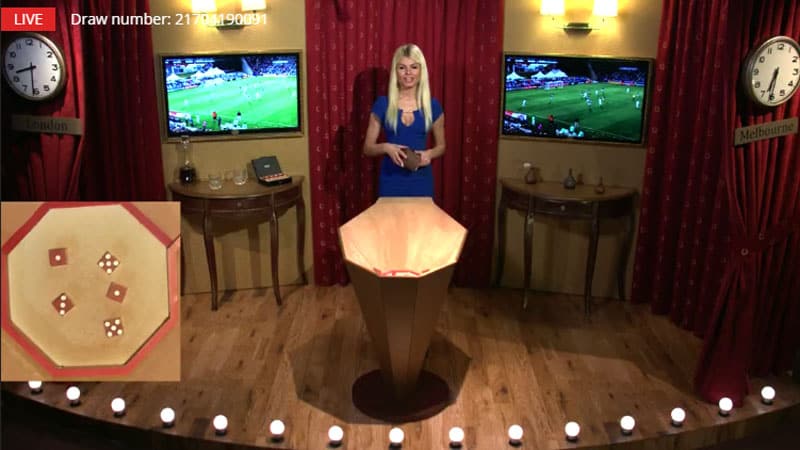 Fortunately, BetGames has a solution and once the game has completed the splash screen is updated to show the last 5 results.