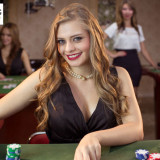 Interview with Sara – Live Dealer at Vivo Gaming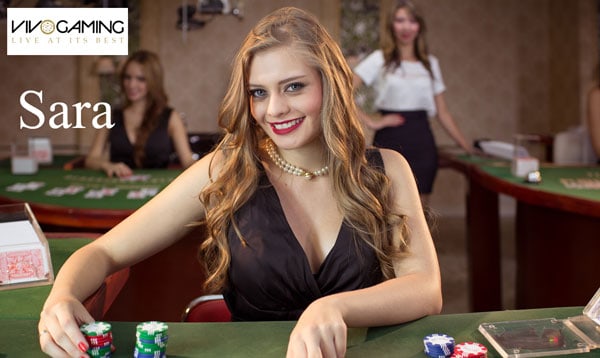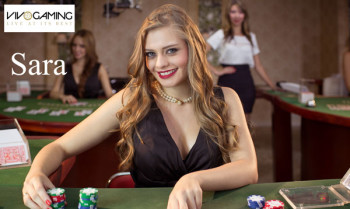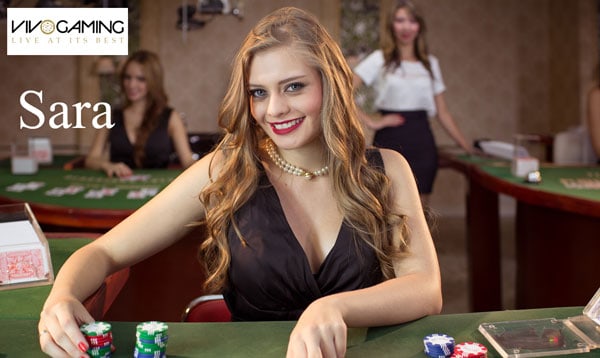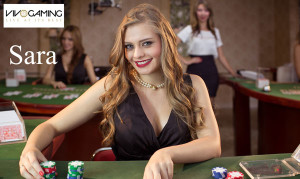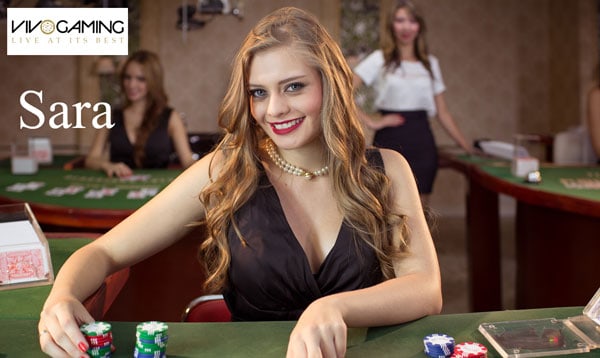 Posted April 11, 2016 by
Neil Walker
Vivo Gaming are a live casino provider that has live casino studios in Latin America, Europe and Asia.
Sara works as a Live Dealer at the Latin American studios and in the interview with her she explains what she loves about working at a live casino.
I've not personally met Sara, but the very nice people at Vivo provided me with the capability to interview her. Unfortunately the flight to Costa Rica is a bit of a stretch for me, but I've seen her dealing at the tables when I've being playing in demo mode (UK players are unable to play at Vivo at the moment).
I hope you enjoy the interview.
What is your name please?
Sara.
How old are you?
25.
What nationality are you?
Costa Rican.
What languages do you speak?
Spanish and English.
What attracted you to become an online live dealer?
I like the studio atmosphere, dressing up for the job, and receiving compliments from players all over the world. 🙂
Had you had any previous experience of either presenting or dealing live table games?
This is my first position as a casino live dealer at Vivo Gaming.
What skills do you need for the role of a live dealer?
I have to be very concentrated, to think fast and know how to deal with issues if they appear and to smile and make the players enjoy my game.
How long have you been a live dealer?
1.5 years.
What sort of career progression is available to you?
I can become a pit boss, a studio manager and maybe open a new studio one day.
Can you describe a typical day for you at work?
I meet my friends, we pair up in teams for the shift, keep each other on high energy and go into live broadcasting.
Although we don't see the players, we have them contact us on our screen through a chat box, and we can reply to them with verbal answers.
We also know we have a big responsibility as we can be dealing to hundreds of players at Vivo Gaming casino.
What other jobs need doing when you're not dealing at the tables?
Training, help the new dealers with training, makeup and rest in between filming.
How long is a typical shift?
8 hours all together.
How long do you deal at the same table?
About 15-20 minutes.
How many dealers are there?
Our studio has about 50 dealers.
What is the male / female split?
0 male dealers, too bad for me. 🙁
Training
What training are you given?
We have a full program that can take between 1 week to 1 month depending if the dealer has experience. It covers being a casino dealer, the Vivo gaming dealer application and how to work in live broadcasting.
It might seem easy but it's really not!
Who provides the training?
Our studio manager and the pit bosses.
How long does the training take and do you have to pass tests before you are allowed to deal.
Between 1 week to 1 month, and yes we have 2 final tests on our training tables, as well as an exam to learn how to deal with any kind of human errors.
Do you have to be trained in all the games before you are allowed to deal for real?
Yes, since our manager wants us to be dealing on all kinds of games including roulette, blackjack and baccarat, we have to know how to work on all the tables before we start working live.
Dealing
Is your on table performance measured? If so, in what way?
We have a management room with programs and the pit bosses check our work, if we are smiling and looking at the camera.
How do you know when you're doing a good job?
When I get good comments from players, from the casino operators and feedback from my management.
How important is the chat facility?
I think it is very important, both for us dealers and for the players.
It gives us the feeling that we can interact and it makes the live dealer gaming experience more fun.
Do you have pre-prepared questions to get players talking?
No, we keep it very basic and let them talk, as we have multiple players playing on our table at once.
But we do greet and thank them when possible.
Was there anything that surprised you about being a live dealer?
So many lights, technology and cameras in the studio! It took time for my eyes to get used to the lights.
Technology
When you are dealing what information do you have in front of you?
We see the user chat, the cards dealt, the option to call our pit boss for help if needed, the time left for the round and the new players that have entered the table as well.
What info do you have about the player?
We see their name and what country they are from.
Do you know how much people are betting?
No we do not have this information in front of us, but on some tables we know who is the player betting the most.
Personal
Do you play casino games yourself?
I like slots :-).
What is your favourite game? and why?
Slots, I don't want to think too much when in a casino.
What is the best part about your job?
The girls I work with at Vivo Gaming.
What's the best thing about working for Vivo Gaming?
The management works together with us and together we improve our dealing methods and provide a better experience to our live dealer platform players. We feel like a team.
What is the funniest thing that has happened to you at work?
My friend was dealing on a roulette table when she suddenly started to sneeze and she could stop!
Our pit boss had to replace her for the game to continue. We were all holding ourselves from laughing because we were dealing too, which made it even funnier and harder to control! :-).
What do your friends think of your job?
They want to come to work too!
If you could choose 7 people to deal blackjack to who would they be and why?
Leonardo DiCaprio, do I need to explain myself?
Franklin Chang-Díaz, I like to have important people on my table.
Oscar Arias Sánchez, another powerful person to have.
Madonna – I love her.
I have 3 players on Vivo Gaming platform who are always playing on my tables, even when I deal Baccarat, Roulette or Blackjack – I would love to see them playing in front of me once! Thank you for all your compliments eduardenri ! :-). 
Is there anything else you'd like to say to give the readers an insight of online live casinos?
Thanks for the interview, come play on Vivo Live dealer casinos! I will be dealing 🙂