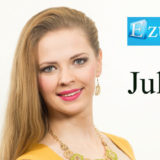 Interview with Julia – Live Dealer at Ezugi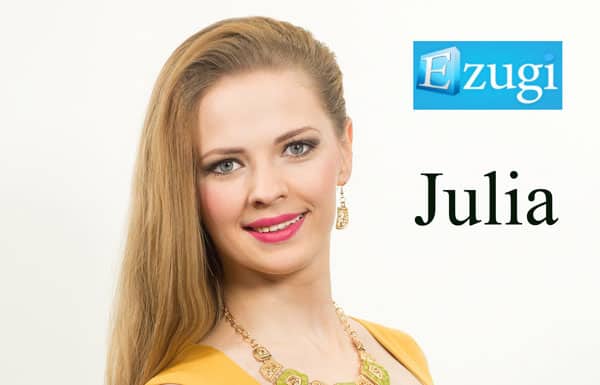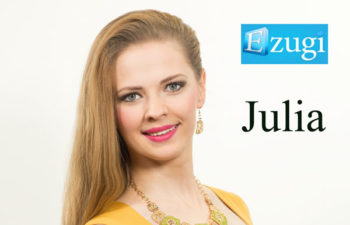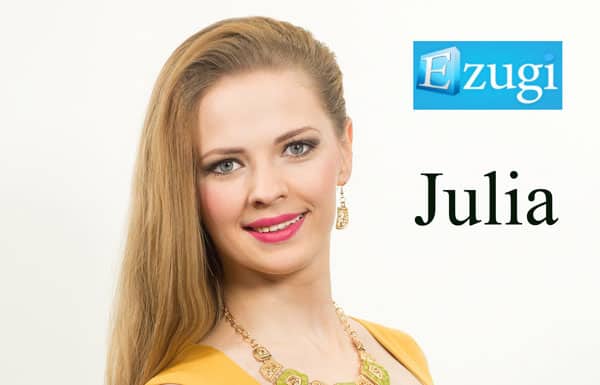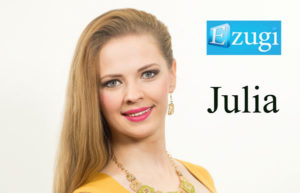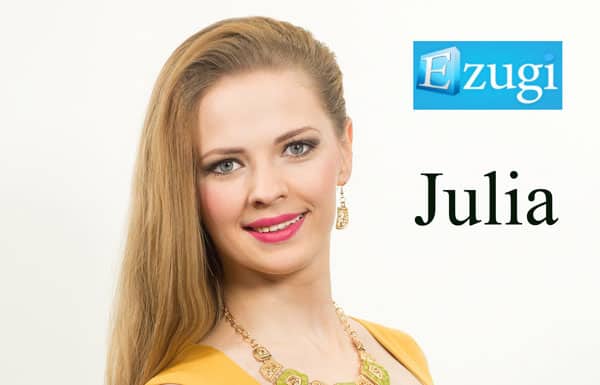 Posted May 23, 2016 by
Neil Walker
Continuing my series of live dealer interviews, Julia, a live dealer at one of Ezugi's live casino studios was kind enough to answer one of my questionnaires.
Ezugi offer a range of live games including live Keno and Lottery. The feeds are often syndicated to other live casino providers who do not carry these games. So you may have seen Julia presenting one of these games and not realised that she worked for Ezugi.
What is your name please?
Julia.
How old are you?
23.
What nationality are you?
Polish.
What languages do you speak?
Polish, Russian, English, and Latvian languages.
What attracted you to become an online live dealer?
My colleague. She thinks it's a good job for me.
Had you had any previous experience of either presenting or dealing live table games?
No.
What skills do you need for the role of a live dealer?
I think you have to have good communication skills and a positive attitude.  
How long have you been a live dealer?
5 months.
What sort of career progression is available to you?
We have a few dealer categories, depending on their skill level and quality of work. Also we have Pit Bosses and Managers
Can you describe a typical day for you at work?
I come at work 1 hour in advance and do my makeup and hair.
When I have breaks I learn French. My day at work goes by really fast as I communicate not only with players but also with my colleagues.
What other jobs need doing when you're not dealing at the tables?
We should keep our dressing rooms tidy.
How long is a typical shift?
12 hours.
How long do you deal at the same table?
30 minutes.
Training
What training are you given?
We are trained in Blackjack, Roulette & Lottery.
Who provides the training?
Trainers and managers who know all of the games and rules. We also have lessons with a trainer who develops our acting skills.
How long does the training take and do you have to pass tests before you are allowed to deal?
The training takes 5-6 weeks depending on how fast you learn everything.
What does the training involve?
Performance, technique of dealing, rules of the game, hair and makeup lessons.
Do you have to be trained in all the games before you are allowed to deal for real?
Yes.
Dealing
Do you need a license to be able to deal live casino games and if so who provides it?
No.
Is your on table performance measured? If so, in what way?
Of course,  our pit bosses  evaluate our performance.
How do you know when you're doing a good job?
Good job for me is when there are no mistakes during the shift and also when players give tips and compliment me.  Also good evaluation from pit boss for sure.
How important is the chat facility?
Chat is very important. That way we can communicate with the player and make his experience more enjoyable.
Do you have prepared questions to get players talking?
No,  I improvise and see if player wants to communicate with me.
What subjects are you not allowed to talk about?
Private themes, our wages, politics, religion etc.
Was there anything that surprised you about being a live dealer?
The atmosphere in studio and how many people are involved to produce the final image.
Technology
When you are dealing what information do you have in front of you?
When I deal the cards I know only how many players are on the table, their nicknames and chat messages.
What info do you have about the player?
Only nicknames.
Do you know how much people are betting?
No.
Personal
Do you play casino games yourself?
No.
What is your favourite game? and why?
My favourite game is roulette. Roulette can be played by several people simultaneously.  Every shift I have good conversations with them.
What is the best part about your job?
That I have a possibility to communicate with many people from different countries and learn something new.
What's the best thing about working for Ezugi?
Working in international corporation with a flexible schedule.
What is the funniest thing that has happened to you at work?
When players ask me to marry them. 🙂
What do your friends think of your job?
My friends haven't known this work before. They were surprised and are happy that I have a job that I like.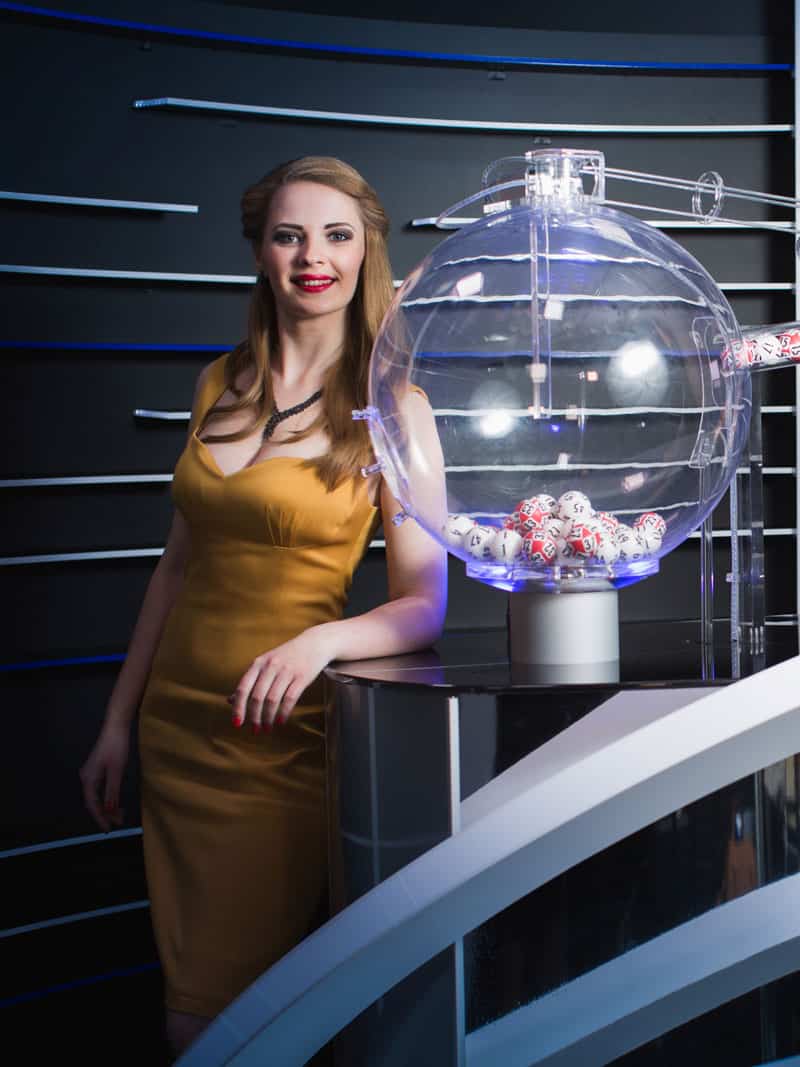 If you could choose 7 people to deal blackjack to who would they be and why?
Jack Sparrow. He is funny.
Illusionist Dinamo. He will show some secrets of conjuring.
Angelina Jolie. She is beautiful lady. She is my idol.
Cristiano Ronaldo. He is a beautiful guy.
Ian Somerhalder. He is a perfect actor. I think it will be a very interesting game.
Stephen Hawking, because he is the cleverest person in the world.
My sister. It would be fun to play with her.
What are your hobbies?
I like re-making different hairstyles that i see on You Tube videos.
What is your favourite holiday destination and why?
My favourite holiday is to be at home with my family.
Do you have any pets, if so what are they and what are their names?
I have a dog, her name is Dina.
What sorts of music do you like and why?
Any type of music.
Have you been to any concerts recently? If so what and how was it?
I have been to see my favourite band Kings of Leon. Being there with my friends was so entertaining and awesome.
If you could have a super power for a day what would it be and what would you do?
I want to foresee the future.
Do you play or watch sport?
Yes, I watch boxing,
What is your favourite food?
My favourite food is anything that my mother makes.
 Is there anything else you'd like to say to give the readers an insight of online live casinos?
You can enjoy the experience of game without leaving the house and being comfortable.
Thank you very much for your time.