Playtech Live Signs Deal With Fremantle
Playtech Live has signed an exclusive worldwide deal with Fremantle to bring the Family Fued/ Family Fortunes franchise to live dealer game shows.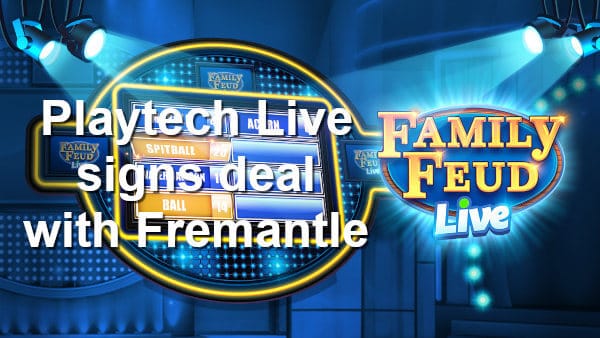 4th October 2023
Family Feud, aka Family Fortunes to Become Live Dealer Gameshows
Playtech Live has signed an exclusive worldwide deal with Fremantle to develop the legendary Family Feud franchise for the rapidly evolving Live Gaming market.
Fremantle is an international powerhouse in the entertainment industry with an extensive global footprint. Fremantle operations span various territories, aligning seamlessly with Playtech Live's aspiration to present Family Feud to gaming audiences worldwide.
The Family Feud franchise deal includes a global scope, covering key markets, including the United States, setting a new precedent in the gaming and entertainment industry. A true testament to the magnitude of this collaboration, the partnership also includes the UK Family Fortunes IP.
Edo Haitin, Playtech Live CEO, commented,
"This partnership with Fremantle is a game-changer. By integrating the iconic Family Feud franchise into our offerings, we are bridging the worlds of game show entertainment and online gaming, promising our users an immersive experience. I'm thrilled that we could partner with Fremantle to bring the legendary Family Feud to the gaming world. Our vision at Playtech Live is to always deliver the best possible entertainment experience, and this collaboration underscores that commitment."
Erica Gadecki, Fremantle SVP Partnership Solutions, said,
"A collaborative effort with Playtech on the iconic gameshow Family Feud is how Fremantle continues to deliver unparalleled entertainment in today's market. Playtech's Live platform is a perfect opportunity to expand into the interactive entertainment landscape while building upon the Family Feud legacy."
Aaron Berndtson, Head of Strategic Partnerships and Entertainment at Playtech, says,
"We are thrilled to embark on this extraordinary journey alongside Fremantle. The partnership with Fremantle is another milestone to deliver unique and captivating experiences to players worldwide."
This landmark deal signifies Playtech Live's commitment to pioneering innovation in gaming entertainment.
As the world of Live Casino continues to evolve, Playtech Live's selection to develop and distribute content around the Family Feud franchise sets the stage for an exhilarating future in gaming. The collaboration is a testament to Playtech Live's continued commitment to introducing cutting-edge experiences that captivate and delight players and our commitment to being a trusted brand partner.
Ends
LiveCasinoComparer Comment
This is another big deal for Playtech Live, following the deal with Sony Pictures for the Jumanji Franchise and Who Wants to Be A Millionaire.
Playtech will have big plans to turn Family Feud into an interactive live gameshow, and if it's anything like Jumanji, we're in for a treat.
Having recognisable names to draw players in seems to be a recurring theme in the gaming industry. While it's an obvious tactic to get eyes on a game, the success will be down to how the games play and the enjoyment players get from playing them.
There have certainly been a few turkeys, but as long as Playtech sticks to the essence of what makes Family Feud popular, they can't go far wrong.