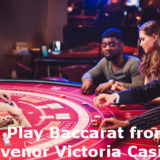 Grosvenor Dual Play Baccarat is Launched for land based streaming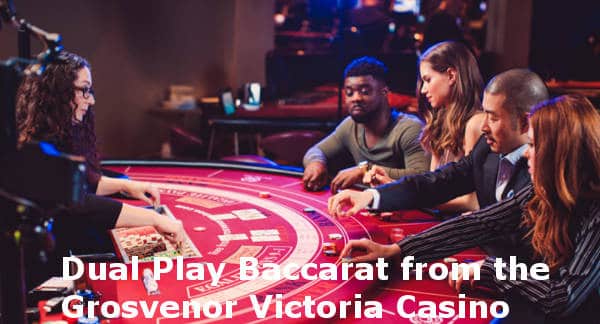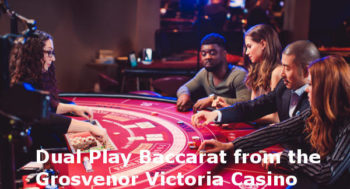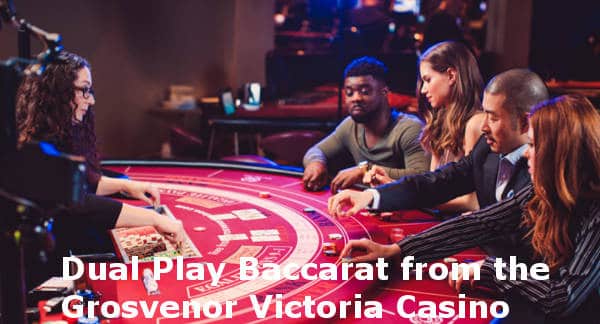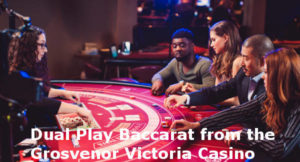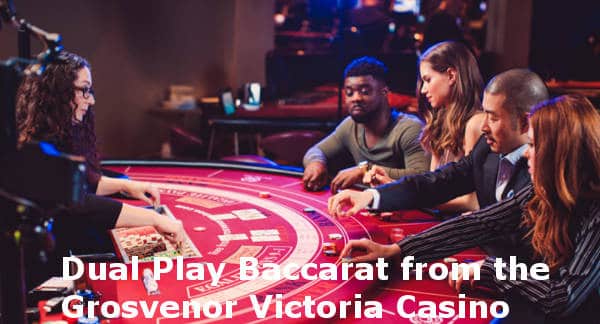 Posted March 7, 2018 by
Neil Walker
Grosvenor Dual Play Baccarat has been launched to become the first UK Land Based live streamed Baccarat table.
What I absolutely love about this table is you can hear the players and dealer chatting with each other about the game.
You feel fully immersed in the game, it's just a shame you can't contribute to the chat.
Grosvenor Dual Play Baccarat
This Dual Play Baccarat from Evolution Gaming is being streamed from Grosvenors' Victoria Casino in London.
The initial version of Dual Play Baccarat demonstrated at ICE back in 2017 allowed one player at the table to squeeze the cards.
In this version there is no squeezing, just standard Baccarat play.
The table is Governors own multi seat Baccarat table. At busy times in the casino you'll see all 8 playing positions occupied.
When the table is empty the dealer will still deal cards for the online players.
The table is open 24×7, uses 8 decks, that are manually shuffled when there is approx 1 deck left in the shoe.
Playing Interface
Regular players of Evolutions' Baccarat will recognise the playing interface.
It's the standard interface used across all it's Baccarat games.
I got caught out initially as you can choose what side bets to display and i had it set to none, which confused me to begin with.
Baccarat Betting
Online players can bet on three poistions.
Player – which pays 1:1.
Banker – which pays 0.95:1.
Tie – which pays 9:1.
There's also a range of side bets that online players can play.
Banker or Player Pair.
Perfect Pair.
Either Pair.
Banker or Player Bonus.
Players sitting at the table in the casino get the benefit of an additional Egalite Side Bet. This is available online but not at Evolution Live Casinos.
If you want to play this bet you'll find it at any of the Playtech Live Casinos.
Baccarat Roadmaps
This is where playing online comes into it's own.
Online players get the full range of Baccarat Roadmaps, whilst the land based player has to make do with a pen and paper.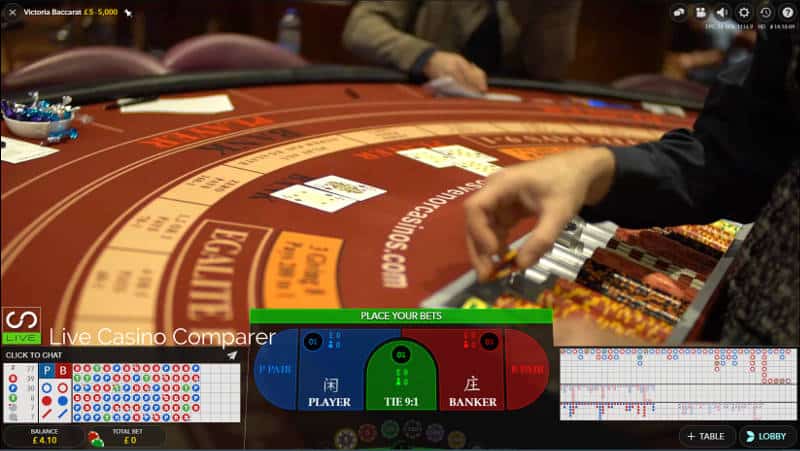 Where you can Play
Grosvenor Dual Play Baccarat is currently available at the Grosvenor Live Casino.
The table is going to be made available to Evolutions' other clients, so I would expect to see it popping up at one or two more live casinos over the coming months.