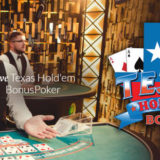 Evolution launch Live Texas Holdem Bonus Poker with €50,000 Progressive jackpot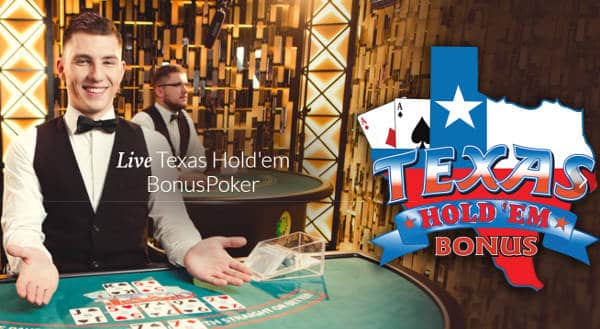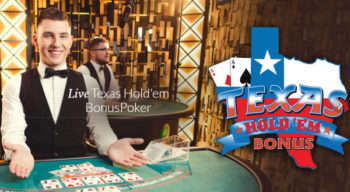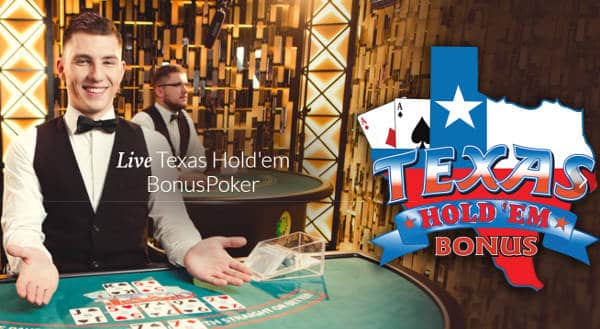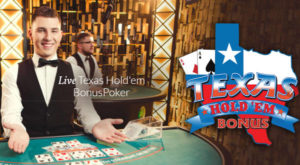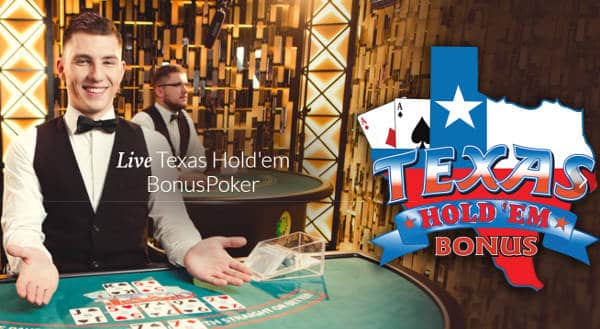 Posted January 18, 2018 by
Neil Walker
Evolution launch Live Texas Holdem Bonus Poker
Although it's been out for a while in Beta format at Leo Vegas and Unibet, Evolution has announced the official launch of Texas Holdem bonus poker with a €50, 000 progressive jackpot.
Depending on when you're reading this the Progressive Jackpot is now worth £[insert_php]jackpot ("texas");[/insert_php]
You're probably thinking what's all the fuss? They've already got a Live Ultimate Texas Holdem game.
Well Texas Hold'em Bonus Poker is different.
In this version you get can place a bet after each card has been dealt up to a value of 4 x times your Ante.
In Ultimate Texas Hold'em you can only bet once and if you want 4x your Ante, you have to do that when you've only seen your first two cards.
There are two side bets.
The Bonus Side bet unusually pays out for pairs and high value pairs. (usually this bet aligns itself with poker value hands).
The Progressive Jackpot pays out on the first 5 cards dealt – the players and the flop. The jackpot is shared between all players playing the side bet, smaller prizes for lessor hands are paid directly to each player.
The game has an impressive RTP of 99.47% on the total bet.
The full press release appears below. 
---
Evolution launches world-first Live Texas Hold'em Bonus Poker with €50,000 Progressive Jackpot
17th January 2018 – Evolution Gaming, leading provider of Live Casino solutions, has today launched the world's first and only online Live Texas Hold'em Bonus Poker, complete with a unique 'First Five' Progressive Jackpot starting at €50,000.
Created in partnership with Games Marketing, Evolution's Live Texas Hold'em Bonus Poker adds another exciting poker variant to the company's extensive live table games portfolio.
The new game, available on desktop, tablet and smartphone, offers a double bonus for players in the form of two optional side bets; Bonus Bet and First Five Progressive Jackpot.
Both side bets offer separate extra chances to win alongside the main Texas Hold'em game, no matter what hand the dealer achieves.
The optional Bonus Bet pays up to 1,000:1, while the First Five Progressive Jackpot side bet offers a progressively increasing top-level Jackpot prize for a Royal Flush.
This same Jackpot side bet also gives players the chance to win lower fixed Jackpot prizes for a range of other poker hands.
Todd Haushalter, Chief Product Officer at Evolution, commented:
"The game is already well-established in the RNG and land-based casino worlds, so being the first and only live provider to offer Texas Hold'em Bonus is exciting for us. To add to the excitement, Evolution is funding a progressive jackpot that will start at €50,000. This is the first time we have ever launched a new game with a progressive jackpot on day one, so players will find a lot to like about the live version of Texas Hold'em Bonus."
Haushalter added:
"We have invested intensively in poker games by securing the Live Casino rights to not just this game, but also Three Card Poker, Ultimate Texas Hold'em, Caribbean Stud, and Casino Hold'em. Different players like different games and we want to be sure that we can offer everything they could ever want to play and everything they might see in a land-based casino. In this way we are making the transition between land-based and online play — and vice versa — almost seamless."
Live Texas Hold'em Bonus Poker streams live from Evolution's Riga studios.
The game's First Five Progressive Jackpot is available to Evolution licensees through an optional programme for this table.
Those that sign up will have the optional Progressive Jackpot side bet enabled for their players.