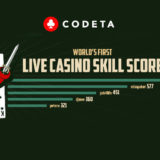 Codeta Skill Score Measures Player Performance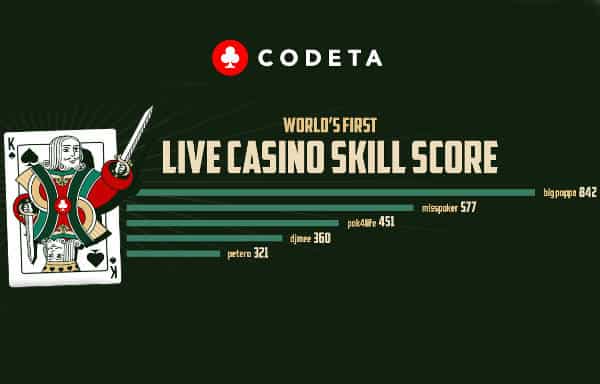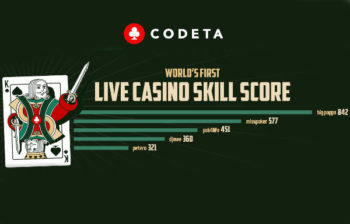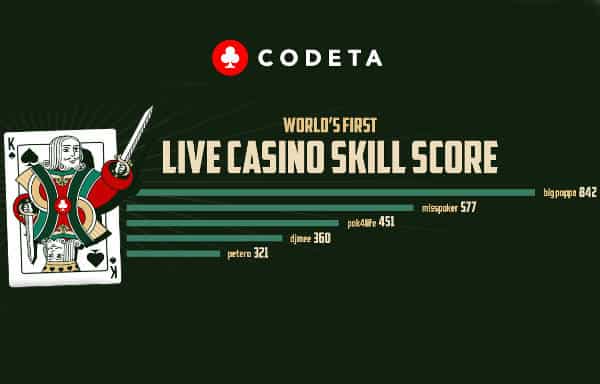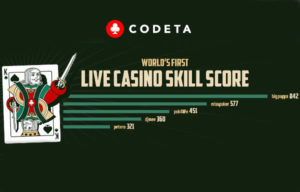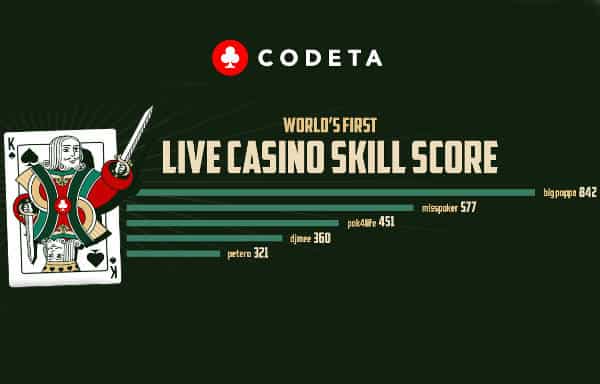 Posted May 10, 2018 by
Neil Walker
Codeta has today announced the roll out of a new tool on its website that will track live casino players wins and losses while playing live casino games at their Evolution Live Casino tables.
A Codeta Skill ScoreTM is calculated from game play data for each player so they can compare themselves against other Players to see how successful they are.

The resultant "score" can be used by Codeta to run Tournament type leader boards, with places determined by the players "Skill" rather than how much money they have bet.
It will also enable Codeta to identify players that are struggling to improve their game play by sending game tutorials and playing strategies to them.
Full Press Release 10th May 2018
Codeta launches revolutionary Skill ScoreTM feature
New and innovative feature evaluates players based on their performance and places them on a leaderboard.
Codeta, the live dealer pioneer that delivers a personal skill-development experience to players, has launched a revolutionary new feature, Skill ScoreTM.
Skill ScoreTM ranks players based on their table game performance, and places them on a leaderboard so they can see how they compare with their rivals.
A player's Skill ScoreTM is determined by the two factors that have the most impact on their performance – the ability to win big and to keep winning over time.
For the purpose of Skill ScoreTM, Codeta has named these factors dedicated wins and big wins. Dedicated wins are calculated as a ratio between wins and losses, while big wins summarize earned payout-ratios.
A multiplier on each factor ensures top performances are really valued. What's more, the simplicity of the factors makes it possible to compare skills between players regardless of the size of the bets placed.
A player's Skill ScoreTM can be increased by improving either factor, or by working on the balance between the two.
Codeta offers tips, guides and the opportunity to benchmark a player's Skill ScoreTM and the individual factors against other players.
The goal is to provide tools to enable players to improve their game regardless of whether they want to compete against themselves or others.
Codeta will run tournaments and promotions around Skill ScoreTM with the highest-ranked players winning a raft of prizes.
Edward Ihre, co-founder and Chairman of Codeta, said:
"Skill development is a big part of why players engage with live table games, and Skill ScoreTM enables them to keep track of their progress while also competing with other players.

Skill ScoreTM allows us to better engage our players and communicate with them on a regular basis. If we see they are performing well at blackjack but not so well at roulette, we can send them tutorials to help improve their roulette skills, for example.

Skill ScoreTM really sets us aside from our rivals, and allows us to offer added value to our players. Our brand promise is to capture the skill and thrill of table games, and Skill ScoreTM is just one way we are able to offer this."
The launch of Skill ScoreTM comes shortly after Codeta underwent a major redesign at the back end of last year.
The name Codeta is a take on the French phrase coup d'état; with the site kick-starting a revolution against the current status quo of the online casino industry.
Press Release Ends
Live Casino Comparer Comment
This sounds a really great tool and I got quite excited when I heard about it.
It will certainly give Codeta an edge over other casinos by providing them with data they can use to get greater player engagement with their Casino.
As for a tool that players can use, Codeta Skill Score is not there yet.
I don't know what future developments are planned.
It would be great to think that players could be provided with an interface that would allow them to analyse their game play and determine areas where they need to improve.
It has the potential to provide serious players with valuable information that would keep them coming back to the site to use.
I can also see other uses for the data, so I'm excited for Codeta, they could really steal a march on their competitors by providing players with something else to keep them coming back.
I hope there's more development in the pipeline as it would be a shame to see it remain as it currently is, an elaborate marketing tool.
I'm certainly going to play at Codeta and see what benefit I get from having a Skill Score!.
A Codeta Skill Score Promotion

To go with the launch of  Skill ScoreTM, Codeta has launched a special Tournament Promotion.
The top 10 players in a LeaderBoard will win a share of €2500.
Significant terms of the promotion include:
Top 10 players sharing the prize pot of €2500 based on the following distribution.
Prizes are paid in euros or the equivalent player currency

1st place – €625 | 2nd place – €500 |3rd place – €375 |4th place – €250 |5th place – €200 |6th place – €175 |7th place – €150 |8th place – €100 |9th place – €75 | 10th place – €50.

The round start date and end date are 8th of May to 20th of May, 23:59 CET.
Winnings are paid out during the week of 21-25 of May.
Players will be automatically opted into this promotion.
The score starts counting after at least 30 rounds, with at least one win
The data is collected in all evolution gaming games
18+, General terms & conditions apply and www.begambleaware.org.