Best Live Casinos for 2017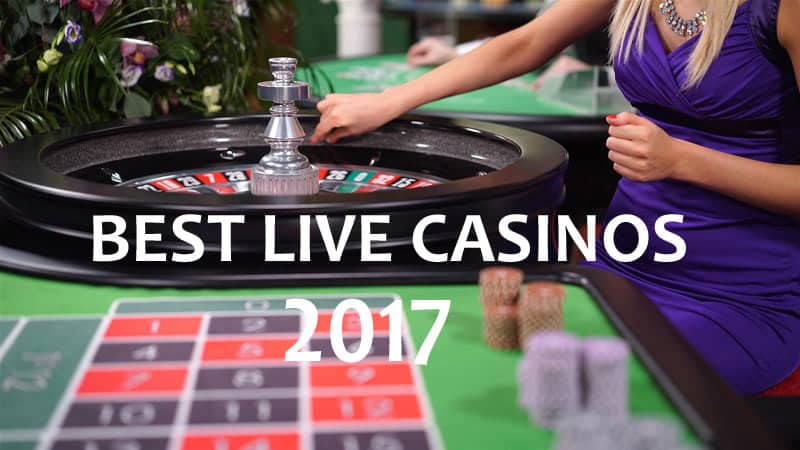 If you're looking for somewhere to play games against live dealers this year you should check out the best live casinos for 2017 below.
2016 was a great year for the lovers of live casino and 2017 is not going to be anything different.
We've seen a range of new games like Ultimate Texas Holdem, Speed Baccarat, and Baccarat with Controlled Squeeze released by some of the major live casino providers.
New online casinos promoting just live casino games have been launched and some existing casinos have upped their game by adding more dedicated tables.
In my opinion, the dedicated tables and studio options are the way to go if a casino wants to attract good players.
It's one of the few ways that online casinos can differentiate themselves from their peers when they're all fighting for the same players.
Experienced players know that it's better to play at casinos with dedicated environments and tables because:
If you're a Blackjack player you're more likely to get a seat at a table.
You'll be offered more on table promotions and bonuses.
You know that the casino is serious about its players and live casino. It's not cheap to have your own tables, it requires quite an investment to set it up and keep it going.
You get to know the dealers better as they are rostered onto fewer tables (and they like that too, as they have their favourite players).
In 2017 we are going to see even more new live games released. The igaming trade show ICE that was held in London in the early part of February is traditionally the place where operators make their announcements for the coming year. My ICE show report contains lots of information about live casinos in 2017.
My Top Tips for 2017
Keep an eye out for Evolution Gaming. They have a new game that is going to be announced at ICE. It's different from what other people are doing, so it will be interesting to see how it's received.
Luckystreak will be opening a new studio that will take a huge amount of tables.
We may see UK licenses for Ezugi and Luckystreak.
New games will be launched by Ezugi.
A different playing experience is being developed by Authentic Gaming. Again this is something new that we've not seen before.
We will start to see more casinos using niche providers like Hollywood.TV for themed games.
Best Live Casinos for 2017?
Whilst I already have a list of the Best Live Casinos I think in 2017 you should be playing at one of the following. 
Leo Vegas are investing heavily and already have live games from 7 providers. What Leo Vegas does really well are the on table promotions. There's always something happening every month. Towards the end of 2016 and into 2017 they have had some great prizes on offer.
Codeta is a new breed of online casino. It's actually focusing more on the live casino player than the slots player. They have just launched their 1st dedicated table and I would expect to see them expand further. They are one to watch. 
Unibet continues to grow their dedicated tables and they have multi-language tables. Perhaps they are more focused on the Scandinavian countries, most tables are in English and they have a good range of promotions every month. 
Grosvenor falls into the same camp as Unibet but is focused only on the UK market.
Then there's a bunch that all offer something similar, Royal Panda, Genting (great VIP Experience here) and Betfair.
Lastly is William Hill, they have by far the largest dedicated areas and have all sorts of promotions running every week.
Casino
Stakes
Dedicated
Tables
Software
Bonus
Play
Blackjack £0.50 – £5k
Baccarat £1 – £35k
Roulette £0.50 – £75k
Dreamcatcher £0.10 – £2.5k
Casino Hold Em £0.50 – £7.5k.
3 Card Poker £1 – £10k.
Caribbean Stud Poker £1 – £3k.
Ultimate Texas Hold'em £0.50 – £500.
Authentic
Evolution
Extreme Live Gaming
Ezugi
LuckyStreak
NetEnt
Wirex
100% Match up to £250.
Wagering is 70x the Bonus.


T&C's Apply

Play now
Blackjack 1 – 5k
Baccarat 1 – 10k
Roulette 0.10 – 4k
Dreamcatcher £0.10 – £2.5k
Casino Hold'em 0.50 – 1.5k
3 Card Poker 1 – 2.5k
Caribbean Stud Poker 1 – 1k
Ultimate Texas Hold'em 0.50 – 250.
Evolution
NetEnt
Authentic Gaming
LuckyStreak
100% Match up to €300.
Wagering is 35x the Deposit.


T&C's Apply

Play now
Blackjack 0.10 – 10k
Baccarat 1 – 10k
Roulette 0.10 – 200k
Dreamcatcher £0.10 – £10k
Casino Hold'em 0.50 – 5k
3 Card Poker 1 – 5k
Caribbean Stud Poker 1 – 1.5k
Ultimate Texas Hold'em 0.50 – 500.
Evolution
100% Match up to $100.
Wagering is 35x the Bonus.


T&C's Apply

Play now
Blackjack 0.50 – 500
Roulette 0.10 – 50k
Baccarat 5 – 500
Casino Hold'em 1 – 50
3 Card Poker 1 – 300
Caribbean Stud Poker 1 – 250
Ultimate Texas Hold'em 0.50 – 250
Dreamcatcher 0.10 – 1k
Evolution
100% Match up to £2018.
Wagering is 50x the Bonus.


T&C's Apply

Play now
Blackjack £5 – £5k
Baccarat £1 – £2k
Roulette £1.00 – £100k
Dreamcatcher £0.10 – £5k
Casino Hold Em £0.50 – £4k
3 Card Poker £1.00 – £10k
Caribbean Stud Poker £1 – £3k.
Ultimate Texas Holdem £1 – £1k.
Evolution
NetEnt
200% Match up to £100.
Wagering is 35x the Bonus.


T&C's Apply

Play now
Blackjack 1 – 7.5k
Roulette 0.10 – 25k
Baccarat 5 – 5k
Casino Hold'em 1 – 50
Hi-Lo 0.10 – 1k
Sic Bo 1 – 1k
3 Card Brag 5 – 500
Playtech
Get 50% up to £200, with 5 Golden Chips.
Wagering is 40x the Bonus.


T&C's Apply

Play now
Blackjack £5 – £2.5k
Baccarat £10 – £15k
Roulette £0.10 – £50k
Casino Holdem £0.50 – £1.5k
3 Card Poker £1 – £10k
Caribbean Stud Poker £1 – £1.5k.
Ultimate Texas Hold'em £0.50 – £500.
Evolution
Extreme Live Gaming
200% Match up to £200.
Wagering is 35x the Deposit.


T&C's Apply

Play now
Blackjack £3 – £5k
Baccarat £1 – £2.5k
Roulette £0.10 – £50k
Dreamcatcher £0.10 – £1k
Casino Hold Em £0.50-£2.5k
3 Card Poker £1.00 – £10k
Caribbean Stud Poker £1 – £3k.
Ultimate Texas Hold'em £0.50 – £500.
Evolution
Deposit £20 get £20.
Wagering is 5x the Bonus.


T&C's Apply

Play now
Blackjack 0.50 – 10k
Roulette 0.10 – 500k
Baccarat 1 – 25k
Casino Hold'em 0.50 – 7.5k
3 Card Poker 1 – 10k
Caribbean Stud Poker 1 – 3k
Ultimate Texas Hold'em 1 – 1k
Dreamcatcher 0.10 – 2.5k
Evolution
Playtech
100% Match up to £100.
Wagering is 50x Deposit & Bonus.


T&C's Apply

Play now